Ball in the Wall Pressure Indicator
If you're looking for a cloud-based air pressure monitoring sensor solution that eliminates manual logging, improves compliance readiness and protects all your clean rooms and compounding rooms, you've arrived at the right place.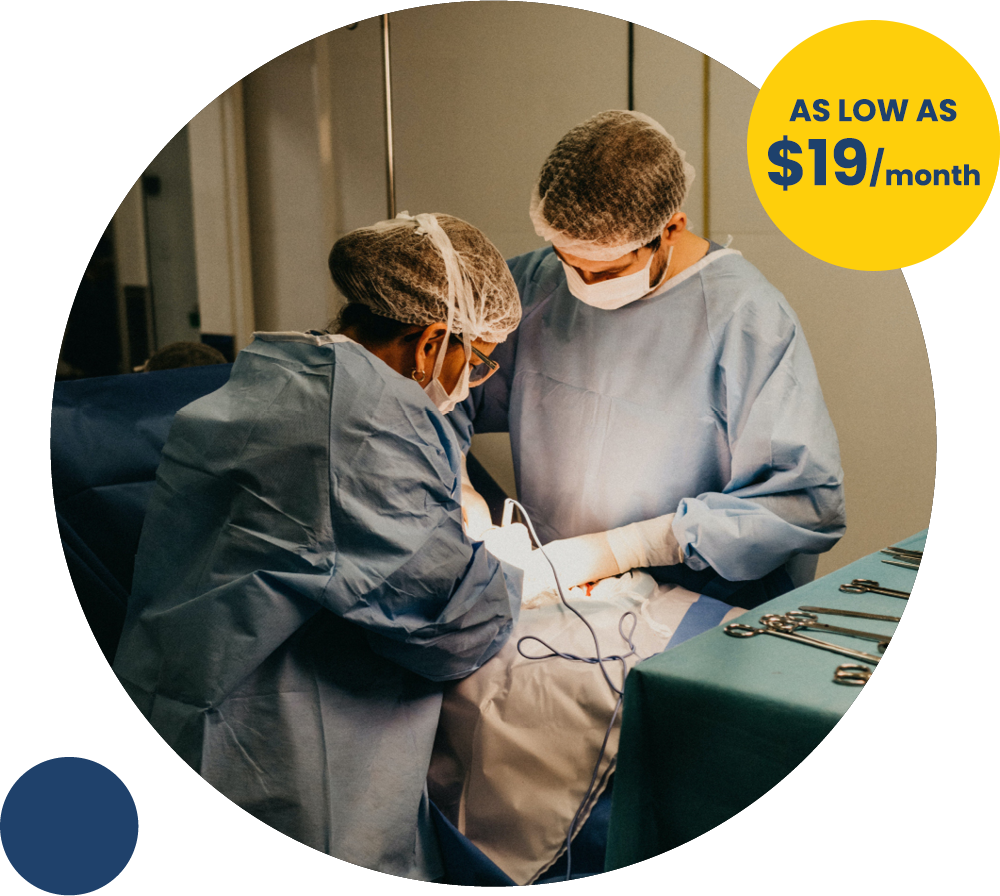 Let us help you evaluate your needs!
Safety:

Alerts to protect asset

Compliance:

Automated reports

Efficiency:

Reduced Manual Logging




And what makes us different?
Lifetime Warranty: Never buy hardware again!
Unlimited Users: Scale across your entire org
Connectivity Flexibility: Wi-Fi, Cellular or Data Hub

Phone call alarms:

Alerts won't get ignored
Mobile App: 500 Freezers in your pocket



All American made and supported!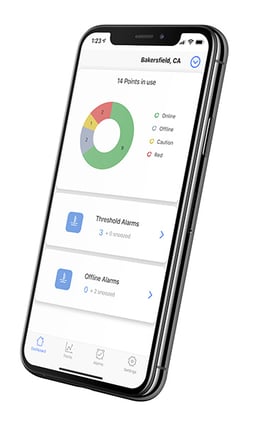 See What Customers Say About Sonicu
Asset Protection. Compliance Automation. And Reduced Manual Processes.

Sonicu serves thousands of professionals at hundreds of organizations across North America by improving how they monitor and manage their most sensitive assets and environments.


Professionals from healthcare, life science, laboratory and cold chain facility management turn to Sonicu to help them improve the way they do business.


Some of the finest names in healthcare and construction, including Indiana University Health, University of Michigan Health System and Exide Technologies, rely on Sonicu to provide robust continuous temperature and air pressure differential monitoring for their cold/frozen and sensitive room condition environments.
These respected healthcare and research brands turn to Sonicu for three primary reasons:
Operational Efficiency: Virtually eliminate the need for tedious and costly manual logging
Compliance Automation: Respond to virtually any regulatory audit or inspection

in a few clicks with our reports section

Asset Protection: Detect and respond to any temperature excursion that can threaten virtually anything perishable: food, drugs, vaccines, research, etc.



Our customers on average save $80,000 per year for every 100 beds in their hospital.
Ball in the Wall Pressure Indicators



In a variety of industries, it is necessary to monitor and regulate different conditions within their facilities.
These are often referred to as environmental conditions or room conditions, and many of them are related to the atmospheric qualities of an enclosed space.
Some of the environmental conditions that tend to require precise monitoring include:
Temperature
Humidity
Air pressure
Sound
Light
Carbon monoxide
Water
Occupancy
These kinds of environmental or room conditions usually need to be monitored to ensure they are consistently at an appropriate level or setting. At best, failure to do so may lead to dissatisfaction or discomfort of staff, patients, or customers.
However, at worst it could lead to issues such as damaged products or compromised health and safety of those who reside in the affected rooms or spaces.
Industries that come to mind that have an interest in preventing the negative consequences mentioned include but are not limited to
Healthcare
Pharmaceuticals
Life sciences
Food or beverage
It's important to have a focus on the healthcare industry.
Healthcare facilities such as clinics, health departments, hospitals, and senior living centers, as well as spaces within those facilities such as surgical suites, clean rooms, storage areas, and isolation rooms all usually require some form of environmental or room condition monitoring.
One of the pertinent environmental conditions that are consistently evaluated and regulated is air pressure differential.
The need to monitor environmental or room conditions ultimately calls for technology to do so.
In the case of air pressure, one popular tool used is referred to as a ball in the wall pressure indicator or a ping-pong ball air flow indicator. A ball in wall pressure monitor is designed to evaluate differential air pressure.
In spaces that need to maintain high or low air pressure, this device can evaluate whether it does or does not comply with the intended level of pressure.
However, the ball in the wall indicator is nowhere near as effective as a wireless remote continuous monitoring solution that will ensure 24/7 compliance and also streamlined regulatory compliance.
Sonicu is trusted by healthcare and construction professionals across North America to deliver reliable hardware and intuitive software for the most exacting specifications.
Ball in Wall Pressure Indicator
The typical room pressure monitor manual is likely relatively easy to follow. A room pressure monitor (i.e. ball in wall pressure indicator) is a simple device that can return one of two results.
These results or readings essentially say either
1) yes, the relative air pressure differential of this space does comply or
2) no, the relative air pressure differential of this space does NOT comply.
The standard for compliance will be based on whatever number or range is preset as being appropriate on the device.
There are many scenarios where differential air pressure can have a great impact on the health and safety of others. In a healthcare setting, different areas within a facility are designed or meant to remain at positive or negative levels of air pressure.
Differential air pressure indicates in which direction the air is flowing, either into or out of the room. This is something that may seem as minuscule as the flow of air is a serious factor taken into account when designing and managing a healthcare facility.
As such, the ability to manipulate relative differential air pressure is important because it allows these facilities to "separate" different rooms or spaces in a way that either keeps air contained or prevents air from entering.
Monitoring and controlling for air pressure is vital for infection control as microscopic airborne contaminants can enter a sensitive room or area. These contaminants can be dangerous to patients undergoing surgery or to drugs being compounded.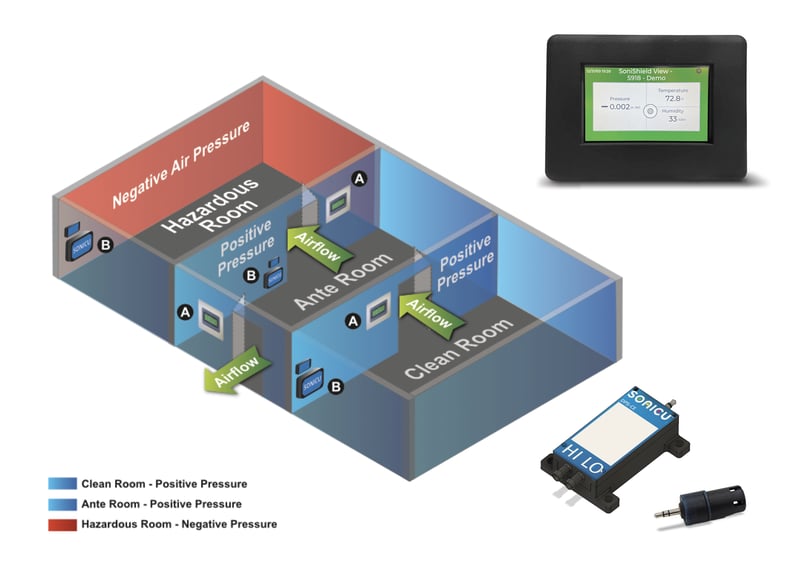 Ball in Tube Pressure Indicator
Healthcare facilities often need a ball in tube pressure indicator (or multiple) in different rooms throughout the building. Some examples of these spaces are:
Isolation rooms

Operating (surgical) suites

Pandemic preparedness areas

Hospital pharmacies,

Sterile or clean rooms.
A reliable ball in tube indicator is crucial to have in the aforementioned areas or rooms because when it is checked, it can alert medical staff whether the space is compliant or not (i.e. at the appropriate level of relative air pressure differential).
The reason for maintaining the differential air pressure of specific areas is not arbitrary. The reason for compliance is rooted in the health and safety of patients and staff.
With a ball in the wall, negative pressure and positive pressure can be distinguished from one another. Such an indication is necessary because it can help the people managing and working in healthcare facilities establish the movement of airborne pathogens.
For example, isolation rooms exist to contain infections or diseases, which means airborne pathogens need to be prevented from exiting the room. This can be accomplished by keeping the room at a negative level of pressure, as this will mitigate the risk of the air containing those pathogens escaping.

Aside from negative pressure, a ping pong ball pressure indicator can also determine whether a space is at a positive level of pressure.
An example of a space that is normally kept at positive pressure is a surgical (and therefore, sterile) suite. This type of room is meant to prevent potentially dangerous airborne pathogens from coming inside.
By preventing outside air from entering, a space that is kept at positive pressure decreases the likelihood that a patient who is being operated on and the sterile tools being used will be exposed to air containing harmful pathogens.
A ball in the wall pressure indicator allows medical staff to confirm that this standard is being met.
Similarly, a ping pong ball air pressure monitor does the same for rooms meant to be kept at a negative level of pressure. The floating ping pong ball explanation or the reasoning behind having it present in specific areas is that it can help ensure that the health and safety of patients, staff, and anyone else in the facility are protected.
It is standard procedure to use similar technology to assess whether a room complies with the health and safety standards that pertain to relative differential air pressure.
But facilities relying on the ping pong ball in the wall indicator are at serious risk of not appreciating the changes in air pressure during the majority of the day when the area was not monitored.
That's why so many healthcare and construction professionals turn to Sonicu to increase safety and compliance readiness with 24/7 continuous monitoring.
Visual Pressure Indicator
While having a room differential pressure sensor is incredibly valuable for the reasons described above, there are a few drawbacks.
As was stated previously, a visual pressure indicator has a binary (i.e. yes/no, good/bad, etc.) signal. It is a simple device designed to tell the user whether a room complies with relative differential air pressure regulations or not at that very moment.
Since a basic room pressure gauge is not built with the capacity to evaluate compliance on a spectrum, it can be difficult to tell to what degree the air pressure differential is inaccurate.
This can make it difficult to know exactly how much a room pressure controller needs to be adjusted or repaired.
The relatively inexpensive price point for these devices can explain their limitations in functionality. There may be some establishments who find they do not need more than that and prefer the simplicity of the technology.
However, another more pressing issue has to do with the practicality of such a device.
Oftentimes, these simpler devices for measuring air pressure require manual operation.
Someone must visit each one to log the readings. When thinking about how large some healthcare facilities and hospitals can be, this can quickly become a time-consuming and ineffective way of testing for compliance.
Ball Pressure Indicator
Relying on a ball in the wall room pressure monitor to check for air pressure differential compliance may be sustainable for those operating on a smaller scale.
Unfortunately, larger healthcare facilities or enterprises may not be able to get by only using a ball pressure indicator and nothing else. For establishments that find that manually checking a room pressure monitor (ball in the wall) is impractical, there are more advanced options to choose from.
Many buildings used for healthcare have turned to automated room pressure monitoring systems.
These systems minimize the level of manual labor associated with monitoring compliance and have shown to be much more efficient overall (not to mention time-saving).
One of the downsides of this option is that it can become extremely difficult to install. For these automated systems to work, they have to be able to integrate with an establishment's current building automation system (BAS) to acquire data.
As a result, the installation alone can cost even more time, money, and disruption to daily operations than was originally expected.
It is for these reasons that some healthcare facilities choose a wireless, cloud-based monitoring system.
Besides being easier to install, this kind of system can also accommodate other monitoring needs.
Ball in the Wall Air Pressure Monitor Installation
Looking back to the beginning of this discussion, it is important to remember that other environmental or room conditions besides air pressure tend to need monitoring as well.
Although a ball in the wall air pressure monitor installation and method may seem simple, it comes with the sacrifice of more detailed data collection.
Since ball in the wall installation instructions do not necessarily have an excerpt on how to automate the testing process, an automated air pressure monitoring system may be a more efficient option for monitoring airflow direction in healthcare facilities.
This solution is more like one piece of a bigger puzzle.
A wireless, cloud-based monitoring system offered by Sonicu allows users to monitor not only relative air pressure differential but other environmental conditions as well.
Sonicu's room conditions wireless monitoring kits are designed to be complete compliance solutions regarding environmental room conditions.
These kits can all be connected to SoniCloud, which is a secure, cloud-based platform that provides 24/7 access to monitored data related to environmental room conditions of interest.
The platform is equipped with SMART reporting tools that can be used to automatically send out alerts when any of the environmental conditions being monitored go into an abnormal state.
American-based Customer Support: Robust & Reliable High Touch Service
Software and technology is only as good as the people who stand behind it.
At Sonicu, that means our team of American-based customer success managers who are never more than a phone call away to help field and fix any service issues.
Our probes and sensors are placed in demanding frozen environments and our software literally sends billions bits of data monthly, meaning there's alway the potential for a hiccup on either the hardware or software.
We are committed to fielding every customer service request promptly and addressing our customer's concerns promptly and professionally.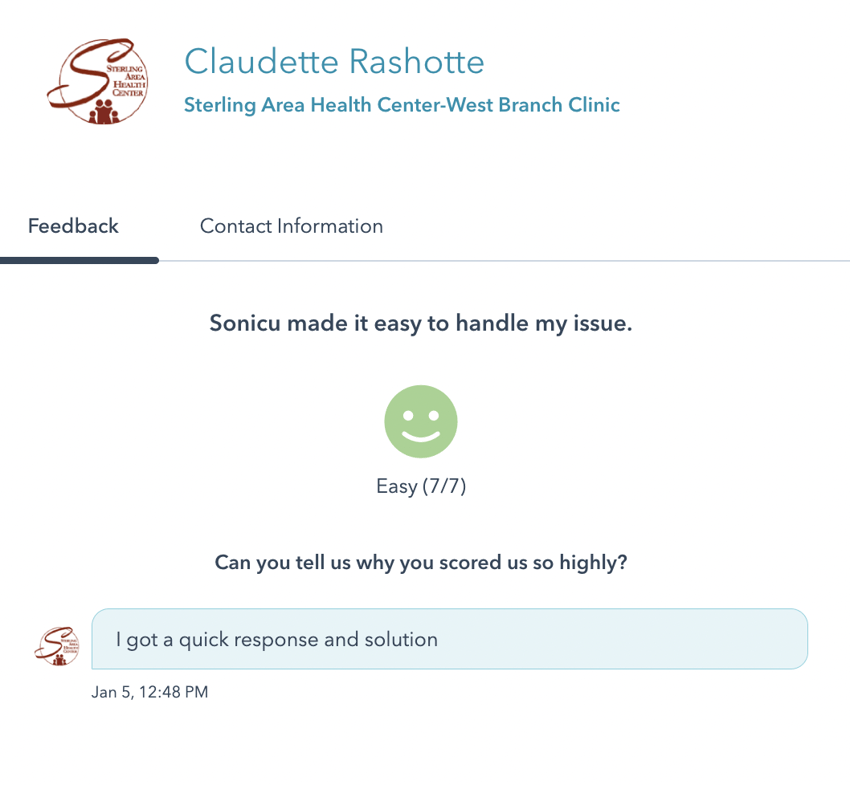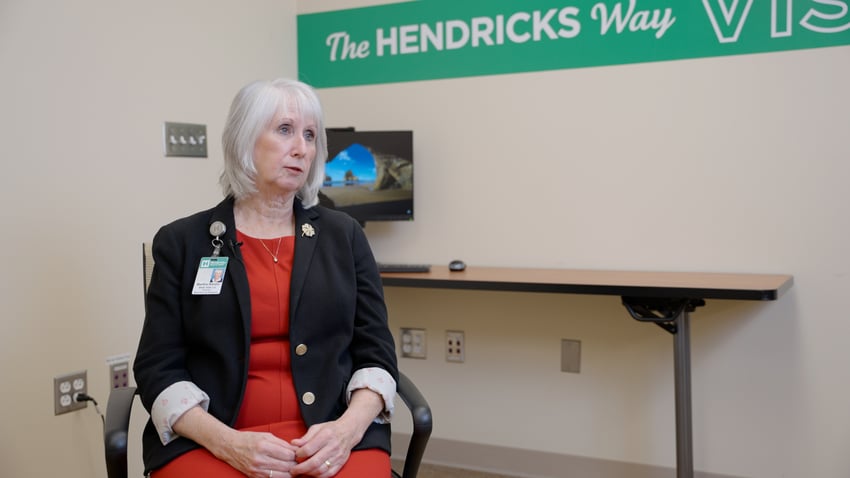 "I like to say that every refrigerator or freezer is like a car in that they all behave a bit differently,
and then every now and then you just get a bad boy who doesn't want to perform as we need it to,"
Martha Rardin, Director, Nutrition and Dietetics, Hendricks Regional Hospital.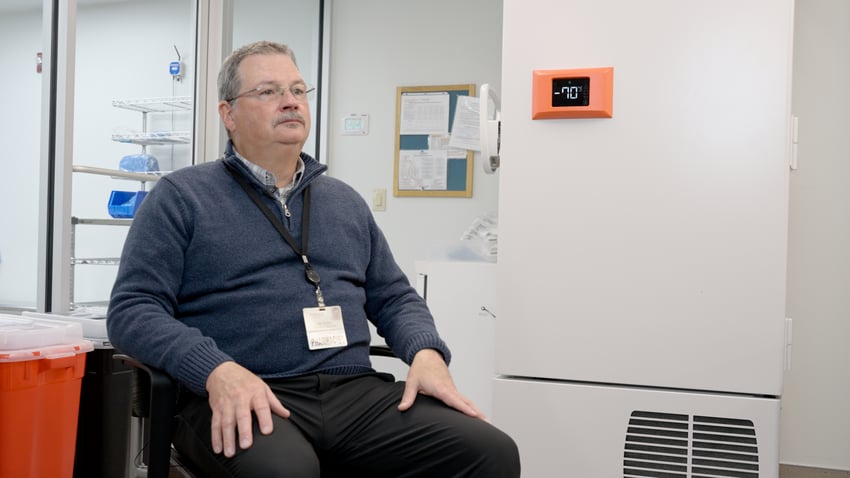 "Sonicu has been a powerful tool to identify which units are behaving out of spec and get our team
to fix them before we have a serious issue."
Tim Livesay, Director, Hancock Regional Hospital Pharmacy Director


Other Room Pressure and Condition Monitoring Resources