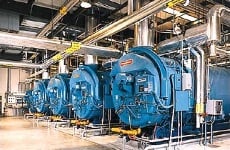 Boiler & Chiller Monitoring
Maintaining consistent temperatures is essential to efficient boiler and chiller operation. Departing from established temperature ranges can not only damage boiler and chiller equipment, it can cause secondary damage to property, inventory and processes.
Sonicu's patented wireless sensors can measure all aspects of boiler and chiller operations, including temperature, fluid levels, pressure, and power supply to monitor your operations continuously.
Sonicu Monitoring:
Provides real-time data on all aspects of boiler and chiller operations.
Instantly notifies staff of a deviation from established temperature, pressure, power or other key variable parameters.
All data is transmitted to SoniCloud and available 24/7/365 in real-time or historical formats by phone, tablet or mobile device via text, email or voice call from anywhere. Data Sync virtually eliminates lost data due to power outage or other interruption.
Fully scalable and customizable platform operates independently or in conjunction with your enterprise's existing IT system.