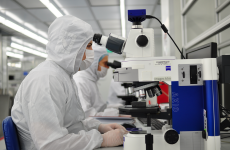 Clean Rooms & Labs
Environmental control is essential to quality control in laboratories and clean rooms. Temperature, humidity, and +/- air pressure are just some of the critical environmental considerations.
Sonicu's patented wireless sensors monitor and measure those variables and other critical points to ensure your lab or clean room environment is optimized continuously, consistently, automatically and in real-time.
Sonicu's Scalable system can monitor a single clean room facility or entire laboratory complex on- or off-site throughout your research or production enterprise.
Sonicu Monitoring:
Provides real-time data on an unlimited variety of clean room and research variables.
Instantly notifies staff of a deviation from established parameters.
All data is transmitted to SoniCloud and available 24/7/365 in real-time or historical formats by phone, tablet or mobile device via text, email or voice call from anywhere. Data Sync virtually eliminates lost data due to power outage or other interruption.
Fully scalable and customizable platform operates independently or in conjunction with your enterprise's existing IT system.