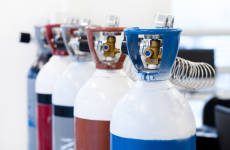 CO2 Level Monitoring
Measuring and monitoring CO2 tank levels are important for both sides of the supply chain. Restaurants and food service facilities can't afford to run out, and suppliers can't afford the unnecessary expense of time and personnel for unneeded supply runs.
Sonicu's patented wireless sensors let you know before you go by measuring and monitoring CO2 levels remotely from anywhere. Schedule supply request runs only when tanks reach predetermined levels to improve efficiency and the bottom line.
Sonicu's platform is fully scalable across multiple operations and customers.
Sonicu Monitoring:
Ensures your food service operation never gets caught short on CO2
Improves supply-side efficiency by eliminating unnecessary and expensive runs to check CO2
All data is transmitted to SoniCloud and available 24/7/365 in real-time or historical formats by phone, tablet or mobile device via text, email or voice call from anywhere. Data Sync virtually eliminates lost data due to power outage or other interruption.
Fully scalable and customizable platform operates independently or in conjunction with your enterprise's existing IT system.