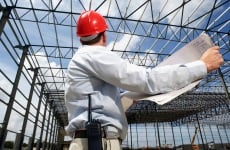 Construction – Contractual Compliance
Power usage, pressure, humidity and sound are all key variables that can affect construction contract compliance.
Sonicu's patented wireless sensors can automatically measure those variables and monitor for deviations and fluctuations that could affect performance.
With real-time and unlimited archived data access, contractual benchmarks can be viewed as they occur or historically report and document job progress.
Sonicu's solutions are inexpensive and fully scalable, making them equally suitable for large construction firms, owners, or individual subcontractors.
Sonicu Monitoring:
Provides real-time measuring and feedback to ensure accurate job progress.
Simplifies benchmark and progress reporting with unlimited data storage and custom reporting.
All data is transmitted to SoniCloud and available 24/7/365 in real-time or historical formats by phone, tablet or mobile device via text, email or voice call from anywhere. Data Sync virtually eliminates lost data due to power outage or other interruption.
Fully scalable and customizable platform operates independently or in conjunction with your enterprise's existing IT system.