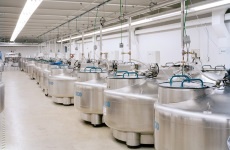 Cryogenic Storage
Ultra-cold and cryogenic storage operations depend on two variables to protect expensive equipment and valuable inventory: temperature and power.
Losing power or rising temperature can be fatal to the ultra-cold process.
Sonicu's patented wireless sensors can measure and monitor temperature and power usage automatically and remotely, eliminating time consuming checks and providing peace of mind with constant coverage.
Sonicu Monitoring:
Is scalable from one ultra-cold storage unit to any number across an entire enterprise.
Eliminates manual monitoring and reading for maximum efficiency and accuracy.
All data is transmitted to SoniCloud and available 24/7/365 in real-time or historical formats by phone, tablet or mobile device via text, email or voice call from anywhere. Data Sync virtually eliminates lost data due to power outage or other interruption.
Fully scalable and customizable platform operates independently or in conjunction with your enterprise's existing IT system.