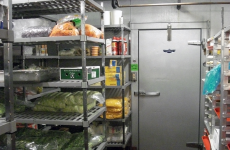 Food Storage
Sonicu has a food storage solution appropriate for virtually any application: farm, industrial/institutional, dining, or food service.
Temperature, power, and humidity can be continuously measured and monitored by Sonicu's patented wireless sensors. Additionally instant alarming protects against spoilage and inventory loss in the event of power loss or other malfunction.
Archived data storage and customizable reports help pinpoint problem areas before they become critical failures.
Sonicu Monitoring:
Is easy to install and can be adapted to virtually all food storage applications.
Measures and monitors critical food storage variables remotely, acting as an on-site sentry to protect inventory.
All data is transmitted to SoniCloud and available 24/7/365 in real-time or historical formats by phone, tablet or mobile device via text, email or voice call from anywhere. Data Sync virtually eliminates lost data due to power outage or other interruption.
Fully scalable and customizable platform operates independently or in conjunction with your enterprise's existing IT system.