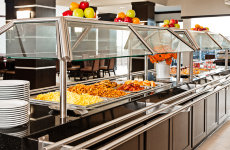 HACCP Compliance
Hazard analysis and critical control point (HACCP) programs are an integral part of food safety at all stages of the food chain from production to distribution.
Utilizing Sonicu's patented wireless sensors, a Sonicu solution can be crafted to ensure HACCP compliance by measuring and monitoring critical control point variables.
Additionally, unlimited data storage and customizable reporting simplifies and streamlines FDA record-keeping requirements for real-time, daily and historical verification.
Sonicu Monitoring:
Can measure and monitor control point variables from production to distribution.
Complies with FDA record-keeping and verification requirements.
All data is transmitted to SoniCloud and available 24/7/365 in real-time or historical formats by phone, tablet or mobile device via text, email or voice call from anywhere. Data Sync virtually eliminates lost data due to power outage or other interruption.
Fully scalable and customizable platform operates independently or in conjunction with your enterprise's existing IT system.