Stop logging data by hand
Sonicu's Pharmacy application automates everything.
Sonicu has developed a comprehensive wireless monitoring pharmacy application that includes air pressure, humidity and remote temperature monitoring to save time and increase efficiency.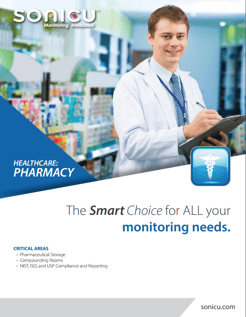 Not only are your pharmacy's key variables remotely monitored and logged, but regulatory and compliance reporting is accomplished by simply downloading data into an auto-formatted report.
Download our free Pharmacy application brochure to learn how Sonicu's wireless monitoring platform with remote sound monitoring, 24/7/365 alarming and advanced reporting can increase efficiency and improve safety.