Great reasons abound for System-wide wireless monitoring
Here are 10 of the best ones for healthcare.
Sonicu has developed a comprehensive wireless monitoring platform that monitors, measures, logs and reports almost all of healthcare's key variables. Sound, temperature, humidity and power can all be tracked, alarmed, logged and reported with Sonicu's System-wide application.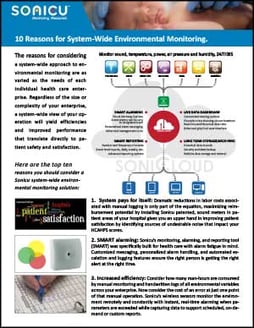 More importantly, hospital noise reduction, wireless temperature monitoring and other variables can be tracked at multiple departments and locations - even remote offices - with one single, cloud-based platform.
Download our free System-wide application brochure to learn how Sonicu's wireless monitoring platform with remote sound monitoring, 24/7/365 alarming and advanced reporting can increase efficiency and improve safety.