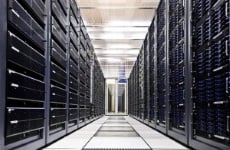 Server Rooms
Server rooms are critical to operations that employ them; a failure there can be catastrophic.
Sonicu's patented wireless temperature, humidity, and power sensors not only provide protection with real-time measuring, monitoring, and alarming, they give managers the specific information they need to maintain the server room environment efficiently and cost-effectively.
Sonicu's server room solution is scalable from a single server rack to an entire room.
Sonicu Monitoring:
Eliminates guess-work in preserving the server room environment with real-time information; understand precisely what measures are needed to protect critical equipment.
Indentifies critical trouble spots before they become catastrophic failures.
All data is transmitted to SoniCloud and available 24/7/365 in real-time or historical formats by phone, tablet or mobile device via text, email or voice call from anywhere. Data Sync virtually eliminates lost data due to power outage or other interruption.
Fully scalable and customizable platform operates independently or in conjunction with your enterprise's existing IT system.