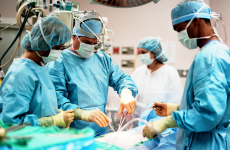 Surgical Environment
Temperature, humidity, and +/- air pressure all affect patient safety and outcomes, operating room equipment and surgical supplies in the OR environment.
Those variables and other points can be measured by SONICU's digital sensor technology and sent to our SoniCloud software platform for alarm-handling, real-time and historical data views, and remote access via PC or mobile devices from anywhere.
Sonicu monitoring and measuring solutions provide a system-wide, cloud-based platform to automate monitoring of key OR environmental variables. The customizable platform is fully scalable to multiple surgical settings with 24/7/365 continuous monitoring and data archiving.
Sonicu monitoring:
Provides real-time data on critical OR temperature, air pressure and humidity levels.
Instantly notifies staff of a deviation from established environmental parameters.
Provides archived data and customizable reports to improve efficiency and identify trouble before it occurs.
Operates independently or in conjunction with your enterprise's existing IT system.
Contact Sonicu for a demo today to optimize your surgical environment.