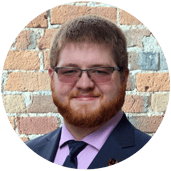 Ben is the latest addition to Sonicu's Customer Success team that includes Richard Wayne and Jason Fitzgerald. With the addition of Ben, the team now has over 20 years of combined experience delivering 5-Star Customer Support.
Together with Richard and Jason, Ben is responsible for the day-to-day operations of Sonicu's Customer Success department. Responsibilities include assisting customers through the onboarding process and providing personalized support and other training resources on an on-going basis after the Sonicu platform is up and running. Customer Success Managers are key to ensuring customers understand how to set up and navigate the Sonicu platform, while making full use of the SMART software suite tools in order to ensure maximum benefit in the areas of asset protection, operational efficiency, and automated regulatory compliance.

"Hiring Ben was an easy decision for Sonicu. Ben is a great guy with the heart of a teacher. We quickly realized he possessed fantastic customer service skills and brings great problem-solving skills to the job. We believe he will be a valuable asset to Sonicu and our customers." say's Joe Mundell, Sonicu's CRO.

Before joining Sonicu, Ben worked in the national office of Phi Mu Alpha Sinfonia, where he was responsible for organizational and operational excellence. Ben has a long track record of working closely with customers and quickly resolving problems. We are excited to have Ben on the team and wish him well in his new role.