Commercial Freezer Alarm
If you're looking for a cloud-based wireless temperature commercial freezer alarm system that helps your team eliminate manual logging, improve compliance readiness and protect all your temperature sensitive assets, you've arrived at the right place.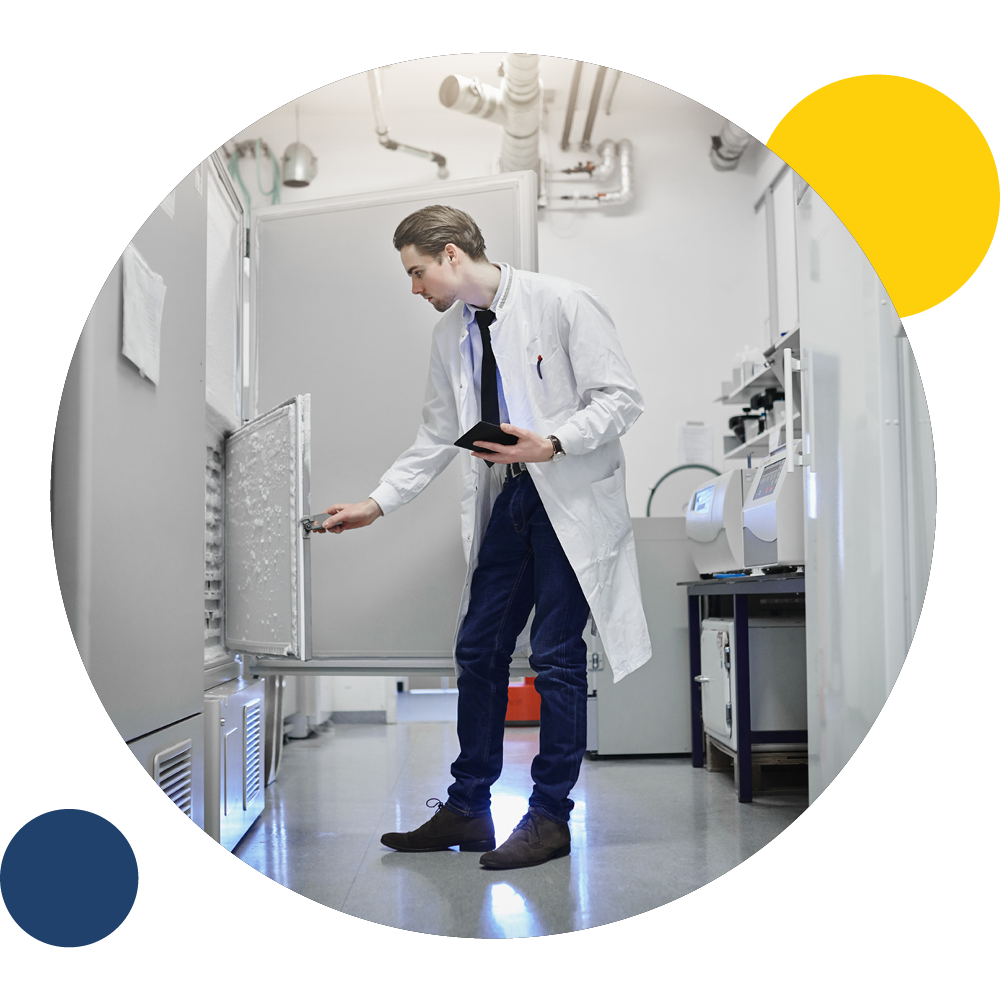 Learn How Professionals Like You Improve With Sonicu™
Some of the finest names in healthcare, research and food service/distribution, including Indiana University Health, University of Michigan Health System and MiraVista Diagnostics, rely on Sonicu to provide robust continuous temperature monitoring for their cold and frozen environments.
These respected healthcare and research brands turn to Sonicu for three primary reasons:
Operational Efficiency: Virtually eliminate the need for tedious and costly manual logging
Compliance Automation: Respond to virtually any regulatory audit or inspection

in a few clicks with our reports section

Asset Protection: Detect and respond to any temperature excursion that can threaten virtually anything perishable: food, drugs, vaccines, research, etc.



Our customers on average save $80,000 per year for every 100 beds in their hospital.
At research or university locations without beds, it's not hard to imagine the time savings alone by simply not having staff manually record temperatures several times per day. Commercial food distributors like Sonicu customers, Piazza Produce, use the alarms help them protect revenue and customers.
Our customers stay with us thanks to our American-based customer support that is never more than a phone call away.
While our technology is intuitive and powerful, we know it's only as strong as the people who stand behind it.
Learn How Our Customers Improve With Sonicu

Our Customers Save Lives.
At research or university locations without beds, it's not hard to imagine the time savings alone by simply not having staff manually record temperatures several times per day.
Sonicu has recently introduced its new SoniShield View in-room display which can show in real-time air pressure differential status.
And when coupled with the Sonicu Data Concentrator, facility managers can simply and affordably connect air pressure differential monitors from across an entire enterprise to their existing Building Automation (Management) System.
This commitment to innovation that helps our customers perform their jobs better, coupled with our American-based customer support that is never more than a phone call away is why Sonicu enjoys a 95 percent customer retention rate.
While our technology is intuitive and powerful, we know it's only as strong as the people who stand behind it.
We save them time and money.


Your Monitoring Questions. Answered Simply.
Monitoring technology is evolving constantly. We provide answers to the most common questions to help the industry understand how monitoring technology can protect your people, facilities and assets.
Any condition, any environment, any challenge.
The finest names in healthcare turn to Sonicu to improve safety, compliance readiness and staff efficiency.
For some organizations, such as those in the healthcare, pharmaceutical, food, and life science industries, reliable cold storage is essential.
A commercial temperature monitoring system can help organizations in industries like these protect sensitive assets that need to be kept at specific temperatures.
There is more than one type of freezer temperature monitoring system. The best temperature monitoring systems utilize an alarming system such as a freezer door alarm to quickly and reliably inform you when cold storage strays outside of the acceptable temperature range.
Some monitoring systems also enable remote fridge temperature monitoring using a wireless connection.
Having a consistent method of determining whether or not your storage freezer is remaining at the correct temperature is important for maintaining safe cold storage.
But, it's not enough to just have a method of monitoring temperature.
You can also benefit greatly from alert methods that notify you immediately when there is an issue with either freezer or fridge storage temperatures.
A monitoring system that includes an alarm feature can help enormously with this. If you're performing periodic manual checks, it's easy to miss problems until after it's too late.
It's also a good idea to use a freezer temperature monitor Wi-Fi system, so you have remote access to your monitoring system.
Throughout the rest of this article, we'll break down some of the different industries that can benefit from remote temperature monitoring systems with a commercial freezer alarm.
We'll also go over some of the specific benefits these tools can provide for each industry.

Wireless Freezer Alarm
Wireless freezer alarms can be useful in many scenarios across various industries. The best wireless freezer alarm for your organization depends partly on your industry.
Some of the most common uses for a freezer alarm include:
Pharmaceutical companies or hospital-based pharmacies can use remote temperature monitoring and a wireless alarm system to protect vaccines. Throughout a vaccine dose's entire journey, from development to transit, to storage, it needs to be carefully monitored for temperature in order to ensure the vaccine doesn't go bad and lose its potency.
Businesses in the food industry can use a wireless freezer alarm to keep perishable food frozen or refrigerated at the correct temperatures.

Food industry businesses

have a responsibility to keep food stored at safe temperatures. Otherwise, it could become unsafe for consumption and cause serious harm to others if the problem isn't caught in time.
Medical facilities like

hospitals and research labs

often handle sensitive assets that need to be stored at certain temperatures. In order for the research or medical care to be effective, these assets need to be well-protected. If not, there could be serious repercussions for patients.
These are just a few examples of the common industries in which freezer alarms can be useful.
There are other applications as well.
Using an automated alarm and reporting system like a smart freezer alarm is one of the most reliable methods of preventing the negative consequences of failing to store assets at the correct temperatures in all these industries.
There are other features available with some temperature monitoring systems that can aid your cold storage monitoring and reporting even further. These include wireless monitoring tools like a freezer alarm with phone app or a wireless refrigerator thermometer with app.


Commercial Freezer Temperature Alarm Wi-Fi
There are many ways to use a walk-in cooler temperature monitoring system. However, a wireless refrigerator thermometer with a mobile app like SoniCloud is one of the most reliable kinds of systems you can use.
The best Wi-Fi freezer alarm can alert you immediately if there's an issue with your organization's cold temperature storage. This can save you from missing a problem due to inconsistent monitoring and reporting.
With a wireless commercial freezer alarm, you don't have to worry about manual reporting. You can trust the alarm system to notify you promptly so you can take the appropriate actions to remedy the situation.
When it comes to how to monitor chest freezer temperature, there's not just one method. You'll likely find numerous wifi freezer alarm Amazon listings, but it's important to make sure you're purchasing the best Wi-Fi freezer alarm for your organization, not just any alarm you find for a low cost.
This is one area where it pays to use the best equipment.
Of course, you can always keep track of your cold temperature storage manually by periodically checking and recording the temperature.
This method tends to be unreliable though.
If there's a problem with your cold temperature storage, you need to be able to act fast. If you're reporting manually, you could remain unaware of the problem until your next temperature check.


Wi-Fi Freezer Alarm
Instead of using an unreliable manual temperature monitoring method, one of the best solutions is to use an automated Wi-Fi freezer alarm.
A monitoring system equipped with automated reporting capabilities can constantly monitor the temperatures of your cold storage and log them in real-time.
Combined with a Wi-Fi-enabled commercial freezer alarm, you can receive nearly instant alerts if the temperature in any of your cold storage locations moves outside the safe storage range.
The best refrigerator door alarms for commercial use have additional features to make them even more reliable.
For example, some temperature monitoring sensors include an automated battery backup.
This means the system will continue to monitor and log temperatures even if there's a power outage. You can rest assured you won't miss a critical issue with your freezer temperatures in the event of a power failure because the sensors and alarm will continue to function on backup power.


What Is The Best Freezer Alarm?
If you're in the market for a commercial freezer alarm with advanced features (like a freezer alarm that connects to phone apps), you'll surely want to know "what is the best freezer alarm?"
There's really no definitive way of naming the very best freezer alarm.
In order to figure out which freezer alarm system is best for your organization, you should consider your specific needs and what kind of features would be most useful in your industry.
For instance, maybe you're looking for the best freezer alarm Wi-Fi features. If that's the case, you should look into wireless monitoring systems that can remotely alert you to temperature changes.
In addition to industry-specific considerations, there are some must-have features of an effective wireless temperature monitoring and alarm system. These are features like:
Digital sensors that can accurately detect temperature changes in real-time
Internet security features that protect your company's private data while it's stored in the cloud
Battery backup so you don't become blind to storage temperature fluctuations if your facility loses power temporarily
Reporting built to satisfy diverse regulatory agencies
Compatibility with a BMS/BAS system for greater visibilty
These are some of the features that are practically universally useful across all industries. Essential temperature monitoring features like these make it possible to keep your temperature-sensitive assets safe for use or consumption.
Freezer Alarm Wi-Fi
One question you may have is whether or not an upright freezer with alarm capabilities is useful for consumers or for companies only.
While some consumers may want to use a freezer or fridge alarm for various reasons, wireless temperature monitoring and alerting systems are meant for commercial operations. The typical garage-ready upright freezer for consumer use isn't the kind of freezer that would usually need an alarm in most scenarios.
However, for commercial use, a freezer alarm Wi-Fi system is practically a necessity.
https://www.sonicu.com/sonicloud-platform
You could do without one by conducting regular manual checks and logging the reports by hand, but this method is not nearly as reliable as using a temperature monitoring system. Without an alarm to alert you to problems with storage temperatures, it's much harder to react quickly enough.
An automated remote alarm for your temperature monitoring system can benefit your organization in many ways. Some of the more specific features of the best commercial freezer alarms include:
Customizable delays and buffers
Auto-resolve features to prevent false alarms
Tiered alarming, alarm escalation, and repeating alarms (these features ensure temperature issues are noticed and resolved as fast as possible)
A powerful mobile app that connects you to your cold/frozen assets from anywhere
Wired Freezer Temperature Alarm
Another option for keeping your cold storage temperatures consistent is using a wired freezer temperature alarm.
This type of alarm can work fine in some situations, but a freezer alarm that connects to phone apps is usually better. When your freezer alarm is capable of connecting wirelessly to the cloud, it creates a whole new list of advantages. For example:
You can receive remote notifications regarding any problems with storage temperatures.
Temperatures will be automatically logged by the system as it monitors for irregularities and reports will be uploaded to the cloud
You can review temperature logs remotely by connecting wirelessly to the alarm system with an app.
You can choose between multiple methods of transmitting temperature data, including cellular, Wi-Fi, and radio frequency.
These are just a few of the advantages of using a freezer temperature alarm Wi-Fi system.
You should keep benefits like these in mind as you consider the best wifi freezer alarm for your organization.
When your freezer temperature sensor is connected to the cloud, you can enjoy peace of mind that storage temperatures are being logged consistently and accurately. You can also be sure the appropriate personnel will be immediately notified if a temperature problem is detected.

American-based Customer Support: Robust & Reliable High Touch Service
Software and technology is only as good as the people who stand behind it.
At Sonicu, that means our team of American-based customer success managers who are never more than a phone call away to help field and fix any service issues.
Our probes and sensors are placed in demanding frozen environments and our software literally sends billions bits of data monthly, meaning there's alway the potential for a hiccup on either the hardware or software.
We are committed to fielding every customer service request promptly and addressing our customer's concerns promptly and professionally.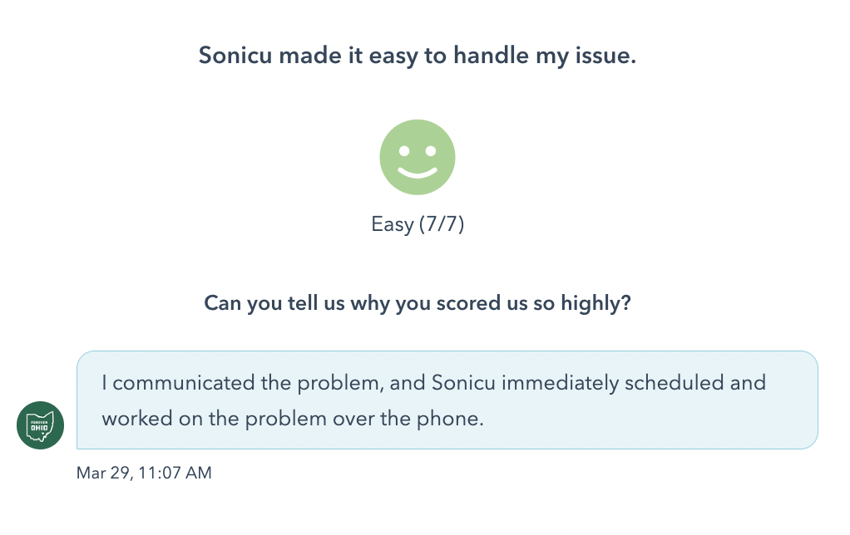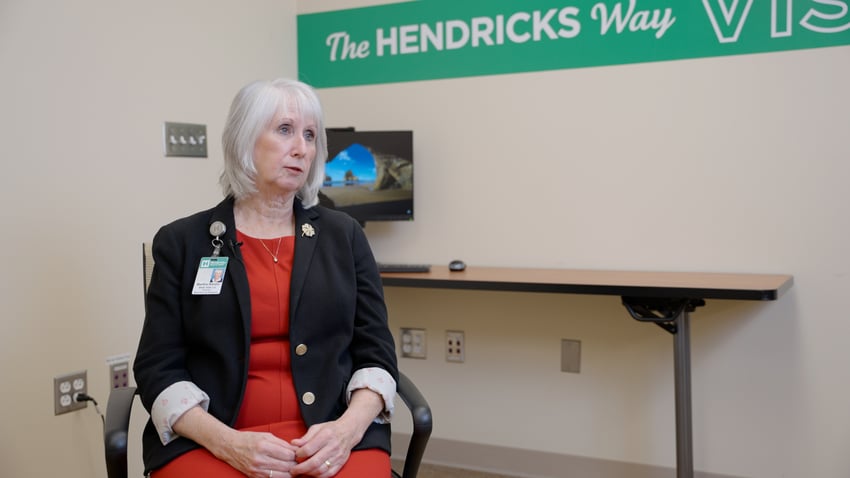 "I like to say that every refrigerator or freezer is like a car in that they all behave a bit differently,
and then every now and then you just get a bad boy who doesn't want to perform as we need it to,"
Martha Rardin, Director, Nutrition and Dietetics, Hendricks Regional Hospital.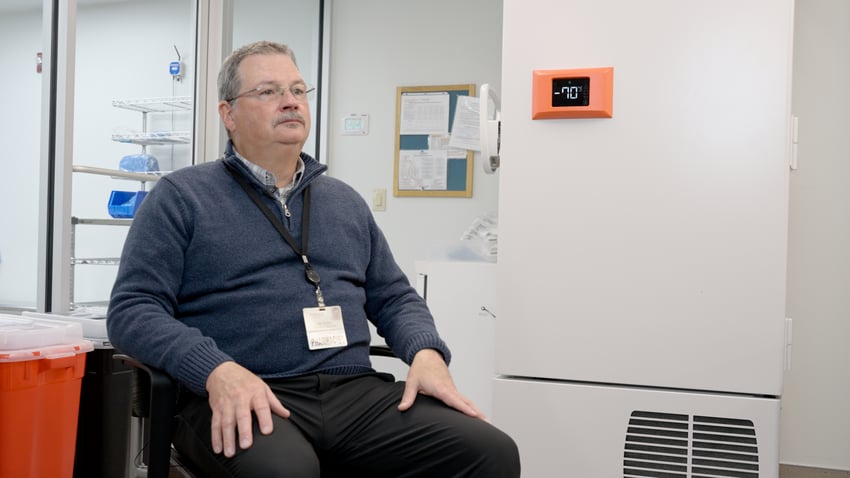 "Sonicu has been a powerful tool to identify which units are behaving out of spec and get our team
to fix them before we have a serious issue."
Tim Livesay, Director, Hancock Regional Hospital Pharmacy Director


Temperature Monitoring Resources