Wireless Room Pressure Monitoring
Affordable air pressure monitoring to protect your sensitive environments
Automatically monitor, log and report room air pressure differential for safety & compliance automation.
Speak To A Environmental Monitoring Specialist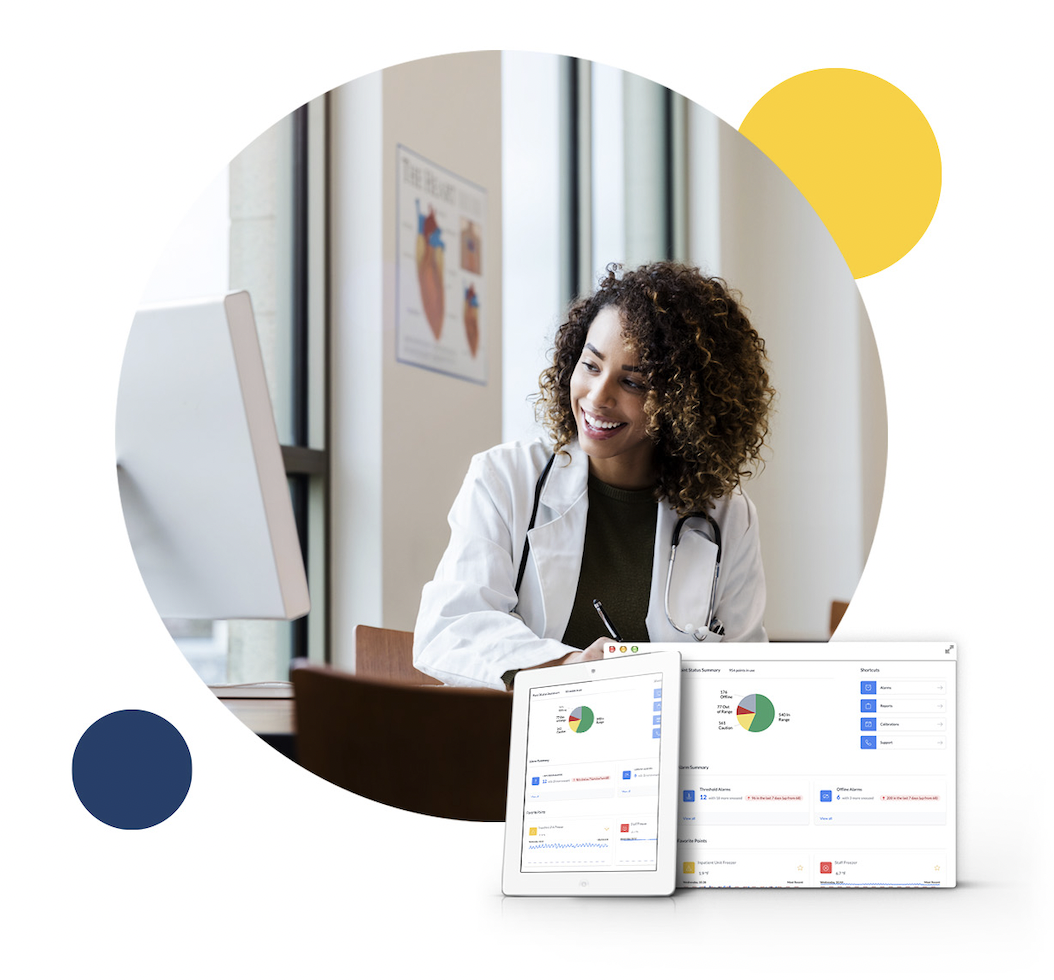 Room Air Pressure Monitoring
Sonicu differential air pressure monitoring delivers dependable cloud-based monitoring solutions for virtually any pressure differential application, including air changes per hour (ACH), for healthcare critical- and non-critical-care environments.
Features:
High-resolution differential air pressure monitoring with display for compounding rooms, isolation rooms, clean rooms, surgical suites and other pressure-sensitive environments, including non-critical care areas such as soiled linen closets
Construction applications include dust and airborne contaminant control between occupied and work areas.
Track and evaluate air velocity and flow to properly time air filter changes and predict overall efficiency of HVAC systems.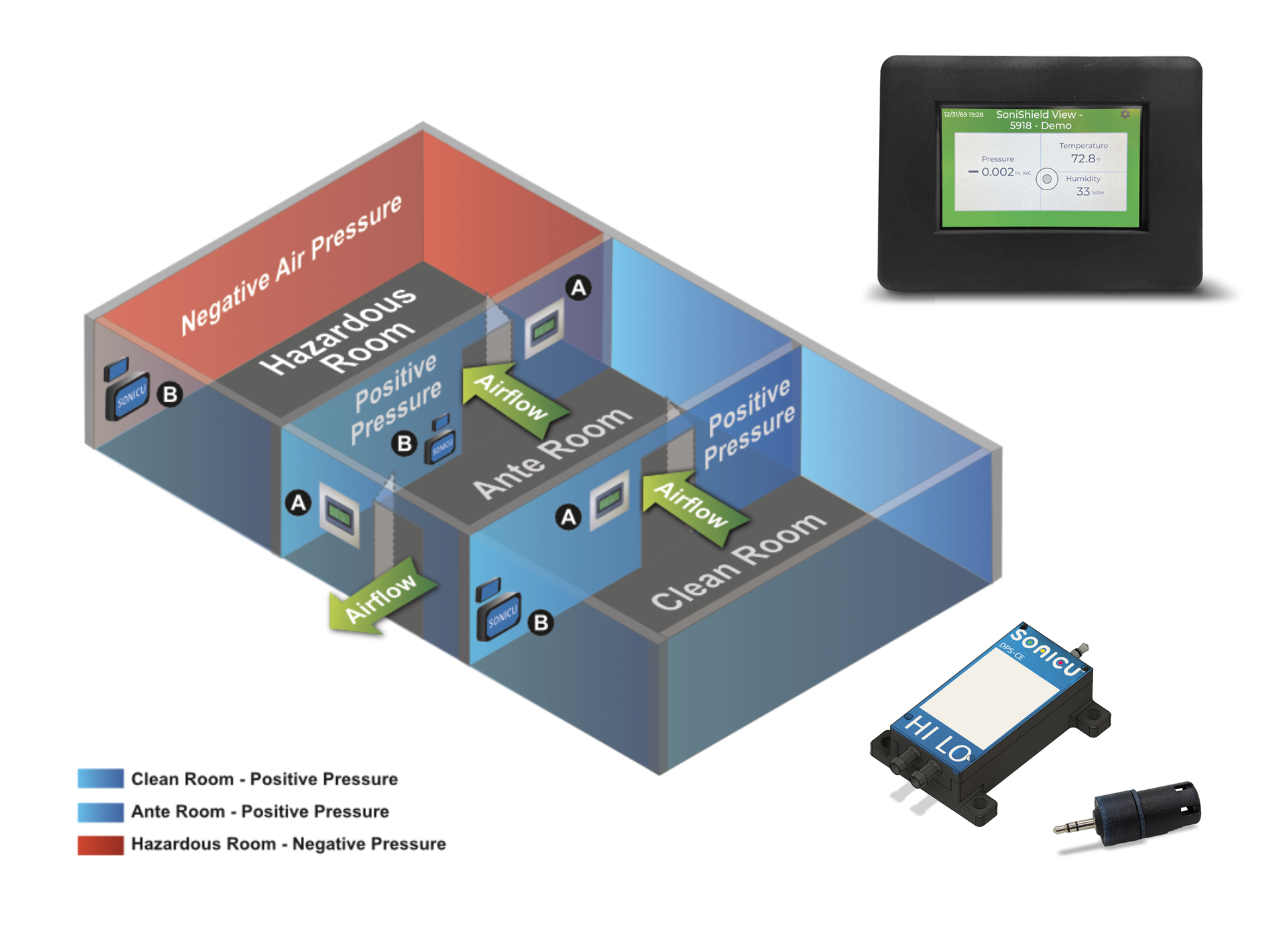 SoniCloud Monitoring Dashboard
Web-based access from any phone, tablet, or PC
All Sonicu monitoring solutions include the SoniCloud Monitoring Dashboard, a modern, scalable platform that makes it easy to view all your monitoring anytime.
Hosted on AWS: best-in-class security & reliability
DataSync redundancy protects against power and network outages with on-board memory and data storage
Alarms with predictive algorithms to spot trends, reduce alarm fatigue, and escalate if needed
Cellular VPN eliminates security breach concerns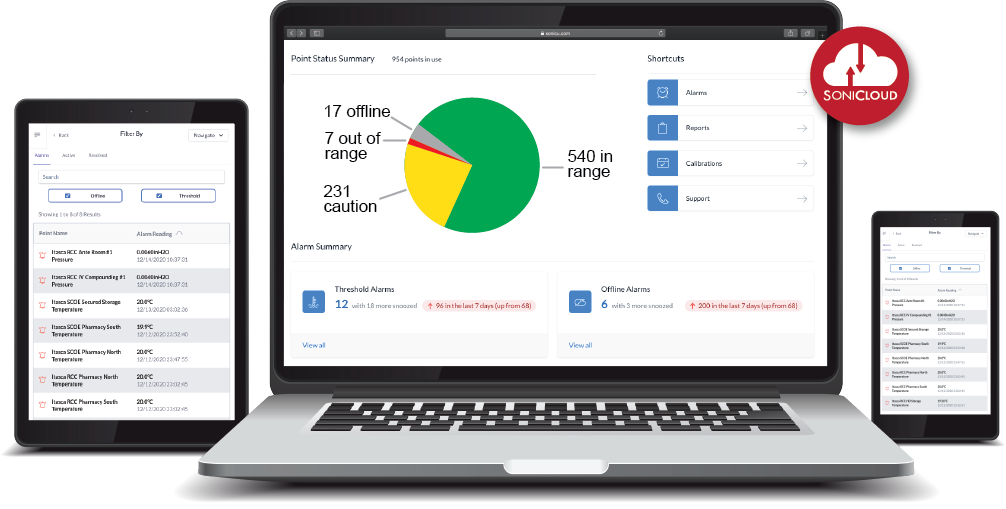 Compliance Reporting: Simplified
Automated Logging & Reporting
Saves time and money by eliminating manual logging and reporting processes
Reporting tools analyze data, spot trends and streamline performance audit procedures
Automatically generates reports in regulatory compliant format
Tiered alarms and alerts for organization wide connectivity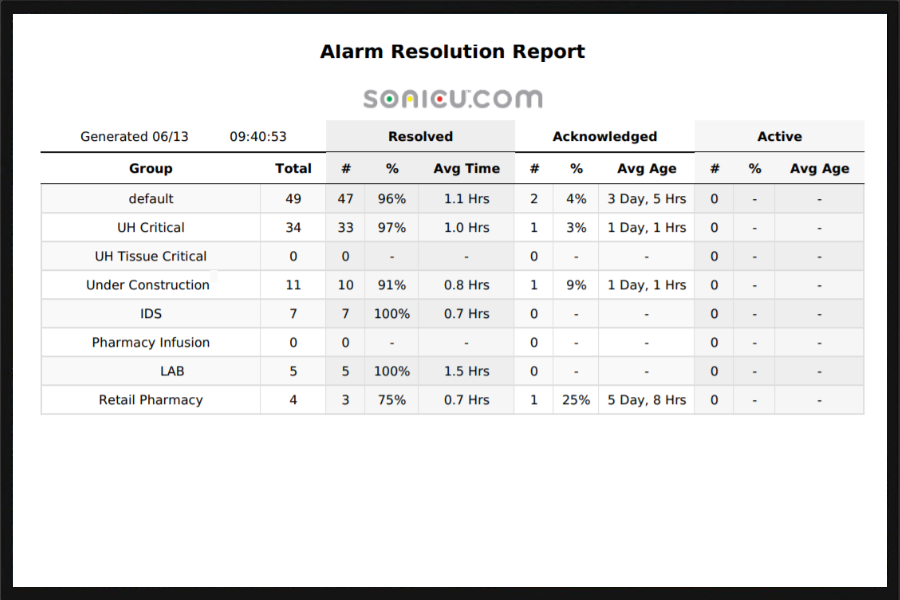 ---
Digital Meters and Sensors
SoniShield Duo Digital Meter With Powerful Mobile App
Compatible with any combination of two Sonicu NIST certified digital sensors, the Duo Meter utilizes the most advanced wireless technology to provide the most efficient and easy-to-use wireless monitoring experience available.
Designed for hospital critical and non-critical care areas, pharmacy compounding rooms, research and life science as well as construction environments and commercial building automation applications.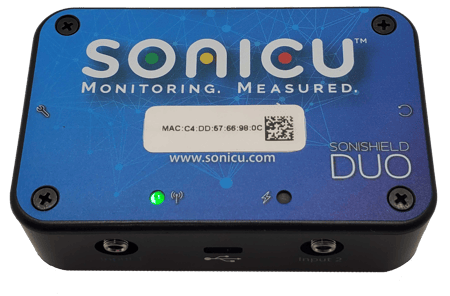 Flexible, two-port digital meter accepts Sonicu's broad array of digital sensors that include:
Cold Storage Temperature

Ambient Temp & Relative Humidity

Cryogenic &

Ultra-Low Temp (ULT)

Air Pressure Differential
Onboard Li-ion rechargeable battery and SIM memory with DataSync feature provide a battery backup option and ensures data integrity in the event of a system interruption or power loss.
Multiple networking capabilities allow several units to be meshed into a unified system.
---
Digital Air Pressure Differential Sensor
Includes NIST Calibration Certificate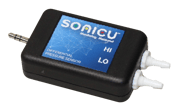 Monitors air pressure between rooms to maintain safe environment. For healthcare, pharmaceutical, construction, and HVAC.
Simple plug-and-play deployment. Pickup options include air ducts, wall plate, and ceiling mount.
Range: +/- 4 inches water column
Accuracy: +/- .25%
Part No: 101275
Our Customers: In their Own Words
The Sonicu Difference
Advanced Alarming
Cloud-based software capabilities with predictive algorithms for tailored alarming to reduce alarm fatigue and spot trends.
SMART Digital Sensors
SMART sensors with proprietary DataSync capture. Preserve and secure data in the event of transmission interruptions.
SMART Reporting
Automated logging and reporting unrivaled in the industry for effortless regulatory compliance.
Battery Backup
Industry leading battery life on all sensors. In the event of a power outage Sonicu's wireless sensors continue to keep you notified.
The Safest Network
Virtual Private Network on Verizon cellular platform that eliminates security concerns when transmitting data to the cloud.
Flexible Transmission
Replace server-based systems and eliminate IT concerns with a variety of transmission signals including: Cellular, Radio Frequency, WiFi, and Ethernet.
Recalibration is Easy
All-digital temperature probes for easy calibration renewal with Sonicu's SNAP calibration program.
Ensuring Consistency
Service quality and connectivity reports provide detailed analysis of system operations.
Other Room Pressure and Condition Monitoring Resources