---
Sound Meters and Reporting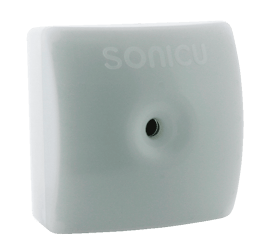 SIM Sound Indicating Meters
Sonicu's patented Sound Indicating Meter (SIM) is the industry-leading sound monitor that provides constant, precise data to reduce undesirable noise and improve patient satisfaction and safety.
Sound range - Low: 35 dBA; High: 100 dBA


Sampling rate - SPL data collected every second; batch transmitted to cloud every 15 seconds.


Flexible data transmission capability allows Sonicu sound management to operate independently of existing IT systems.
---


Sound Target Achievement Reports
STAR reports pinpoint exact locations and times of sound events for hospital noise reduction strategies.


Identifies peak sound spikes and rolling sound level averages over 5-minute intervals.


Helps eliminate unwanted noise events to lower overall sound levels.