Data-driven Management for Improved Outcomes
Sonicu's Sound Management Program does more than simply monitor noise levels. It provides empirical sound data necessary to assess, improve and manage your sound environment toward positive, lasting change for healthcare HCAHPS, NICU/ICU/CCU, construction/industrial OSHA compliance and any other sound-sensitive setting.
Sound Indicating Meters (SIMs) easily install virtually anywhere without hardwiring to existing IT systems to monitor sound 24/7.


Sound Target Achievement Reports (STAR) clarify your sound environment with pinpoint accuracy, identifying top sound events and average sound levels to eliminate troublesome noise and quiet your area.


Empirical data validates noise-reduction initiatives and verifies results.
---
Sound Meters and Reporting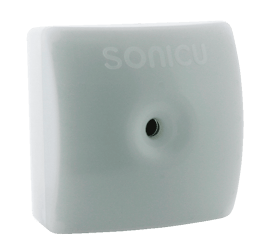 Sound Indicating Meters
Sonicu's patented Sound Indicating Meter (SIM) is the industry-leading sound monitor that provides constant, precise data to reduce undesirable noise and improve patient satisfaction and safety.
Sound range - Low: 35 dBA; High: 100 dBA


Sampling rate - SPL data collected every second; batch transmitted to cloud every 15 seconds.


Flexible data transmission capability allows Sonicu sound management to operate independently of existing IT systems.
---


Sound Target Achievement Reports
STAR reports pinpoint exact locations and times of sound events for hospital noise reduction strategies.


Identifies peak sound spikes and rolling sound level averages over 5-minute intervals.


Helps eliminate unwanted noise events to lower overall sound levels.
---
All Sonicu Monitoring Solutions Are:
Fully compliant with all state and federal regulatory requirements.


Easily implemented, cost effective, and fully scalable.


Completely automated to eliminate manual monitoring, logging and reporting.


Totally secure and operate independently of existing IT infrastructure.


Warranted and supported by Sonicu's dedicated support team.