Differential Air Pressure Sensor
If you're looking for a cloud-based differential air pressure sensor system that helps your team eliminate manual logging, improve compliance readiness and protect all your temperature sensitive assets, you've arrived at the right place.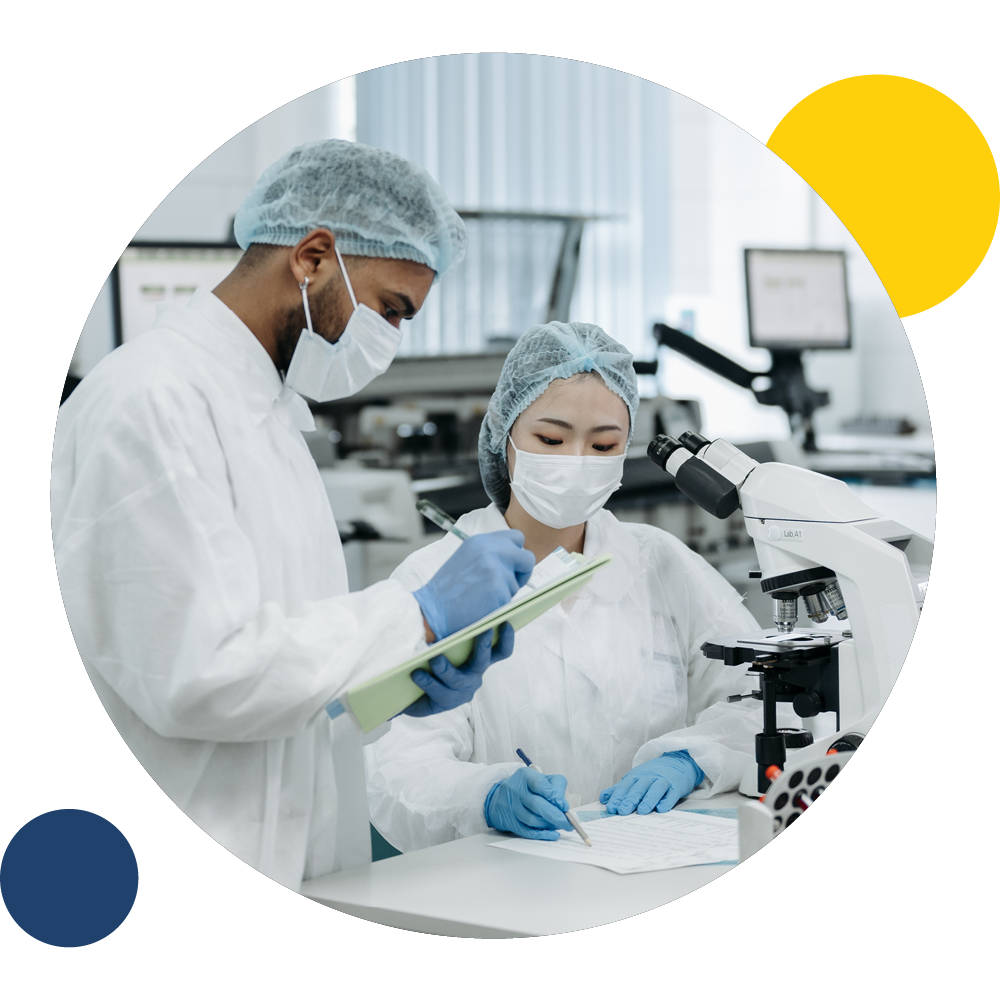 Learn How Professionals Like You Improve With Sonicu™
Some of the finest names in healthcare and research, including Indiana University Health, University of Michigan Health System, Stanford University and Cryopoint, rely on Sonicu to provide robust continuous temperature monitoring for their cold and frozen environments.
These respected healthcare and research brands turn to Sonicu for three primary reasons:
Operational Efficiency: Virtually eliminate the need for tedious and costly manual logging
Compliance Automation: Respond to virtually any regulatory audit or inspection

in a few clicks with our reports section

Asset Protection: Detect and respond to any temperature excursion that can threaten virtually anything perishable: food, drugs, vaccines, research, etc.



Our customers on average save $80,000 per year for every 100 beds in their hospital.
At research or university locations without beds, it's not hard to imagine the time savings alone by simply not having staff manually record temperatures several times per day.
Our customers stay with us thanks to our American-based customer support that is never more than a phone call away.
While our technology is intuitive and powerful, we know it's only as strong as the people who stand behind it.
When coupled with our SoniShield View in room display that shows real-time air pressure differential alongside temperature and humidity, Sonicu can deliver a robust hardware and software solution designed to increase safety, reduce manual processes and streamline compliance.
Our Customers Save Lives.
At research or university locations without beds, it's not hard to imagine the time savings alone by simply not having staff manually record temperatures several times per day.
Sonicu has recently introduced its new SoniShield View in-room display which can show in real-time air pressure differential status.
And when coupled with the Sonicu Data Concentrator, facility managers can simply and affordably connect air pressure differential monitors from across an entire enterprise to their existing Building Automation (Management) System.
This commitment to innovation that helps our customers perform their jobs better, coupled with our American-based customer support that is never more than a phone call away is why Sonicu enjoys a 95 percent customer retention rate.
While our technology is intuitive and powerful, we know it's only as strong as the people who stand behind it.
We save them time and money.
Your Monitoring Questions. Answered Simply.
Monitoring technology is evolving constantly. We provide answers to the most common questions to help the industry understand how monitoring technology can protect your people, facilities and assets.
Any condition, any environment, any challenge.
The finest names in healthcare turn to Sonicu to improve safety, compliance readiness and staff efficiency.
Differential Air Pressure Sensors

In cleanrooms used for pharmaceutical settings, data centers, and many other kinds of sensitive, enclosed spaces, monitoring differential air pressure is vitally important.
Employing the correct technology can be an effective way to remain in compliance with regulations. For example, clean rooms are required to maintain specific air pressure.
This prevents particulates from settling on sensitive products that are being manufactured. Specifically, maintaining a specific differential air pressure is critical in preventing contamination.
There are two different kinds of cleanrooms with regards to air pressure.
The first kind is the positive differential pressure cleanrooms. In this case, the internal pressure of the room is maintained higher than the external pressure. This pressure differential prevents contaminants from entering through any opening in the cleanroom.
The other kind is the negative differential pressure cleanroom. This is the opposite of a positive differential room. In this case, the pressure is maintained higher within the cleanroom than outside it.
This is a precautionary measure that can prevent harmful substances or entities from escaping the cleanroom.
One way to monitor and maintain the correct differential pressure is to use a differential air pressure sensor. These devices are used by professionals for getting precise measurements of air pressure for compounding rooms, isolation rooms, clean rooms, surgical suites, and other pressure-sensitive environments.
One way to see how these kinds of sensors work is to watch a differential pressure transmitter working principle animation.
What is a differential pressure sensor?
It is a technological device that measures the differential pressure in a space. When installing a differential pressure device, it's important to always read the differential pressure gauge manual so that you know that you are installing everything correctly.
Another way of understanding how a sensor like this works is to look at a differential pressure transmitter block diagram. This simple chart maps out the functions of a differential pressure transmitter so that you can get a better idea of how this device works.
As an example, Sonicu offers a precise, high-resolution differential air pressure monitoring sensor that possesses an easy-to-read display so that you can ensure that your spaces are safe and compliant.
Sonicu sensors are versatile, enabling you to use the sensor for virtually any pressure differential application, including air changes per hour (ACH).
Sonicu boasts a mobile app with tiered alarms that can connect healthcare and research professionals to their sensitive environments with real-time alerts about air pressure differential excursions. The alerts are available via phone, email, text and mobile app push notification.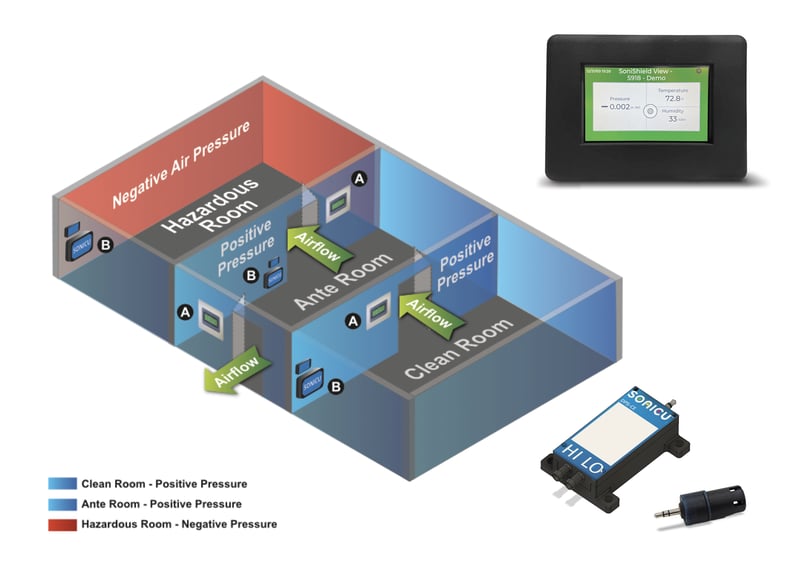 Differential Pressure Sensor For Air Flow
One specific application for using these devices is in the HVAC space. Many HVAC professionals recognize the value of utilizing an effective differential pressure sensor for airflow.
Airflow is the amount of air moving through the HVAC system. Carefully monitoring airflow is important when it comes to maintaining the HVAC system. A loss of airflow can end up causing damage to your HVAC system and can result in expensive repairs.
One frequently used sensor for monitoring differential pressure and airflow is the differential pressure sensor 4-20ma. These small, efficient sensors are widely used in the HVAC and construction industries to monitor air differential air pressure in sensitive areas.
Generally, they have two inputs for pipes that will have two different air pressures. The device then calculates the pressure differential and sends that information to a display or other system. Most 4-20ma sensors are small and innocuous in size and may possess no user interface or display screen. Rather, these sensors are designed to send the pressure data to other systems.
One thing that is important to understand in any discussion of differential pressure sensors is the differential pressure sensor symbol.
This symbol usually features a small triangle next to the letter "P." The triangle is a symbol called the "delta," which means "change in," and the "P" is short for pressure.
Thus, the symbol refers to "change in pressure." You may see this symbol on sensors monitoring airflow and others, such as a differential water pressure sensor.
The SoniCloud platform delivers powerful and intuitive reporting that helps healthcare and research professionals improve how they measure air pressure differential and respond to virtually any regulatory inspection.
Dozens of hospitals and research facilities rely on the Sonicu air pressure differential solution to protect their patients and essential research.
Differential Pressure Sensor Water
What is a differential pressure sensor water measurement device? Some devices, called "wet-to-wet," can measure the pressure difference between two separate containers of water or liquid.
In this context, differential pressure sensors can accomplish a variety of goals. For example, monitoring the differential pressure can be a way to detect a leak within the system. If the pressure suddenly drops, you can be fairly sure that a leak has occurred and should be rapidly addressed.
A sensor like this can also be used to monitor for blockages in strategic points through the system. If the pressure differential drops gradually, this could also indicate a buildup of material that could be inhibiting flow.
There is also the differential pressure sensor 4-20ma. Some versions of this sensor can be used for "wet" applications to monitor the pressure differential between two bodies of water.
A differential pressure sensor price will range depending on its features and functionalities.
For example, a pressure sensor that can be used with water may be more expensive than a sensor that is just designed for airflow. Furthermore, the presence or absence of a screen or any kind of interface can also impact the cost.
However, it should be noted that even with the higher cost, possessing the ability to verify that the device is working properly by just looking at the LCD display is a valuable feature. The basic differential pressure sensor working principle is fairly simple. Within the sensor is a diaphragm that separates the two inputs of air or water.
These inputs exert opposite pressures on the diaphragm, and it is then deflected depending on which pressure is stronger. The size and direction of the deflection (referred to as positive or negative) are used to determine the differential pressure.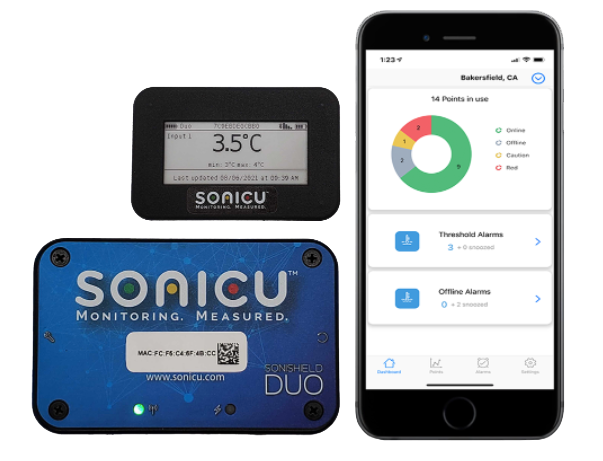 Differential Pressure Sensor Arduino
Another kind of pressure sensor is the differential pressure sensor, Arduino. Arduino is an open-source electronics platform designed to make building small electronic systems simpler and easier.
Within this platform is a pressure sensor that is highly accurate and can be used to build your own pressure monitoring system. Ardunio supports a DIY mentality, which gives you a great deal of control over the design but also requires work to set up.
An Arduino manometer can be built to monitor fluid pressure as well. The standard Arduino pressure sensor is not a "wet-to-wet" sensor. There are many uses for Arduino pressure sensors.
It is possible, for example, to build an Arduino pressure sensor 10 bar. This means that it can measure pressure up to 10 bar (a bar is a common unit of measurement for pressure, like PSI). You can also use a hydrostatic pressure sensor, Arduino, in your pressure sensor system as well.
The whole idea of an Arduino is to make working with small microchips and precise technical devices more straightforward. Arduino parts are compatible with all I2C devices as well, which means that you could also use an i2c differential pressure sensor in your devices.
One specific example of an Arduino pressure sensor is the MPX10dp. Using the MPX10dp pressure sensor Arduino code, you can set up the pressure sensor according to your specifications.
Arduino devices must all be programmed using the Arduino programming language that has been developed specifically to be easy to use. Another example of a sensor like this is the MPX5010dp sensor. Many of these sensors are designed for measuring positive differential pressure. If your goal is to measure the opposite, you will need to find a negative pressure sensor Arduino and build up from there.
Differential Pressure Sensor HVAC
What is differential pressure in HVAC? We have already mentioned just how useful a differential pressure sensor HVAC measurement device can be.
The differential pressure sensor working principle effectively enables these devices to monitor airflow precisely. Another important device in this context is a differential pressure switch in AHU (air handling unit).
This switch can be used to control any electrical system and is activated by a specific change in the differential pressure of the space. You can also use an HVAC filter differential pressure sensor to ensure that the differential pressure does not change on either side of the filter. If the pressure is lower, the filter could be causing a blockage.
An HVAC pressure sensor can be a great way to maintain your HVAC system and keep it operating in top form.
Differential Pressure Sensor Ic
A differential pressure sensor IC is an integrated circuit that can monitor pressure. One of the most common differential pressure sensors is the differential pressure sensor 4-20ma.
It's important to select a good differential pressure sensor location that is both convenient to maintain and access while being ideal for measuring the air pressure of the space.
A pressure sensor, such as the one from Sonicu, can be a great way to maintain the compliance and non-contamination of your sensitive spaces.
Plus, the data you get from a pressure sensor datasheet can also be very useful in terms of improving your system.
Differential Pressure Sensor Types
There are many different differential pressure sensor types. For example, a pneumatic differential pressure switch actually uses the diaphragm illustration we discussed earlier and can be used to activate an electronic device based on whether or not the pressure changes. A pressure transducer is a device that can convert pressure into an electrical signal as a way to monitor differential pressure.
Some types of sensors used in HVAC are unique, while others are universal. There are also several pressure sensor distributors, including SonicU.
A high-quality differential pressure transmitter can be essential for monitoring airflow, checking for leaks, and preventing contamination of cleanrooms and other sensitive spaces.
American-based Customer Support: Robust & Reliable High Touch Service
Software and technology is only as good as the people who stand behind it.
At Sonicu, that means our team of American-based customer success managers who are never more than a phone call away to help field and fix any service issues.
Our probes and sensors are placed in demanding frozen environments and our software literally sends billions bits of data monthly, meaning there's alway the potential for a hiccup on either the hardware or software.
We are committed to fielding every customer service request promptly and addressing our customer's concerns promptly and professionally.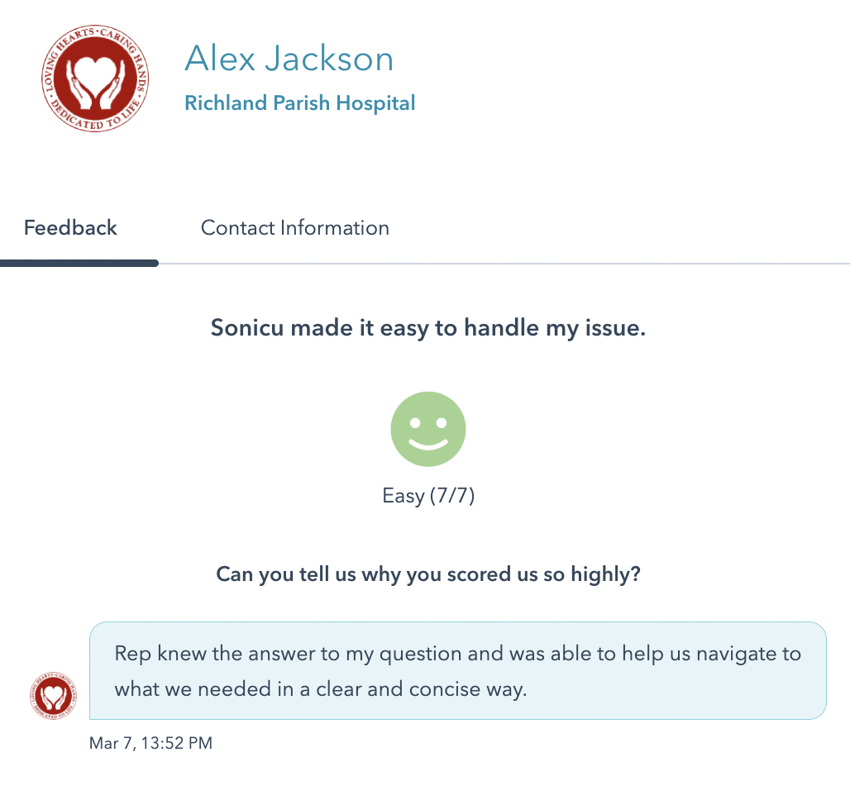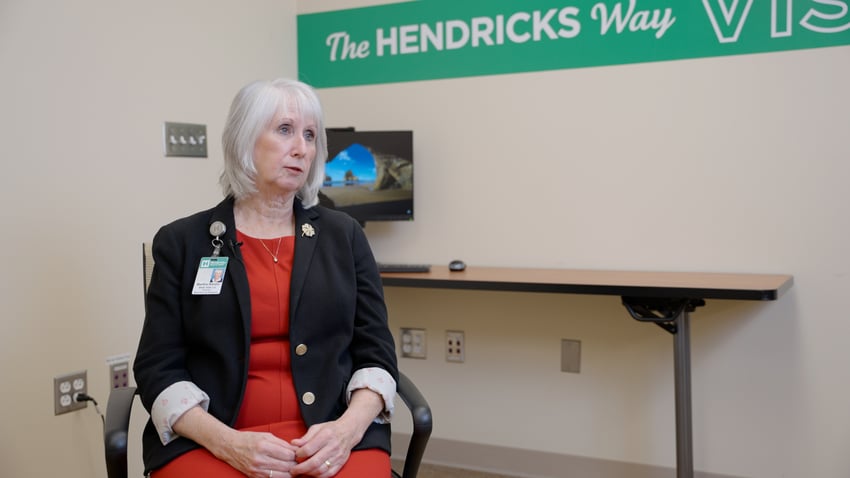 "I like to say that every refrigerator or freezer is like a car in that they all behave a bit differently,
and then every now and then you just get a bad boy who doesn't want to perform as we need it to,"
Martha Rardin, Director, Nutrition and Dietetics, Hendricks Regional Hospital.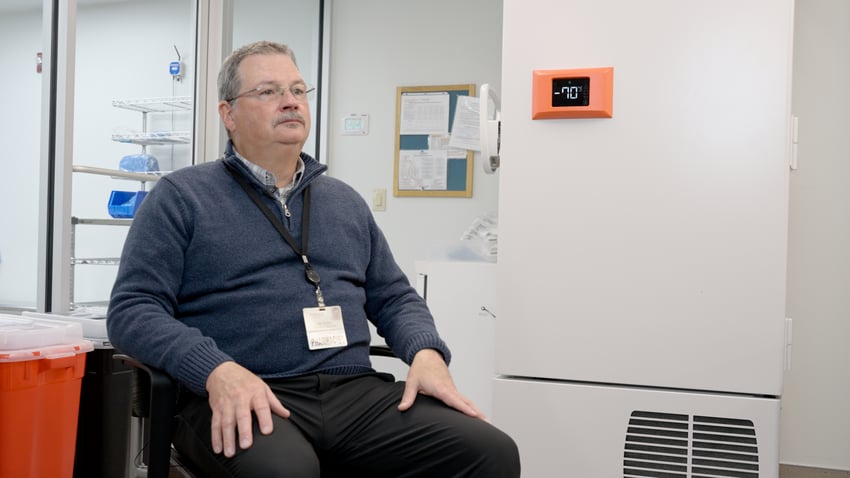 "Sonicu has been a powerful tool to identify which units are behaving out of spec and get our team
to fix them before we have a serious issue."
Tim Livesay, Director, Hancock Regional Hospital Pharmacy Director


Other Room Pressure and Condition Monitoring Resources