SoniCloud Platform
SoniCloud is a robust, secure, cloud-based platform that aggregates system-wide monitored data to a dashboard, providing 24/7 access to critical information.
REQUEST QUOTE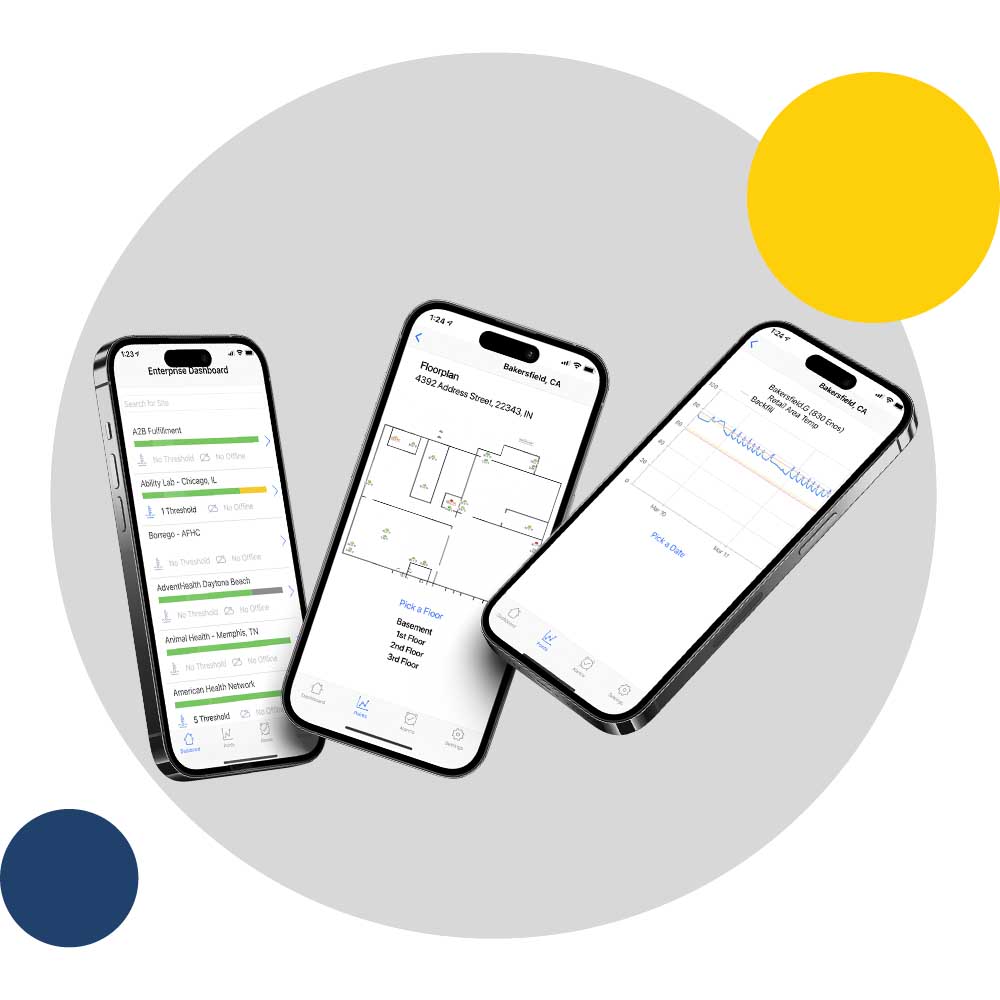 The Smart Way to Manage Assets
Ohio University Innovation Center Turns to Sonicu
for Temperature & Environmental Monitoring
You're in control. 24/7
Intuitive screens with easily defined parameters provide the right information, at the right time.
Unlimited users can view and control all monitored locations from a single dashboard
Smart Views default to a personalized time/date range based on your preferences

Dashboard optimization for mobile devices with pinch-zoom and click functionality
Easy drill-down and analysis of data.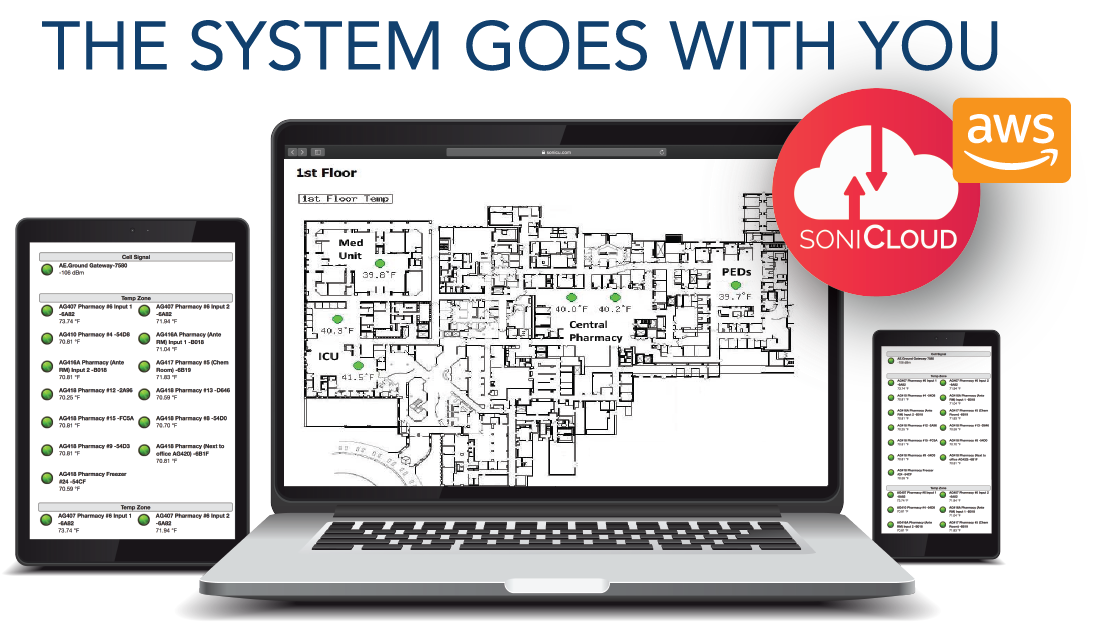 Customized Alerts: Eliminate Alarm Fatigue
Tiered alarming allows you to determine when, where, and who is notified.
24/7 alerts via text, email, or phone call to designated staff tailored to the situation

Threshold delays prevent unnecessary alerts


All monitoring points can be customized for out-of-range thresholds, time frames, asset type, and applications
Learn More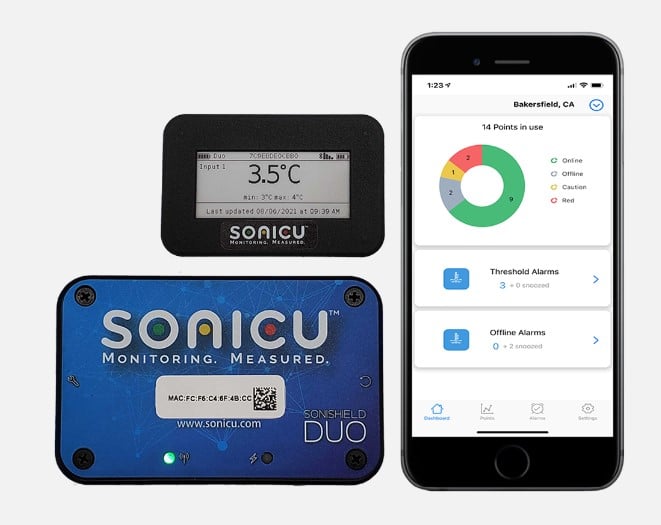 Regulatory Reporting
Advanced reporting capability eliminates manual processes.
Auto-generated regulatory reports

Fully automated data logging and reporting

Unlimited data storage and users

Flexible, admin rights ensure the right information is accessed by the right people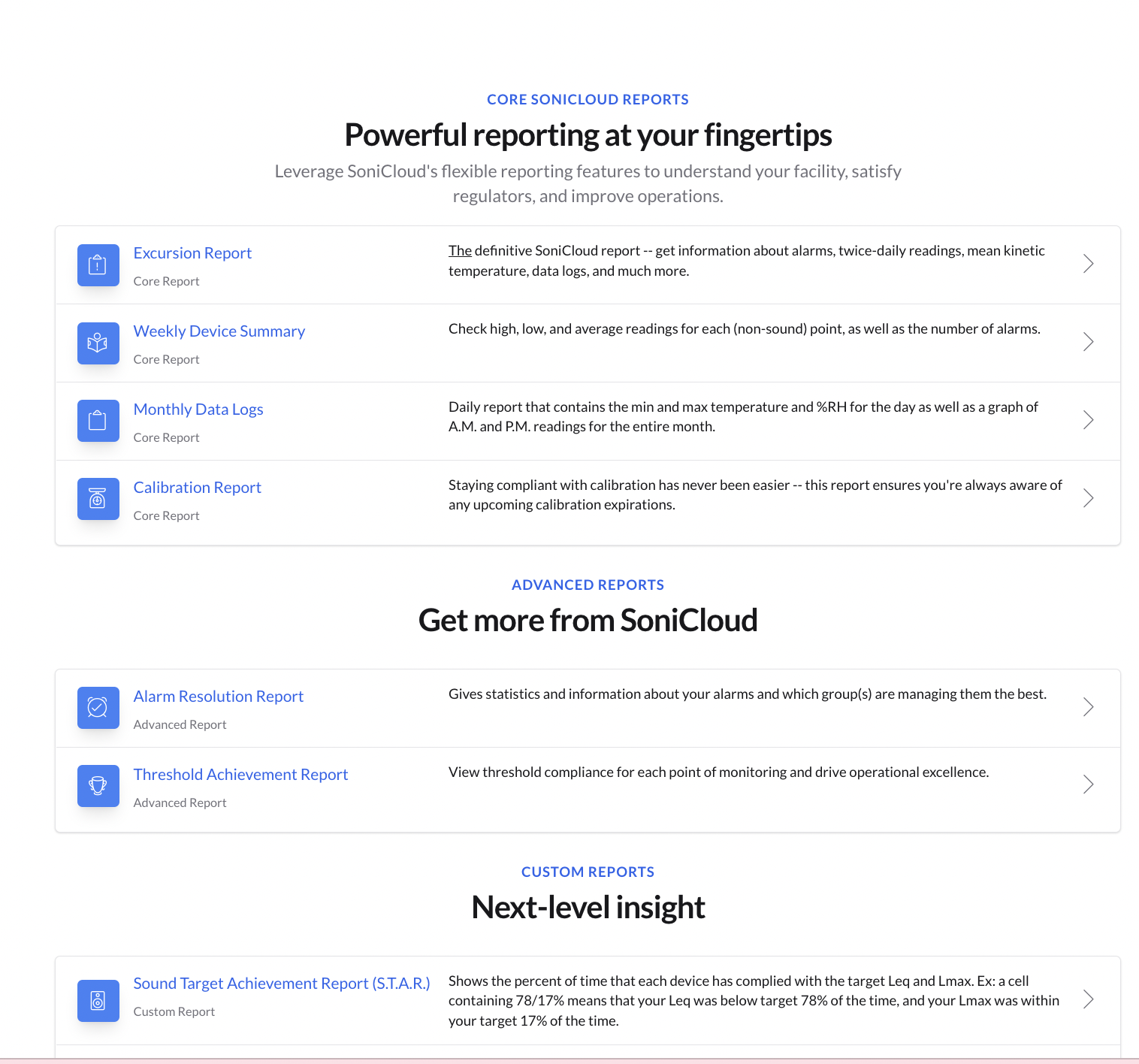 Sonicu remote wireless monitoring solutions are easy to install, understand and use because of three elements: cloud-based computing using a software-as-a-service (SaaS) platform to track, log and report data from wireless sensors.
The Cloud
Sonicu's SoniCloud software platform is accessed via the internet on Amazon Web Services, a cloud-computing provider that serves more than a million customers monthly in 190 countries.
AWS is used by ~5,000 educational institutions and ~2,000 government agencies.
Why Cloud Computing?
Access from anywhere at any time from any internet-enabled device
You focus on core business rather than on IT infrastructure and maintenance
Capitalize on cutting-edge computing without specialized knowledge and expertise
Scalability: add or modify capabilities and capacity without expensive IT modifications
SoniCloud
Easily accessed via any modern web browser, SoniCloud provides clients with automated monitoring, alarming, logging and reporting functions, which are developed, maintained and updated by Sonicu.
Other than sensors and a SoniCloud subscription, there is nothing to purchase or install.
Why SaaS?
High adoption rate and low learning curve

Low upfront costs: No licenses or user seats to purchase.

Continual universal updates and improvements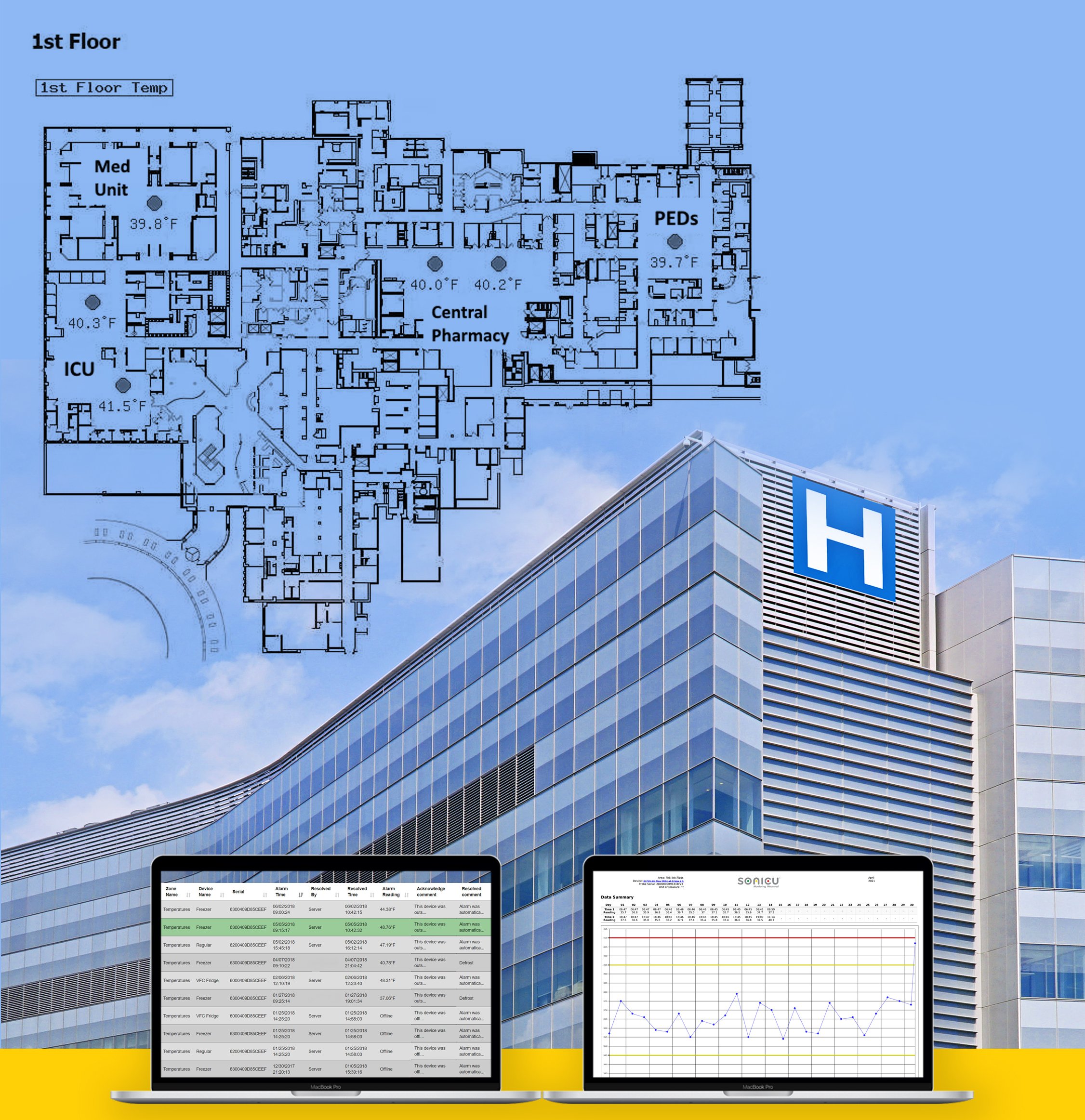 Remote Wireless Monitoring
Wireless sensors deploy without hardwiring and mount virtually anywhere – on equipment, walls, and ceilings – without hardware or burden on IT infrastructure.
Sensor data is automatically transmitted independently of clients' networks via 4G cellular radios or using clients' existing Wi-Fi or Ethernet connections.
Why wireless meters?
Enterprises can be retrofitted with wireless monitoring easily and cost-effectively

Fully configured wireless meters do not require technical expertise for deployment

System expands as needs grow with additional meters and monitoring points
The Sonicu Difference
Advanced Alarming
Cloud-based software capabilities with predictive algorithms for tailored alarming to reduce alarm fatigue and spot trends.
SMART Digital Sensors
SMART sensors with proprietary DataSync capture. Preserve and secure data in the event of transmission interruptions.
SMART Reporting
Automated logging and reporting unrivaled in the industry for effortless regulatory compliance.
Battery Backup
Industry leading battery life on all sensors. In the event of a power outage Sonicu's wireless sensors continue to keep you notified.
The Safest Network
Virtual Private Network on Verizon cellular platform that eliminates security concerns when transmitting data to the cloud.
Flexible Transmission
Replace server-based systems and eliminate IT concerns with a variety of transmission signals including: Cellular, Radio Frequency, WiFi, and Ethernet.
Recalibration is Easy
All-digital temperature probes for easy calibration renewal with Sonicu's SNAP calibration program.
Ensuring Consistency
Service quality and connectivity reports provide detailed analysis of system operations.
Learn more about remote wireless monitoring solutions.
Sonicu's resource library has the answers you're looking for to remedy your healthcare monitoring woes. Visit our resource center by clicking the button below: