Remote Sound Monitoring System
Some of the finest names in healthcare, including Indiana University Health, University of Michigan Health System and Stanford University rely on Sonicu to provide robust continuous sound monitoring for their facilities and environments. These respected healthcare and research brands turn to Sonicu for four primary reasons:
Real-Time Monitoring: the sensors collects data and transmit it wirelessly to SoniCloud - our cloud-based platform.
Operational Efficiency: Virtually eliminate the need for tedious and costly manual logging
Compliance Automation: Respond to virtually any regulatory audit or inspection in a few clicks with our reports section
Asset Protection: Detect and respond to any temperature excursion that can threaten virtually anything perishable: food, drugs, vaccines, research, etc.
Our customers stay with us thanks to our American-based customer support that is never more than a phone call away.
While our technology is intuitive and powerful, we know it's only as strong as the people who stand behind it. Contact us to today to get started!

In a hospital setting, maintaining appropiate noise level is crucial to ensuring patient comfort and promoting a healing environment.
Founded in 2008 in Greenfield, Indiana, Sonicu began manufacturing noise monitoring systems to protect vulnerable infants in neonatal intensive care units, and has evolved to monitor and protect a diverse set of sensitive conditions and environments.
Our sound monitoring system can help keep noise levels within a healthy range. Safe, low-level volumes help promote an environment of comfort and healing.
Our sound monitor tracks noise levels within an area and can generate reports and feedback for quality improvement.
Sonicu's advanced sound monitors provide unique capabilities, including real-time alerts to the healthcare staff when volumes are reaching too high, so quick adjustments can always be made.
When you are looking for a noise meter online, you should keep the following advice in mind:
Size of Your Building
The size of your building is an important factor to keep in mind when selecting a remote noise monitoring system.
Not all systems are suitable for every location , so it's important to choose the right model for your location and setup.
Your Wi-Fi Capabilities
Depending on what your Wi-Fi capabilities are, you may be better suited to one particular monitoring system versus another.
Conducting ample research beforehand, as well as speaking with an IT professional can help you make the best decision.
Your Business Type
The remote noise monitoring system you choose will also likely depend on your business type. Certain setups are better suited for certain clinics than others, so checking what's available beforehand is always a good idea.
Unique Features and Settings
Each building and healthcare setting is a little different, so it's important to take this into account when shopping for a remote noise monitoring system.
Choosing the right system for your workplace ensures there are no errors with the system and that you meet all compliance requirements.
Loma Linda University Children's Hospital and Medical Center noticed immediate improvement in NICU sound levels after installing Sonicu wireless monitoring for hospital noise reduction.
From automating complex and tedious regulatory reports to significantly reducing time spent on manual processes, Sonicu helps private, public, and government agencies focus on their core business and less time on monitoring their assets and environments.
Remote Noise Monitoring System
A remote noise monitoring system can offer some great perks for your healthcare setting, including:
OSHA Compliance
OSHA's (Occupational Safety and Health Administration) guidelines outline some important information regarding noise levels within the workplace.
Staying within those guidelines can be one more thing to worry about in an already busy work environment.
Our remote noise monitoring system can help automatically ensure you stay within these levels, or even let you know when you've gone over them.
We generate automated regulatory compliances from private and government agencies including:
Increased Patient Healing
Studies show that loud noises and a stressful setting are detrimental to a patient's well-being.
For healthcare workers, there is a responsibility to do the best thing for patients and promote an environment of healing both physically and mentally.
Rest is key to a patient's healing and everyone knows that rest can't happen when loud noises are constantly occurring.
Sonicu´s remote sound monitoring systemcan track noise levels over time and help you improve your workplace based on those metrics.
Improved Workplace Environment
Loud noises aren't just stressful for patients and their healing process, they can also create an extremely disruptive environment for those who are trying to work in it.
When you work in healthcare, it is critical that doctors and nurses can focus so they can carry out important tasks like medication administration, interpreting X-rays, and planning patient treatments.
Loud noises can easily disrupt this process, leading to fatigue or even worse — mistakes.
At Sonicu, we understand the importance of providing a quiet and peaceful atmosphere for both patients and healthcare professionals.
Our remote sound monitor system is designed to address these issues and prevent the negative consequences of excessive noise.
By continuously monitoring the noise levels in your healthcare facility, our system alerts you whenever the noise exceeds acceptable thresholds, allowing for timely intervention to minimize disturbances.
Both workers and patients alike can enjoy reduced stress levels and a more comfortable setting, and be able to focus on what is important to them.
Sonicu helps create a space where patients and staff can concentrate on delivering and receiving quality care.
Real Time Noise Monitoring System
We understand the concerns surrounding privacy and data security, particularly in healthcare settings where patient confidentiality is important.
This is of course due to concerns about HIPPA and what data is monitored and recorded by an online noise monitoring system.
The great news is that our noise meter will never actually record any audio or conversations. That's not even what it's designed to do.
Our noise monitoring system works to track noise levels by measuring the actual sound wave levels that they detect. This information is then generated into reports so someone can see what noise levels were occuring over a given period of time.
This feedback allows workers to make improvements and adjustments to reduce noise levels.
Noise monitoring systems help healthcare clinics stay within workplace compliance requirements, as well as keep noise levels low out of care and respect for their patients.
Our sound monitoring system provides live feedback via a notification system, so noise levels can be promptly corrected if they reach an unacceptable level.
This allows the staff to make changes right away rather than later on down the line when they see the actual report, which could be days or weeks later.
Sonicu's unique real-time noise level monitoring system offers an appropriate solution to help healthcare clinics solve noise-related issues.
Workers can see their noise levels in real time, as well as view all of the usual data and reports that come with a traditional monitoring system. Both patients and workers can benefit from this unique technology by fostering a quieter and more comfortable environment.
Asset Protection. Compliance Automation. And Reduced Manual Processes.
Sonicu serves thousands of professionals at hundreds of organizations across all states, as well as Canada and the Caribbean by improving how they monitor and manage their most sensitive assets and environments.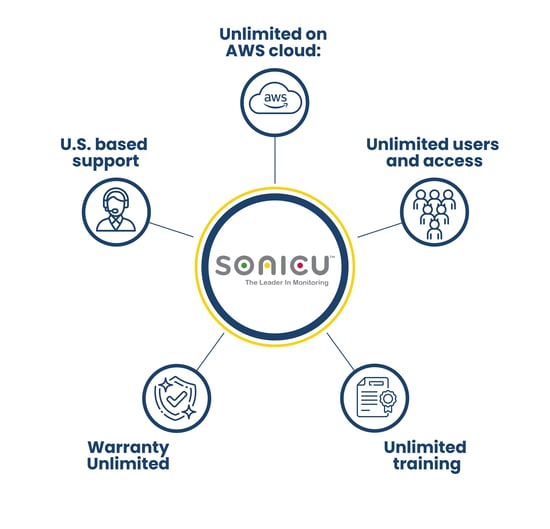 Noise Level Monitoring Device
Noise monitoring equipment is a powerful tool for healthcare settings that can be used to reduce stress levels and help get patients on the road toward healing.
Our goal is to provide you with a solution that helps reduce stress levels and promotes healing for patients.
Here are the key features that make our noise monitoring device stand out:
Easy-to-read Display
Our noise monitoring device comes with a digital display that has multiple screen capabilities,an absolute must for your noise level monitoring device.
It has an easy-to-read screen that prevents errors when viewing your system, ensuring you're always interpreting data and adjusting settings correctly.
Easy to install and configure and supported by live American-based phone support, Sonicu is the affordable, intuitive and trusted temperature and environmental monitoring solution trusted nationwide.
Long Battery Life
A long battery life is key when having a noise level monitoring system. While of course, you can plug it into a physical outlet, but we also ensure that it has a long battery life.
This feature provides you with peace of mind during an electrical outage or emergency and can ensure your system is always working.
Digital Data Back Up
Our noise monitoring device has cloud-based capabilities, allowing you to store your information securely.
This ensures that even if there is an error or damage that occurs to the unit, you are always still able to view your data and other reports.
Provides Real-time Feedback
Our device provides real-time alarms by sending out system-wide notifications if the noise levels exceed a certain volume.
This feature is specific to Sonicu and enables proactive intervention, ensuring that prompt actions can be taken to address noise issues promptly and maintain a quieter environment.
Remote Connectivity Capabilities
Our device offers remote connectivity capabilities, allowing you to connect to your noise monitoring system conveniently.
You can use decibel meter apps to connect to your device, adjust features, and modify settings as needed, enhancing the overall user experience.
A noise level monitoring device that contains these systems is sure to be a great fit for your healthcare setting. Sonicu offers a variety of sound monitoring systems with these features to ensure you always have state-of-the-art volume tracking, no matter where you are.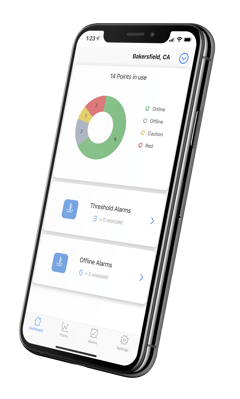 Noise Monitoring App
Utilizing a noise monitoring app can significantly contribute to help your workplace keep noise levels at a more manageable level.
Being able to connect to your sound monitoring system via a smartphone can help bring your workplace technology to the next level.
Sonicu offers the best sound meter app for Android and iOS available, with our advanced SoniCloud sound meter app. This sound monitoring app offers the following beneficial features:
Seamless Remote Access via the App
Connect to your sound meter online through the app no matter where you are to view reports and sound levels, adjust settings, and more.
Sonicu's app contains a multitude of features and connectivity, so you can easily adjust your system from far away if you need to.
24/7 Notifications of Your Choosing
Sonicu offers the ability to program and customize which app notifications you receive and how you receive them, so you always have access and know what's going on with your remote sound monitoring systems.
This feature is not available from competitors' remote noise monitoring systems and allows you to adjust noise levels in real time based on a live alert.
Total Sensor Visibility of App Data and Metrics
Diagnostics, data, and more are all conveniently condensed into our cloud based platform, SoniCloud.
Our app and system offer full transparency, so you always know what's going on with your noise monitoring system.
An easy-to-use interface ensures maximum accessibility for workers who are on the go.
Sonicu's powerful technology can help cultivate a relaxing and healing environment for both workers and patients alike.
Our unique remote noise monitoring systems offer a state-of-the-art way to keep track of your volume levels and reduce them over time.
Enjoy real time notifications and feedback, plus a practical app to noise monitor on the go, with compatibility available for either Android or iOS.
Contact us today and learn how we can help!