Cold Storage Temperature Monitoring System
If you're looking for a cloud-based cold storage monitoring system that eliminates manual logging, improves compliance readiness and protects all your assets, you've arrived at the right place.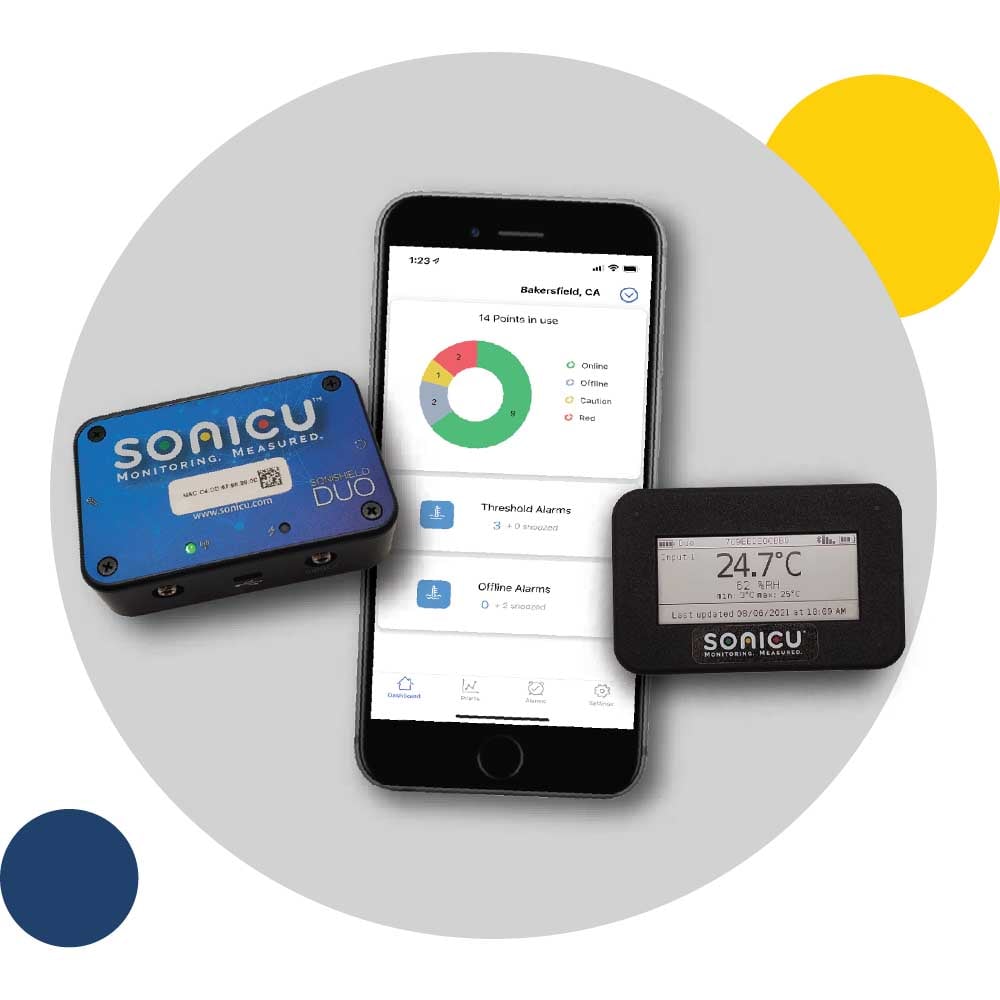 Let us help you evaluate your needs!
Safety:

Alerts to protect asset

Compliance:

Automated reports

Efficiency:

Reduced Manual Logging




And what makes us different?
Lifetime Warranty: Never buy hardware again!
Unlimited Users: Scale across your entire org
Connectivity Flexibility: Wi-Fi, Cellular or Data Hub

Phone call alarms:

Alerts won't get ignored
Mobile App: 500 Freezers in your pocket



All American made and supported!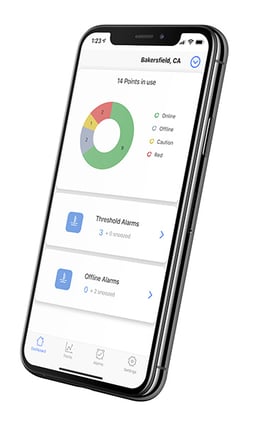 See What Customers Say About Sonicu
Asset Protection. Compliance Automation. And Reduced Manual Processes.

Sonicu serves thousands of professionals at hundreds of organizations across North America by improving how they monitor and manage their most sensitive assets and environments.


Professionals from healthcare, life science, laboratory and cold chain facility management turn to Sonicu to help them improve the way they do business.


Cold Storage Temperature Monitoring System
If you're looking for a cloud-based cold storage temperature monitoring system that helps your team eliminate manual logging, improve compliance readiness and protect all your temperature sensitive assets, you've arrived at the right place.
Some of the finest names in healthcare, including Indiana University Health, Ohio University Innovation Center and Piazza Produce (not to mention the University of Michigan Health System and Stanford University) rely on Sonicu to provide robust continuous temperature monitoring for their cold and frozen environments.
These respected healthcare and research brands turn to Sonicu for three primary reasons:
Operational Efficiency: Virtually eliminate the need for tedious and costly manual logging

Compliance Automation: Respond to virtually any regulatory audit or inspection

in a few clicks with our reports section

Asset Protection: Detect and respond to any temperature excursion that can threaten virtually anything perishable: food, drugs, vaccines, research, etc.
When you combine these three significant feature benefits, our clients average about $80,000 of savings for every 100 hospital beds.
At research or university locations without beds, it's not hard to imagine the time savings alone by simply not having staff manually record temperatures several times per day.
Our customers stay with us thanks to our American-based customer support that is never more than a phone call away.
While our technology is intuitive and powerful, we know it's only as strong as the people who stand behind it.

Cold storage temperature monitoring systems have a very wide range of applications across various industries.
There are perhaps a few applications in particular that regularly come to mind when most people think of commercial refrigeration monitoring systems, such as food safety, processing and distribution.
In truth, there are many more uses for wireless remote fridge temperature monitoring solutions than the average person might imagine.
For example, cold temperature monitoring is also a critical function at many
pharmacies

healthcare facilities

sperm banks

senior living facilities

clinical research laboratories

university research centers and more
Facilities like hospitals, laboratories, and pharmacies store and use many kinds of assets that need to be kept under specific environmental conditions.
Remote temperature monitoring solutions help these kinds of organizations and many others prevent serious issues from occurring.
Temperature is a very common condition that needs to be carefully monitored to keep assets safe.
If the temperature of a commercial freezer or refrigerator veers outside of the safe range for long, valuable assets could go to waste.
This creates a clear need for efficient methods of monitoring cold storage temperatures.
For years, many organizations have used manual processes to verify that storage temperatures remain stable at all times. These manual processes typically involve periodic checks during which an employee physically goes to the storage location and records the temperature and time in a log by hand.
These types of checks have numerous drawbacks, including taking up a significant amount of employee time and providing only single snapshots of temperature data over time, not a continuous stream of information.
Data loggers proved to be a nice improvement from the manual process but were not helpful to contact a person when the temperature suddenly moved out of range.
Automated freezer temperature monitoring systems can eliminate or seriously mitigate most of the challenges associated with manually monitoring cold storage temperatures.
For example, Sonicu's wireless refrigerator thermometer with mobile app support can enable you to continuously monitor and log temperature data instead of relying on intermittent snapshots. And the system will even call you if there's a loss of temperature integrity that threatens the assets viability.
Employees can also access and manage the system remotely, saving a substantial amount of time and enabling 24/7 monitoring.
Unlike a wired freezer temperature alarm, a remote alarm can notify you when there's a temperature issue, no matter where you are.
Cold Storage Monitoring System
There are many advantages to replacing a manual temperature monitoring system with an automated cold storage monitoring solution.
Let's break down the impact of a few of the most significant benefits of a remote refrigeration monitoring system.
Improve operational efficiency

- Using the best cold storage temperature monitoring systems can boost efficiency by helping you streamline the distribution process for temperature-sensitive products. Sonicu can increase visibility and make it easier for shippers and transporters to track shipments.

Protect consumer safety

- An effective refrigeration monitoring system also enables organizations to better ensure consumer safety. Assets like medications or perishable food could cause serious harm if they are stored or transported in conditions that are too warm. Remote temperature monitoring tools can promptly send alerts if there is a temperature issue at any point in the cold chain.

Reduce asset waste

- There are many types of unfortunate accidents that could occur throughout the cold chain and result in spoiled products. Freezers or refrigerators could fail to work properly, transport delays might cause products to be temporarily stored in improper conditions, or many other issues could arise. In these scenarios, it's important to have a reliable means of alerting employees quickly so the problem can be fixed before the assets are ruined.

Enhance compliance readiness

- It's essential for organizations that handle temperature-sensitive assets to comply with all the relevant legal standards, such as the FDA's Food Safety Modernization Act (FSMA

) regulations or the Drug Supply Chain Security Act (

DSCSA

). Using remote temperature monitoring solutions like Sonicu to automatically log temperature data is one of the best ways to remain ready to produce compliance records at any time.

Wireless Temperature Monitoring System
One of the most crucial parts of an effective wireless temperature monitoring system is the alarm. When a piece of cold storage equipment fails, or another issue occurs, it's very important to be notified quickly so the situation can be remedied.
Otherwise, valuable assets could be lost.
Many organizations invest in industrial wireless temperature monitoring systems to help ensure the relevant employees receive ample warning when there is a storage-temperature-related emergency.
There are many different kinds of temperature monitoring alarms with varying degrees of reliability, features and cost structures.
Sonicu utilizes remote temperature monitoring via cell phone. That means you're never more than an app opening away from seeing your assets and environments, and reacting to protect your assets, team and clients.
You can equip your Sonicu-powered wireless temperature monitoring system project with the Sonciu mobile app to enable remote alert management anytime, anyplace.
Sonicu's automated temperature monitoring systems also use tiered alarming to make sure alerts don't go unaddressed. That means the alarm won't just stop if the first person doesn't respond promptly. The system will continue to route alarms until someone reacts to the alarm, increasing the likelihood of saving a perishable asset.
Sonicu's alarm system is designed to deliver your team the alerts they need to see to keep storage temperatures under control at all times.
An automated, remote alarm feature is a critical part of a wireless temperature monitoring system for laboratory use, healthcare use, food safety use, and many other kinds of uses.

Fridge Temperature Monitoring System
Another of the key benefits of a fridge temperature monitoring system is that it makes it easier for organizations to stay compliant.
Many kinds of facilities that store temperature-sensitive products must pay careful attention to regulations established by institutions such as the FDA and the CDC.
This includes the food industry, so that food suppliers can keep their food at a safe temperature, and the pharmaceutical industry to keep medications and vaccines at the appropriate temperature.
Manual temperature monitoring processes often make it difficult to maintain compliance records that are adequately thorough. A refrigerator temperature monitor with Wi-Fi capability can make it much easier to prepare a compliance report whenever it becomes necessary.
Many storage condition regulations are specific to certain industries. Some industries may be subject to more regulations than others. For example, hospital refrigerator temperature monitoring systems are especially important because the healthcare industry has some of the strictest compliance regulations.
Not all regulations pertain to temperature data specifically, but it's essential for all of a healthcare organization's systems to take compliance fully into account.
One of the most significant benefits of Sonicu's temperature monitoring system is that it retains a continuous log of temperature data for compliance purposes.
Walk In Cooler Temperature Monitoring System
Many of the best walk-in cooler temperature monitoring systems are cloud-based.
This means that rather than relying on wired data transmission methods, the systems can transmit temperature data wirelessly.
Sonicu's freezer alarm that connects to phones can send data via Wi-Fi, cellular, or radio frequency. Commercial refrigerator temperature monitoring systems that are cloud-based have a few important advantages over systems that are not.
For example, Sonicu's SoniCloud platform provides robust data protections and unlimited data storage, as well as various vantage points from which to view all temperature data being monitored.
The cloud-based software platform also includes extensive tools for analysis and reporting that adhere to many of the most critical cold chain monitoring regulatory requirements. Sonicu's plug-and-play solutions are easy to set up and conveniently scale with your organization as needed.
A cloud-based walk-in cooler temperature monitoring system is easy to access from any location with an internet connection. This means you and your team can rest assured that your temperature-sensitive assets are protected 24/7.
Commercial Freezer Temperature Monitoring System
There are several different options when determining how to monitor freezer temperature remotely.
Traditionally, many organizations have mainly employed manual processes to keep track of storage temperatures. However, manual temperature monitoring is very time-consuming for employees and can easily introduce small errors into your facility's storage temperature data log.
Instead, it's generally much more efficient to use a cold room temperature alarm system to provide remote alerts in case of storage equipment malfunctions or other temperature-related problems.
Using an effective freezer temperature alarm can not only reduce the chances of losing temperature-sensitive assets due to improper storage but also improve your organization's compliance-readiness.
Choosing the right temperature monitoring solution for your specific industry is important.
For example, a hospital temperature monitoring system may not be an appropriate solution for monitoring cold storage temperatures for food safety purposes.
Some solutions, like Sonicu's commercial Wi-Fi temperature sensors, are designed to serve multiple industries. Sonicu has case studies listed below that show our expertise across healthcare, life science and food service industries:
Problem: Server Based Monitoring lacking Enterprise Visibility
Solution: One Window into all monitoring across dozens of facilities
Problem: Too many hours spent on manual logging and calibration
Solution: Reduced Manual Logging and Done For You Calibration
Problem: Pharmacy Suffered Too Much Humidity In New Wing, impacting Compounding Pharmacy
Solution: Affordable Humidity Monitoring that Delivered POwerful data to prompt contractors to fix improperly sized air handler
Problem: Burdensome, labor-intensive legacy temperature monitoring
Solution: Remote, wireless autonomous monitoring to drive down manual processes
Wi-Fi Freezer Temperature Sensor
Automated freezer temperature monitoring systems have some significant advantages over manual monitoring processes.
However, not all monitoring systems are designed exactly the same way. Different solutions may have different strengths and weaknesses.
The best Wi-Fi temperature monitor for one situation may not be the right solution for another situation.
Implementing a refrigeration monitoring system should be a carefully-considered process. It's usually best to assess your organization's needs and the shortcomings of your current system to help uniform your decision.
Sonicu provides some of the best wi-fi temperature sensors for facilities like hospitals, pharmacies, universities, and more.
An effective Wi-Fi freezer temperature sensor is a valuable tool for organizations that frequently store or transport temperature-sensitive products.
Some of Sonicu's features include:
Loud freezer alarms that can provide remote alerts in the event of a temperature issue

Efficient logging and reporting tools for better freezer alarm temperature compliance

Battery backup power and onboard memory so temperature monitoring can continue uninterrupted if there's a power outage

Flexible signal options for hassle-free data transmission

utomated temperature sensors that preserve data if a transmission is interrupted





American-based Customer Support: Robust & Reliable High Touch Service
Software and technology are only as good as the people who stand behind it.
At Sonicu, that means our team of American-based customer success managers who are never more than a phone call away to help field and fix any service issues.
Our probes and sensors are placed in demanding frozen environments and our software literally sends billions of bits of data monthly, meaning there's always the potential for a hiccup on either the hardware or software.
We are committed to fielding every customer service request promptly and getting our customers online rapidly.

Other Food Monitoring Resources