Wireless Room Pressure Monitoring
Improve Safety and Streamline Regulatory Compliance. Reduce Tedious Manual Logging.
Monitor room pressure, humidity and ambient temperature with wireless automated remote monitoring.
REQUEST QUOTE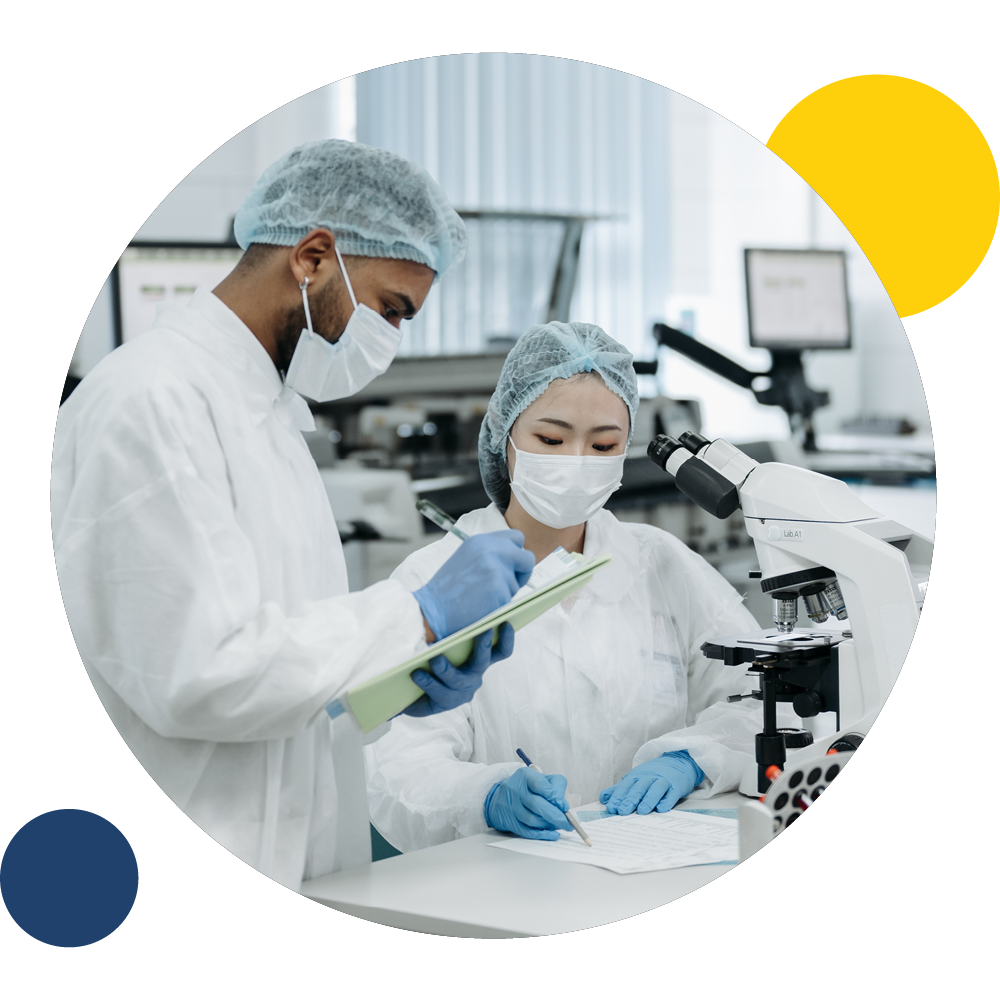 Room Pressure Monitoring
Sonicu's automated monitoring records room pressure differentials 24/7 to ensure that desired levels are achieved and maintained.
Our scaleable platform eliminates manual data logging processes and automates regulatory reporting to streamline compliance. Wireless configuration with BAS/BMS for wider visibility.
Room Pressure Monitoring is for: Hospitals, Surgery Centers, Clean Rooms, Compounding Pharmacies, Data Centers, Construction, HVAC Systems, and more.
View Case Studies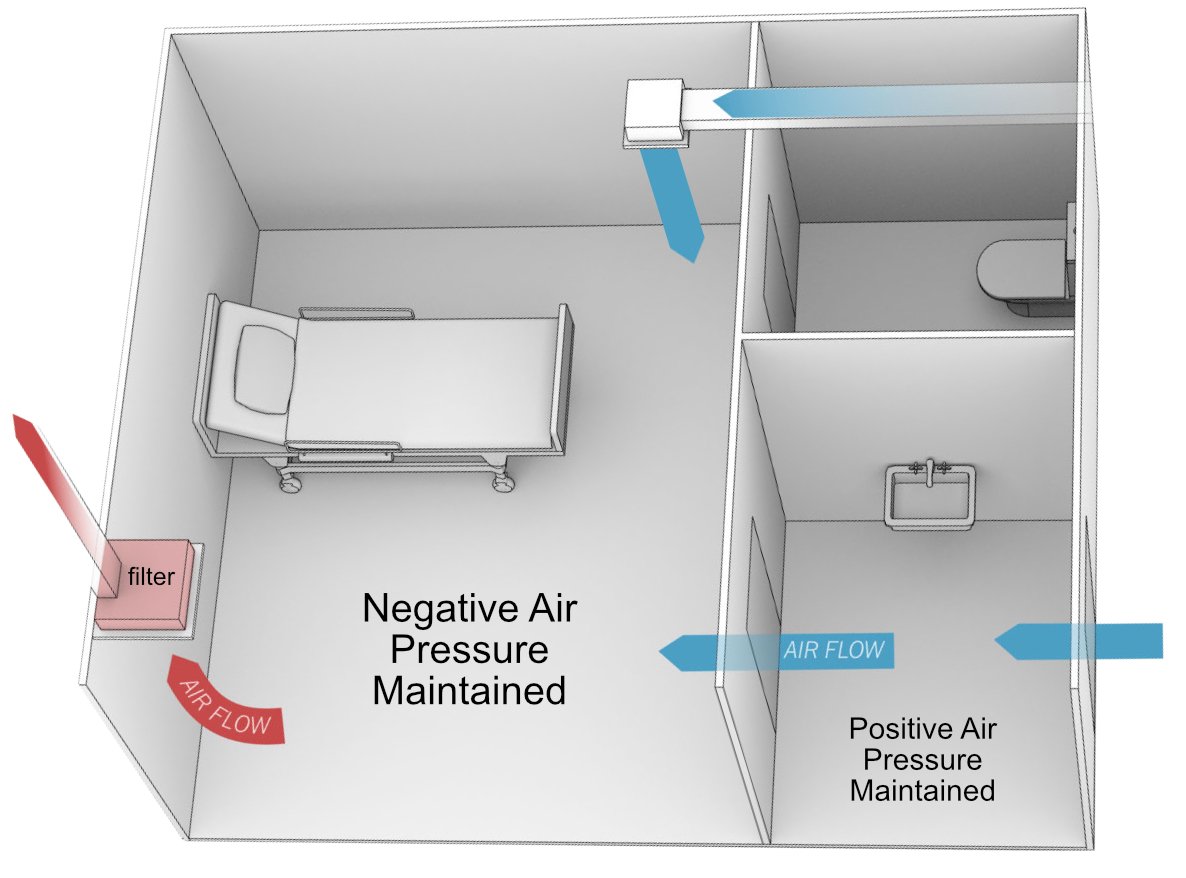 Room Conditions Monitoring
Don't risk unsafe working conditions due to equipment failure or power outage.
Sonicu's wireless monitoring automatically documents room air pressure differentials and ambient temperature and humidity levels 24/7 to ensure desired targets are achieved so safety and operational efficiency is maintained.
Our scaleable platform installs simply, is built on the AWS Cloud for flexibility and security. Receive real-time excursions alerts via call, text, email and push notification.
Room Conditions Monitoring is for: Hospitals, Surgery Centers, Scientific Labs, Medical Research Facilities, Clean Rooms, Compounding Pharmacies, Data Centers, Food Processing, Manufacturing, and more.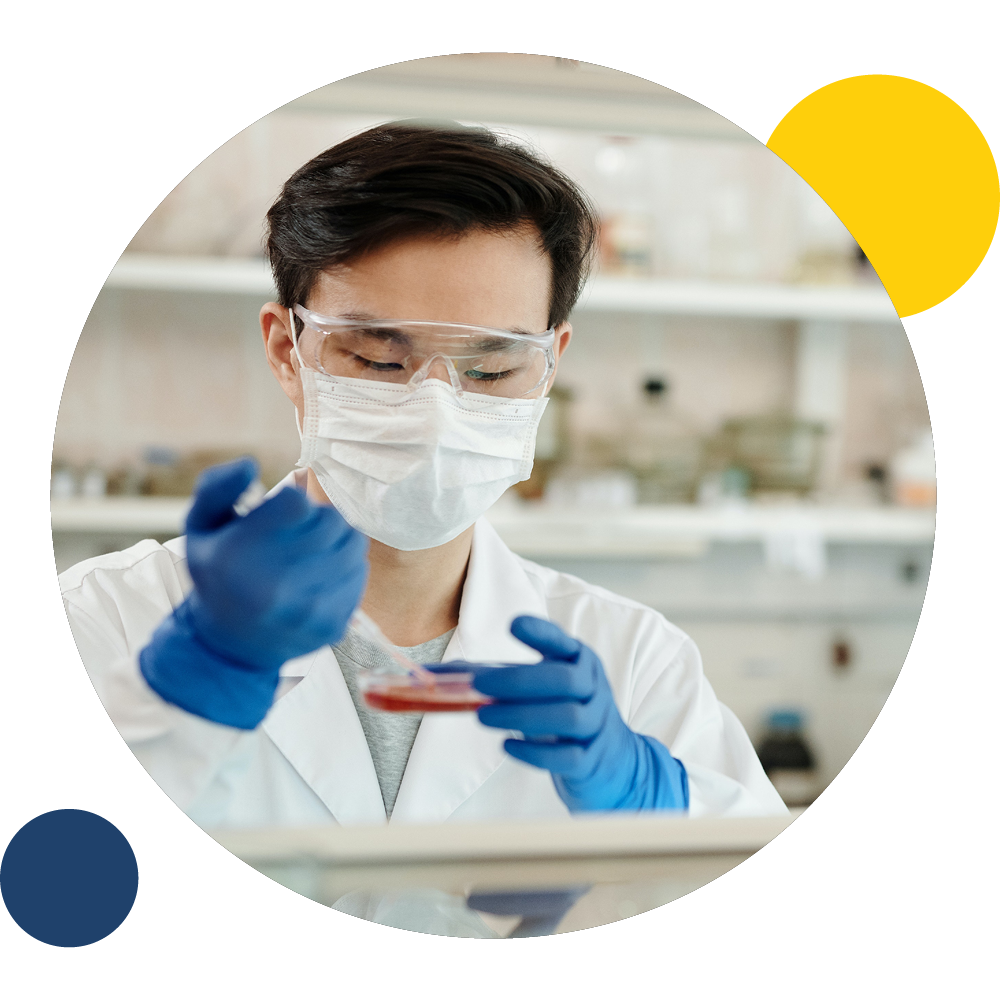 Do I Need Room Pressure Monitoring or Room Conditions Monitoring?
What is a room pressure monitor?
A room pressure monitor is a device that monitors and measures the pressure of a given space in reference to another space. This value is called "differential pressure."
Why do I need room conditions monitoring?
Critical spaces including clean rooms, surgery suites, compounding rooms, and data centers may require ambient temp and humidity monitoring in addition to room pressure as part of their regulatory oversight. Additionally, a growing body of research concludes that room conditions monitoring can reduce infection rates in hospitals.
What are room pressure monitors used for?
Room pressure monitors are used in "critical spaces" where contamination must be avoided. Critical spaces include hospital rooms, isolation rooms, operating rooms, clean rooms, compounding pharmacies, pharmaceutical manufacturing areas, vivariums, and data centers.
Are there solutions for less critical spaces such as sterile storage areas?
What is the difference between a room pressure monitor and a room conditions monitor?
Room Condition monitors can measure additional room parameters beyond pressure such as humidity, temperature, air velocity, CO2, VOCS and more. Room pressure monitors typically only measure differential pressure.
What is recommended for hospital room pressure monitoring?
SoniCloud Platform
The dashboard provides aggregate views of all your monitored devices and offers many auto-generated reports including:
Alarm History & Resolution
Device Summary
NIST Sensor Calibration
Data Logs / Graphical Reports
User Login Reports
LEARN MORE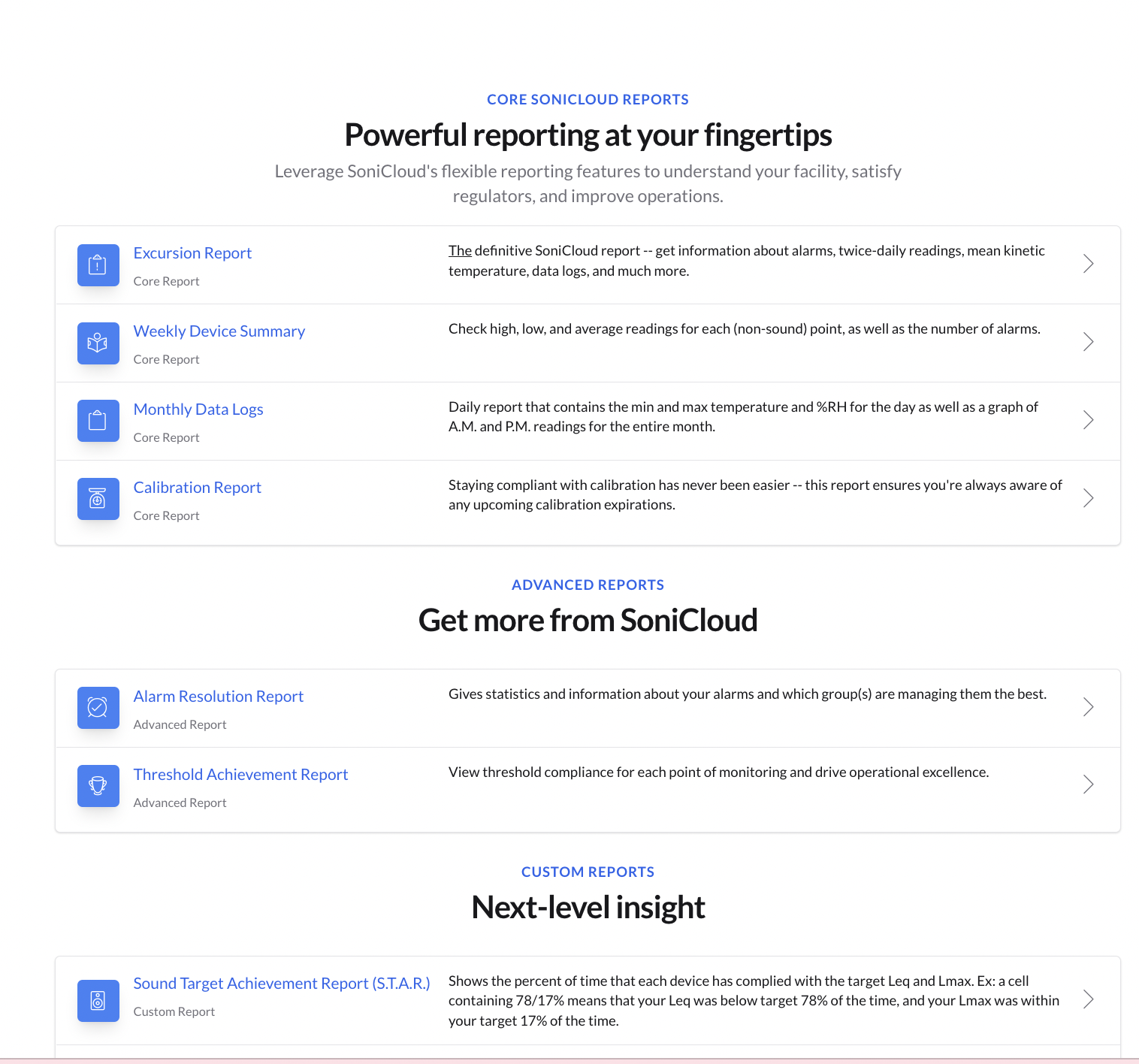 Dashboard Access 24/7
24/7 monitoring, unlimited access, advanced alarms
Dashboard views make it easy to manage all points of monitoring
SMART Reporting tools auto-generate management and audit reports
LEARN MORE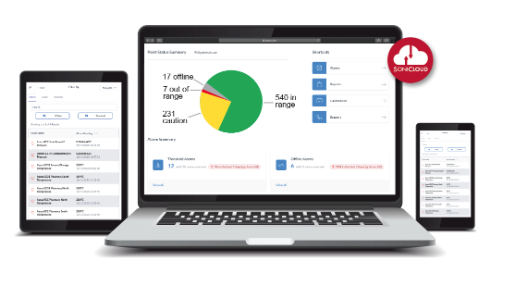 Digital Sensors & In-Room Displays
Sonicu's SMART digital wireless sensors and meters feature:
NIST Calibrated Certificates
Plug 'n' Play installation
Onboard battery & data backup
Multiple connectivity options: cellular, Wi-Fi, SoniLink.
No IT or local network required
Popular Applications Include:
Temperatures down to -205˚C
Ambient room temp & humidity
Room pressure monitoring
Room conditions monitoring
Sound monitoring
LEARN MORE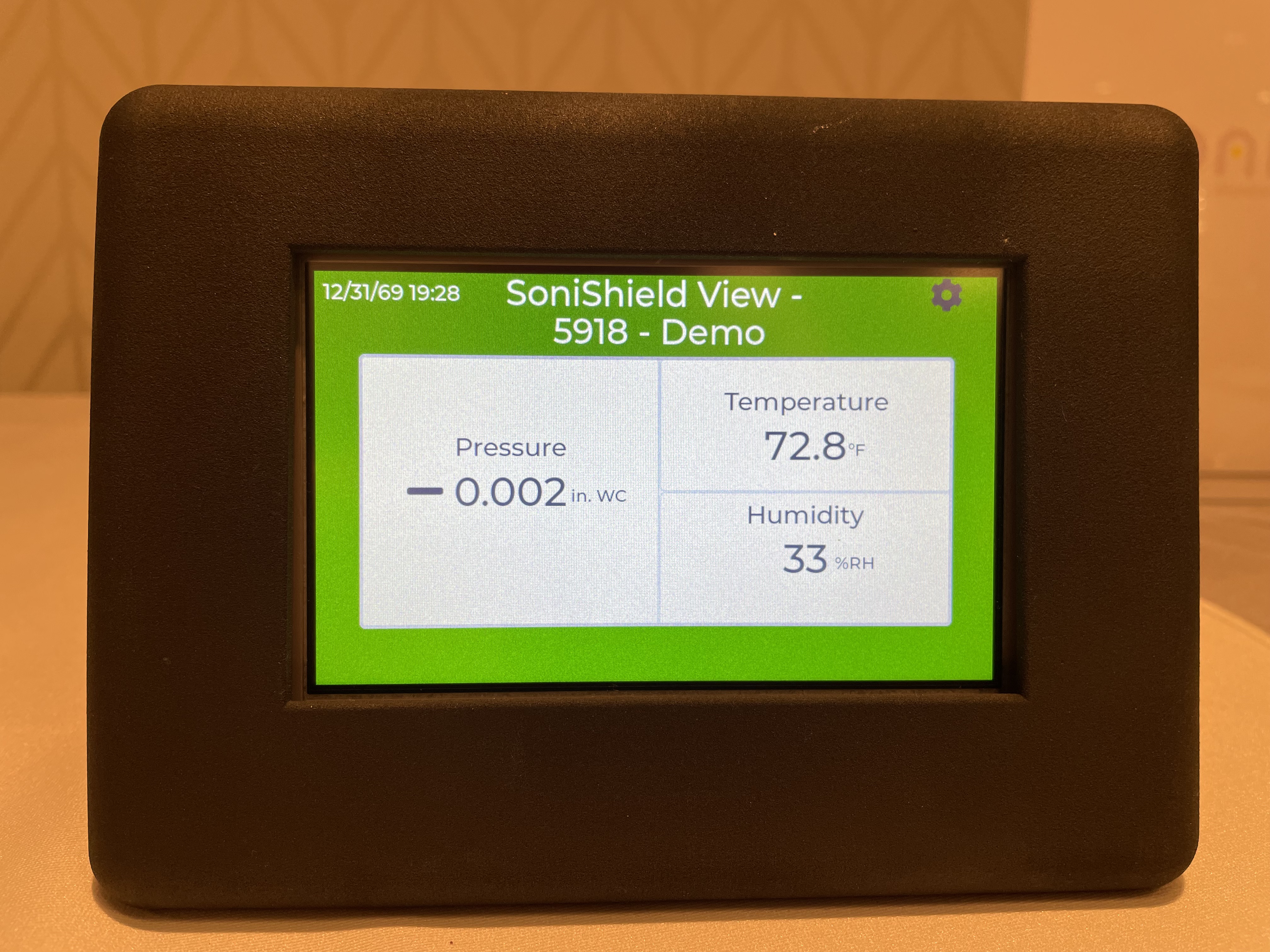 The Sonicu Difference
Advanced Alarming
Cloud-based software capabilities with predictive algorithms for tailored alarming to reduce alarm fatigue and spot trends.
SMART Sensors
SMART sensors with proprietary DataSync capture. Preserve and secure data in the event of transmission interruptions.
SMART Reporting
Automated logging and reporting unrivaled in the industry for effortless regulatory compliance.
Battery Backup
Industry-leading battery life on all sensors. In the event of a power outage Sonicu's wireless sensors continue to keep you notified.
The Safest Network
Virtual Private Network (VPN) on Verizon's cellular platform that will eliminate security concerns when transmitting data to the cloud.
Flexible Transmission
Replace server-based systems and eliminate IT concerns with a variety of transmission signals including: 4G/5G cellular, radio frequency, WiFi, and Ethernet.
Recalibration is Easy
All-digital temperature probes for easy calibration renewal with Sonicu's SNAP calibration program.
Ensuring Consistency
Service quality and connectivity reports provide detailed analysis of system operations.