Wireless Room Pressure Monitoring
Improve Safety and Streamline Regulatory Compliance. Reduce Tedious Manual Logging.
Monitor room pressure, humidity and ambient temperature with wireless automated remote monitoring.
REQUEST QUOTE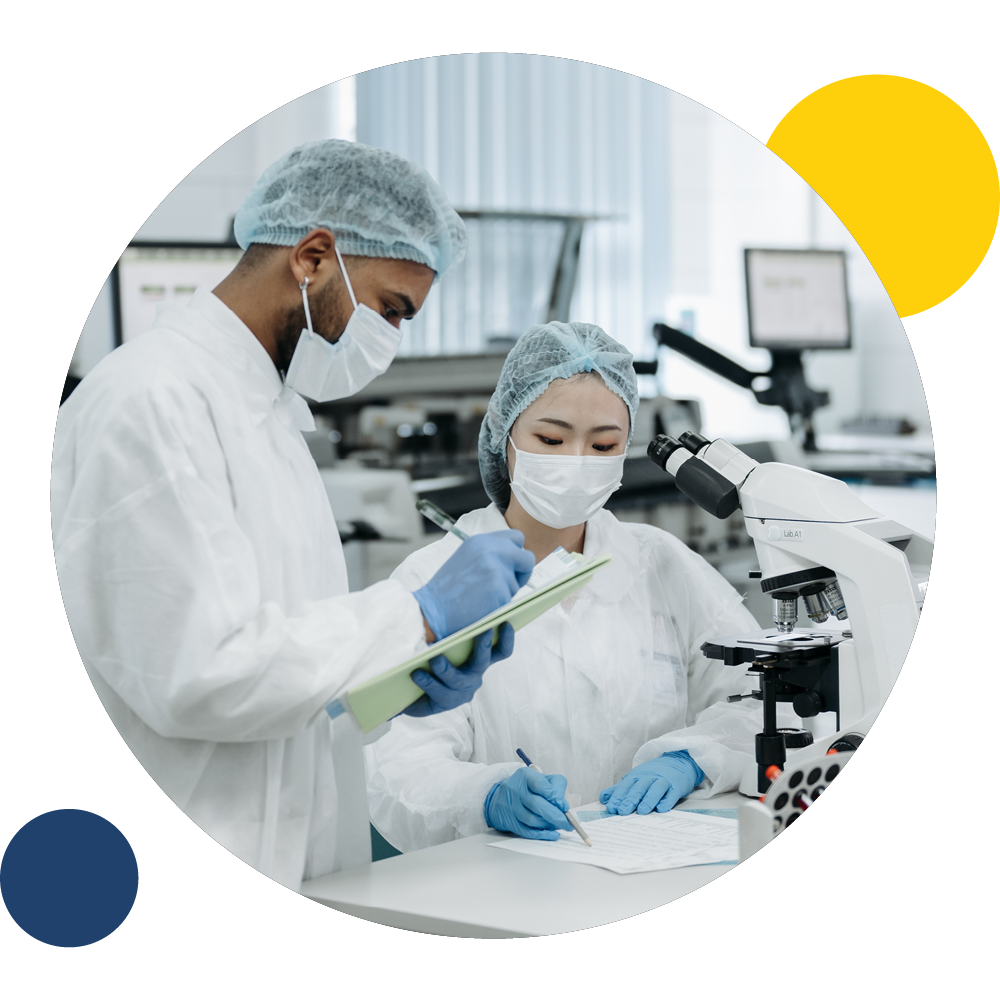 Room Pressure Monitoring
Sonicu's automated monitoring records room pressure differentials 24/7 to ensure that desired levels are achieved and maintained.
Our scaleable platform eliminates manual data logging processes and automates regulatory reporting to streamline compliance. Wireless configuration with BAS/BMS for wider visibility.
Room Pressure Monitoring is for: Hospitals, Surgery Centers, Clean Rooms, Compounding Pharmacies, Data Centers, Construction, HVAC Systems, and more.
View Case Studies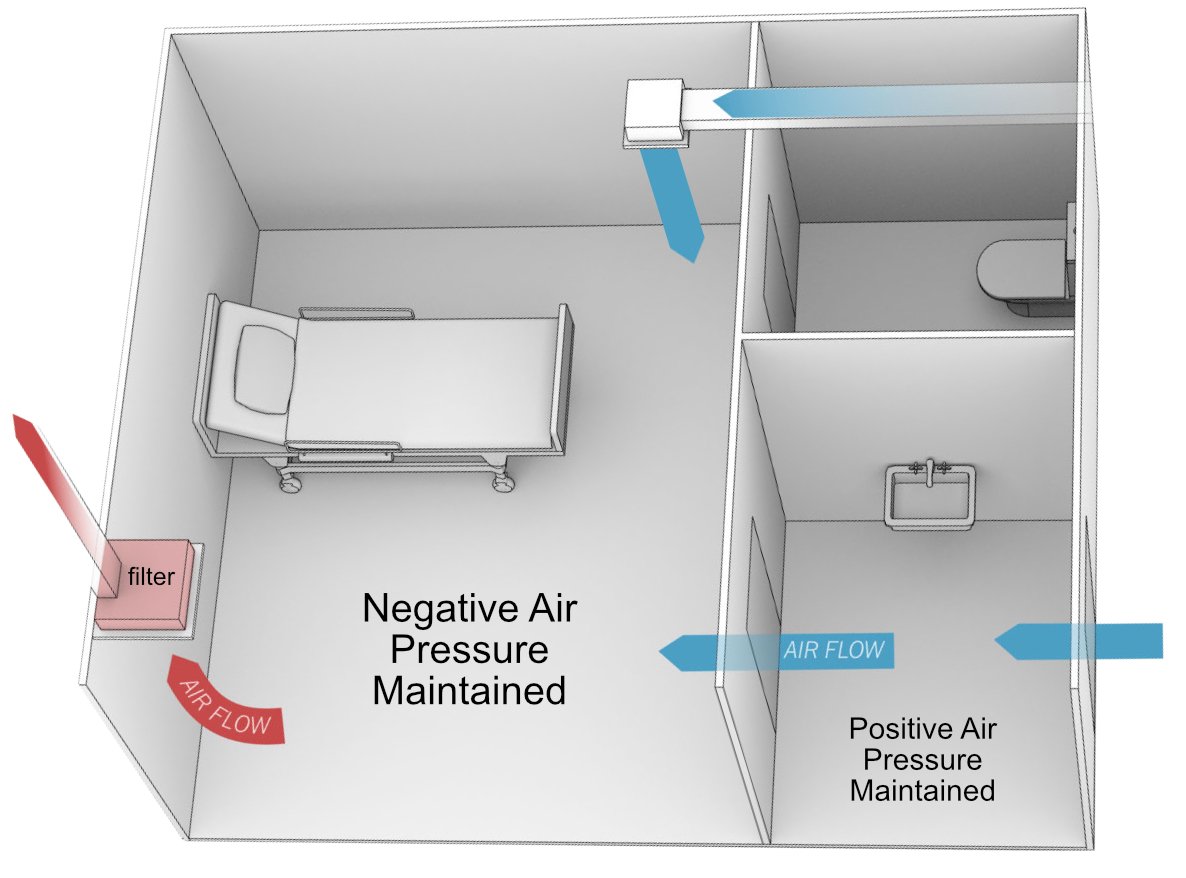 Room Conditions Monitoring
Don't risk unsafe working conditions due to equipment failure or power outage.
Sonicu's wireless monitoring automatically documents room air pressure differentials and ambient temperature and humidity levels 24/7 to ensure desired targets are achieved so safety and operational efficiency is maintained.
Our scaleable platform installs simply, is built on the AWS Cloud for flexibility and security. Receive real-time excursions alerts via call, text, email and push notification.
Room Conditions Monitoring is for: Hospitals, Surgery Centers, Scientific Labs, Medical Research Facilities, Clean Rooms, Compounding Pharmacies, Data Centers, Food Processing, Manufacturing, and more.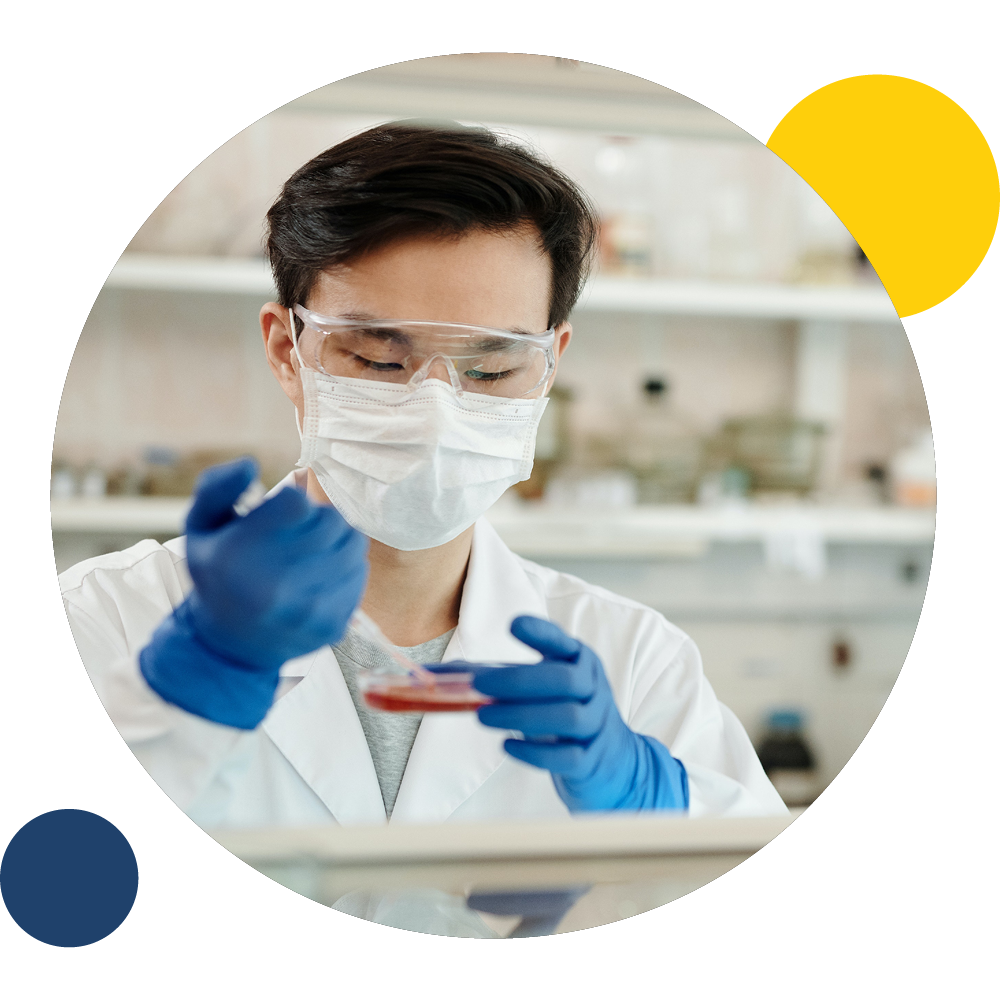 Do I Need Room Pressure Monitoring or Room Conditions Monitoring?
What is a room pressure monitor?
A room pressure monitor is a device that monitors and measures the pressure of a given space in reference to another space. This value is called "differential pressure."
Why do I need room conditions monitoring?
Critical spaces including clean rooms, surgery suites, compounding rooms, and data centers may require ambient temp and humidity monitoring in addition to room pressure as part of their regulatory oversight. Additionally, a growing body of research concludes that room conditions monitoring can reduce infection rates in hospitals.
What are room pressure monitors used for?
Room pressure monitors are used in "critical spaces" where contamination must be avoided. Critical spaces include hospital rooms, isolation rooms, operating rooms, clean rooms, compounding pharmacies, pharmaceutical manufacturing areas, vivariums, and data centers.
Are there solutions for less critical spaces such as sterile storage areas?
What is the difference between a room pressure monitor and a room conditions monitor?
Room Condition monitors can measure additional room parameters beyond pressure such as humidity, temperature, air velocity, CO2, VOCS and more. Room pressure monitors typically only measure differential pressure.
What is recommended for hospital room pressure monitoring?
SoniCloud Platform
The dashboard provides aggregate views of all your monitored devices and offers many auto-generated reports including:
Alarm History & Resolution
Device Summary
NIST Sensor Calibration
Data Logs / Graphical Reports
User Login Reports
LEARN MORE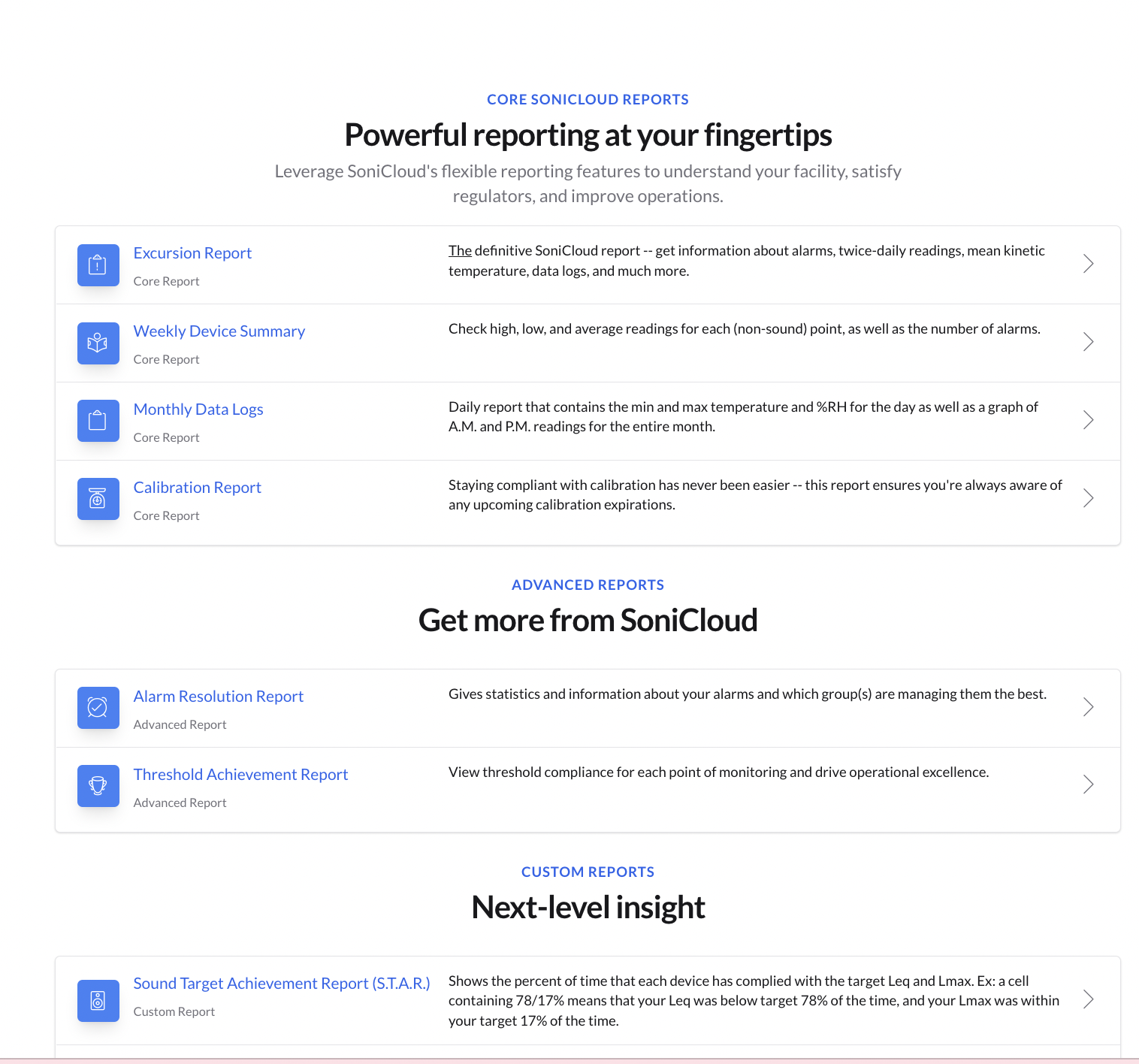 Dashboard Access 24/7
24/7 monitoring, unlimited access, advanced alarms
Dashboard views make it easy to manage all points of monitoring
SMART Reporting tools auto-generate management and audit reports
LEARN MORE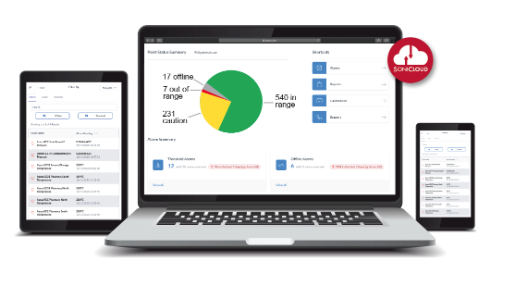 Digital Sensors & In-Room Displays
Sonicu's SMART digital wireless sensors and meters feature:
NIST Calibrated Certificates
Plug 'n' Play installation
Onboard battery & data backup
Multiple connectivity options: cellular, Wi-Fi, SoniLink.
No IT or local network required
Popular Applications Include:
Temperatures down to -205˚C
Ambient room temp & humidity
Room pressure monitoring
Room conditions monitoring
Sound monitoring
LEARN MORE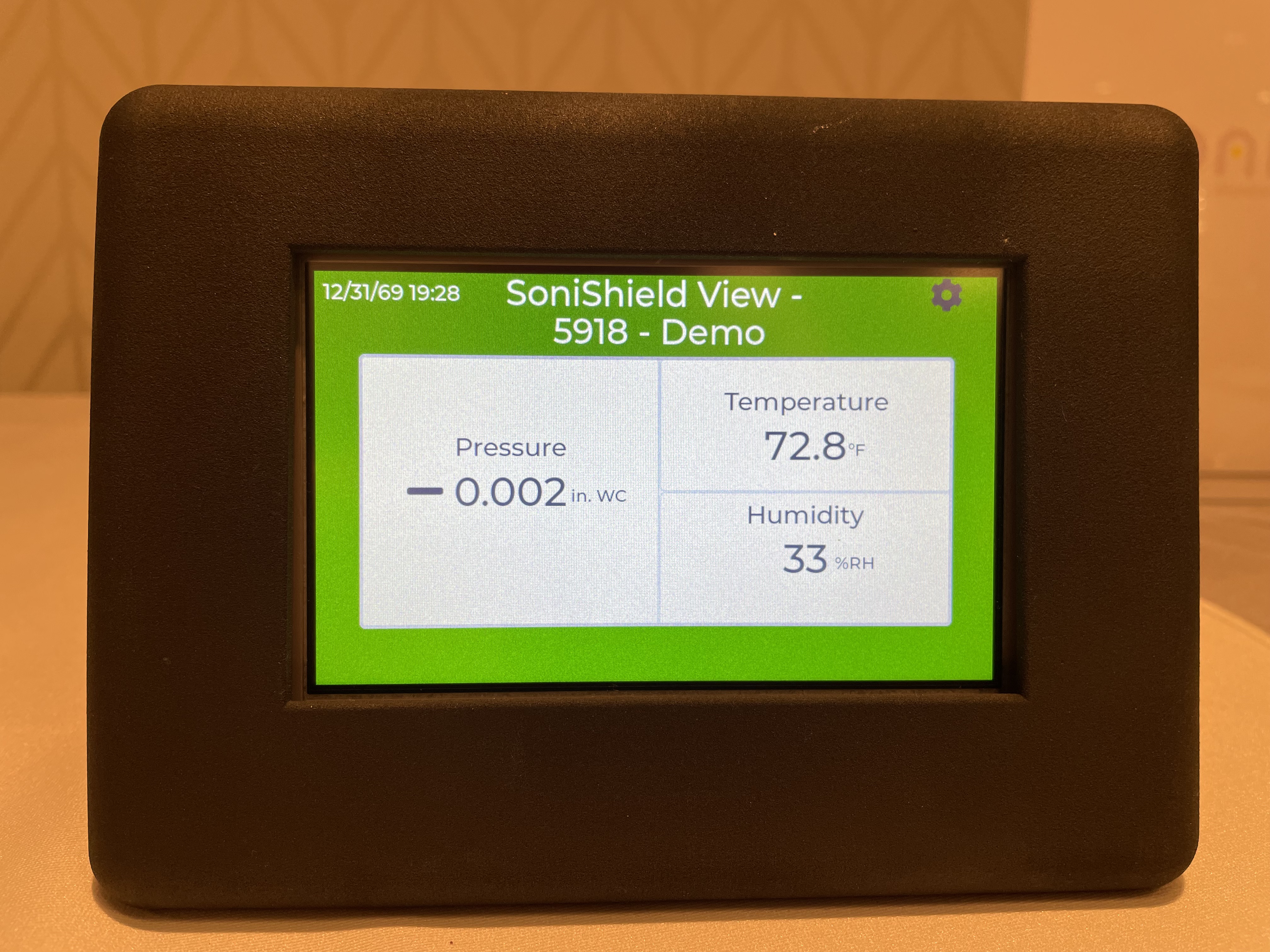 The Sonicu Difference
Advanced Alarming
Cloud-based software capabilities with predictive algorithms for tailored alarming to reduce alarm fatigue and spot trends.
SMART Sensors
SMART sensors with proprietary DataSync capture. Preserve and secure data in the event of transmission interruptions.
SMART Reporting
Automated logging and reporting unrivaled in the industry for effortless regulatory compliance.
Battery Backup
Industry-leading battery life on all sensors. In the event of a power outage Sonicu's wireless sensors continue to keep you notified.
The Safest Network
Virtual Private Network (VPN) on Verizon's cellular platform that will eliminate security concerns when transmitting data to the cloud.
Flexible Transmission
Replace server-based systems and eliminate IT concerns with a variety of transmission signals including: 4G/5G cellular, radio frequency, WiFi, and Ethernet.
Recalibration is Easy
All-digital temperature probes for easy calibration renewal with Sonicu's SNAP calibration program.
Ensuring Consistency
Service quality and connectivity reports provide detailed analysis of system operations.
A High-Quality Room Pressure Monitoring Solution
A high-quality room pressure monitoring system is essential to the contemporary critical environment in hospitals, laboratories, vivariums, and biological containment facilities.
These environments require a room pressure monitor to guarantee accurate, efficient, and verifiable monitoring solutions and controls, such as solutions provided by Sonicu.
A room pressure monitor is essential for healthcare and life sciences businesses.
This monitor is a solution to monitor and track pressure in a given environment compared to another to measure differential pressure.
A room pressure monitor is placed in the hospital's "critical spaces" to avoid contamination.
Along with hospital rooms, a room pressure monitor is essential for monitoring pressure in the following environments.
Isolation rooms

Operating rooms

Advanced Manufacturing Environment

Compounding pharmacies

Vivariums

Clean rooms

Data centers

Pharmaceutical manufacturing areas



Many healthcare and life science facilities use a ball-in-tube pressure indicator to monitor differential pressure.
While this solution has been used for years, organizations could improve their effectiveness with advanced systems.
A room pressure monitor manual is crucial to implement and navigating new monitoring systems in your organization.
An advanced room pressure monitoring system is vital to adhere to CDC guidelines for environmental infection control in healthcare and pharmaceutical facilities.
A continuous, accurate monitoring solution can save your facility time and money while vastly improving the safety of your staff and patients.
Room pressure monitors like Sonicu solutions are essential for organizations that require a cloud-based room air pressure monitor. These solutions help you and your staff eliminate inaccurate manual logging, improve your compliance readiness, and safeguard sensitive assets from potential damage.
Additionally, a room pressure monitor can help you identify potential safety concerns in your organization's environment and alert you to any harmful particles that may have entered a sensitive space.
Room pressure monitors are essential in critical or non-critical environments to guarantee that your organization operates smoothly and efficiently. Advanced wireless air pressure differential monitoring systems like Sonicu can also play an important role in increasing your organization's regulatory compliance.

Room Pressure Monitor Ball-in-the-Wall
The ball-in-the-wall pressure indicator is a popular room pressure monitoring system in various organizations.
Hospitals and healthcare organizations rely on ball-in-the-wall solutions in instances where room pressure monitoring is essential. These devices monitor the air pressure in rooms and indicate whether the pressure is high or low.
A ball-in-the-wall negative pressure monitor is helpful for spaces with negative air pressure to prevent the air from traveling to other areas and contaminating staff and patients.
A room pressure monitor ball-in-the-wall solution is helpful for hospitals and healthcare facilities that need to take precautions to minimize the potential of spreading airborne pathogens.
Organizations use the ball-in-the-wall solution to safeguard the health of everyone within a facility. The ball-in-the-wall hospital system that organizations commonly implement indicates a room's air pressure but does not go beyond offering information on whether a room's air pressure complies with hospital regulations.
These systems are typically inexpensive but aren't nearly as helpful as more advanced solutions that can capture information over time and not just a moment in time, improving compliance reporting and decreasing the amount of time staff spends on manual logging of air pressure conditions.
Ball-in-the-wall hospital indicators are limited to a yes or no response, meaning that they are a quick way to assess your organization's compliance but cannot provide essential data regarding compliance in that room over time or the causes of noncompliance.
Therefore, many hospitals and healthcare organizations need to consider a solution that provides more insights.
This is especially true for healthcare organizations focused on eliminating the potential for hospital acquired infections, which remain a challenge for hospitals and clinics and a major focus of quality, risk management and facilities management professionals across healthcare organizations.

Isolation Room Pressure Monitor
Pressure monitoring solutions are essential for many hospital areas that require steady environmental conditions.
For instance, an isolation room pressure monitor is a crucial system to guarantee the safety of patients in isolation rooms.
Isolation rooms are reserved for patients with specific medical conditions that require separation from other patients. An isolation room monitor system helps monitor the positive air pressure in the environment and nearby rooms, which helps keep contagious diseases out of the room.
A negative air pressure monitor is essential for isolation rooms to prevent airborne pathogens from escaping and spreading to staff and patients.
Protecting patients within and outside of a hospital isolation room is crucial to maintaining the integrity and safety of your organization and preventing various dangers from affecting you, your staff, or your patients.
While isolation rooms often use ball-in-the-wall monitoring systems, there are advanced solutions to consider to improve the effectiveness of your room pressure monitoring system.
For instance, room pressure monitoring solutions from Sonicu are accurate, automated, and accessible from anywhere.
Hence, you know what's happening in your organization's environment even when you're off the clock. When implementing new isolation room technology, there are numerous advantages to a high-quality room pressure monitoring system.
Portable Room Pressure Monitor
Various options exist as you seek a suitable room pressure monitoring system for your healthcare institution.
For instance, a portable room pressure monitor, though not required, is a significant aid to many healthcare organizations that require monitoring solutions.
Your organization might consider a portable room pressure monitor to use alongside a portable device that staff can move to different rooms to guarantee a patient's well-being and proper room pressure conditions.
A room pressure sensor is crucial for monitoring environmental concerns in your healthcare facility.
A portable sensor can help you and your staff move the monitor to test different environments.
A portable room pressure monitor price varies depending on the provider and features of each system. However, the cheapest option isn't always the best and could cost more in the long run.
A comprehensive, portable room pressure monitor is essential and worthwhile to protect the health and well-being of your staff and patients.
Measuring differential air pressure conditions across your hospital is vital to operating efficiently and sustaining a trustworthy reputation and stable relationship with your patients and staff.
While you might be used to manually checking the air pressure in your facility or relying on a ball-in-the-wall solution, upgrading to an advanced, accurate, and analytical system is essential now more than ever.
Room Differential Pressure Monitor
A room differential pressure monitor is crucial to protecting your healthcare facility and everyone on its premises from dangerous airborne illnesses.
A high-quality differential pressure monitoring system is vital for numerous reasons and can provide critical data to identify and address problems in your facility's environment.
Sonicu provides healthcare and pharmaceutical businesses with differential air pressure solutions for automatic monitoring and data logging of differential pressure between rooms.
Monitoring room differential pressure is essential for spaces, including clean rooms, isolation rooms, and other environments that need consistent pressure.
Options such as the ANTEC room pressure monitor or Setra room pressure monitor are viable solutions to monitor differential pressure to guarantee safety and compliance.
While these solutions are helpful, more advanced options like Sonicu's kit solutions can provide accurate, advanced, and automated monitoring and data logging of differential air pressure between rooms in your facility.
Sonicu provides high-quality sensor tools and monitoring systems with wireless, remote capabilities and access through a cloud-based platform.
This platform allows organizations to easily access essential data regarding differential air pressure in their environments.
The differential pressure sensor kits from Sonicu can help your business improve its efficiency and monitoring solutions significantly while indicating the health of equipment like HVAC systems to guarantee that a safe environment is sustained.
With Sonicu's differential pressure system, you can monitor your facility's room pressure and address potential issues before severe damage occurs.
Sonicu's SoniShield View technology provides an efficient, wireless monitoring solution to visually display your organization's differential room pressure, temperature, humidity, and other critical environmental conditions. You can learn more about how the SoniShield View can improve your healthcare environment in this press release.

Differential Pressure Monitor
A differential pressure monitor is crucial for numerous organizations across diverse industries.
Healthcare and pharmaceutical businesses benefit from a high-quality, advanced, automated monitoring solution to safeguard their sensitive assets and identify problems before severe damage occurs.
A differential room pressure monitor is vital for your company and meeting safety protocols.
Differential pressure sensors are used for many reasons in hospitals and pharmacies.


Sonicu's differential pressure sensor is essential to help businesses improve efficiency and eliminate manual logging processes.
The differential pressure sensors offered by Sonicu will help your organization predict the health of your HVAC systems to guarantee a safe and sustainable environment now and in the future.
Differential pressure monitors and sensors are vital.
If you're seeking a differential pressure sensor for practically any application or environment, Sonicu has one of the best options.
The various features of Sonicu's differential pressure monitoring system are practical and ideal for any sensitive environment that you want to monitor safely and remotely.
Hospital Room Pressure Monitor
A hospital room pressure monitor is vital to protecting yourself, your staff, and your patients from airborne illnesses and other harmful environmental conditions within your facility.
However, you must follow specific hospital room pressure requirements to guarantee that your organization is safe from harm due to non-compliance.
A CRC room pressure monitor tracking critical room conditions are essential for a safer and more efficient organization.
While you might consider this option or a SETRA room pressure monitor, Sonicu's solutions are another vital option to safeguard your company. Below are some positive pressure room guidelines to keep your organization in shape and safe.
A positive room pressure sensor requires 12 air changes per hour.

Airflow into a room must remain at a constant volume to sustain ventilation.

Any anterooms in use must have the airflow traveling toward the room from the patient room into the adjacent space.

HEPA filters are necessary to sustain a clean air supply.
If you are considering a reasonable room pressure monitor price, ensure that you factor other features into your final decision.
While affordable options can be fantastic, they aren't always suitable for your company's needs.
Keep yourself, your staff, and your patients safe by finding a high-quality solution that meets your desired features.
American-based Customer Support: Robust & Reliable High Touch Service
Software and technology is only as good as the people who stand behind it.
At Sonicu, that means our team of American-based customer success managers who are never more than a phone call away to help field and fix any service issues.
Our probes and sensors are placed in demanding frozen environments and our software literally sends billions of bits of data monthly, meaning there's always the potential for a hiccup on either the hardware or software.
We are committed to fielding every customer service request promptly and getting our customers online rapidly.
Other Room Pressure and Condition Monitoring Resources