Healthcare, Hospitals, Pharmacies
Indiana University Health
"Consolidating with one temperature monitoring provider helps us better manage our assets and our people, and gives us system wide-visibility. Sonicu provides excellent customer service and is very user friendly."
Facilities Supervisor, IU Health
Key Takeaways:
>$100,000 in annual savings per year by Automating NIST compliance
$80,000 reduction in Labor Costs for every 100 beds
>$400,000 in Asset Losses Prevented every year with customized alarms
$2.1 Million in combined annual system-wide savings across ~2,660 staffed beds
Tedious reporting, manual logging and scalability challenges: Problems with Legacy monitoring
IU Health, one of the nation's leading hospital systems, has upgraded its environmental and asset monitoring to a cloud-based system with multiple layers of redundancy to protect assets, patients and automate cumbersome compliance.
"We standardized systems across the pharmacy, delivering staff optimization and audit-ready compliance," said Joe Mundell, Chief Revenue Officer, Sonicu.
"With approximately 1,500 cold storage units and an average unit showing three alarms per year we calculate that's about 4,500 temperature alarms per year.
"Since the average fridge has about $25,000 in assets, it's plausible to measure the value of temperature monitoring system as mitigating against hundreds of thousands of dollars in asset loss prevention."
$80,000 reduction in Labor Costs for every 100 beds: Average Sonicu customer savings
Like many hospital systems, Indiana University Health had previously relied on an aging and less flexible server-based monitoring system that lacked many of the features, capabilities and benefits of a cloud-based, redundancy-enabled system.
The health system relied on a single server to track, record and log refrigerator temperatures. And it was not synchronized with other environmental monitoring like air differential, humidity, ambient temperature and sound.
Managing disparate systems monitoring critical environmental conditions generated additional work of reconciling disparate reports and left facility managers at risk of incompatibility and interoperability with the significant investment of their building management system.
Nor was the previous system optimized to automate the various compliance reports that require hours of tedious manual labor.
This single point of failure system that fell short of scalability, support and back up capability presented too serious a risk to the system's operational performance and reputation as the region's leading health system.
IU sought a powerful, flexible and trusted provider which could deliver scale as their operations and needs grew and looked to expand market share through acquisitions.
Within that expansive system are three of the state's largest and most renowned hospitals located in Indianapolis. IU Methodist ranks as Indiana's largest private hospital.
Riley Hospital for Children at IU Health is the state's first pediatric hospital; and IU Health University Hospital remains Indiana's largest teaching hospital.
Riley Hospital for Children at IU Health is ranked in 9 out of 10 pediatric specialties by U.S. News & World Report. Its experienced physicians and nurses have expertise in every field of pediatric medicine and surgery.
IU Health is nationally ranked in 13 specialties, including neurology and neurosurgery, pediatric cancer and pediatric cardiology and heart surgery.
The healthy system has cultivated a globally respected reputation for excellence across a diverse set of health domains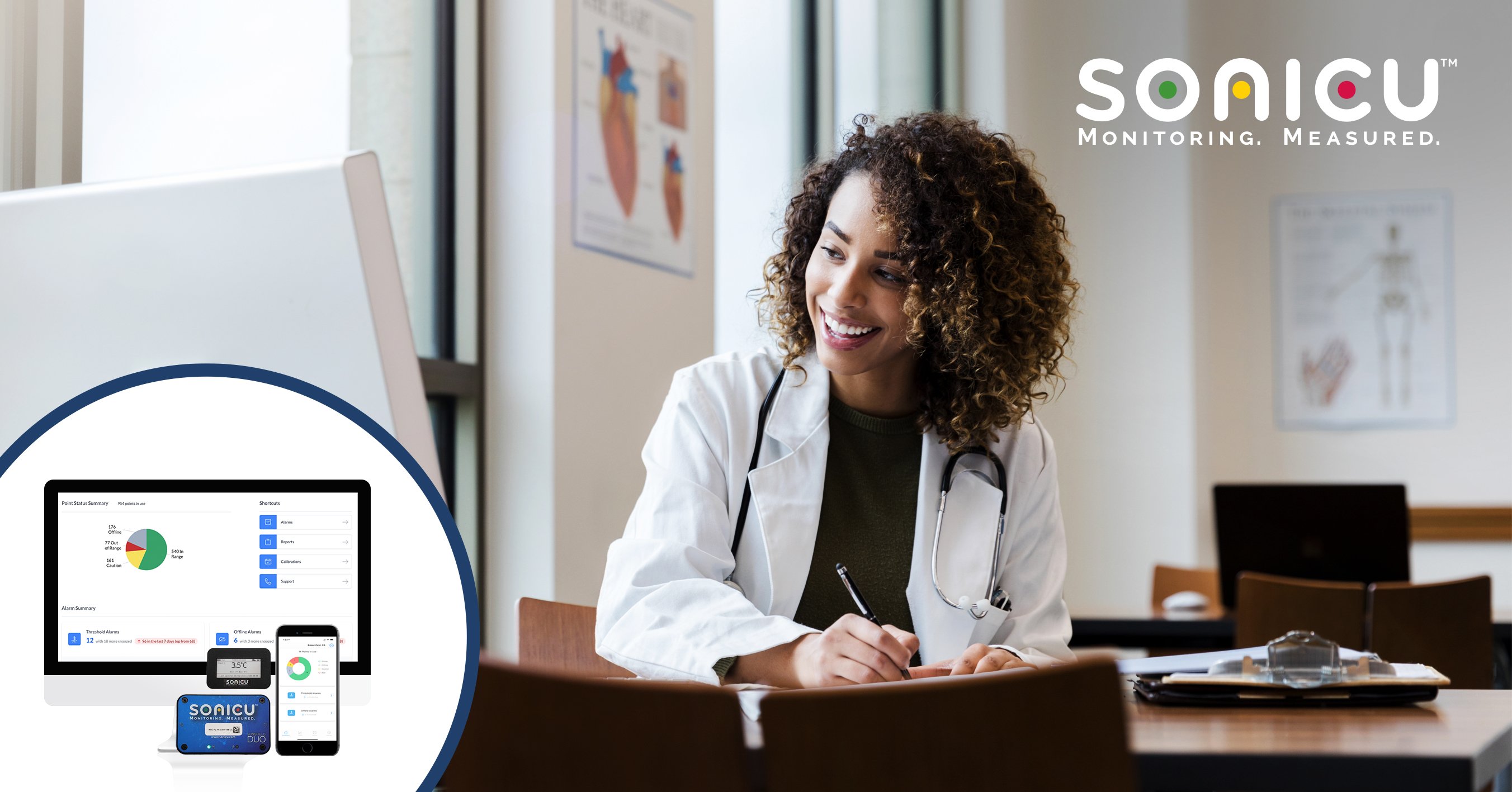 Over $400,000 in Asset Losses Prevented every year with customized alarms
IU Health now relies on a cloud-based, fully integrated temperature monitoring system that meets and exceeds all local, state and federal requirements and standards for their hospitals, and the CDC's Vaccines for Children Program for their physician network.
Digital temperature sensors and glycol-buffered probes record temperatures around the clock even at remote, and unstaffed locations that previously presented significant monitoring challenges.
Sonicu has the triple-play redundancy among Wi-Fi, cellular and ethernet gateway to send the information to the cloud where it is viewable in real time, archived and auto-formatted for effortless reporting.
Thanks to Sonicu's robust architecture on the Amazon Web Services cloud, IU Health now boasts unmatched access, security, encryption and multi-site backup capabilities.
The single point of failure server concern is a thing of the past while the IU Health IT infrastructure is not impacted by the deployment or ongoing scaling of the system.
When the year-long battery backup is considered, IU Health benefits from multiple layers of rednancy to protect their assets, their reporting and their reputation.
Text, email and phone call alarms ensure the people that need to know, learn rapidly when a temperature excursion threatens their assets.
Additional custom tailoring around alert buffering mitigates against alert fatigue.
Compliance Automation, Asset Protection and Cost Savings: The Sonicu Deliverables
Indiana University Health is one of more than 500 customers, including scores of hospitals and other healthcare facilities, that realize significant time and financial savings by adopting the Sonicu monitoring platform.
Many of those customers have conducted time studies to fully appreciate the labor costs associated with manual logging as well as manual regulatory reporting.
The typical Sonicu customer finds they spend about the equivalent of two full time employees' time for every 100 hospital beds, or about $80,000.
And since the typical pharmacy or hospital fridge contains about $25,000 in perishable assets, Sonicu calculates that IU Health mitigates against the threat of $400,000 in annual losses due to cold storage unit malfunction or human mishap.
These numbers aren't as definitive as reducing an electric bill after adopting LED lighting but energy saving lighting also won't send a midnight text if your oncology drugs are at risk of spoilage due to a temperature excursion.
It's simply impossible to measure the value of a healthcare catastrophe averted.
After Sonicu:
Transforming Operations and Decreasing Costs
With the installation of Sonicu's Temperature Monitoring Program, IU Health now enjoys:
A single-source monitoring program that is fully scalable and adaptable to all healthcare temperature applications;
Completely eliminated manual temperature reading and logging; Automated logging and report generation for efficient, error-free reporting compliance
Temperature monitoring that meets and exceeds all federal, state and local regulatory requirements, including those of the CDC, VFC,

State, BoP, Joint Commission

24/7/365 SMART alarming can be individually tailored to user, contents, location and application and custom tiered for automatic escalation to any PC or smartphone
Ongoing critical calibration is managed via Sonicu's affordable and easy to implement SNAP calibration program.
Simply snapping freshly calibrated probes into place eliminates downtime and calibration uncertainty. T
hey are among the more than 80 percent of Sonicu clients who rely on the simplicity and reliability of the SNAP calibration program.
Why Monitoring Matters: Children's Health and A Global Reputation
IU Health is Indiana's largest, most comprehensive health care system, with 15 hospitals and more than 30,000 employees throughout the state. It's aggregate impact on Indiana and the Midwest is nearly incalculable but some of the more impressive numbers include: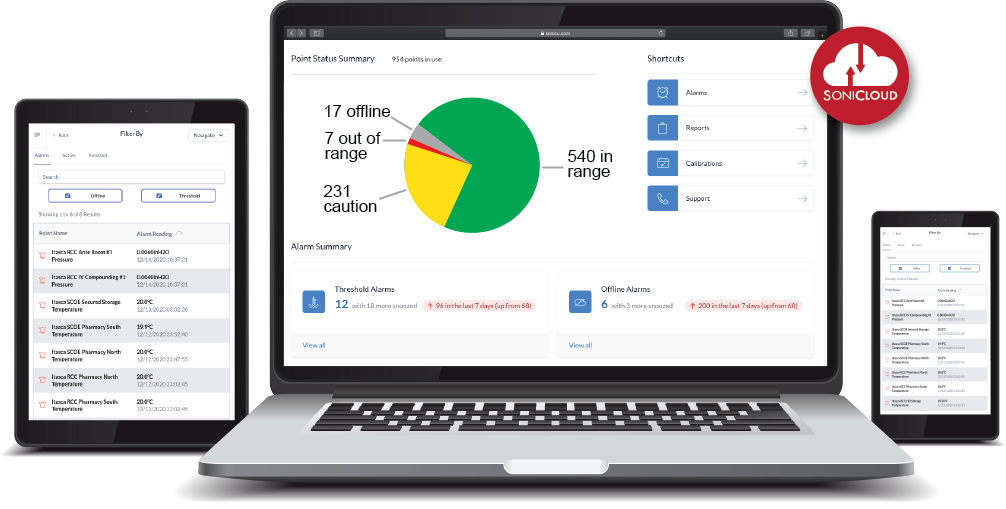 Patients
• Admissions 106,904
• Available Beds 2,661
• Surgery Cases: 98,888
Staff
• Team Members: More than 35,000
Total Residents and Fellows: 1,273
Education and Research
• Total Research Grant Funding: $408,311,053
•
• Total Research Studies: 1,685