Smart IoT Solutions
If you're looking for smart IoT solution that eliminates manual logging, improves compliance readiness and protects all your assets you've arrived at the right place.
With a variety of methods to connect sensors to the cloud, the SoniCloud platform can capture, alert and report on a diverse range of conditions for healthcare, laboratory and facility management applications.
Do more with you SoniCloud application by exploring all the ways you can monitor what matters.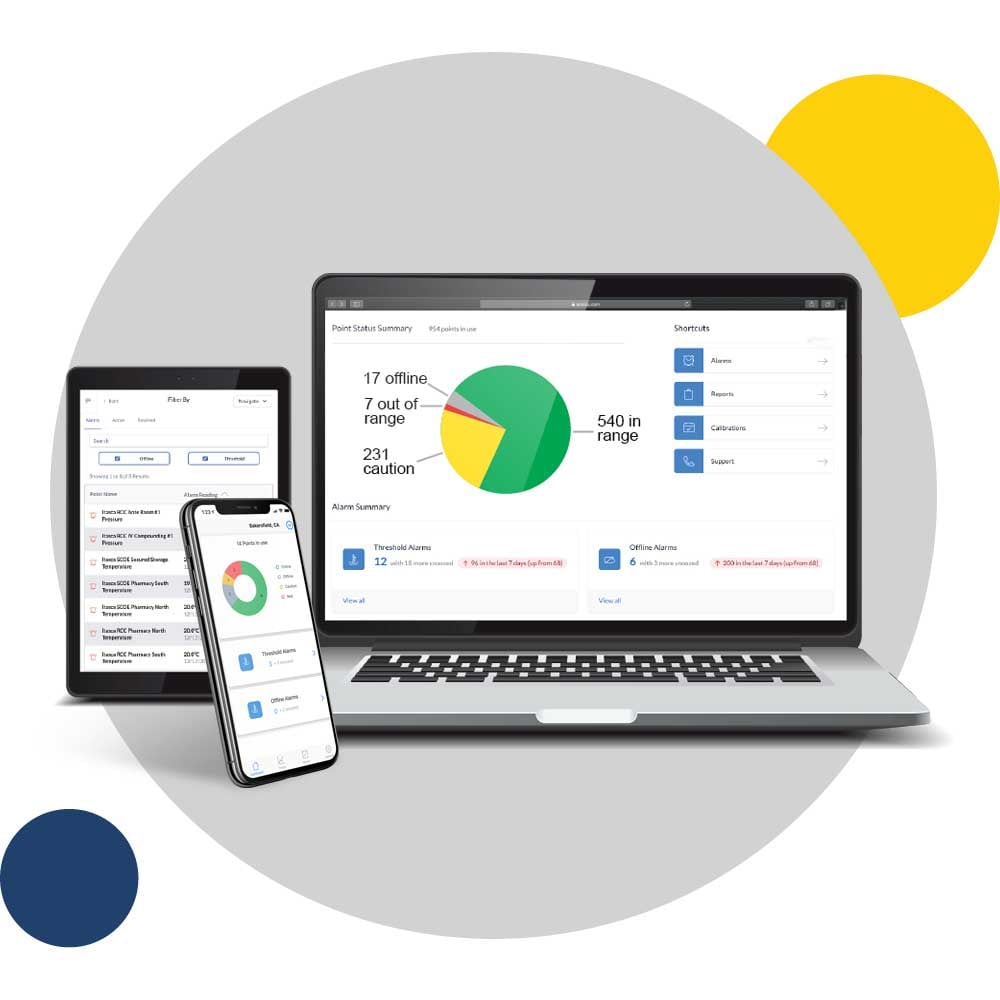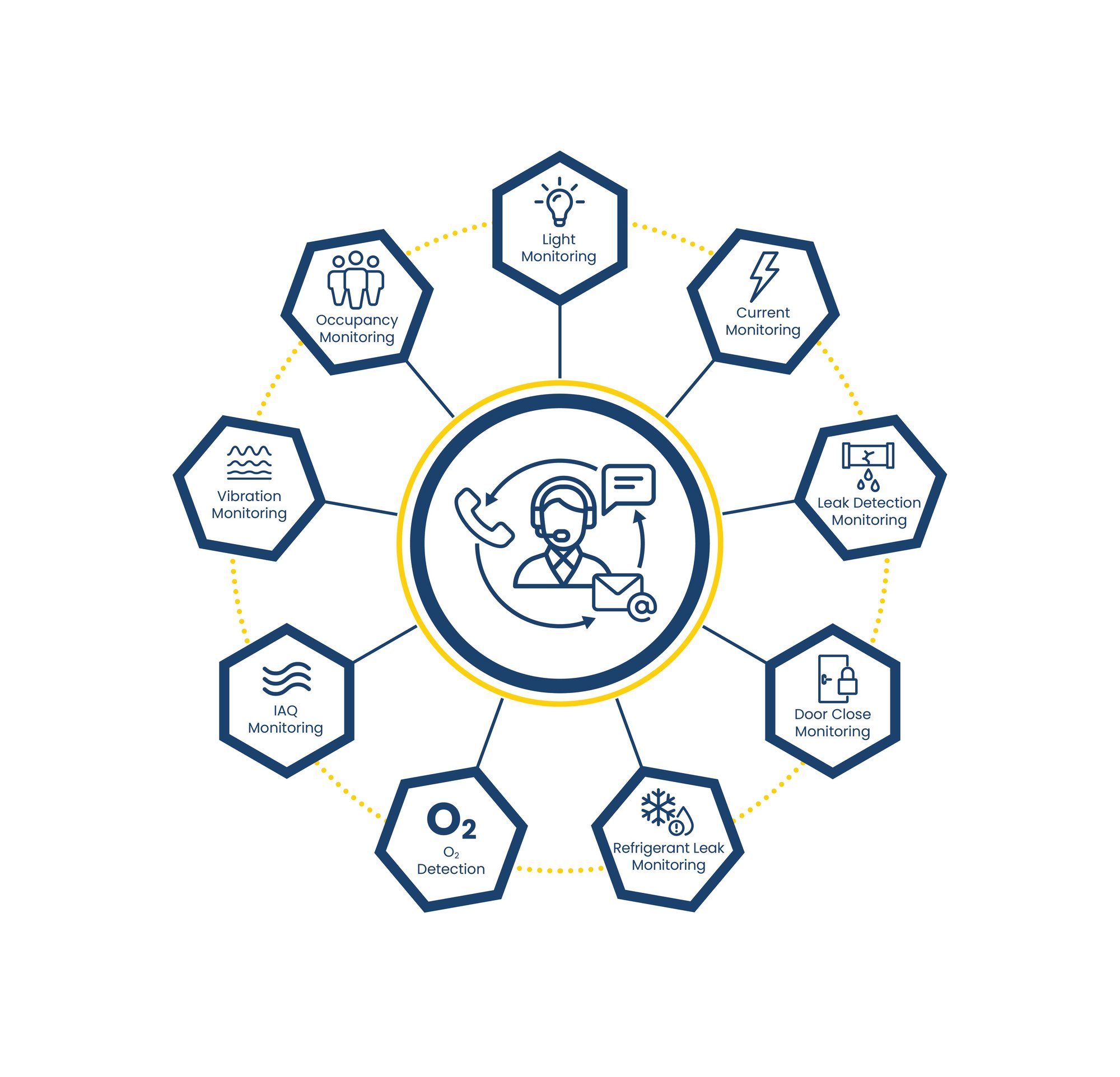 Monitor What Matters
Internet of Things (IoT) Monitoring
Monitor legacy devices, machines, equipment, and locations 24/7 with the SoniCloud dashboard.
Sonicu's automated monitoring platform SoniCloud, integrates smoothly with legacy server-based systems to stream live data into existing systems via an API programming interface.
Sonicu' s SMART IoT provides organizations with the tools they need to monitor and measure virtually
any

machine, device, location, variable, asset, or other KPI, for improved operational visibility and operational performance.
Smart IoT Monitoring Includes:
Smart IoT may include temperature, humidity, air pressure, sound, storage tank levels, GPS location, and barometric pressure.
Smart API Integration With Your System
The SoniCloud platform can connect live sensor data to your platform using our API, so you can fully monitor and manage all your enterprise data using the platform of your choice.
To discuss your needs or for more information call Sonicu at 317.468.2345 or email us at: support@sonicu.com.
---
How Do Smart IoT Solutions Work?
Depending on your equipment or application, an IoT solution may use industry-standard
Analog and/or digital sensors

Modbus serial connectivity

4-20 mA low voltage

dry-contact switches.
All these can easily communicate with our Duo digital meter, which transmits monitored data via cellular, Wi-Fi, SoniLink (via LoRaWAN) or Ethernet to the SoniCloud platform, enabling wireless monitoring capability to machines and equipment that are not natively web-enabled.
Examples of this include:
Additionally, Integrated IoT can deliver live monitored data 24/7 straight into your existing BAS/BMS system.


Example A – Add Air Velocity Monitoring to calculate air changes per hour

This straightforward example of SoniCloud connectivity applies to any application that uses sensor(s) (digital or analog) to collect data.
The sensor(s) transmits live monitored data to the MVP 440 meter, which sends it to the SoniCloud platform hosted on Amazon Web Services for maximum security.
The Duo transmits data to the cloud 24/7 without interruption or data loss. Users can access the data anytime and receive alerts on their phone, pc, or tablet device as needed.
---
Example B – Add Sonicu to Lab Incubator to enable remote alerts 24/7

This example of SoniCloud connectivity applies to any piece of equipment or machine that has RS485 serial output or dry contacts to enable data connection.
The Modbus transmits live monitored data 24/7 to the Duo meter, which sends it to the SoniCloud platform hosted on Amazon Web Services for maximum security.
Users access the data anytime to identify trends, and receive alerts on their smart device if user-set temperature limits are exceeded.

---
Example C – Connect Warehouse to your BAS system, and add Sonicu 24/7 remote wireless monitoring

This example shows a sensor transmitting temperature and humidity data 24/7 in a warehouse to the Duo meter, which sends it to your system and the SoniCloud platform simultaneously.
Users receive alerts on their smart device if user-set temperature or humidity limits are exceeded in the warehouse.
You can also connect equipment to your BAS/BMS system using RS485, dry-contact, or custom protocols.

---
Terminology Guide

---
Duo Digital Communicating Meter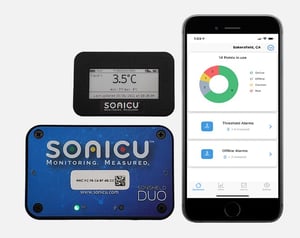 Sonicu's Duo communicating digital Meter wirelessly connects machines and equipment to the SoniCloud platform by acquiring data from almost any local sensor, and transmitting it to the cloud.
It supports virtually all commercially available sensors, providing a versatile platform to monitor practically anything while eliminating siloed, proprietary monitoring applications and IT overhead requirements.
Multiple Duo meters can mesh into a unified system via radio signals to collect data from multiple points and applications and transmit that information to the cloud by 4G cellular, Wi-Fi or SoniLink (LoRaWAN) or Ethernet.
Sonicu's remote wireless monitoring technology operates either in conjunction with or independently of existing enterprise IT systems.
Includes four input ports.
Each input port can be configured as one of the following:
Sonicu digital sensor
4 to 20 mA
Contact closure (dry contact)
Connectivity
The Duo accepts Sonicu's broad array of digital sensors and can also be configured for 4-20mA analog sensors, modbus, or dry-contact.
An RS485 port for modbus connection provides SMART IoT connectivity for monitoring virtually any device or variable.
Modbus configuration options include; modbus master, modbus slave, and custom protocols.
Sonicu Digital Sensors include:
Temperature

Temp & Humidity

Cryogenic

Ultra-Low Temp (ULT)

Air Pressure Differential

Incubator monitoring
Onboard Li-ion rechargeable battery and SIM memory with DataSync feature provide a battery backup option and ensures data integrity in the event of a system interruption or power loss.
Learn more about SMART IoT Solutions with these free resources.
Cloud-based software capabilities with predictive algorithms for tailored alarming to reduce alarm fatigue and spot trends.
SMART Reporting
Automated logging and reporting unrivaled in the industry for effortless regulatory compliance.
The Safest Network
Virtual Private Network (VPN) on Verizon's cellular platform that will eliminate security concerns when transmitting data to the cloud.
Recalibration is Easy
All-digital temperature probes for easy calibration renewal with Sonicu's SNAP calibration program.
SMART sensors with proprietary DataSync capture. Preserve and secure data in the event of transmission interruptions.
Battery Backup
Industry-leading battery life on all sensors. In the event of a power outage Sonicu's wireless sensors continue to keep you notified.
Flexible Transmission
Replace server-based systems and eliminate IT concerns with a variety of transmission signals including: 4G cellular, radio frequency, WiFi, and Ethernet.
Ensuring Consistency
Service quality and connectivity reports provide detailed analysis of system operations.
IoT Monitoring Platform

The Internet of Things, or IoT, is shaping the way we live our lives and helping us get a better insight into how things work around us.
One of the most important uses of IoT is environmental monitoring, or the use of advanced sensor devices and other control systems to keep products from being compromised due to environmental vulnerabilities.

Setting up an IoT monitoring platform can help companies improve their manufacturing efficiency while promoting product safety and consumer trust. Continuous quality monitoring and proper administration of connected devices and assets are essential to properly manage environments.
These procedures can assist in ensuring that systems run smoothly and meet safety requirements.

When it comes to IoT devices, an automated monitoring solution can help ensure that remotely situated and unsupervised equipment can function by itself without human intervention. This eliminates the need for IT teams to physically inspect devices on a regular basis or do manual data monitoring and logging.
Furthermore, utilizing a monitoring software that automates the regulatory compliance process can bring cost-saving benefits and helps businesses avoid regulatory fines.
In the healthcare and pharmaceutical and research sectors, deploying IoT real-time monitoring software such as Sonicu can help ensure that valuable, perishable assets – whether they are in development, in storage, or while in transit – are protected at all times, and that cold chain integrity is maintained.
When selecting a monitoring solution, it is suggested to pick one that offers a secure cloud-based platform for monitoring all of your cold storage applications within a facility or throughout an entire network. In addition, a monitoring solution should be fully compliant with regulatory requirements to help you create company value, reduce costs, and avoid regulatory penalties.

Sonicu can help you protect critical assets by automating manual data logging, which is prone to human data input errors, neglect, and fraudulent reporting. Also, by using an automated system, you can have 24/7 visibility and web-based access to all monitored locations.
You can also obtain data-driven insights to deliver meaningful customer experiences and support your business objectives.
With Sonicu's powerful, flexible and intuitive software platform, users will benefit from asset protection, compliance automation and operational efficiency. That translates to knowing your most sensitive assets will be monitored and protected from mishaps and human error and always being ready for a surprise Joint Commission audit.
It also means freeing up your staff from the inefficient exercise of manually logging temperatures throughout your facility.


IoT Monitoring Dashboard
An IoT monitoring software tool can track the behavior and performance of IoT devices within an organization. Ideally, an IoT monitoring tool should have an alerting system to notify the designated persons about problems and issues in real time so that appropriate, corrective steps can be taken immediately.
For industries such as hospitals, pharmaceuticals, life sciences, and other segments where temperature monitoring is crucial, the implementation of IoT monitoring can help address some of the operational challenges. IoT monitoring also allows organizations to provide a better customer experience and high-quality patient care.
An IoT dashboard is a web-based software tool within an IoT platform that uses graphs, charts, and other user interface components so you can track and interact with different devices within your ecosystem.
An IoT dashboard can be used to organize, present, and manage data from numerous connected devices in your network. Generally speaking, IoT dashboards provide users with easy-to-read data at a glance for remote monitoring of archived and live IoT data streams.
By using an IoT monitoring dashboard, you can observe and analyze the performance and health of installed IoT devices in a single platform through data visualization. An IoT monitoring dashboard can provide you with important data metrics, including performance and security issues, device health, and preventative maintenance to maximize equipment lifespan and productivity.

You can also use an IoT dashboard template, which can be customized according to your specifications.
As an IoT monitoring platform, Sonicu allows you to monitor and measure any of your legacy server-based systems, including machines, devices, location, assets, and other important performance indicators, by utilizing the SoniCloud dashboard.

The SoniCloud platform can connect with your legacy hardware systems to broadcast live data into your existing systems via an application programming interface, or API, which enables disparate applications and computer systems to connect with each other. In addition, the SoniCloud mobile app is available on both Android and IOS devices.
Having this kind of data access and visibility into your systems 24 hours a day, seven days a week can greatly help your organization run smoothly and efficiently.
IoT Platform Vendors
There are various top IoT platform vendors to choose from depending on the needs and requirements of your organization. Here are some of them:
· Arduino IoT platform – With only a few clicks, users can create, deploy, and monitor IoT projects using the Arduino IoT cloud. Arduino IoT supports integration with Amazon Alexa and other libraries available for integration. In addition, the Arduino IoT offers a dashboard sharing feature that allows you to share data with others. By using Arduino IoT, you can link numerous devices to each other and have them share data in real time. You can also monitor devices from anywhere, with an easy-to-use interface. However, Arduino IoT may have login issues with Google and may provide limited backend support.
· Datadog IoT monitoring – The Datadog IoT Agent gives you total visibility into your devices by automatically collecting health parameters and application logs from numerous IoT devices and embedded apps. Like many other IoT solutions, Datadog Agent allows you to monitor all of your IoT devices from a single platform. The Datadog IoT Agent may run on a variety of IoT devices and operating systems. After installation, you can review the data obtained and address any issues that emerge. You may also organize your fleet to compare and view the performance of the devices you want to focus on. For new users, setting up Datadog IoT Agent for the first time can be a steep learning curve. The built-in functionality and customizable features of the Datadog IoT platform might be overwhelming, especially for those who are not accustomed to monitoring systems.
· AWS IoT monitoring – AWS creates smart IoT solutions by leveraging artificial intelligence and machine learning. Its AWS IoT Core has an elastic cloud infrastructure and offers a wide choice of services and solutions, allowing customers to connect and manage billions of devices and trillions of messages. AWS IoT Core can collect and store data for various fields, including consumer, business, and automotive.
In addition, AWS IoT Core integrates with other AWS products. Users can utilize AWS Defender to secure their device data with preventative techniques. AWS IoT Core's user interface might be a bit tricky to navigate, and the AWS IoT platform is not available on a free trial version.
IoT Monitoring System Project

Organizations may refer to various IoT platforms examples to get ideas on how to implement an IoT monitoring system project. For example, a patient health monitoring system project allows health care practitioners or care providers to automate the process of monitoring patient health status and provide the best care possible.
An IoT-based smart healthcare system can help reduce hospital visits and patient meetings with healthcare providers. The system can present patient data in a visualized format for faster decision-making and reduce the variability of care. Hospitals may integrate a patient health monitoring system into their IT environment for better clinical outcomes and to help drive revenue.

A smart health monitoring system enables users to remotely observe a steady stream of vital medical parameters, such as patient heart rate, oxygen level and temperature, from monitors and medical devices. Some patient health monitoring systems might also be equipped with sensors for detecting falls and patient sleep patterns. Remote patient monitoring requires a stable internet connection in both the patient side and the healthcare providers in order to collect real-time data and measure the parameters at regular intervals.
Through a wireless detection system, critical patient data is sent to the server in the cloud and transmitted to any connected device. The cloud platform also enables data storage, which makes it possible to retrieve previous measurements for future reference.
If the system detects any variations from standard values in a patient's vital signs, it sends an alert signal to doctors or close contact care providers, who can then take the appropriate action. A smart health monitoring system is particularly useful for patients who live in rural areas or in remote locations and do not have immediate access to medical facilities and medical care.


IoT Monitoring Devices

While IoT monitoring devices are available in both free and paid versions, some free versions may have poorly designed features with low-quality or confusing interfaces. Other high-quality monitoring devices with more sophisticated components may come at a steep price.
Connection security is one important thing to look for in IoT device monitoring software. For example, when sending data to the cloud, Sonicus Virtual Private Network on Verizon's cellular platform eliminates security issues.

Ideally, IoT monitoring devices and IoT cloud platforms should allow for remote monitoring and enable you to manage data in one central location. Organizations might benefit from partnering with an IoT technology provider such as Sonicu which specializes in remote wireless monitoring

Working with Sonicu means having peace of mind that your sensitive assets are always being protected from uncertainty and that your team is always ready for a regulatory audit or inspection. It also translates to less time spent on manual logging and more time for your team to focus on patient care.

Monitoring, alerting, logging, and reporting are all made easier with Sonicus IoT solutions. Sonicu can assist hospitals and pharmacies in dealing with many challenges related to keeping medications, vaccines, and other medical supplies in medical freezers and refrigerators.

Want to see how Sonicu can simplify compliance and protect your assets?

Click HERE for a free quote!