Reporting for Compliance Automation
Quickly respond to alerts, analyze data and performance and create reports from your dashboard.
REQUEST QUOTE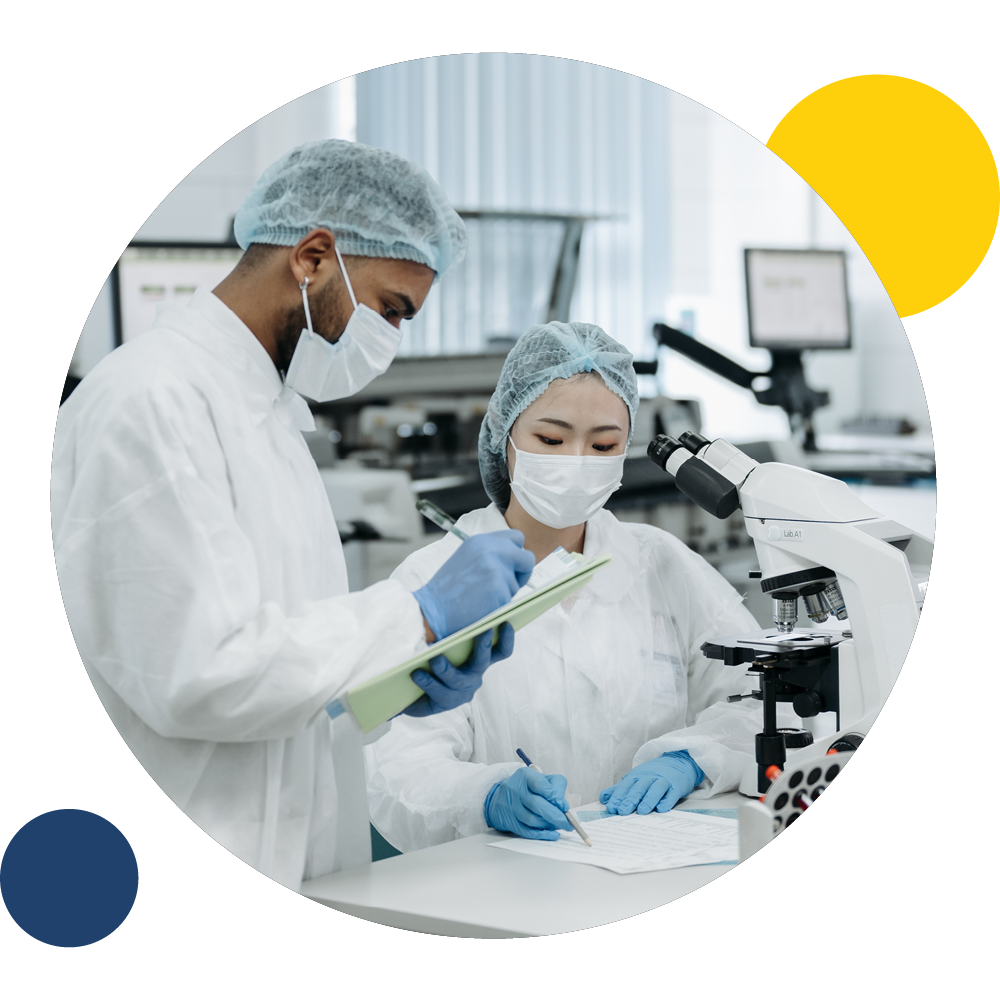 100% Operational Visibility
System-Wide Summary Views – Flexible Filtered Views – Detailed Device Logs
A Typical Hospital Client Saves 1 Full Time Employee For Every 100 Beds!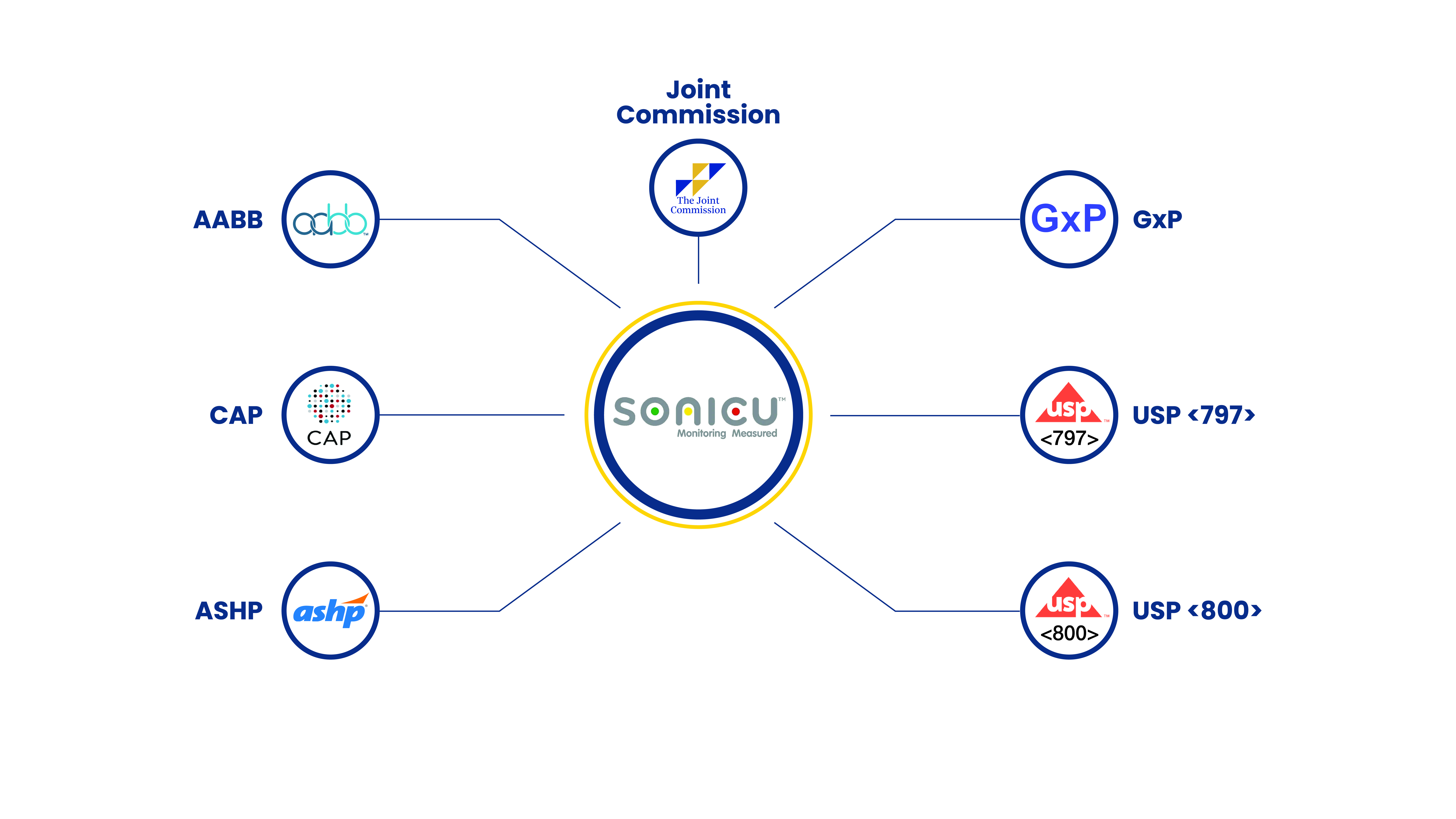 Monitor Everything and Receive Alerts Anywhere In The World 24/7!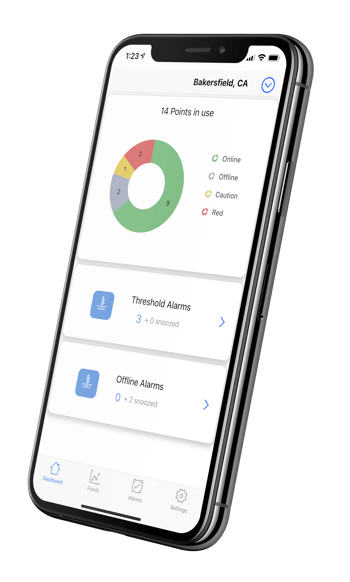 Alarms for Asset Protection
View Active & Snoozed Alarms – Alarm Resolution Tools – Alarm History & Trends
Our Customers: In their Own Words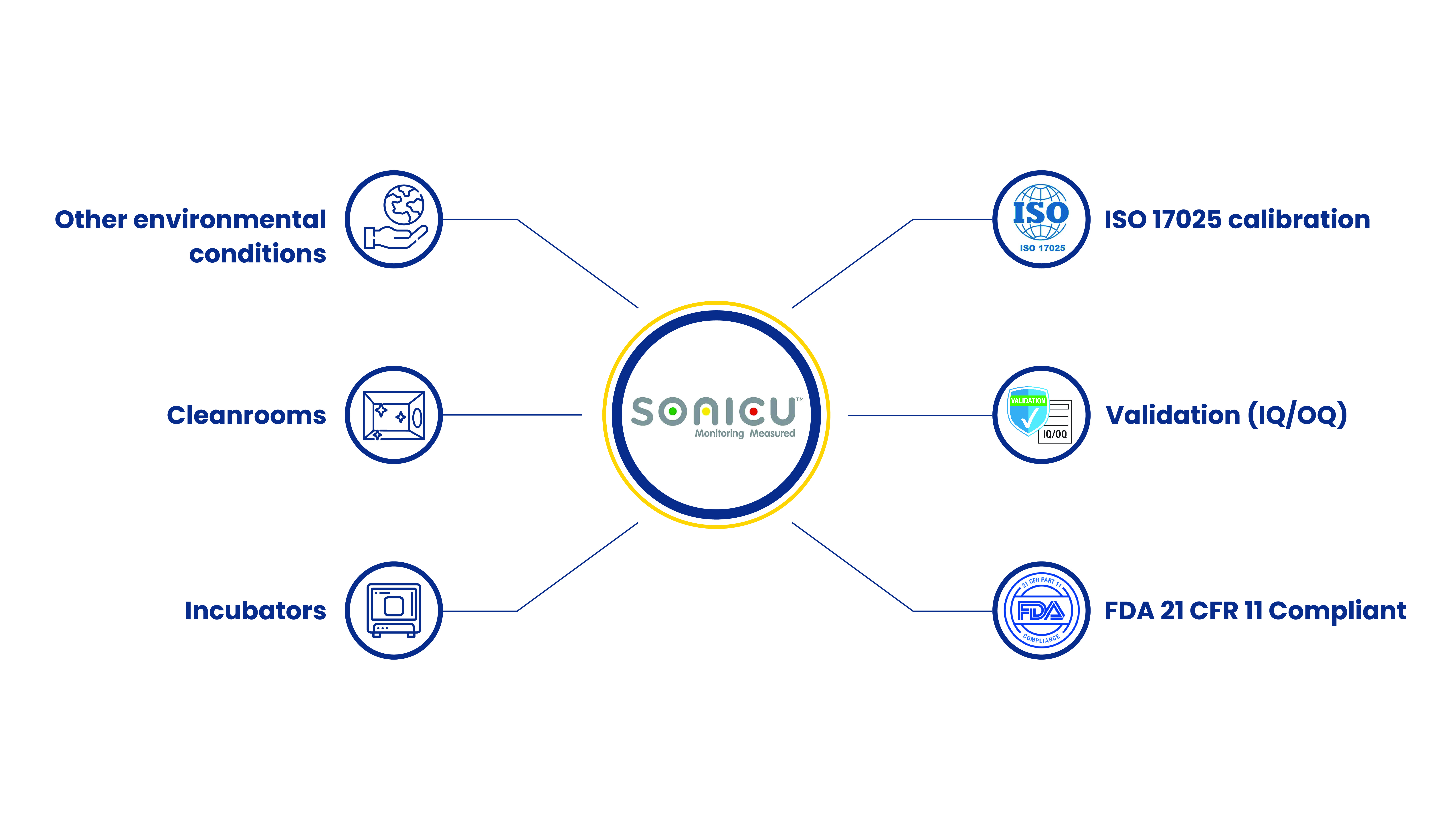 Intuitive Interface for Compliance Reporting
Connectivity Report – Sensor Calibration Status & Report
SoniCloud Platform
The dashboard provides aggregate views of all your monitored devices and offers many auto-generated reports including:
Alarm History & Resolution
Device Summary
NIST Sensor Calibration
Data Logs / Graphical Reports
User Login Reports
LEARN MORE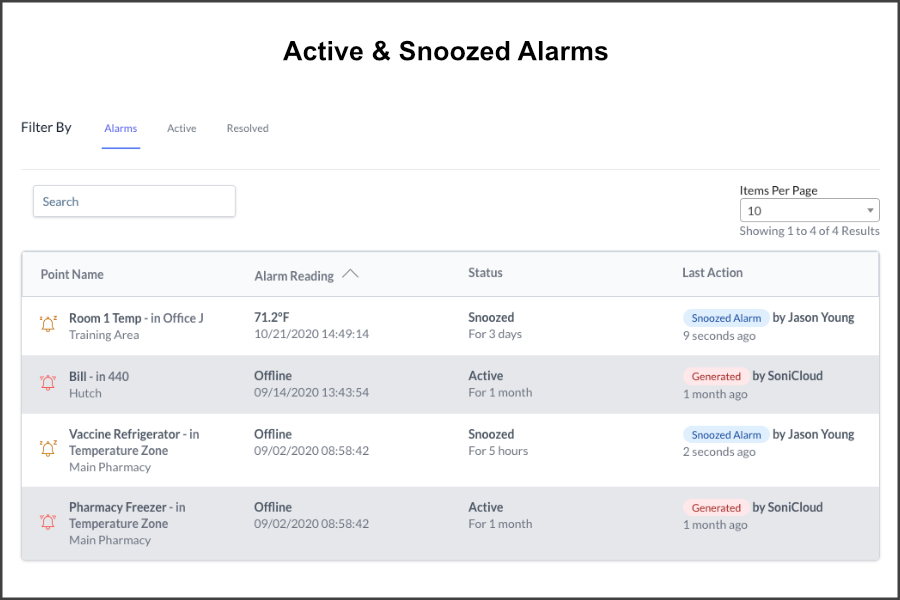 Dashboard Access 24/7
24/7 monitoring, unlimited access, advanced alarms
Dashboard views make it easy to manage all points of monitoring
SMART Reporting tools auto-generate management and audit reports
LEARN MORE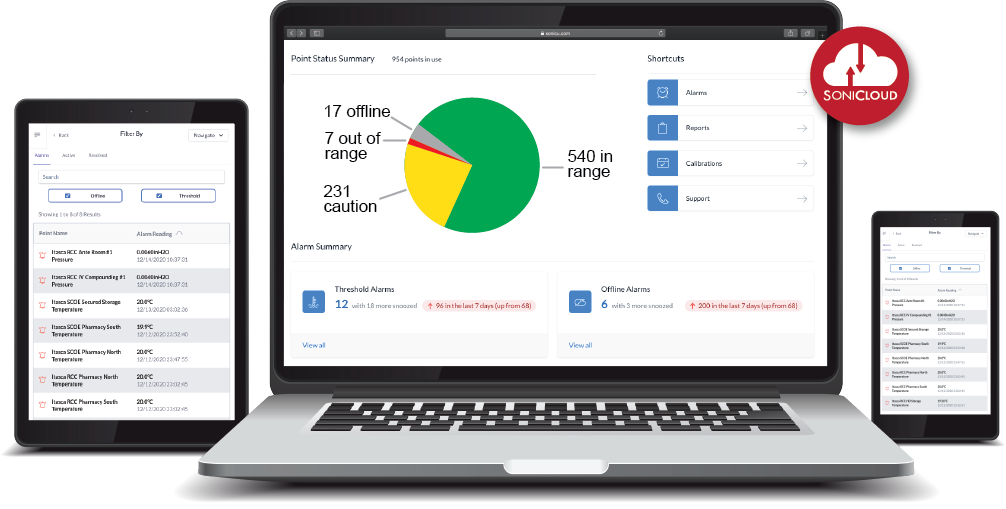 SMART Sensors
Sonicu's digital wireless sensors and meters feature:
NIST Calibrated Certificates
Plug 'n' Play installation
Onboard battery & data backup
Popular Applications Include:
Temperatures down to -205˚C
Ambient room temp & humidity
Room pressure monitoring
Room conditions monitoring
Sound monitoring
LEARN MORE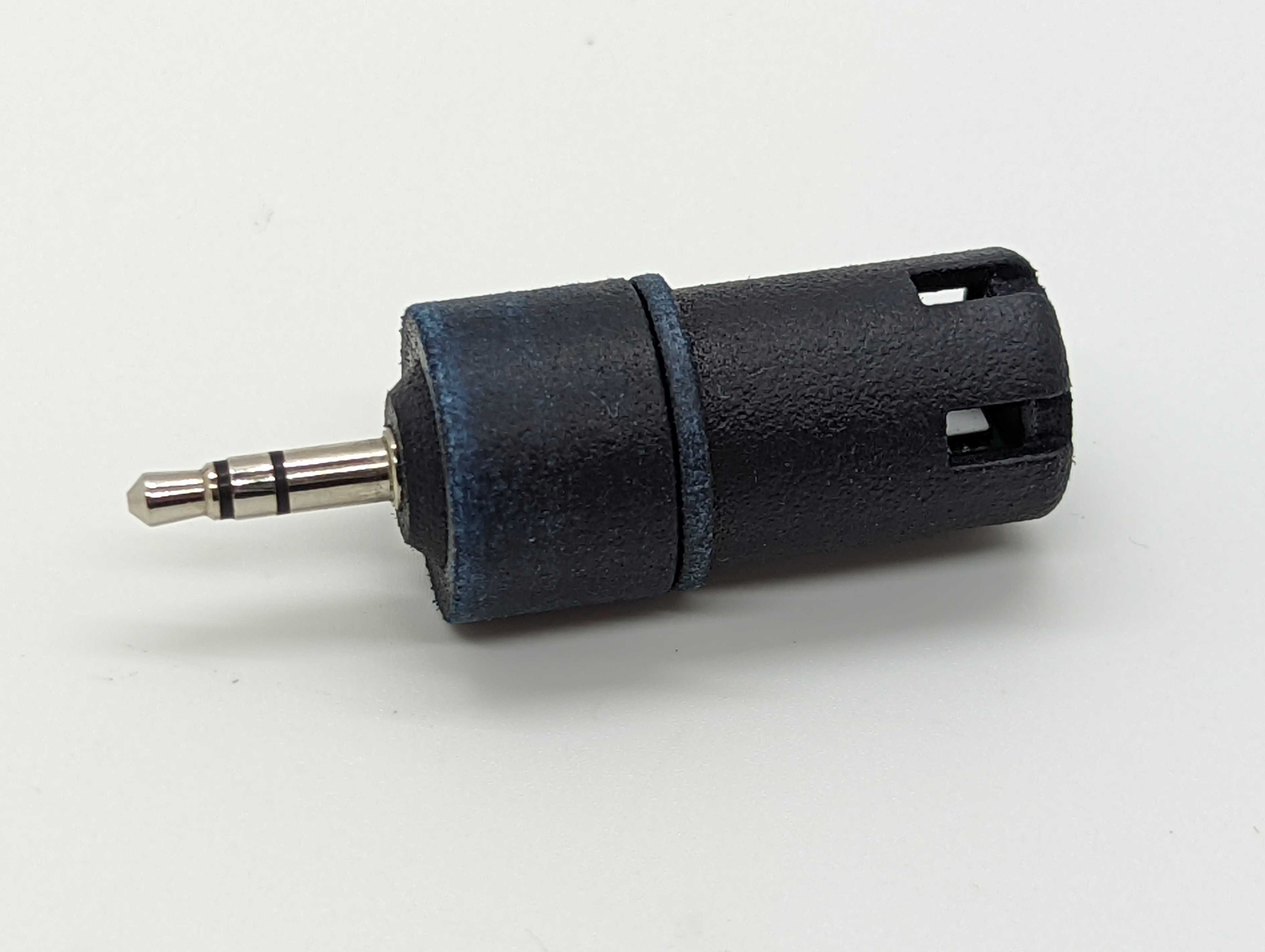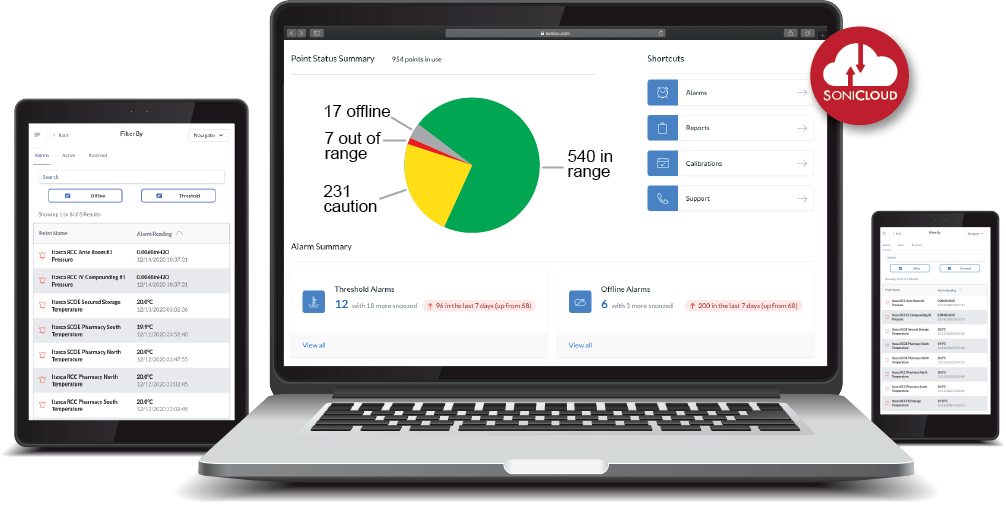 The Sonicu Difference
Advanced Alarming
Cloud-based software capabilities with predictive algorithms for tailored alarming to reduce alarm fatigue and spot trends.
SMART Sensors
SMART sensors with proprietary DataSync capture. Preserve and secure data in the event of transmission interruptions.
SMART Reporting
Automated logging and reporting unrivaled in the industry for effortless regulatory compliance.
Battery Backup
Industry-leading battery life on all sensors. In the event of a power outage Sonicu's wireless sensors continue to keep you notified.
The Safest Network
Virtual Private Network (VPN) on Verizon's cellular platform that will eliminate security concerns when transmitting data to the cloud.
Flexible Transmission
Replace server-based systems and eliminate IT concerns with a variety of transmission signals including: 4G/5G cellular, radio frequency, WiFi, and Ethernet.
Recalibration is Easy
All-digital temperature probes for easy calibration renewal with Sonicu's SNAP calibration program.
Ensuring Consistency
Service quality and connectivity reports provide detailed analysis of system operations.
Regulatory Compliance In Healthcare
If you're looking for a cloud-based hospital refrigerator (or freezer) temperature monitoring system that helps your team eliminate manual logging, improve compliance readiness and protect all your temperature sensitive assets, you've arrived at the right place.
Some of the finest names in healthcare, including Indiana University Health, Ohio University Innovation Center and Piazza Produce (not to mention Stanford and Harvard Universities), rely on Sonicu to provide robust continuous temperature monitoring for their cold and frozen environments.
These respected brands turn to Sonicu for three primary reasons:
Operational Efficiency: Virtually eliminate the need for tedious and costly manual logging

Compliance Automation

: Respond to virtually any regulatory audit or inspection in a few clicks with our reports section
Asset Protection: Detect and respond to any temperature excursion that can threaten virtually anything perishable: food, drugs, vaccines, research, etc.
When you combine these three significant feature benefits, our clients average about $80,000 of savings for every 100 hospital beds.
At research or university locations without beds, it's not hard to imagine the time savings alone by simply not having staff manually record temperatures several times per day.
Our customers stay with us thanks to our American-based customer support that is never more than a phone call away.
While our technology is intuitive and powerful, we know it's only as strong as the people who stand behind it.

Software for monitoring temperature, air pressure, humidity, and other conditions is essential for many kinds of healthcare facilities.
Hospitals, clinics, surgery centers, and more need ways of keeping assets like vaccines and medications protected against harm from improper storage conditions.
Solutions like Sonicu enable healthcare facilities to monitor storage conditions remotely so critical issues don't go unaddressed.
The solution continuously monitors temperature or other room conditions - air pressure differential, relative humidity and CO2 for incubators - and sends alerts to the appropriate employees if there is a problem that requires their immediate attention.
Sonicu customers enjoy phone call alerts that can rouse them sleep or get their attention while on vacation so they can be sure to respond promptly when a situation arises that threatens their critical asset or sensitive environments.
However, aside from enabling faster response times to room condition emergencies, monitoring solutions like Sonicu can also greatly improve regulatory compliance in healthcare organizations.
Automated monitoring solutions are also capable of keeping a continuous log of the data they capture, making it easy for healthcare organizations to quickly assemble compliance reports in response to regulatory audits.
It's vital to appreciate the importance of compliance in healthcare. Government and third-party regulators are applying significant focus on compliance across both healthcare and laboratory organizations following the relaxed auditing schedule prompted by the COVID-19 pandemic.
Numerous government regulations exist for the purpose of ensuring healthcare facilities of all kinds are adhering to the proper standards of safe and effective care. Adverse compliance audits can not only damage your professional reputation, but can also impact the bottom line by decreasing CMS reimbursement, threatening your organization's profitability.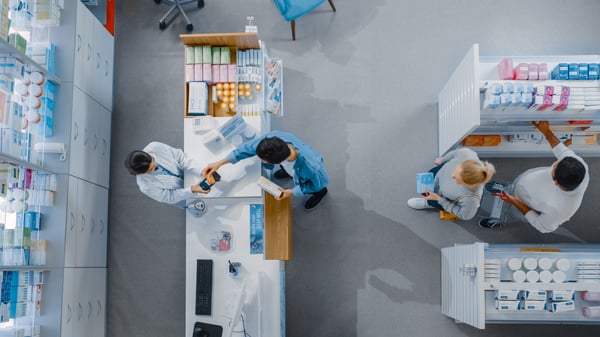 What Is Regulatory Compliance in Healthcare?
Some of the most well-known examples of compliance in healthcare include the Health Insurance Portability and Accountability Act (HIPAA) and the Health Information Technology for Economic and Clinical Health (HITECH) Act.
Other standards from organizations like the FDA, USDA, CDC, Joint Commission and Board of Pharmacy exist specifically to govern the conditions under which hospitals and other healthcare facilities store medical assets such as vaccines.
Many facilities use manual processes to ensure regulatory compliance in the healthcare industry rather than automated, remote software.
Software generally has quite a few advantages over manual monitoring — especially in terms of maintaining regulatory compliance and responding efficiently to audits.
Let's take a more detailed look at the role of regulatory compliance in the healthcare industry and how automated monitoring tools like Sonicu can contribute to more efficient and comprehensive compliance readiness.
Healthcare Regulatory Compliance
In order to produce the necessary evidence of compliance in the event of a regulatory audit, healthcare facilities need to have some way of collecting and retaining data on storage conditions like temperature and humidity.
In the past, the only way to monitor and record this data was by hand. Employees investing valuable time to walk around a facility and manually read temperature displays and capturing that information in a log book.
But what if that employee forgets one day?
Or takes vacation and is not backfilled appropriately?
This process is also prone to natural human error, and a stickler of an auditor even complaining about the readability of the logging.
Many healthcare and life science organizations invest in technology to remove the vast majority of human errors or forgetfulness that can threaten your compliance effectiveness.
Thanks to advancements in technology over the years, there are software solutions available that can make healthcare regulation compliance and quality management far easier.
However, despite these advancements, there are still many healthcare organizations using subpar monitoring and reporting solutions or even relying entirely on manual processes.
Manual processes introduce quite a few drawbacks that can potentially undermine compliance at healthcare organizations.
There are three major drawbacks in particular:
Manual data logging and reporting allows for only snapshot views of a facility's monitoring data, not a complete picture. When you have to rely on manual checks that occur only a few times per day, you miss large chunks of data. The impression a manual data-logging process provides is not always fully accurate.





Manual data logging can erode productivity by taking employees away from their primary responsibilities. When employees have to stop and check storage conditions periodically, it distracts their energy and attention from other tasks.





No matter how careful we are, we all make mistakes. When your compliance management process is fully manual, it's easy for small instances of human error to slip through the cracks. Simple mistakes like a busy employee misreading a temperature or writing it down incorrectly can have an impact on the reliability of a facility's regulatory compliance reporting.
Importance Of Regulatory Compliance In Healthcare
There are naturally a lot of risks involved with the healthcare industry. Patients' lives are on the line, and the reputations of doctors and nurses are at risk every day.
This means it is of the utmost importance for all healthcare facilities to adhere to all the necessary regulations and standards.
Many of these standards are designed to protect the safety, privacy, and dignity of the patients the healthcare industry treats.
Here are a few of the most important reasons for ethical compliance in healthcare:
The quality of treatment patients receive and the experiences they have in the healthcare industry have significant, lasting effects on patients' lives. Many situations in the healthcare industry deal with matters of life or death. Regulations like required vaccine storage temperatures ensure that healthcare facilities provide safe and effective care.





Some kinds of healthcare industry regulations are designed to help protect patient privacy. Medical information is very personal, and it's essential for patients to be able to trust that their personal information is being handled according to responsible standards. HIPAA is one of the most well-known healthcare compliance examples that deals with patient privacy rights.





While the main purpose of healthcare compliance laws is to protect patients and ensure they receive a reasonable standard of care, it's also important to understand the repercussion of noncompliance for healthcare facilities. Prioritizing compliance and maintaining an organized reporting system can help healthcare organizations avoid negative consequences like lawsuits or legal fines.
Healthcare Compliance Laws And Regulations
A complete list of healthcare regulations would be too long to include here.
There are many different healthcare regulations covering various aspects of the healthcare industry.
It's also important to remain aware that there are both federal healthcare regulations and state healthcare regulations.
While a full list would be impractical, let's examine some of the most common healthcare compliance and regulations that healthcare facilities need to understand.
Health Insurance Portability and Accountability Act (HIPAA): This regulation requires medical providers to take certain measures with the way they handle patients' medical information in order to protect patient privacy.


Health Information Technology for Economic and Clinical Health (HITECH) Act: The HITECH Act is a later addition to HIPAA that specifies regulatory compliance requirements for healthcare IT and the management of electronic health records.


False Claims Act: This act states that a medical provider may not make false claims to a federal payer, and states that people who have no direct relation to the government can sue medical providers who infringe upon this act on the U.S. government's behalf.


Physician Self-Referral Law: Also called the Stark Law, this regulation establishes that a doctor may not refer a patient who is enrolled in Medicare or Medicaid to a healthcare provider with whom the doctor has a financial relationship.
Healthcare Compliance Examples
It's very important for facilities in the healthcare industry to follow healthcare compliance examples like HIPAA, HITECH, and other regulations that are designed to make the healthcare industry safer and more effective while always putting the patient first
Software tools can provide solutions for many of the most common compliance issues in healthcare, including healthcare compliance and regulations involving conditions monitoring data.
Here are a few of the compliance-related benefits of using remote monitoring and reporting systems like Sonicu:
Automated monitoring and reporting solutions like Sonicu are cloud-based. This enables healthcare industry workers to remotely access and manage monitoring and compliance data from anywhere they have access to the internet. An automated, remote monitoring and data logging solution can save a tremendous amount of time and effort for employees which can be redirected toward the tasks you can't automate.





Sonicu's automated monitoring solutions come with safeguards to protect data even if network interruptions or power outages occur. If the system is unable to upload data to the cloud, it will retain the information locally until access is restored to the network. Backup battery power can also ensure there are no gaps in your data even in the event of a power outage. We call this DataSync and it's a powerful tool to keep you compliant!





Automated data logging provides a continuous record of monitoring data — not just single snapshots collected by performing periodic manual checks. This enables healthcare organizations to quickly access a full record of data and assemble reports needed for compliance audits. Sonicu's

smart reporting tools

can even automatically generate many kinds of regulatory reports for proving adherence to various healthcare compliance laws.

Healthcare Compliance Certification
There are various certifications an individual can attain in the category of healthcare compliance. Healthcare industry jobs may or may not require applicants to hold a healthcare compliance certification.
In general, the purpose of seeking a healthcare compliance certification is to improve your knowledge and competence in the area of healthcare compliance and promote healthcare compliance at your organization.
There are a few different ways to find the best healthcare compliance certifications.
One option is to complete a course in healthcare compliance certification online. Organizations such as the Healthcare Compliance Association offer a range of online healthcare compliance certifications.
Healthcare Compliance Program
Some healthcare workers wonder if compliance programs for healthcare providers are mandatory.
According to the Patient Protection and Affordable Care Act of 2010, healthcare providers must maintain a compliance program if they treat Medicare or Medicaid beneficiaries.
Creating a healthcare compliance program can help healthcare providers protect both themselves and their patients.
Here are the seven most important components of a healthcare compliance program according to the United States Department of Health and Human Services' Office of the Inspector General:
Internal monitoring and auditing

Established compliance practices

A specifically designated compliance officer

Thorough compliance education

Corrective actions in response to regulatory violations

Clear communication with employees regarding compliance

Adequately publicized and enforced disciplinary standards for compliance violations
Other kinds of healthcare compliance programs include healthcare compliance certificate programs.

American-based Customer Support: Robust & Reliable High Touch Service
Software and technology is only as good as the people who stand behind it.
At Sonicu, that means our team of American-based customer success managers who are never more than a phone call away to help field and fix any service issues.
And we offer free, live monthly training to help our customers stay fresh in how to use the SoniCloud platform and learn about the newest features designed to improve your compliance reporting.
Our probes and sensors are placed in demanding frozen environments and our software literally sends billions bits of data monthly, meaning there's alway the potential for a hiccup on either the hardware or software.
We are committed to fielding every customer service request promptly and getting our customer online rapidly.
Other Smart IOT Resources