Reporting for Compliance Automation
Quickly respond to alerts, analyze data and performance and create reports from your dashboard.
REQUEST QUOTE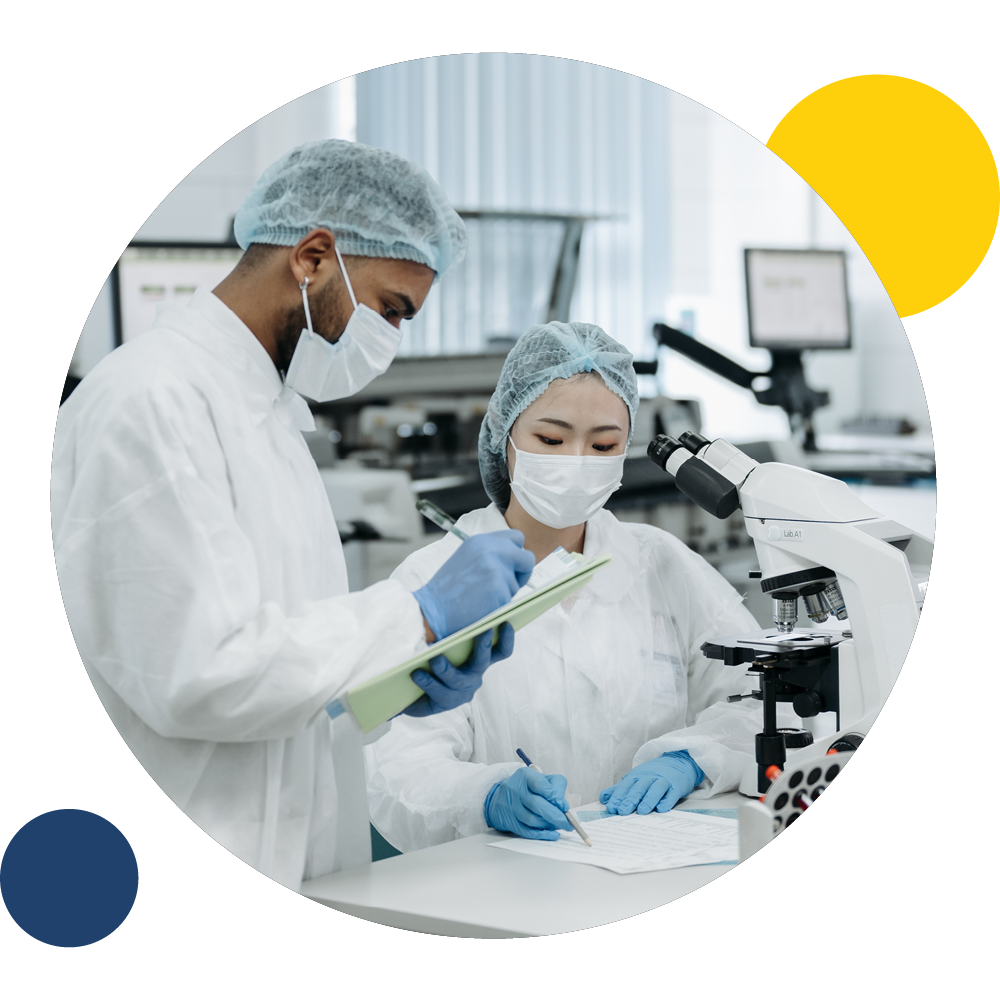 100% Operational Visibility
System-Wide Summary Views – Flexible Filtered Views – Detailed Device Logs
A Typical Hospital Client Saves 1 Full Time Employee For Every 100 Beds!

Monitor Everything and Receive Alerts Anywhere In The World 24/7!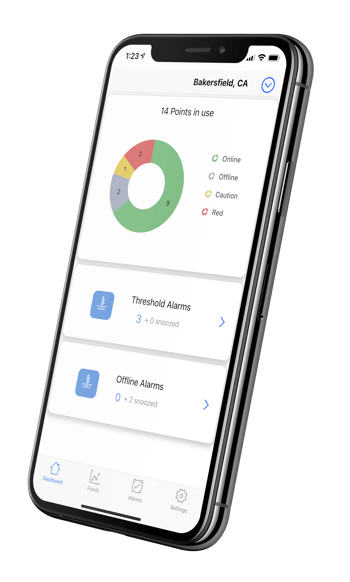 Alarms for Asset Protection
View Active & Snoozed Alarms – Alarm Resolution Tools – Alarm History & Trends
Our Customers: In their Own Words
Intuitive Interface for Compliance Reporting
Connectivity Report – Sensor Calibration Status & Report
SoniCloud Platform
The dashboard provides aggregate views of all your monitored devices and offers many auto-generated reports including:
Alarm History & Resolution
Device Summary
NIST Sensor Calibration
Data Logs / Graphical Reports
User Login Reports
LEARN MORE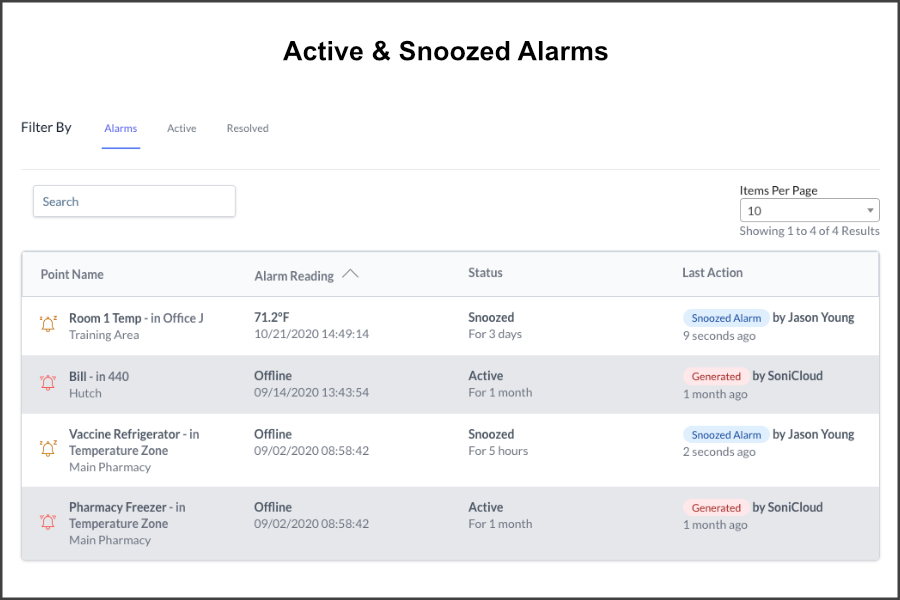 Dashboard Access 24/7
24/7 monitoring, unlimited access, advanced alarms
Dashboard views make it easy to manage all points of monitoring
SMART Reporting tools auto-generate management and audit reports
LEARN MORE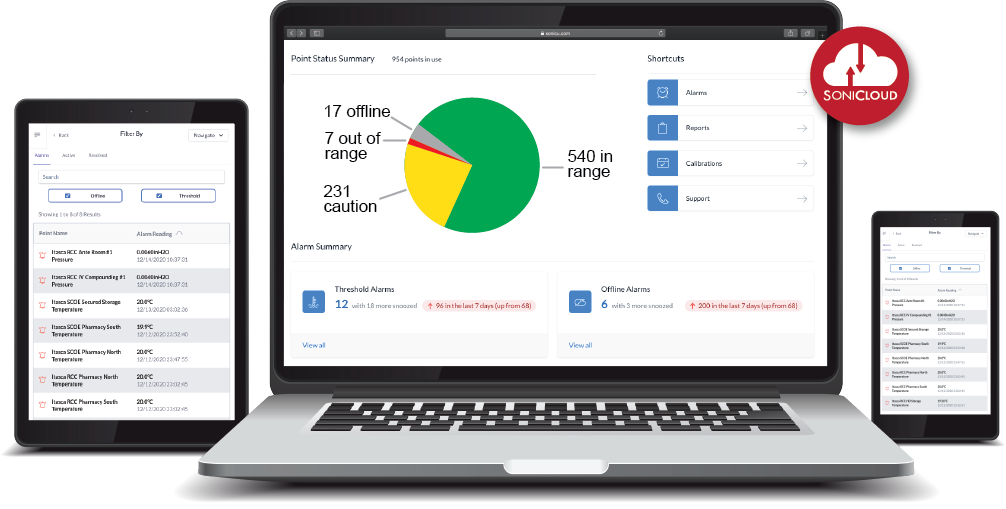 SMART Sensors
Sonicu's digital wireless sensors and meters feature:
NIST Calibrated Certificates
Plug 'n' Play installation
Onboard battery & data backup
Popular Applications Include:
Temperatures down to -205˚C
Ambient room temp & humidity
Room pressure monitoring
Room conditions monitoring
Sound monitoring
LEARN MORE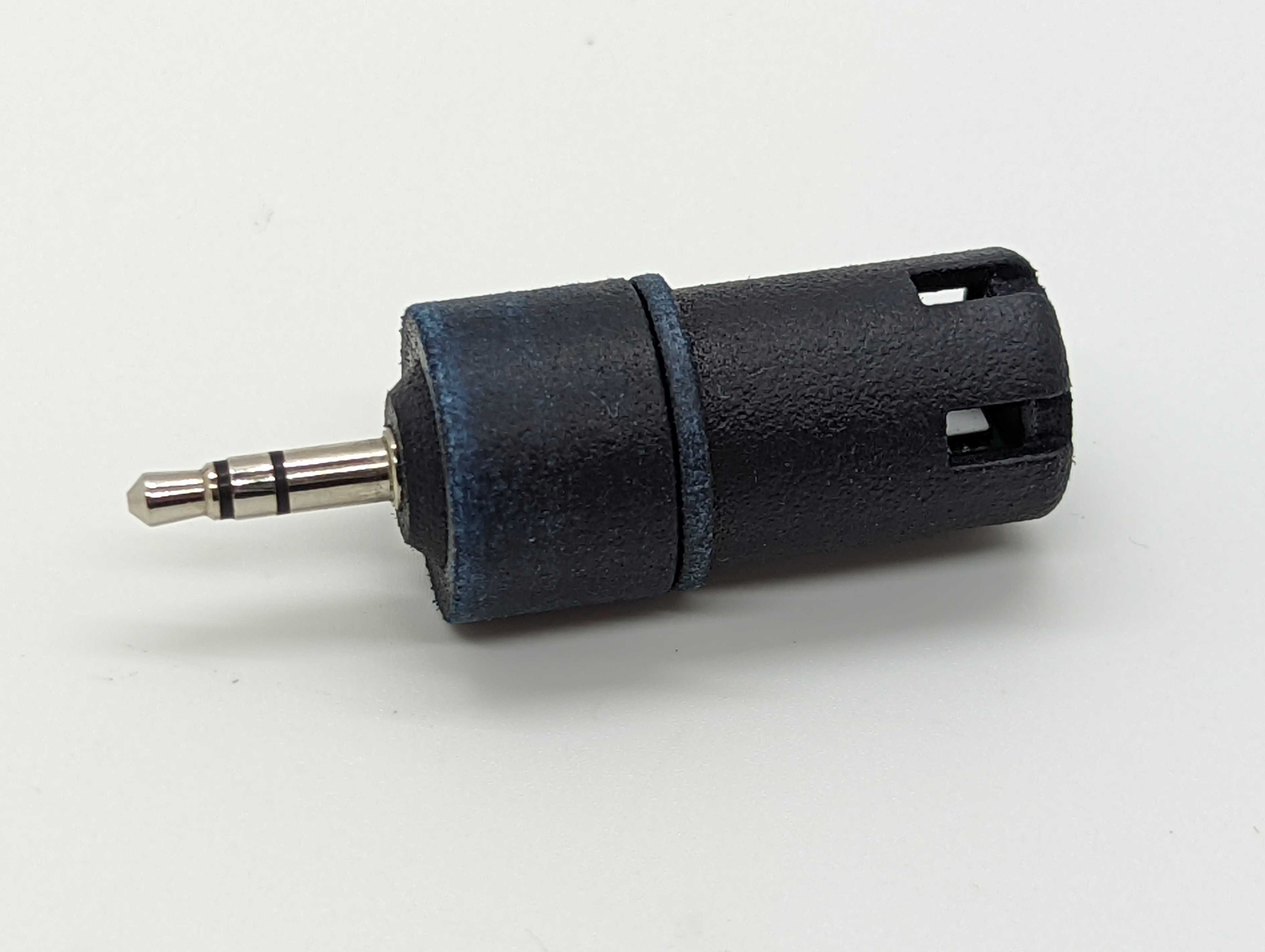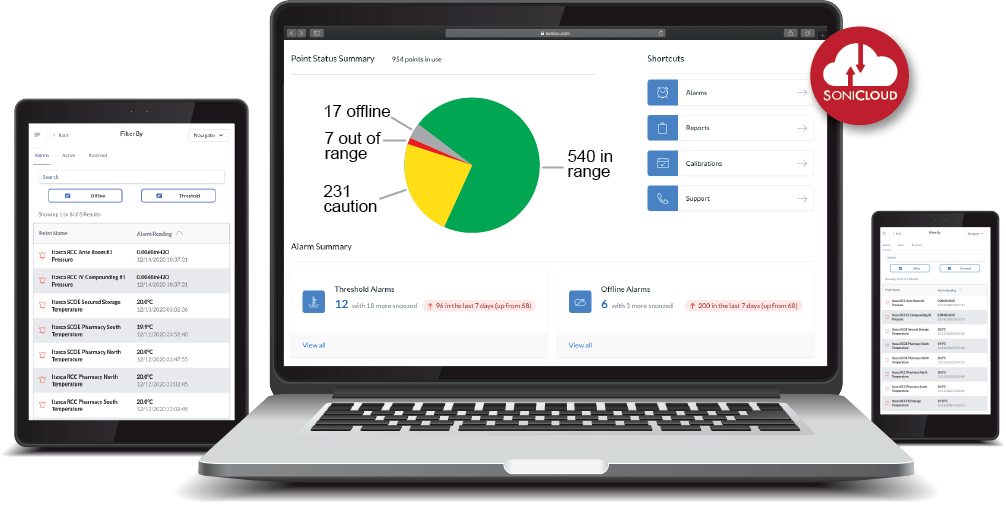 The Sonicu Difference
Advanced Alarming
Cloud-based software capabilities with predictive algorithms for tailored alarming to reduce alarm fatigue and spot trends.
SMART Sensors
SMART sensors with proprietary DataSync capture. Preserve and secure data in the event of transmission interruptions.
SMART Reporting
Automated logging and reporting unrivaled in the industry for effortless regulatory compliance.
Battery Backup
Industry-leading battery life on all sensors. In the event of a power outage Sonicu's wireless sensors continue to keep you notified.
The Safest Network
Virtual Private Network (VPN) on Verizon's cellular platform that will eliminate security concerns when transmitting data to the cloud.
Flexible Transmission
Replace server-based systems and eliminate IT concerns with a variety of transmission signals including: 4G/5G cellular, radio frequency, WiFi, and Ethernet.
Recalibration is Easy
All-digital temperature probes for easy calibration renewal with Sonicu's SNAP calibration program.
Ensuring Consistency
Service quality and connectivity reports provide detailed analysis of system operations.