Automated Remote Temperature Monitoring
For refrigerators, freezers, walk-in coolers, cold warehouses, etc.
REQUEST A DEMO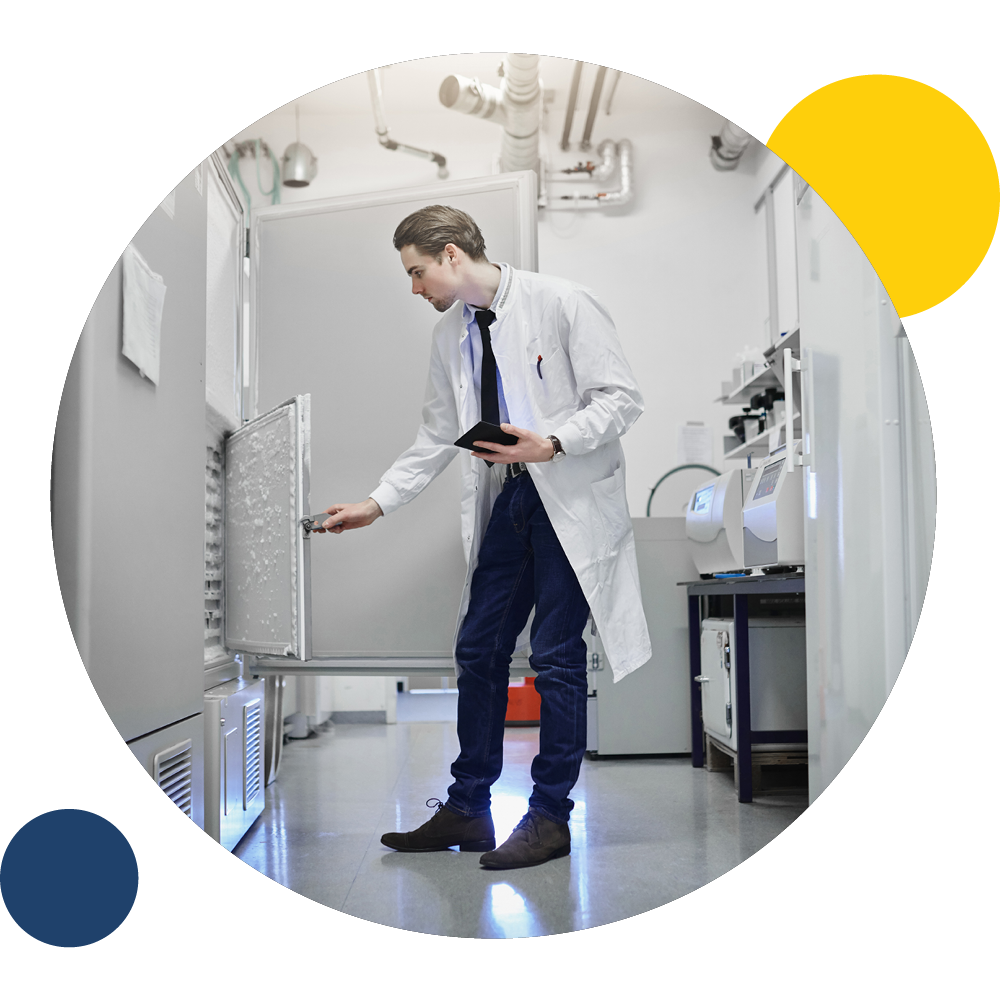 Real-time floorplan view of all
your assets and environments
Digital wireless technology and cloud-based software platform fully automate 24/7 remote monitoring, alarming, and reporting for healthcare, life sciences, pharmaceutical, food manufacturing, and industrial applications.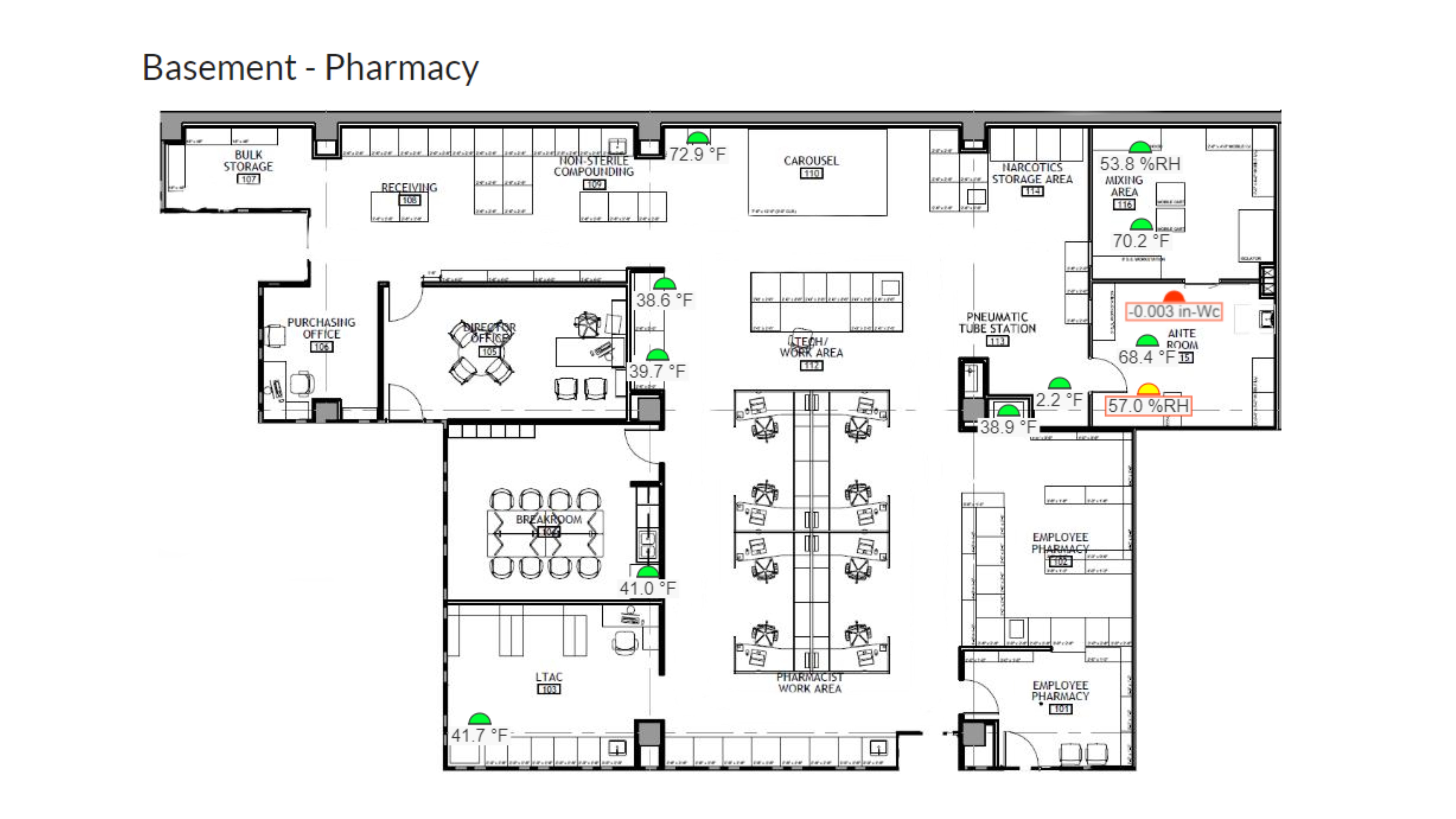 SoniCloud Dashboard
View and Manage All Monitoring and Device Status
Cloud based software to
Aggregate system-wide monitored data to a single dashboard

Web-based access to critical information from anywhere

Superior operational visibility

Real-time views across all departments

Simple onboarding to SoniCloud platform
Subscription includes:
Unrestriced number of users (no licenses or user seats to purchase)

Unlimited secure data storage, on-board redundant data backup

Fr

ee software updates

Unlimited technical support

On demandtraining videos on Sonicu Academy,

Full warranty on hardware for the life of your subscription.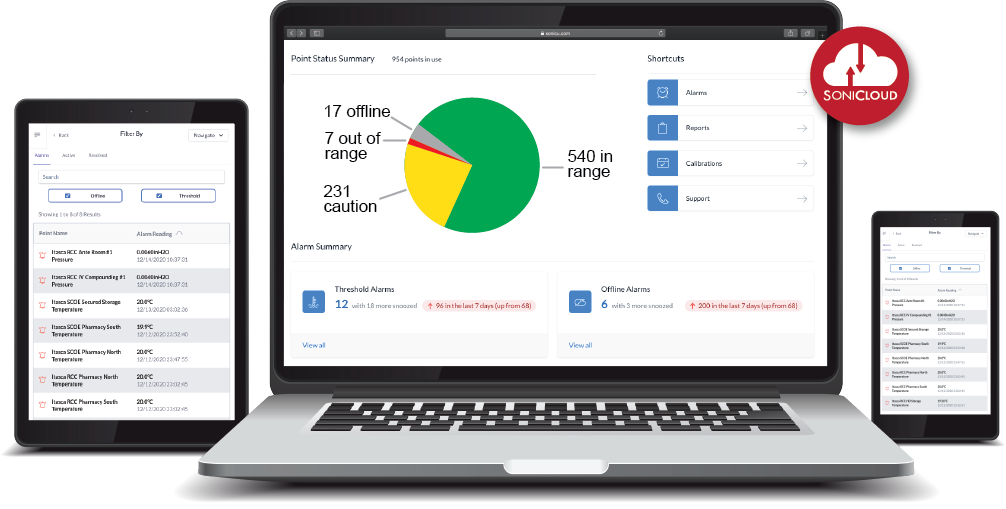 Reporting Tools
For Regulatory Compliance
The SoniCloud suite of software tools allow users to quickly analyze data to identify trends and automatically create reports for regulatory compliance.
Reports Include:
Sensor Calibration / Certificate
Temperature Logs / History
Alarm History / Resolution
Learn More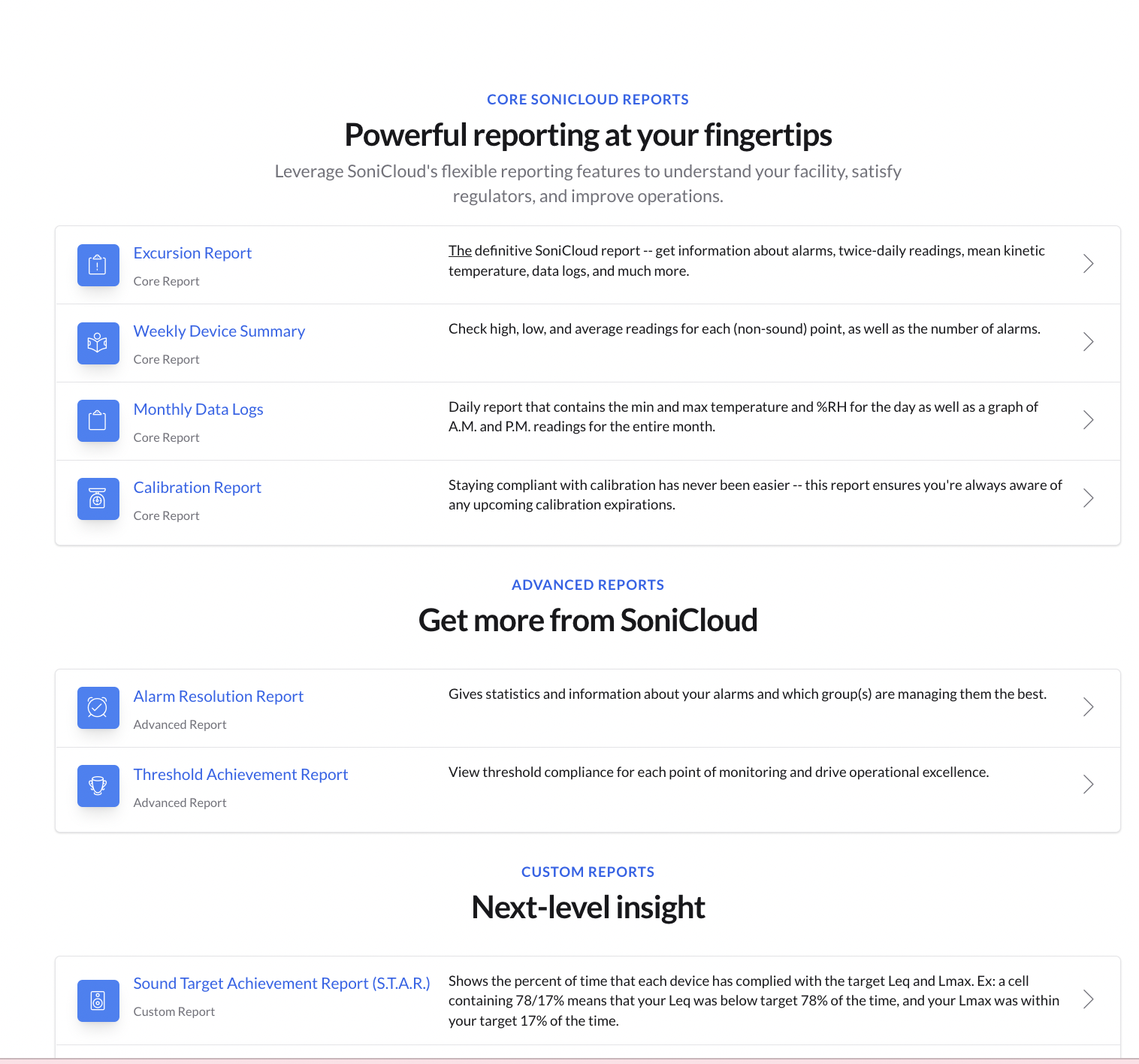 How it Works
Eliminates capital expense and ongoing costs of purchasing, installing, and maintaining your own monitoring system. All services include:
Unlimited Data storage

AWS Cloud-backed security

Software tools

Hardware under warranty
Take-Aways
Low up-front costs, an intuitive, logical user experience and a high adoption rate.
Benefit from cutting-edge monitoring, operational visibility, and asset protection.
Scalable Solution – easily add or remove monitoring locally or system-wide as requirements change.
REQUEST QUOTE
The Leader for Monitoring Platforms
Easy to Implement • Security and Reliability • Tiered Alarms
Easy to Implement
Implementation Wizard quickly guides you through setup, creating alarms, users, reporting options
Plug 'n' play wireless hardware allows 4G/5G Cellular, WiFi, or Ethernet data transmission on or off local networks.

No IT required: Cloud system with no HIPPA data

System scales up or down easily to add remote locations as needed.

Dashboard aggregates all monitored data system-wide, for enterprise visibility
REQUEST A DEMO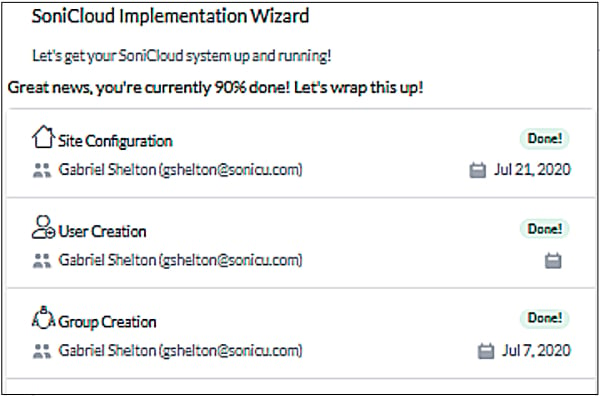 Security and Reliability
Redundant software and hardware data protections and provides

Unlimited data storage, unlimited user access, and system-wide or granular views of all points of monitoring in real time.

Analysis and reporting tools to meet the requirements of the Joint Commission, CDC/VFC, AABB, AATB, CAP, HACCP, FDA, and other regulatory agencies.

The SoniCloud platform is maintained on AWS servers for maximum uptime and conformity with the government's data security requirements.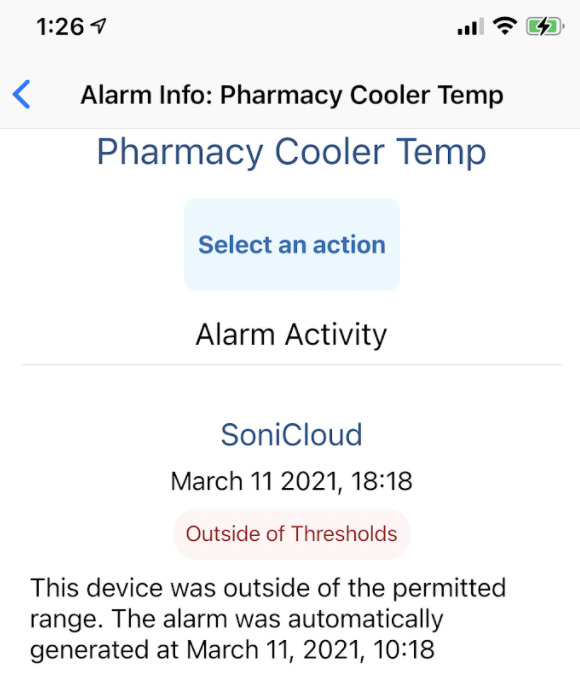 SMART Alarm Handler
Features Include
SMART Alerts with tiered alarming, alarm escalation, and repeating alarms to ensure rapid resolution.

Alerts delivered 24/7 via text, email, or phone call to ensure the right person is notified at the right time.

Alarms are easily customized with buffers, delays, and auto-resolve features to prevent false alarms and alarm fatigue.
Learn More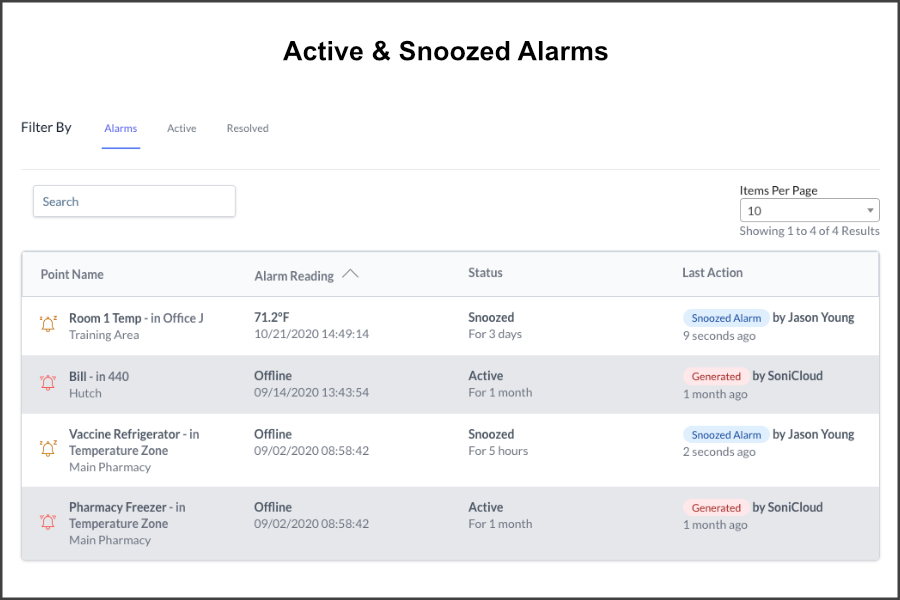 The Sonicu Difference
Advanced Alarming
Cloud-based software capabilities with predictive algorithms for tailored alarming to reduce alarm fatigue and spot trends.
SMART Digital Sensors
SMART sensors with proprietary DataSync capture. Preserve and secure data in the event of transmission interruptions.
SMART Reporting
Automated logging and reporting unrivaled in the industry for effortless regulatory compliance.
Battery Backup
Industry leading battery life on all sensors. In the event of a power outage Sonicu's wireless sensors continue to keep you notified.
The Safest Network
Virtual Private Network on Verizon cellular platform that eliminates security concerns when transmitting data to the cloud.
Flexible Transmission
Replace server-based systems and eliminate IT concerns with a variety of transmission signals including: Cellular, Radio Frequency, WiFi, and Ethernet.
Recalibration is Easy
All-digital temperature probes for easy calibration renewal with Sonicu's SNAP calibration program.
Ensuring Consistency
Service quality and connectivity reports provide detailed analysis of system operations.
Other Smart IOT Resources