Temperature Monitoring System for Healthcare and Hospitals. Simplified.
Protect patients and staff with affordable environmental and temperature monitoring that covers virtually every aspect of a healthcare environment.
Schedule a convenient web demo today.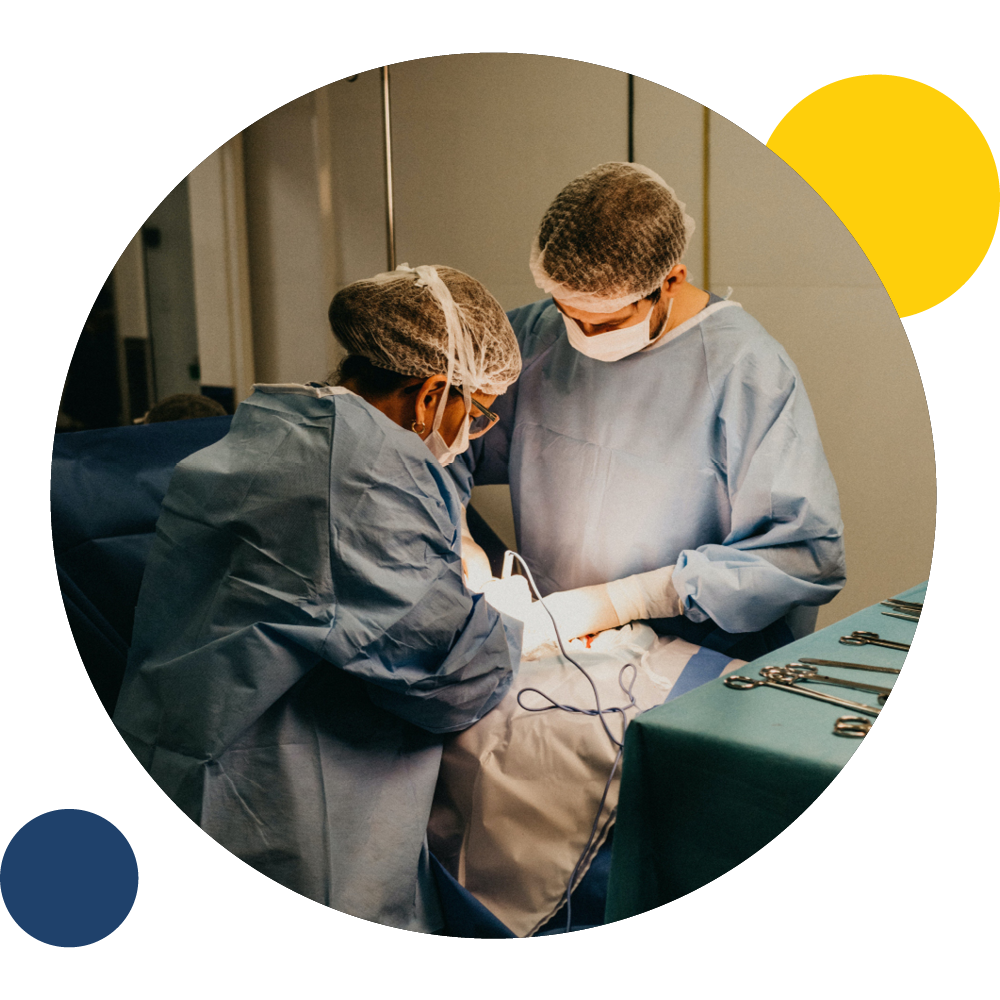 Temperature Monitoring: Safety and Compliance
A digital single-solution monitoring platform that provides safety, protection and efficiency with automated monitoring, logging, alerting and reporting.
Meets compliance standards of the Joint Commission, HFAB, CDC, FDA, BOP, VFC
Critical Healthcare Area Covered:
Medication and vaccine storage
Blanket and fluid warmers
Blood banks and tissue storage
Labs and research
Dietary and patient nutrition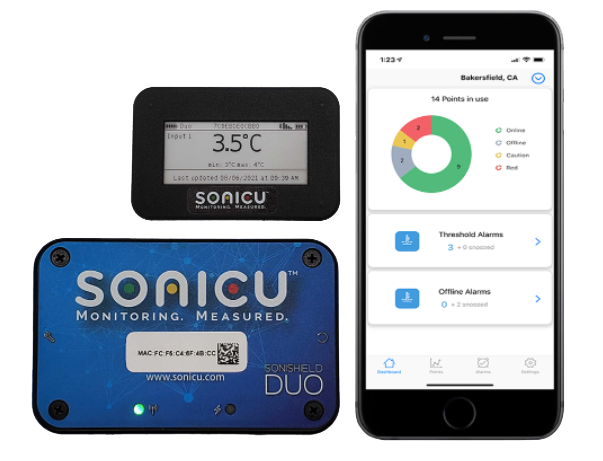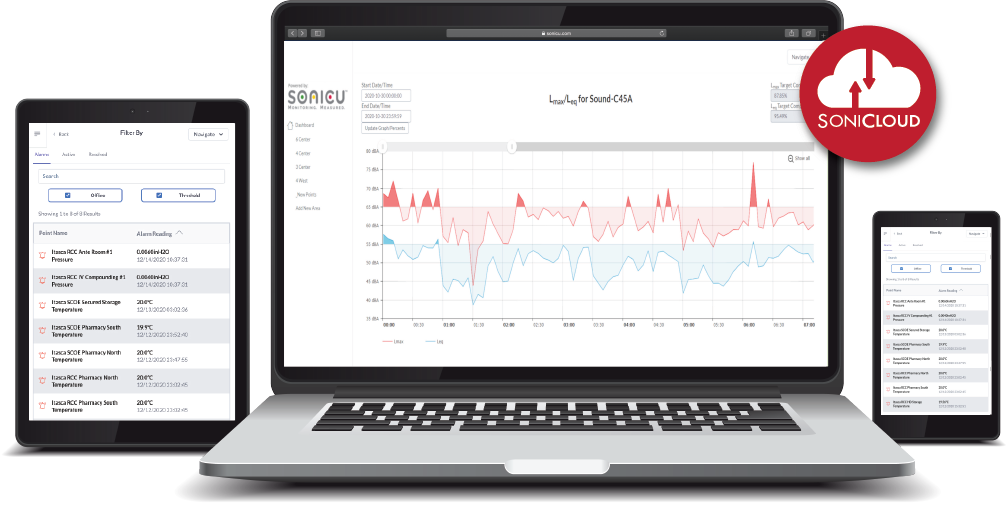 Hospital Noise Reduction
Precise automated sound measurement and unmatched reporting capacity enable healthcare leaders to understand the causes and sources of unwanted noise.
Critical Areas
NICU/ICU/CCU
Patient satisfaction / Patient experience
HCAHPS improvement
Enterprise-Wide Healthcare Monitoring
Consolidates all wireless monitoring applications: sound, temperature, power, humidity, air pressure and other environmental conditions into one seamless platform.
A single solution that grows with you.
Add your other monitoring needs:
CO2, O2, Water Detection, Power Outage
Healthcare systems with multiple off-site locations
Growing enterprises incorporating scalability into expansion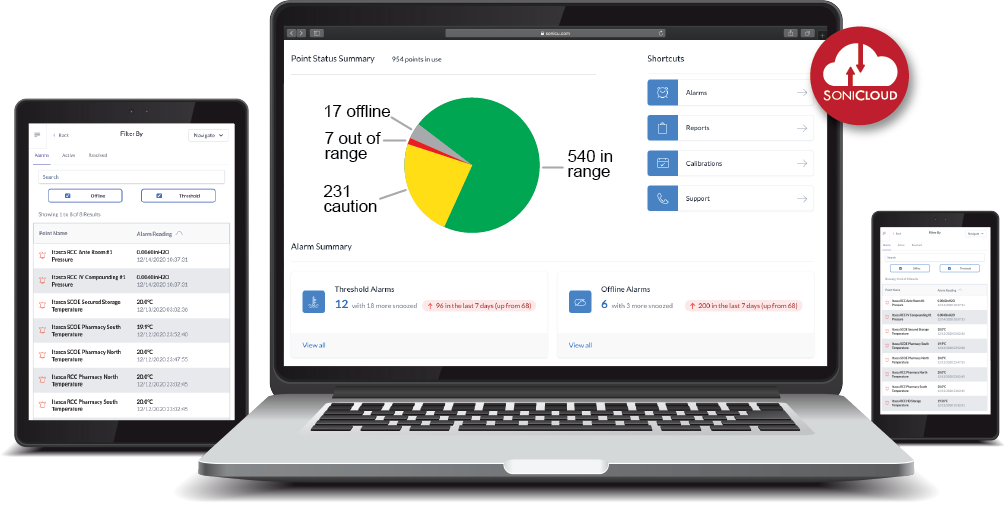 Learn more about remote wireless monitoring solutions.
Sonicu's resource library has the answers you're looking for to remedy your healthcare monitoring woes. Visit our resource center by clicking the button below:
Cloud-based software capabilities with predictive algorithms for tailored alarming to reduce alarm fatigue and spot trends.
SMART Reporting
Automated logging and reporting unrivaled in the industry for effortless regulatory compliance.
The Safest Network
Virtual Private Network on Verizon cellular platform that eliminates security concerns when transmitting data to the cloud.
Recalibration is Easy
All-digital temperature probes for easy calibration renewal with Sonicu's SNAP calibration program.
SMART sensors with proprietary DataSync capture. Preserve and secure data in the event of transmission interruptions.
Battery Backup
Industry leading battery life on all sensors. In the event of a power outage Sonicu's wireless sensors continue to keep you notified.
Flexible Transmission
Replace server-based systems and eliminate IT concerns with a variety of transmission signals including: Cellular, Radio Frequency, WiFi, and Ethernet.
Ensuring Consistency
Service quality and connectivity reports provide detailed analysis of system operations.
Temperature Monitoring Systems For Hospitals
If you're looking for a trusted, reliable and affordable temperature monitoring system already trusted by hundreds of hospitals in the United States, you've arrived at the right place.
Temperature monitoring systems are essential for maintaining safe environments, improving staff efficiency and streamlining regulatory compliance, saving administrators valuable time and money.
And we have dozens of examples of how we've helped hospitals improve the way they do business and serve their patients by leveraging our simple temperature monitoring system designed especially for hospitals.
Simple to install and implement either with our professional staff (or trusted certified installers) or by your staff, our sensors, probes and meters are assembled in the United States and connect to the Amazon Web Service cloud to ensure the highest level of information security and reliability.
Your temperature data connects seamlessly to our desktop or app-based software that delivers tiered alerts (alarms) as well as simple reports designed to protect your most valuable assets and take the stress and labor-intensive work out of virtually any regulatory inspection.
Connect with one of our representatives today to share your specific challenge and learn how we help people like you solve their challenges with our trusted and affordable temperature monitoring system for hospitals.


From Indiana University Health close to our headquarters to Loma Linda hospital in Southern California, hospital leaders across North American rely on Sonicu to deliver reliable and affordable temperature monitoring that improves their safety, efficiency and compliance
Temperature monitoring systems for hospitals help keep facilities compliant with temperature rules and regulations. These solutions are great for helping businesses stay compliant with industry standards.
There are many healthcare-related items that must be stored at specific temperatures for maximum quality and safety. Failing to maintain the correct room temperature can be disastrous, to say the least, which is why it's important to regularly monitor temperature and air pressure.
Temperature monitoring solutions can come in handy when preparing for audits, alerting you to abnormal changes and offering detailed feedback on what should be done to get things back to normal. Temperature monitoring systems can promote greater accuracy and help users catch errors that they might otherwise have missed.
The average Sonicu customer saves about $80,000 annually in labor costs for every 100 beds in their facility by taking the daily temperature logging burden off their people and allowing our platform to do the work for them.
Martha Rardin, MSM, RDN, LD, FAND, conducted a time study to better understand how much her team was spending on labor costs associated with monitoring temperatures and other essential conditions like humidity, air pressure differential and noise. Following the study, Rardin and the team at Hendricks Regional Hospital turned to Sonicu to implement environmental monitoring across their two facilities, which includes more than 1,000 points of monitoring. As director of nutrition and dietetics, Rardin said the monitoring provides invaluable peace of mind that the food her team serves is always stored in safe conditions.
One of the best ways to monitor temperature is with a wireless temperature sensor or remote temperature and humidity sensor. Sonicu offers automated remote temperature monitoring sensors for cold warehouses, freezers, and more. With Sonicu's solutions, you can protect your most valuable assets, including vaccines and research samples.
In addition, the platform automatically logs temperature data, eliminating the need for users to manually record temperature readings. This is a great way to save time and ensure more accurate temperature readings.
The Sonicu software also features an API, which allows our customers to link virtually any third-party sensor or probe to our software and link it to additional alerts and alarms, creating an additional layer of safety and security.
Sonicu's SoniShield solution helps users monitor their rooms with a Duo wireless meter so that they can maintain proper temperatures even when they're working off-site.
SoniShield supports wireless configuration and is easily deployed.
It also allows for onboard data storage and cloud and mobile app data upload. The SoniCloud Mobile App is available for both iOS and Android and enables quick remote access to SoniCloud.
The app allows for full visibility and sends 24/7 notifications via phone and email, which can be extremely convenient for those that are constantly on the go, but still want to maintain control of their work environment.
"We tell our people that they don't even have to worry about the Sonicu system, just let it do its thing in the background and you only need to check it when you receive an alert," Rardin said.
"We have eight people on the staff who have the app, but only the person on duty is responsible for responding to it in real-time. The rest of us are just there as a back up in the event the primary person can't respond immediately."
Hospital Refrigerator Temperature Monitoring System
With a hospital refrigerator temperature monitoring system, you can protect your assets from heat or cold damage. Maintaining the right room temperature is crucial to maintaining quality, but monitoring temperature around the clock can be time-consuming and tedious. Worse yet, it can result in human error.
Remote fridge temperature monitoring offers remote monitoring capabilities so that staff can make sure their fridge is always at the right temperature, even if they aren't working directly on site. Fridge monitoring systems allow users to gain full visibility into room conditions and make changes remotely.
When managing a medical refrigerator, there are several things to keep track of. First and most obviously, you should find out the optimal temperature for whatever it is you're going to be storing in the device. You should also decide on a location. Where in your facility could the refrigerator be kept for maximum temperature efficiency?
Placement can mean the difference between stable conditions and wildly fluctuating temperatures, so it's best to put your refrigerator in a spot that's neither too hot or too cold, depending on your specific needs.
The Food and Drug Administration has published guidelines to help hospital staff appreciate best practices related to refrigerator and freezer placement and use.
Once you've determined the perfect conditions for your refrigerator, you can consider installing a temperature monitoring system tailored to your unique storage requirements.
Although it's possible to monitor temperature manually, there are several benefits to using an automated system.
First, the solution will alert you to any abnormal changes in the fridge.
This is a real alert provided to a Sonicu customer via the SoniCloud mobile app. The alerts and alarms can be tailored around delivery and frequency and tiered to ensure someone receives the alert who can promptly act on the problem.
Few facilities check refrigerator temperature multiple times a day, but your monitoring system will keep a constant watch and send you updates, even if you're working off-site.
This is a great way to ensure your items are stored at optimal conditions and remain compliant with storage guidelines. A refrigeration temperature monitoring system allows users to get more done elsewhere in their business, as they're not having to constantly check fridge temperature by hand.
The system will also produce simple and easy-to-share reports designed to satisfy virtually any regulatory inspection or audit. When coupled with the time saved from reducing manual logging, many Sonicu customers report our system more than pays for itself.
Vaccine Temperature Monitoring System
A vaccine temperature monitoring system is crucial to properly storing and handling vaccines. To retain their potency, most vaccines require cold storage conditions from manufacturing to administration. Failure to store vaccines properly can result in a gradual or instant loss of effectiveness, which is why so many facilities use vaccine temperature monitoring systems.
The rapid and largely successful distribution of the COVID-19 vaccine in the United States was an example of how important it can be to have a temperature monitoring system in place as the government made temperature monitoring a requirement for facilities that administered the live-saving vaccine.
Finding the right system for your facility can help prolong the life of your vaccines and ensure top quality. It can also help you stay compliant with your hospital refrigerator temperature monitoring policy.
Sonicu's automated vaccine monitoring tools help users ensure vaccine safety and efficacy.
With Sonicu you can protect your vaccines at temperatures ranging from -205C to +30C around the clock. The platform's monitoring devices are designed to exceed professional recommendations and save time by automatically logging reporting and calibration throughout your organization.
Sonicu's SNAP calibration program also makes it easy for hospital to ensure they maintain NIST compliance on all of their sensors and probes. The vast majority of Sonicu customers are enrolled in the program as we make it easy with our professional team of installers (or certified partners) to swap out aging equipment with fresh sensor and probes that arrive pre-certified.
Sonicu helps streamline users' monitoring systems, making vaccine storage easy and providing simple installation through the Implementation Wizard, wireless sensors, and more.
Sonicu's software system, SoniCloud, collects temperature data from sensors. Users are then given access to an intuitive dashboard that offers robust analytics.
Sonicu's vaccine monitoring solutions monitor and record data 24/7 and alert users to any changes in the system. This allows them to rapidly respond to potential power or network failures to protect their assets. Additionally, Sonicu's plug-n-playhardware can be easily installed anywhere—no IT support required.
Since our platform does not collect or transmit any patient data, it's also not subject to many of the rigid patient privacy protections under HIPPA.
Cloud-based platforms like these are extremely valuable in helping facilities manage their vaccine storage, both on-site and remotely. Managing vaccines can be challenging, but temperature monitoring solutions make it easier for companies (including hospitals and clinics) to stay on top of proper storage management and identify errors in the system.
Pharmacy Temperature Monitoring System
Pharmacies need to maintain optimal temperatures at all times in order to protect vaccines and other sensitive items. With a pharmacy temperature monitoring system you can maintain adherence to regulatory compliance and keep everything functioning properly.
Having a temperature control monitoring system is key to preventing equipment failure and ensuring the correct handling of pharmaceutical items at all times. Monitoring systems rely on special sensors to detect any changes in temperature and alert users to these changes.
Having a temperature monitoring system in your pharmacy can help you manage your items and stay compliant with regulatory requirements. It can be difficult to monitor temperature, especially during times when you're working off site, but a temperature monitoring system can help you stay on top of your facility's environmental conditions and provide detailed reporting on any changes you might have missed while you were away.
Tim Livesay, Pharmacy Director, Hancock Regional Hospital, has relied on Sonicu for years for the temperature as well as humidity and air pressure differential monitoring in the compounding (clean) rooms at their suburban Indianapolis hospital.
"We're always looking for ways to increase our level of safety and the Sonicu system has played a significant role for us in our pharmacy operations," Livesay said. "The system was instrumental in helping us determine that one of our new air handlers was not functioning properly in a new wing of the hospital. Having the hard data to take to the HVAC contractor was powerful to show something was not right as our humidity levels were well out of specifications."
Remote Temperature Monitoring Device
A remote temperature monitoring device is used to monitor room temperature remotely. Devices like these can be used in many different settings, but they are especially helpful in healthcare. Maintaining the proper room temperature is essential to ensuring the quality of your vaccines, medicines, and sensitive medical equipment.
Remote temperature monitoring via cell phone is a great way to maintain control of your environment when you aren't there to manually keep tabs on things.
A wireless temperature and humidity sensor can help you prepare for a successful audit. You can collect data and feedback from your device to make improvements to your temperature monitoring system and find new better ways to maintain the quality of your equipment.
Of course, remaining on site and manually controlling temperature around the clock is an impractical solution to monitoring, but with a wireless remote device, you can maintain the right temperature in your facility even when you're out of the office.
Wireless Temperature Monitoring System
Using a remote temperature sensor, you can detect changes in your room temperature and work to resolve issues as quickly as possible. With the right temperature monitoring solutions, you can ensure compliance with industry standards and maintain equipment quality.
A wireless temperature monitoring system can help you get the most out of your medical equipment and promote the safety of both patients and staff.
Cloud-based systems can easily store and upload information to a digital log so that you can view temperature reports days, weeks, or even months down the road. These reports can provide guidance as you decide how to manage your facility going forward.
Rardin said their Sonicu system also helps their staff identify cold storage units that are likely to fail in the future and act preemptively to fix issues or even replace an aging unit before it quits completely.
Sonicu's advanced temperature monitoring sensors save users time, as they no longer have to manually log and monitor changes in the system. They can monitor their environment wirelessly and make changes as necessary.
Sonicu offers cost-effective, easy solutions for temperature monitoring, room pressure monitoring, and sound monitoring. The platform's SMART features notify users to items that require their immediate attention, enabling them to protect their valuable assets. In addition, Sonicu's SNAP calibration program helps reduce downtime and costs associated with traditional calibration methods.
Getting used to a wireless temperature monitoring system can be challenging, but solutions like those offered by Sonicu can simplify your workflow and help you remain in compliance with regulations.
Maintaining the right temperature can help save you trouble down the road, so it's important to ensure good environmental conditions at all times, even when you're away from the building. Temperature monitoring systems do the tedious work for you, compiling data and reports on critical items and alerting you to critical changes in temperature, air pressure, and more.
In addition, with a wireless system, you can manage your room temperature remotely, which can be a great option for those that regularly work off site.
American Made, American Support: The Sonicu Commitment :
Any technology is only as strong as the people who stand behind it, and we're committed to always being a simple phone call away.
We have a dedicated team of Customer Success Managers who are familiar with the most common issues a customer faces with a temperature monitoring system and can normally resolves an issue right away.
We are committed to ensuring every customer has reliable service so they can achieve the highest possible return on investment.