If someone asks me what cloud computing is, I try not to get bogged down with definitions. I tell them that, simply put, cloud computing is a better way to run your business.
Marc Benioff, CEO, Salesforce
In 1950, the U.S. government took delivery of Unisys Corporation's UNIVAC 1101, the first mainframe computer capable of storing and running a program from memory, and though other machines would follow, they were outrageously expensive, few and very far between.
It was easier to share them by purchasing computing time rather than buy them outright; thus, the first iteration of cloud computing evolved in the late '50s – about the time of the modern world's other sublime technological advance: the 1957 Chevy Bel Air.
Since that time The Cloud continues to be refined and redefined as technology and businesses morph.
Still after six decades of evolution, what The Cloud is can be a bit, well, cloudy. Maybe that's why Salesforce CEO Marc Benioff cuts to the bottom line in lieu of defining cloud computing. (Or maybe it's because he's worth a bazillion dollars and can do whatever he wants.)
The core concept is pretty simple, and you probably use it every day.
If you use Gmail, you use The Cloud. If you store photos, documents or other information anywhere but a local hard drive, you're on The Cloud.
It's easier. You don't need additional storage space on your computer, you don't need to buy more software, and you certainly don't need to know anything about programming or coding to upload this year's family reunion pics.
If you're a commercial enterprise, those are precisely the same reasons you should be using cloud-based applications as opposed to a local server-based system. It's a better way to run your business.
Dedicated servers consume physical space and cost money to purchase, operate and maintain. They also require an IT guru to create, manage and scale a dedicated server system.
While a cloud-based system, on the other hand, offers these significant advantages:
Flexibility: Enterprises can scale up or down depending on their current needs. Additional storage/bandwidth can be purchased or dropped as requirements change.
Cost-efficiency: Pay for only the amount of computing you need at rates that are spread across large customer bases for cheaper prices; no hardware startup costs; no ongoing maintenance costs; access to continual updates.
Reliability: The Cloud relies on a number of different servers making a total shutdown highly unlikely.
Access: Cloud-based applications offer universal access to vital data, performance and operations from anywhere.
Sonicu cloud-based wireless monitoring utilizes SoniCloud, a Software-as-a-Service (SaaS) automated monitoring, alarming, logging, reporting and data management platform that revolutionizes safety and regulatory compliance.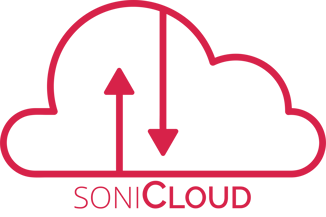 Hosted by Amazon Web Services, which serves more than a million customers monthly including NASA, the CIA and Department of Defense, SoniCloud allows clients to capitalize on cutting-edge computing without specialized expertise and focus on core business rather than diverting resources to IT.
Hospital noise reduction; room conditions monitoring; temperature monitoring for cold-storage, vaccines and healthcare, pharmaceuticals and research; and manufacturing/industrial performance can all be handled from a single, cloud-based platform.
So there it is. The Cloud in short order, all the reasons your business should be on it if it's not already, and not one hackneyed reference to The Rolling Stones and their cloud request.
Get to the cloud and Google it.