Best Indoor Air Quality Monitor
If you're looking for a cloud-based Indoor Air Quality monitoring system that helps your team eliminate manual logging, improve compliance readiness, and protect all of your temperature sensitive assets, you've arrived at the right place.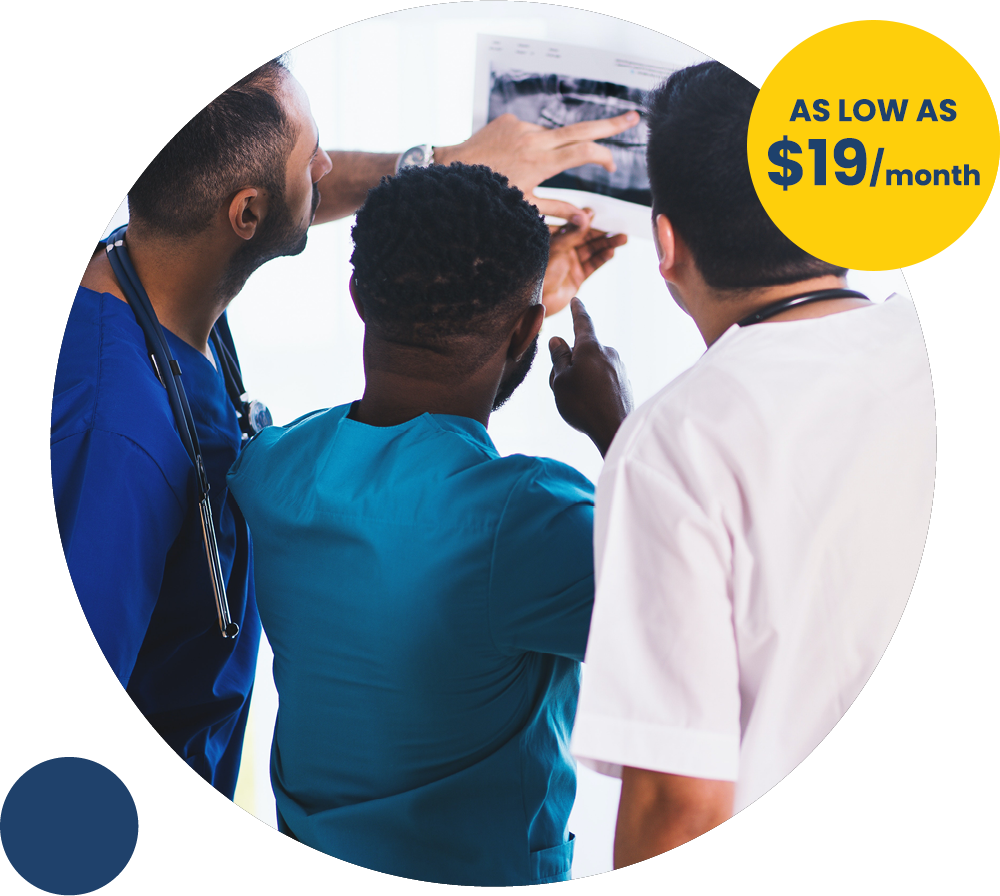 Let us help you evaluate your needs!
Safety:

Alerts to protect assets

Compliance:

Automated reports

Efficiency:

Reduced Manual Logging




And what makes us different?
Lifetime Warranty: Never buy hardware again!
Unlimited Users: Scale across your entire org
Connectivity Flexibility: Wi-Fi, Cellular or Data Hub

Phone call alarms:

Alerts won't get ignored
Mobile App: 500 Freezers in your pocket



All American made and supported!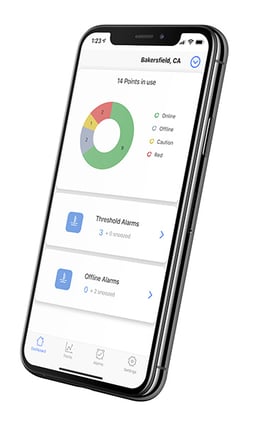 See What Customers Say About Sonicu
Asset Protection. Compliance Automation. And Reduced Manual Processes.

Sonicu serves thousands of professionals at hundreds of organizations across North America by improving how they monitor and manage their most sensitive assets and environments.


Professionals from healthcare, life science, laboratory and cold chain facility management turn to Sonicu to help them improve the way they do business.


These respected healthcare and research brands turn to Sonicu for four primary reasons:
Real-Time Monitoring: The sensors collect temperature data and transmit it wirelessly to Sonicloud - our cloud-based platform.
Operational Efficiency: Virtually eliminate the need for tedious and costly manual logging

Compliance Automation:

Respond to virtually any regulatory audit or inspection in a few clicks with our reports section
Asset Protection: Detect and respond to any temperature excursion that can threaten virtually anything perishable: food, drugs, vaccines, research, etc.
Best Indoor Air Quality Monitor
From automating complex and tedious regulatory reports to significantly reducing time spent on manual processes, Sonicu helps private, public and government agencies focus on their core business and less time on monitoring their assets and environments.
What is the Best Indoor Air Quality Monitor?
Indoor air quality (IAQ) monitors are devices designed to take readings and track the condition of air within enclosed spaces like homes, office buildings, schools, healthcare facilities, and research facilities along with other indoor settings.
Their primary function is to evaluate various conditions and deliver real-time data on indoor air quality.
In turn, this makes sure that users can create healthy and comfortable indoor environments.
An indoor air quality monitor can take readings of diverse IAQ conditions including the concentration of fine particles and airborne dust in indoor air.
This data can then be used to assess air pollution levels and comprehend potential health risks.
Some IAQ monitoring systems are designed to monitor volatile organic compounds (VOCs).
VOCs are gaseous substances emitted from diverse sources including construction materials, furniture, cleaning products, and more.
IAQ monitors are configured to detect and take measurements of the levels of VOCs to help determine potential sources of indoor pollution.

Indoor air quality systems often assess carbon dioxide levels in indoor spaces.
Keeping track of carbon dioxide levels is critical for assessing indoor ventilation and air exchange rates. Elevated levels of this gas can indicate poor ventilation, which has been shown to cause discomfort, grogginess, and diminished cognitive function.
IAQ monitoring solutions often come complete with sensors for measuring temperature and humidity levels.
Regulating the levels of both is crucial for comfort, preventing mold growth, and guaranteeing the efficacy of HVAC systems.
Sonicu delivers safety, compliance, and efficiency. Simply.
From cold and frozen temperature storage to ambient conditions like relative humidity and air pressure differential to specific needs like CO2 and VOC monitoring, Sonicu provides a full suite of monitoring solutions.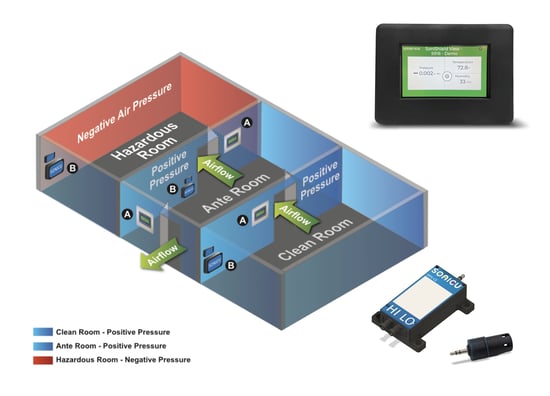 Where are Indoor Air Quality Monitors most useful?
Indoor air quality monitors are valuable additions to residential buildings, especially those in urban centers or areas with elevated levels of pollution.
These systems help residents determine potential sources of indoor pollutants including cooking emissions, tobacco smoke, or inadequate ventilation.
Indoor air quality plays a critical role in office and commercial spaces.
Sonicu helps you to track IAQ conditions and helps ensure healthier and more productive workspaces since poor air quality results in discomfort, fatigue, and diminished cognitive performance among workers.
Optimal air quality is an important factor to consider when attempting to create conducive learning spaces.
Tracking IAQ in educational institutions helps determine and mitigate potential factors that impact the health and focus of both students and their instructors.
This may include allergens, mold, or even inadequate ventilation.
Maintaining optimal indoor air quality is essential in healthcare facilities because it minimizes the spread of airborne pathogens and creates healthy environments for patients, healthcare professionals, and visitors.
IAQ monitors help guarantee optimal ventilation and air filtration in spaces such as patient rooms, wards, waiting areas, and surgical suites.
Extremely high levels of air purity are mandatory in laboratories, research facilities, and cleanrooms where sensitive experiments or manufacturing processes are carried out.
IAQ monitoring solutions help in the detection and controlling of contaminants that can undermine experiments, product quality, or the safety of employees.
Hotels, restaurants, andother hospitality establishments are designed to offer a comfortable and pleasant experience for the guests.
Tracking the air quality in guest rooms, dining areas and other shared spaces ensures they adhere to high standards, which promotes guest satisfaction and well-being.
Easy to install and configure and supported by live American-based phone support, Sonicu is the affordable, intuitive and trusted temperature and environmental monitoring solution trusted nationwide.
What are the different types of indoor air quality monitors on the market?
There is a variety of indoor air quality monitors and systems commercially available and they all use various technologies to measure and track diverse conditions.
Particulate matter monitors are designed to take measurements of fine particles in the air.
They leverage laser sensors or optical techniques to detect and quantify particulate matter of varying sizes including PM 2.5 (fine particles with diameters of 2.5 mm or smaller) and PM 10 (particles with diameters of 10 mm or smaller).
VOC monitors detect and take readings of volatile organic compounds (VOCs) levels in indoor air.
They feature sensors like metal oxide semiconductors (MOS), photoionization detectors (PID), or non-dispersive infrared (NDIR) sensors to detect specific VOCs or deliver a general indication of overall VOCs levels.
Carbon dioxide monitors help measure the concentration of carbon dioxide in indoor air. They typically leverage NDIR sensors to detect and quantify carbon dioxide levels. Higher levels of this gas indicate poor ventilation or poor air exchange rates.
Temperature and humidity monitoring solutions include sensors that take readings of temperature and humidity levels in indoor settings.
Generally, they utilize integrated temperature and humidity sensors to deliver accurate measurements, which helps users maintain optimal comfort and determine potential problems like high humidity or fluctuations in temperature.
There are multi-parameter IAQ monitors that combine multiple sensors to take readings of diverse conditions at the same time.
These solutions deliver a more exhaustive view of indoor air quality.
Lastly, smart IAQ monitors can be connected to a network and relay real-time data on indoor air quality to a mobile app or web-based platform.
The best of these systems come with functionalities like data logging, customizable alerts, and the capability to analyze trends with the passage of time.
With Sonicu's advanced technology, businesses can effortlessly track and manage environmental conditions in real-time, ensuring optimal product safety and quality across their operations.

What is the best indoor air quality monitor in the market?


Enter cloud-based IAQ monitoring solutions.
Cloud-based indoor air quality monitoring systems leverage the power of the cloud and Internet of Things (IoT) technology to deliver advanced tracking, analytics, and management of IAQ data.
Cloud-based solutions are designed to deliver real-time tracking of indoor air quality conditions and provide instantaneous data access from anywhere and at any time via a web-based dashboard or a mobile app.
In turn, users can keep track of IAQ conditions remotely, receive alerts, and take rapid action to address any problems.
In contrast, most other standalone solutions require physical presence or manual data retrieval.
SoniCloud, our cloud-based platform, delivers advanced analytics capabilities to help users analyze data, determine trends and obtain priceless insights into IAQ patterns.
These insights enable users to understand the impact of diverse factors on indoor air quality, facilitate informed decision-making, and enable them to implement effective improvement strategies.
Cloud-based IAQ systems may be effortlessly scaled to accommodate a range of applications and locations.
This makes them ideal for small residential buildings and also larger commercial complexes.
Multiple sensors may be integrated into a unified system, which allows for centralized tracking and management across multiple sites.
This scalability and flexibility might not be readily available among many standalone alternatives.
Many cloud-based IAQ monitors come complete with data logging and reporting capabilities as standard features, which allow the long-term storage and retrieval of historical data.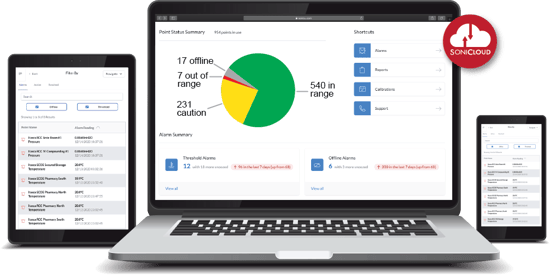 In turn, users can be able to monitor changes over time, contrast different periods, and generate in-depth reports.
The last of which can be used for analysis, to ensure compliance or shared with stakeholders.
Many cloud-based indoor air quality monitors may be integrated with existing building management systems or automation platforms.
This facilitates frictionless communication and coordination with other building systems.
Also, this integration facilitates centralized control, automation of responses, and optimization of ventilation and filtration systems based on real-time IAQ data.
Sonicu can do all of this for you with our comprehensive solution for environmental monitoring. By utilizing wireless sensors that can be strategically placed in diverse locations and environments, our sensors efficiently collect data, which is then transmitted to our cloud-based platform, SoniCloud.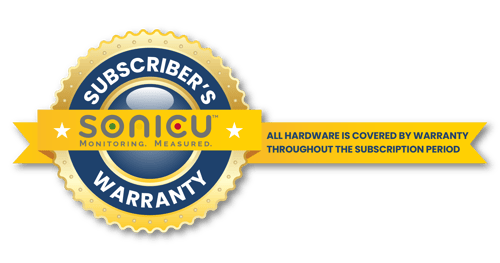 American-based Customer Support: Robust & Reliable High Touch Service
Asset Protection. Compliance Automation. And Reduced Manual Processes.
Sonicu serves thousands of professionals at hundreds of organizations across North America by improving how they monitor and manage their most sensitive assets and environments.
However, software and technology is only as good as the people who stand behind them.
At Sonicu, that means our team of American-based customer success managers are never more than a phone call away to help field and fix any service issues.
Our state-of-the-art probes and sensors are placed in demanding environments and our software literally sends billions of bits of data monthly.
We recognize that even with the most advanced technology, occasional hiccups can occur, whether it's on the hardware or software side. But rest assured, our commitment to you is unwavering.
That's why we take pride in our team of dedicated American-based customer success managers, always ready to assist you with any service issues.
Sonicu has ~600 customers in all 50 states, as well as in Canada and the Caribbean and serves the healthcare, life sciences, pharmaceutical, and food service industries. Customers trust Sonicu to monitor cold storage temperature, ambient room condition temperature and humidity, air pressure differential, noise, and IAQ.
With Sonicu, help is just a phone call away, ensuring a seamless experience for our valued customers.
We are committed to fielding every customer service request promptly and getting our customers online rapidly.
Experience Unparalleled Service with Sonicu's Dedicated Team.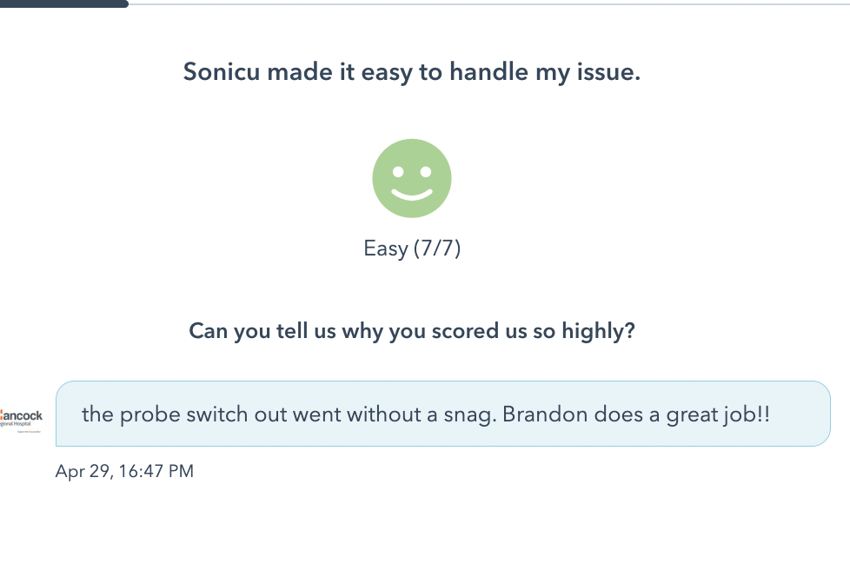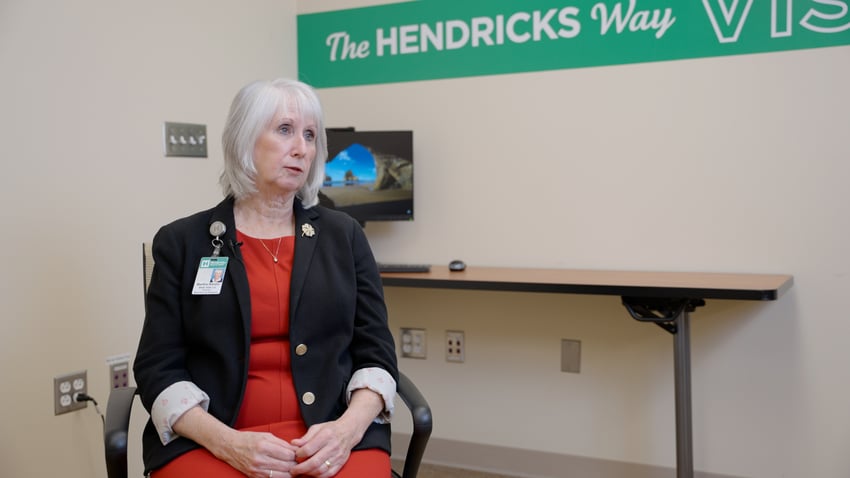 "I like to say that every refrigerator or freezer is like a car in that they all behave a bit differently,
and then every now and then you just get a bad boy who doesn't want to perform as we need it to,"
Martha Rardin, Director, Nutrition and Dietetics, Hendricks Regional Hospital.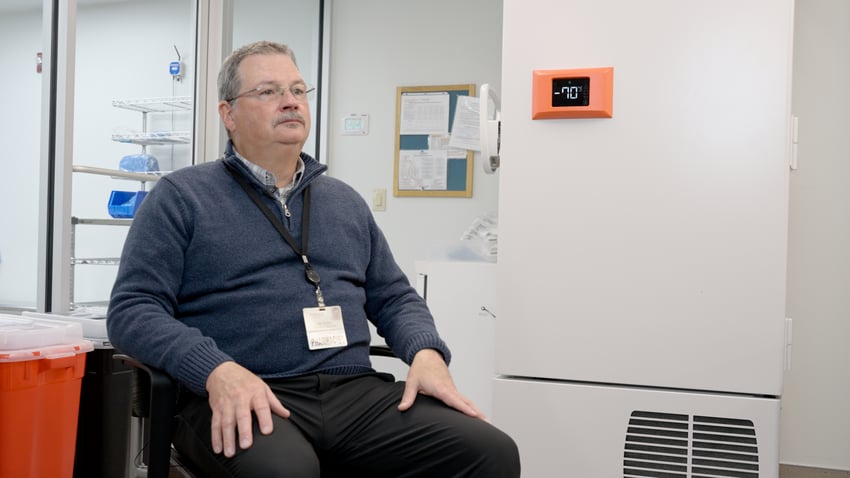 "Sonicu has been a powerful tool to identify which units are behaving out of spec and get our team
to fix them before we have a serious issue."
Tim Livesay, Director, Hancock Regional Hospital Pharmacy Director
Other Room Pressure and Condition Monitoring Resources