Research, science, healthcare
Cryopoint
"In the cryo and ultra-low temperature industry, there's no room for error when it involves temperature monitoring. Sonicu's Temperature Monitoring Program provides Cryopoint peace of mind and bolsters our clients' confidence in what we do."
Tony Donofrio, Cryopoint Vice President of Operations

-320°F
Temperatures storage

100 years
Combined Industry Experience
Key Takeaways:
20-point monitoring solution

Multiple Sonicu digital temperature probes and transmitters

Increased confidence in system performance
Cryopoint is in the serious business of protecting priceless yet highly perishable assets like clinical trial or research samples.
Cryopoint offers a full range of on- and off-site cryo-preservation services to a diverse client base that includes hospitals, university research departments, biotech enterprises, physicians' groups and pharmaceutical companies.
Cryopoint is a premier global provider of comprehensive sample management and biological storage solutions.
That sort of reputation and trust is built on more than just technology.
Even its location, based just outside Indianapolis in Brownsburg, Indiana, is a deliberate attempt to avoid Mother Nature's unpredictable wrath. Their website features a map showing its location relative to the likelihood of natural disasters.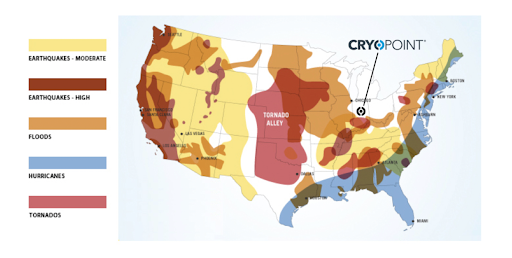 When you're in the business of protecting - potentially for decades - lifesaving research and truly irreplaceable biological samples, the cryopoint team invests in technology partners who can bolster their operations and provide their customers with powerful peace of mind.
That translates to ensuring sample safety and security with constant temperature monitoring under the most demanding conditions.
When storing extremely sensitive, expensive and, in many cases, irreplaceable biologic samples and specimens at temperatures hovering near minus 320 degrees Fahrenheit, Cryopoint required an environmental monitoring partner with more than reliable, rugged wireless monitoring and intuitive software.
Cryopoint's demanding operation required consistent, accurate temperature monitoring and measuring to avoid a catastrophic loss. And that means working with a trusted provider with dozens of references from reputable laboratories and healthcare providers.
Cryopoint enjoys far more than simple asset monitoring with its Sonicu solution.
Their investment in a cloud-based, wireless remote asset monitoring system also provided a wealth of features to improve their operational efficiency, including:
User defined parameters tailored to urgency levels for automatic escalation and forwarding eliminated concerns about operational integrity and sample safety at all locations.

Improved and enhanced response time for potential temperature excursions for increased security and customer satisfaction.
Single Platform/Total Accessibility
Cloud-based data and alarming platform is accessible from any desktop, email or smartphone anytime, anywhere ensuring constant connection to Cryopoint's operations – even when the facility is unstaffed.

Central portal provides real-time temperature views, daily and monthly reports and weekly summaries by device at one customizable dashboard.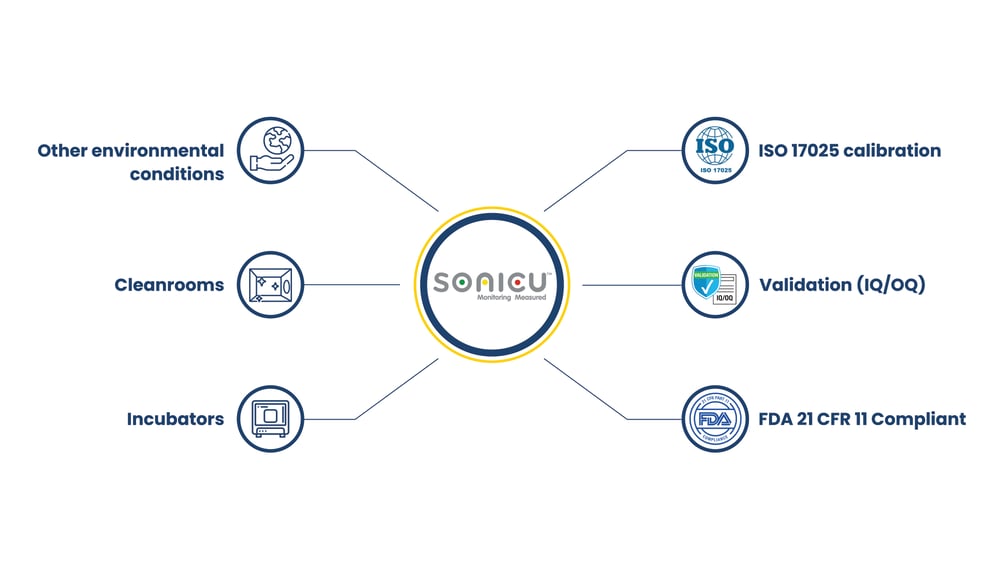 Smart Management Tools
Eliminated manual temperature reading and logging to increase efficiency and eliminate error.

Allowed Cryopoint to input comment and context for alarm events and automatically organize reports for federal and state regulatory reporting requirements.

Provide archived historical data to identify potential equipment problems, define operational issues and improve processes and accountability.
Simple Installation and Expansion
Sonicu ultra-low temperature monitoring is installed easily and is fully scalable for future expansion as Cryopoint's business continues to develop.
CONCLUSION
All of Sonicu's customers turn to us because we deliver three essential services:
OPERATIONAL EFFICIENCY: REDUCING MANUAL PROCESSES
If your team spends too much time manually logging temperature or other critical environmental conditions, Sonicu can help free up your people to focus on more value added and patient and client focused activities.
And by relying on our reliable and rugged hardware coupled with our wireless remote monitoring and Amazon Web Service cloud-based software, you greatly reduce the opportunity to introduce human error into the process.
COMPLIANCE AUTOMATION: ALWAYS READY
Whether it's an FDA, CDC or Joint Commission inspection or CMS auditor, the Sonicu platform will deliver ready-made reports that help you eliminate your tedious reporting process.
This transformative process improvement also reduces the opportunity for human mishap to damage your inspection or audit.
You can relax with improved peace of mind knowing that virtually any auditor and inspector will be greeted with a simple and accurate report that demonstrates your sensitive assets and environments are being monitored and you have a plan to react if your team experiences an excursion.
ASSET MONITORING: CONNECT, DETECT AND PROTECT
It's more than just knowing your sensitive environments are monitored.
It's having smart alarms that ensure your entire team is notified via text, email and even phone calls when a potentially dangerous excursion occurs.
And it's about powerful redundancy that protects against power and network outages.
Sonicu has invested in the research and development to innovate a solution with a singular focus: your peace of mind.
We've architected our solution around easy installation, an intuitive user experience and rapid and enduring return on investment.
That's why public and private organizations grow with us.
500+ customer in all 50 states
Ready to Serve healthcare, research and food service facilities
American made products and customer service
Temperature Monitoring Solutions
A complete system for a safer, more efficient and compliant facility
Simple Asset Protection
Automated logging and reporting
Designed for easy implementation
Available on Android & IOS

Bluetooth Wireless Connectivity

Easy-to-Read Display Installs Anywhere

Easy Recalibration with our SNAP program
Operational Efficiency
Customizable Alarms
24/7 Notifications via Call, Text, or Email
Modular design allows you to easily add more sensors
Complete Sensor Visibility of Data and Diagnostics
Flexible Transmission via 4G, Radio Frequency, WiFi and Ethernet
Automated Compliance
Long-Life Onboard Rechargeable Battery

Automated logging and reporting
Cloud & Mobile App Data Upload
Onboard Data Storage
Cloud & Mobile App Data Upload

Meets The Joint Commission, AABB, GLP/GMP, FCC, Vaccines for Children (VFC), and FDA Requirements