Vaccine temperature log: a shot in the arm for VFC
There are a number of good reasons to become a Vaccines for Children provider.
About 40 million of them.
That's how many kids got their shots who otherwise would not have been vaccinated due to inability to pay. And that's just in 2010 alone.
The federally funded program came to life in 1994 on the heels of a 1989-1991 measles epidemic that involved thousands of cases and hundreds of deaths. A subsequent study found that more than half the children who contracted the measles during that outbreak had not been immunized.
VFC provides routine vaccines to all states and territories for distribution at no cost to any health care provider authorized to prescribe vaccines in their respective jurisdictions.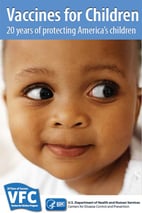 The program is good for providers because it keeps patients coming through the doors – charges for office visits and to administer the vaccines are allowed – and it's good for kids because they get their shots.
The CDC has specific recommendations and requirements, however, on how VFC providers should store and handle vaccines.
First the storage unit itself. CDC recommendations include:
Purpose-built (pharmaceutical grade) units designed specifically to store biologics.
If household-type units are used, store vaccines only in the refrigeration compartment.
Remove deli, vegetable and fruit drawers to make room for filled water containers that will help stabilize temperatures.
NEVER, under any circumstances, use a dormitory- or bar-style refrigerator/freezer combo.
Once the proper cold storage unit is in play, consideration turns to monitoring its temperature and maintaining the appropriate vaccine temperature log. On those issues, the CDC recommends:
Continuous monitoring and recording by a digital temperature data logger with a current and valid Report of Calibration.
Detachable probe in a thermal buffered material (e.g., glycol, glass beads, sand, Teflon) with NIST traceability.
Alarm for out-of-range temperatures.
Recommended uncertainty of +/-0.5° C (+/-1° F).
Logging interval (or reading rate) that can be programmed by the user.
Recalibration every one or two years.
CDC does NOT recommend: alcohol or mercury thermometers; food temperature, infrared or bi-stem devices; or other monitoring devices lacking a valid certificate of calibration testing.
The results of storing vaccines in subpar or inappropriate refrigerators and freezers lacking reliable monitoring equipment are not hard to fathom. At best a provider will lose a significant vaccine inventory; at the other end of the scale are children who are given impotent vaccines.
While the implications might be obvious, a 2012 study using a CDC data sample of 45 providers with the highest volume of orders in 2010 found serious shortcomings.
Vaccines stored by a full 76 percent of the providers surveyed were exposed to "inappropriate temperatures for at least five cumulative hours" during the two-week inspection period. Further, the selected providers did not generally meet vaccine management requirements or maintain the required documentation.
Sonicu's patented, glycol-buffered wireless temperature sensors, wireless temperature monitoring system, SNAP Calibration program, and SoniCloud cloud-based software meet or exceed all CDC requirements for the VFC program and provide a seamless temperature monitoring package for any VFC provider.
For more information, follow this link to the CDC's Vaccine Storage & Handling Toolkit guide in PDF.