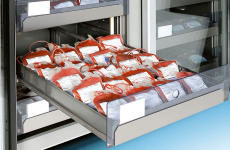 Blood Banks
Maintaining consistent refrigeration temperatures is the critical factor when storing blood, plasma, platelets, and other blood products. Even small deviations for short periods of time can be catastrophic.
Sonicu's patented wireless sensors and flexible, cloud-based monitoring, measuring, and alarming platform meet federal and local regulatory standards and streamline documenting daily operations with customized reporting.
Effortless recalibration can be pre-planned to avoid expense and downtime with Sonicu's Snap Calibration Program.
Sonicu Monitoring:
Provides continuous automated monitoring and measuring at user-programmed intervals with instant alarming for temperature deviations or refrigeration failure.
Unlimited data storage and customized reporting simplify regulatory compliance.
All data is transmitted to SoniCloud and available 24/7/365 in real-time or historical formats by phone, tablet or mobile device via text, email or voice call from anywhere. Data Sync virtually eliminates lost data due to power outage or other interruption.
Fully scalable and customizable platform operates independently or in conjunction with your enterprise's existing IT system.