COVID-19 Vaccines - Are You Ready?

The race to distribute Covid-19 vaccines to hundreds of millions of Americans is heading towards the finish line. Exactly when these vaccines will be available and who will get them first may still be unknown, but preparations are underway across all lines of distribution for the biggest vaccination campaign the world has ever known.
While much remains unknown about a COVID-19 vaccine, we do know that the new vaccine will require strict temperature regulation to be effective. Like most vaccines, the COVID-19 vaccine will need to be kept cold and always within a safe temperature range from the moment it leaves the manufacturer – during transport and storage – to the moment it's administered. To ensure vaccine safety, regulatory requirements demand strict record-keeping throughout the distribution and storage process.
In 2018 there were over 280 million vaccinations administered for prevention of a wide range of childhood diseases, to influenza, and pneumonia. Demand for COVID-19 vaccination alone is estimated by experts to exceed 300 million doses. This represents an approximate doubling of the anticipated demand for vaccinations, and is an enormous challenge for the proper transport and storage of these vaccines. This might be good news for manufacturers of cold-storage equipment, but undoubtedly presents a unique set of challenges for those responsible for the safe storage and administration of vaccines.
Traditionally, providers such as physician offices, health departments, and pharmacies stored vaccines in refrigerators or freezers equipped with built-in data loggers to record vaccine temperature. The CDC has published guidelines for the safe storage of vaccines as it relates to the federally funded Vaccine For Children (VFC) program. These guidelines require individual states to inspect vaccines provided with federal funds and are all designed to ensure the efficacy of the vaccines when they are administered to the public. Efficacy measures how well the vaccine protects you from getting sick. Ideally, all vaccines would have 100 percent efficacy, however many don't. For example, this year's flu vaccine is around 45 percent effective. Regardless of how high the efficacy of the COVID-19 vaccination will ultimately be, maintaining safe storage temperature at all times is a key component of ensuring efficacy.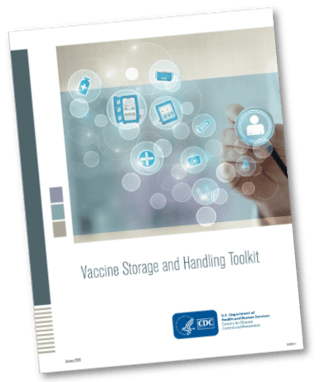 https://www.cdc.gov/vaccines/hcp/admin/storage/toolkit/index.html
When it becomes available, the COVID-19 vaccine will most likely have the same cold transport and storage requirements as other vaccines provided under the CDC/VFC program. This means that providers will be required to maintain 24/7 temperature logs and be able to provide detailed monthly reports demonstrating that safe storage practices have been followed. In the event of a temperature excursion, even more detailed reporting is required to evaluate the safety of vaccines. While recording vaccine temperatures with traditional data loggers is still common, more and more providers are using wireless sensor technology and a cloud-based platform to transition from local data loggers to data acquisition that provides remote alarming, and automated reporting to better protect against spoilage 24/7, and drive major operational efficiencies in their vaccine management procedures.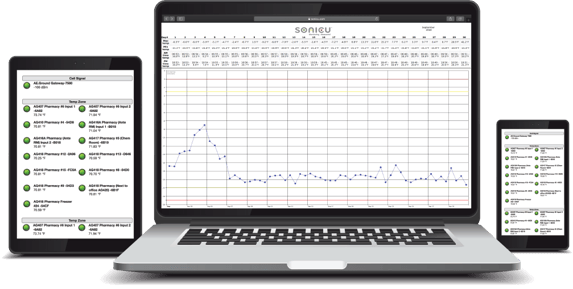 The Sonicu automated temperature monitoring system includes wireless sensors that upload live vaccine temperature data 24/7 to the SoniCloud Platform for instant analysis. Providers have complete viewing access to check real-time status of temperatures, power, and connectivity at any time from any smartphone, tablet, or PC. If a temperature failure is about to happen automatic notifications via text, phone, or email, alert providers day or night. Automated systems are highly effective at providing advanced notification of potential problems caused by equipment failure or power outage. This type of system uses WIFI, RF, or LTE technology to wirelessly transmit data to a cloud-hosted software platform. The end result is superior visibility and peace of mind that critical vaccines have been safely stored at the proper temperature and compliance documentation is readily available.
Americans have had to endure many hardships related to the COVID-19 pandemic. Our public and private sectors are working hard to provide vaccines that will be safe and effective. In order to make sure that these vaccines work as intended when administered, they have to be stored at proper temperature 100% of the time. Providers, now more than ever, need modern monitoring systems that meet both the CDC requirements for safe vaccine storage, and provide the remote alarming capabilities of an automated temperature monitoring system.
For more information about COVID-19 and vaccine visit the CDC website.
To learn about Sonicu's Vaccine Temperature Monitoring Kits click HERE.