Sonicu's newest product rollout has the potential to impact current and future Sonicu users in a big way.
Introducing SoniLink - Sonicu's newest flagship connectivity option for wireless monitoring. Utilizing Lorawan's Low Power Wide Area (LPWA) Network, wireless monitoring just got even better with a farther range, larger scale, and simpler configuration. Designed to wirelessly connect Sonicu sensors and meters to the internet, Sonicu users can access their sensor data on SoniCloud via our mobile app or web browser. Compared to a traditional 900 MHz RF, SoniLink's use of the LPWA means easier installation, scale, and use for Sonicu users.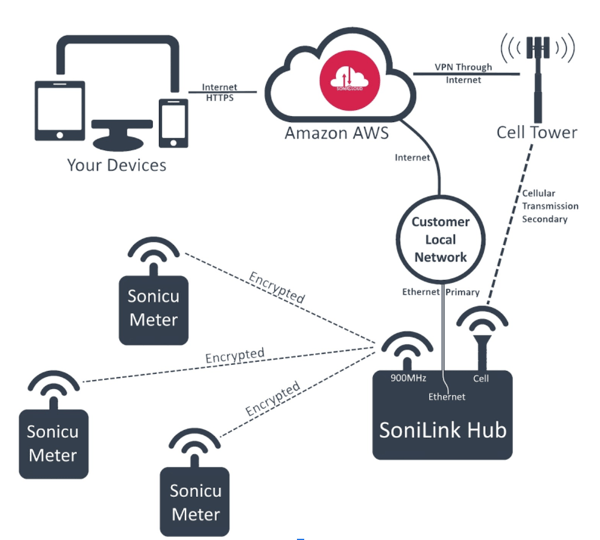 Increased Range and Capacity
SoniLink makes implementing a Sonicu monitoring system easy and more efficient. When compared to 900 MHz RF, SoniLink's reach and range outperforms it by 5x! This means less hardware is required for larger-scale installations due to its increase in range. With more powerful connectivity technology, one singular SoniLink hub can support up to 500 Sonicu sensors, making this the ideal choice for enterprise systems or large-scale projects! Plus, the use of Lorawan's LPWA Network provides lower power consumption, a reduction in cost, and overall improvements of sensor data transmission when compared to WiFi or 900 MHz RF.
Sonicu's Favorite Feature: Farther range and higher capacity make for easier installation and better scalability!
Additional Security and Redundancy
SoniLink raises the bar for built-in redundancy when it comes to connectivity hardware. Available in both cellular and ethernet options, SoniLink provides seamless connectivity failover. Additional SoniLink hubs can also be added for configuration-free redundancy. This ensures that despite weather, technological failures, or power outages, your organization will continue monitoring and protecting valuable assets. Plus, Sonicu sensors automatically connect to SoniLink hubs, giving our monitoring systems end-to-end data encryption and the most secure data transmission.
Sonicu's Favorite Feature: Built-in redundancy provides peace of mind and additional security knowing that your monitoring system will always be in good operation.
Simple Configuration and Installation
Installing a monitoring system has never been easier thanks to SoniLink. SoniLink hubs utilizing cellular connectivity can be sent to users in a ready-to-deploy configuration without any need for IT involvement or preliminary set-up. Because of this, and the limited need for alterations to existing infrastructures, SoniLink can save users time and money. Plus, Sonicu meters require no configuration by end-users to send data to a SoniLink hub. All in all, this makes for a much easier and improved implementation and installation phase of a wireless monitoring system.
Sonicu's Favorite Feature: SoniLink makes setting up a monitoring system as easy as booting up a new smartphone from a big box store.
Sonicu is always thinking of new and improved ways that we can innovate our product offerings for our customers to have a better experience. The release of SoniLink is exactly that! As the first wireless monitoring company to utilize Lorawan's LPWA Network, we hope that the launch of SoniLink raises the bar for our industry to implement this cutting-edge technology for everyone. Our hope is that as our current and future Sonicu customers begin to implement SoniLink into their monitoring systems, users will be thrilled with the ease of installation, scale, and day-to-day use.
If you're interested in learning more about how SoniLink could fit into your organization's monitoring system, please reach out to a friendly representative for more information below.
Upgrades for Current Sonicu Customers
If you are a current Sonicu customer and think your organization could benefit by adding SoniLink into your hardware, feel free to reach out to one of our friendly representatives. Current customers qualify for special upgrade pricing.