Clean Room Monitoring
Temperature, Humidity and Air Pressure Differential Monitoring. Reduce manual logging with cloud-based asset monitoring that protects assets, people and facilities.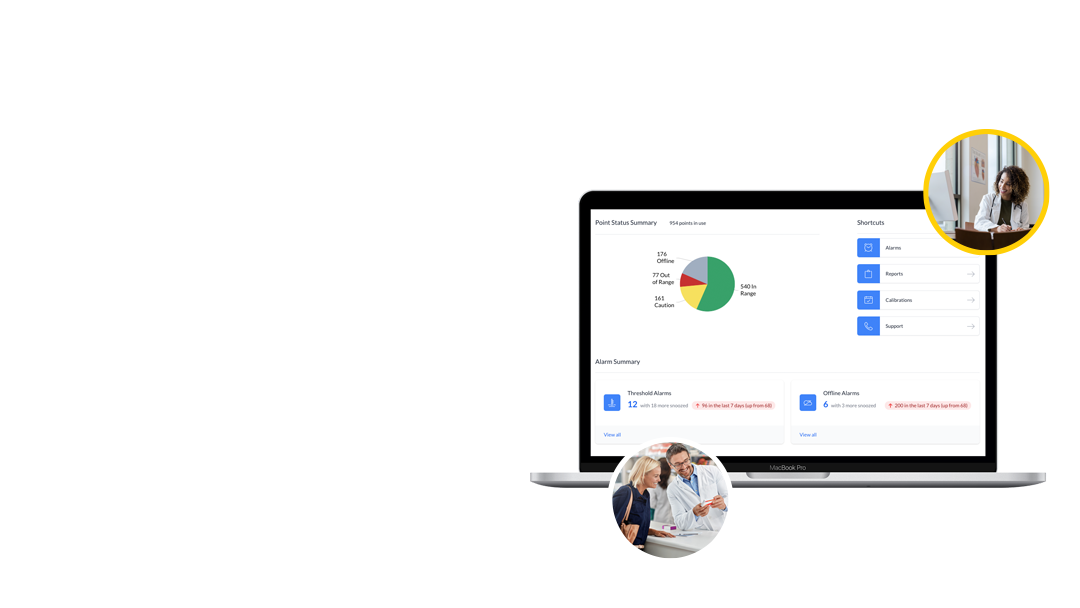 Your Peace of Mind: Delivered to Your Phone
Say Goodbye to Manual Logging, Tedious Compliance Reports and the Threat of Critical Asset Loss.
And say hello to cloud-based, 24/7 asset protection that unleashes your people, automates your critical reporting and delivers peace of mind that your critical environments are always protected.
Protect virtually any asset: anywhere and all the time.
Learn How Professionals Like You Improve With Sonicu
Our Customers Save Lives.
We save them time and money. Your Monitoring Questions. Answered Simply.
Monitoring technology is evolving constantly. We provide answers to the most common questions to help the industry understand how monitoring technology can protect your people, facilities and assets.
Any condition, any environment, any challenge.
The finest names in healthcare turn to Sonicu to improve safety, compliance readiness and staff efficiency.
Clean Room Monitoring Made Easy
If you're looking for an affordable and trusted environmental monitoring platform already used by dozens of pharmacies and hospitals to protect drug compounding and clean rooms, you've arrived at the right place.
Remote wireless monitoring of conditions like ambient temperature, humidity and air pressure differential is an essential facet maintaining a safe and compliant pharmacy, hospital or research facility.
Healthcare and research leaders from across the United States turn to Sonicu when they are attempting to accomplish at least one of three goals:
Asset protection

: Smart alarms (and alerts) via email, text and phone call that ensure condition excursions can be acted on immediately

Compliance automation

: Reports that are designed to answer virtually any regulatory audit or inspection
Operational efficiency: Spend less time manually logging temperatures and other conditions as well as completing tedious reporting
With Sonicu's new SoniShield View that features real-time room condition monitoring at a fraction of the cost of competitors, leaders charged with maintaining a safe and compliant clean room environment have a simple and affordable option for clean room and compounding environments.
Hancock Regional Hospital Pharmacy Director Tim Livesay was leading the establishment of several new compounding rooms as part of the expansion of the surburban Indianapolis hospital.
As part of the hospital's longstanding relationship with Sonicu, they installed ambient humidity and air pressure differential monitoring devices connected to the cloud-based platform in each of the new compounding rooms.
Several months after completing the project, Livesay noticed that a few of the compounding rooms were registering humidity that exceeded acceptable levels.
The climate control contractor who installed the new systems was called back to the facility to inspect the situation, and found their team had installed improperly sized units serving some of the clean rooms. The units were too small to remove the excess humidity from the compounding rooms.
"Having that data showing the humidity levels were consistently out of spec was powerful in two ways. First, it helped us get the contractor back out here to fix the problem. Second, it allowed us to use other areas so we didn't put patients at risk when the levels were outside of permitted levels," Livesay said.
Hancock Regional Hospital Pharmacy Director Tim Livesay relies on Sonicu's cloud-based
environmental monitoring platform to provide an extra layer of vigilance on the pharmacy
clean rooms under his care. The system proved instrumental in identifying excessive
humidity levels in a new clean rooms soon after construction completed.
One common aspect of any manufacturing or research environment is the clean room. A clean room is a specifically designed space to maintain a minimal concentration of airborne particulates. The goal of a clean room is to eliminate the presence of all pollutants to eliminate the possibility of contaminants entering a product.
The Food and Drug Administration has published detailed guidance that includes suggestions focused on environmental monitoring and how it can be used to enhance the safety of clean rooms.
On the other hand, a clean room is sometimes completely isolated and often requires very specific characteristics to be consistently maintained such as temperature, humidity, and lighting. These rooms are used for a variety of purposes including the manufacturing of electronics, the handling of biohazards or unstable chemicals, or manufacturing food.
If equipment fails or a power outage occurs, the sensitive calibrations of a clean room can be entirely thrown off. If the calibrations of a clean room are thrown off, it could result in thousands of dollars in damage or even create unsafe working conditions for employees. That's not something anyone would want for their facility.
That's why there's SoniShield from Sonicu.
Sonicu's powerful monitoring application helps anyone charged with maintaining
a clean room with remote wireless temperature, humidity and air pressure
differential monitoring that improves safety and streamlines compliance.
Clean room monitoring consists of using cloud automation technology to monitor and log air pressure differential, temperature, and humidity data 24/7. SonicShield from Sonicu provides you with full visibility, superior asset protection, and effortless compliance.
Whether you are in scientific research, medicine, pharmaceuticals, or food processing, you most likely have to abide by FDA (or other similar federal or state regulatory body) clean room requirements.
Our condition monitoring in clean room technology helps you remain compliant by notifying you of any changes to your clean room statistics. Furthermore, because it is stored in the cloud, data from our system is accessible from a mobile device anywhere in the world. That means you'll know if you need to respond to a situation whether you're in the office, at home or at a beach vacation.

Mobile app alerts like this will ensure you're always able to respond to an excursion that threatens your clean room.

The automation features of our solution mean that you don't have to worry about manual logging anymore. Furthermore, our system streamlines both regulatory audit reports and compliance reporting.
You can get all the data on your clean room in one convenient place with SoniShield.
Clean Room Monitoring System
A clean room monitoring system is a combination of monitoring sensors and hardware devices with software that provides data, alerting, and reporting. There are several standards for how a clean room should be set up.
These are handed down from organizations including the ISO, the EU GMP, the FDA, and the WHO. What standards your clean room needs to comply with depend both on the geography of where your facility is located as well as the industry your facility services.
If you believe the FDA and other regulatory bodies don't police clean room compliance, you should spend some time reviewing the volumes of warning letters the FDA has issued to clean room facilities.
Some of the issues that capture FDA inspectors attention include:
Gaps around the perimeter of your finn's ceiling HEPA filter screens

Excess caulking located on the ceiling that is not smooth and not easily cleanable

Obvious surface abrasions located on the faceplate of pellet press

Evidence of mold and fungus that should be identified in environmental monitoring
In order to comply with any of these standards, you will need a high-quality, effective cleanroom temperature and humidity monitor. The SonicShield includes a smart humidity sensor as well as all the other technology you need for the most precise temperature and humidity monitoring.
The reason it's so crucial to monitor humidity and temperature in a clean room is to prevent the growth and build-up of microbes which could damage products or interfere with the safe handling or storage of sensitive chemicals.
The risks of failing to comply are high.
Two pharmacists were charged with second-degree murder following a high-profile case of a Massachusetts drug manufacturing failing to maintain clean room sanitation.
"Every patient receiving treatment deserves the peace of mind and knowledge that the medicine they are receiving is safe," said then-Acting Associate Attorney General Stuart Delery.
"When people and companies violate that trust and break the law, the consequences to patients and their families can be catastrophic. That's why it remains a priority of the Department to use every tool at our disposal to protect patients' safety and hold bad actors accountable."
Generally, the ideal humidity for a clean room is between 30 and 50 percent , but this could vary depending on the specific requirements of the clean room itself and the goals of the activities going on within the facility.
The temperature should be kept as close to 69.8 F. However, this can also vary. For some purposes, even the deviation of a few degrees could be disastrous. That's why it's so important to have a high-quality monitoring system.
SonicShield is just such a system and can be installed easily, with no technical experience required. The installation process is made easy thanks to our guided Implementation Wizard that takes you along step-by-step until you've got your system installed.
Sonicu also offers professional installation via either our trained staff or our certified partners.
Our protective monitoring systems have been trusted by some of the world's leading organizations. We are among top providers of automated monitoring solutions for all kinds of industries from food to healthcare and life sciences, including Indiana University Health.
Wireless Temperature Monitoring System
The SoniShield system also features a wireless temperature monitoring system.
Have you ever lost valuable assets due to power outages or equipment failure?
Too many Sonicu clients contact us after they've lost critical assets or research to a temperature excursion or any other environmental monitoring solution.
Even if you haven't yet, it's probably been a big concern if you are an organization that works with a clean room.
Martha Rardin, Nutrition and Dietetics Director, Hendricks Hospital, has more than
30 years leading food service programs at hospitals and has learned from
experience the danger of trusting refrigerators or freezers.
You can address those concerns and those risks with SoniShield. Our system allows you to see remote temperature monitoring via cell phone from virtually anywhere
With our system, it's literally easier than ever before to regain your peace of mind and know the exact status of your assets at any time and from any place.
Plus, because our system is primarily cloud-based, it is easily and affordably scalable. This case study from Indiana University Health shows how one of the nation's largest and most respected health systems evolved from a few points of monitoring to covering their entire health system, including many clean rooms applications and saving more than $2 per year in labor costs.
If you increase your storage capacity or add more sensitive spaces, you can easily add more sensors and link those up with our app. Our platform provides immediate ROI and features a world-class dashboard that is easy to read and effective. Our monitoring system works for clean rooms and can be used to precisely monitor a variety of products including:
Vaccines: including the life-savig COVID-19 vaccine
Temperature Sensitive Medicines
Pharmaceutical Products
Blood Supplies / Plasma
Biologics
Reagents
Perishable Foods
One key feature of this system is that it allows you to monitor and log all data 24/7. There is never a time that the system is disabled or disconnected. Sonicu leverages multiple types of connectivity and data storage redundancy to protect your clean room data.
Built-in Redundancy Across Probes, Meters and Connectivity:
DataSync Between Cloud Data Storage and Onboard Data Prevents Data Loss During Network Outages
110V Power with Battery Backup Ensures Sensor Data is Analyzed During Power Outages
Redundant Data Transmission options via Ethernet w/Cellular Fail-Over for Critical Monitoring Applications
Plus, our sensors are designed to have a lengthy battery life even in the event of a power failure. This battery backup allows all data to be synced as well regardless of an outage or network interruption.
If something does happen to change the temperature or other characteristics of the clean room, our system will send you SMART Alert notifications directly to your phone, through text or email.
Tired of doing tedious compliance reports? SonicShield automatically generates manager and compliance reports. This brings the power of automation to make your life easier and ensure you're always ready for virtually any type of regulatory audit.
GMP Clean Room Guidelines
GMP Guidelines are good manufacturing practices and are standards that govern the specific characteristics of a clean room. Various governments have adopted some form of these standards as a way to protect consumers from products that are ineffective or could harm their health.
It is vital that you as an organization comply with GMP guidelines. This often means that you'll need to have some kind of particle counter sensor that ensures that the amount of airborne particulate matter remains below a specific threshold.
GMP environmental monitoring guidance is somewhat limited but it's still essential. It's up to organizations what monitoring tools, which is why you need to do careful research to find the best monitoring system. SonicSheild is used in a variety of industries and can help you comply with many GMP clean room guidelines.
This is especially important when it comes to installing an environmental monitoring system in the pharmaceutical industry. In pharmaceuticals, valuable assets are often temperature sensitive. The successful distribution of the COVID-19 vaccine was dependent on reliable temperature controls from point of manufacture to its administration, and having temperature monitoring in place before the vaccine was developed help hospitals, county health departments and pharmacies ensure safe and rapid distribution of the life-saving vaccine.
That's why using a solution like SonicShield can be so helpful. There is no way to completely remove humidity from the air, but monitoring and the right technology can keep it down to an appropriate level.
GMP clean room guidelines are divided into 4 letter grades. Grade A is the highest standard for clean rooms and requires organizations to maintain highly precise monitoring and adjusting of characteristics like temperature and humidity.
Coming down from Grade A is Grade B, C, and then D which is for clean rooms with the least critical activities. Here you'll find the lowest GMP guidelines and the highest allowed number of particulates.
Regardless of what grade your facility falls into, you'll still need a solid monitoring system like SonicShield from Sonicu. . One of the great benefits of our system is how easy it is to install.
Sonicu offers three ways to have your system installed:
Professional installation from our team of full-time, Sonicu-employed technicians
Professional installation from one of our certified and trained partners
Self install via our app-based Installation Wizard
"We've invested significantly to increase the ease of installation so our customers can do it themselves with the wizard,"
said Jason Young, Chief Technology Officer, Sonicu.

"And our customer support team is never more than a phone call away to help you resolve any issues during or after installation."
Our hardware features a simple, plug 'n' play design that lets you install a sensor anywhere in your facility without the need to modify your building to accommodate it. And it runs of separate Wi-Fi so you won't need to coordinate with your IT department.
Microbial Monitoring Of Clean Room
Microbial monitoring of clean room is essential in order to remain compliant with standards. In this context, the level of microbes in the air is the single most important factor for defining how clean the space is.
It's important to keep up to date with all microbiological environmental monitoring guidelines in order to be sure that your facility is remaining compliant. There are a variety of sensors and tools that can help you keep track of the microbe levels in your clean room.
Cleanroom Monitoring Plan
Having a specific plan is crucial to achieving results. Sonicu has the experience you can trust and the technology you can rely on for all your monitoring needs.
There are several case studies available on our website that you can read to see the kinds of results we deliver. For example, our system was able to save one client thousands of hours that were previously spent manually monitoring and logging data.
We were also able to eliminate downtime that used to be required by annual probe recalibrations by pre-scheduling a probe that simply snaps back into service. You can learn more about our SNAP automated calibration program in this document.
Customers have also been repeatedly pleased by the great service and features our solution provides. It makes sense that a system like SoniShield would be core to any cleanroom monitoring plan as it makes clean room monitoring easy and precise.
Real feedback from a Sonicu customer.
Other Room Pressure and Condition Monitoring Resources