Cold Chain Monitoring
If you're looking for a cloud-based wireless temperature cold chain monitoring system that helps your team eliminate manual logging, improve compliance readiness and protect all your temperature sensitive assets, you've arrived at the right place.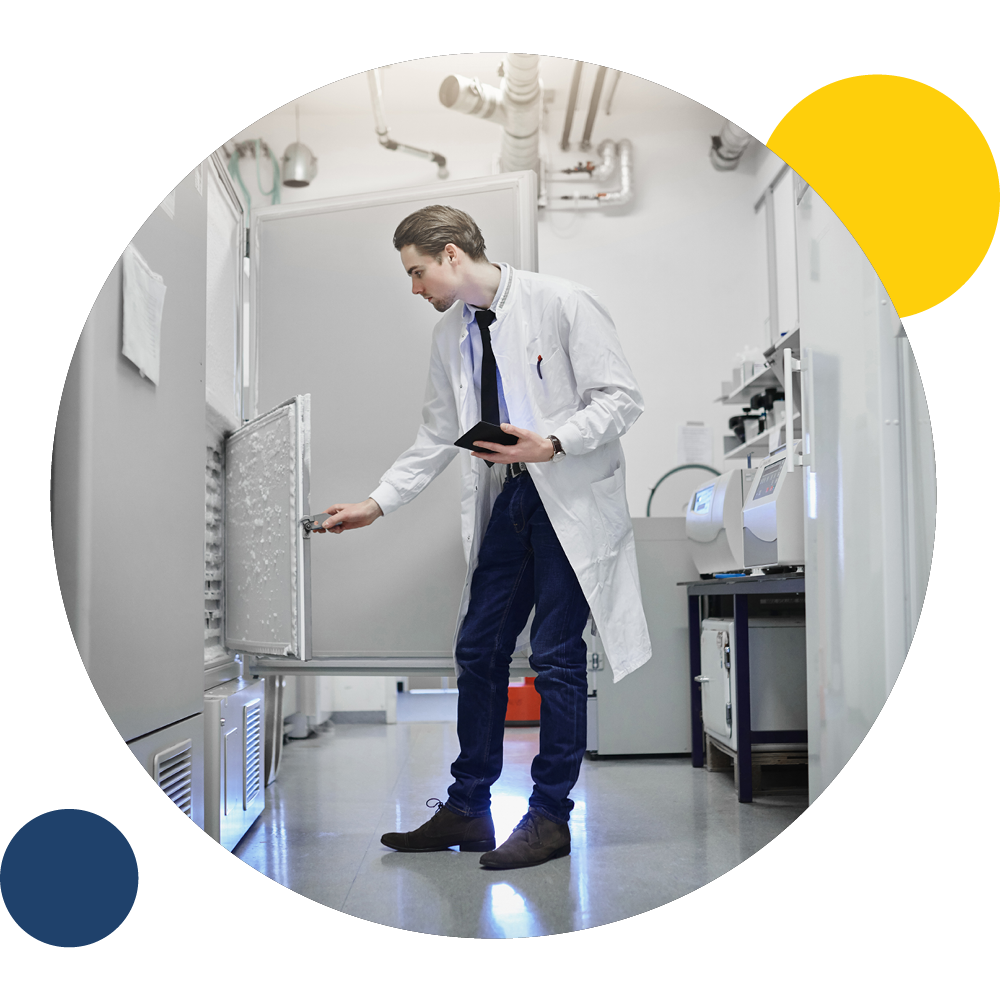 Your Peace of Mind: Delivered to Your Phone
Say Goodbye to Manual Logging, Tedious Compliance Reports and the Threat of Critical Asset Loss.
And say hello to cloud-based, 24/7 asset protection that unleashes your people, automates your critical reporting and delivers peace of mind that your critical environments are always protected.
Protect virtually any asset: anywhere and all the time.
Learn How Professionals Like You Improve With Sonicu™
Some of the finest names in healthcare and research, including Indiana University Health, University of Michigan Health System, Stanford University and Cryopoint, rely on Sonicu to provide robust continuous temperature monitoring for their cold and frozen environments.
These respected healthcare and research brands turn to Sonicu for three primary reasons:
Operational Efficiency: Virtually eliminate the need for tedious and costly manual logging
Compliance Automation: Respond to virtually any regulatory audit or inspection

in a few clicks with our reports section

Asset Protection: Detect and respond to any temperature excursion that can threaten virtually anything perishable: food, drugs, vaccines, research, etc.



Our customers on average save $80,000 per year for every 100 beds in their hospital.
At research or university locations without beds, it's not hard to imagine the time savings alone by simply not having staff manually record temperatures several times per day.
Our customers stay with us thanks to our American-based customer support that is never more than a phone call away.
While our technology is intuitive and powerful, we know it's only as strong as the people who stand behind it.
Our Customers Save Lives.
At research or university locations without beds, it's not hard to imagine the time savings alone by simply not having staff manually record temperatures several times per day.
Sonicu has recently introduced its new SoniShield View in-room display which can show in real-time air pressure differential status.
And when coupled with the Sonicu Data Concentrator, facility managers can simply and affordably connect air pressure differential monitors from across an entire enterprise to their existing Building Automation (Management) System.
This commitment to innovation that helps our customers perform their jobs better, coupled with our American-based customer support that is never more than a phone call away is why Sonicu enjoys a 95 percent customer retention rate.
While our technology is intuitive and powerful, we know it's only as strong as the people who stand behind it.
We save them time and money. Your Monitoring Questions. Answered Simply.
Monitoring technology is evolving constantly. We provide answers to the most common questions to help the industry understand how monitoring technology can protect your people, facilities and assets.
Any condition, any environment, any challenge.
The finest names in healthcare turn to Sonicu to improve safety, compliance readiness and staff efficiency.
Cold Chain Monitoring


Sonicu currently serves scores of food service and distribution clients from school cafeterias and restaurants to regional distributors and warehouse operators.


The image below shows how a client in the food distribution business views their Sonicu monitoring system with the software's floor plan feature.

It helps business leaders quickly identify areas that need attention for possible temperature excursions.
The safety and operations team use the Sonicu mobile app to stay connected to their cold chain monitoring system on nights and weekend and to received tiered alerts across their organization.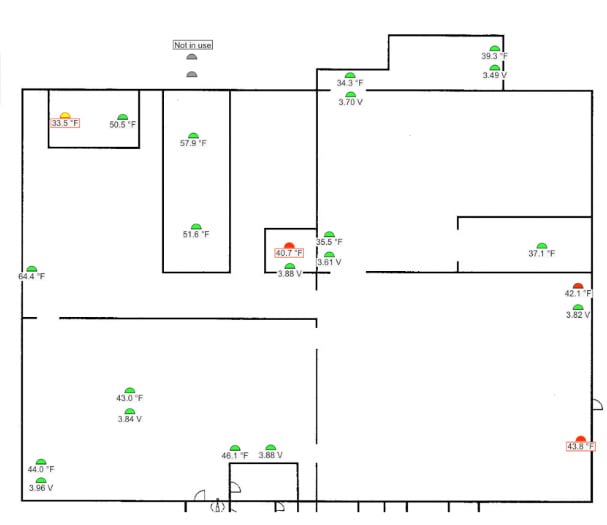 It's one thing to keep certain medications or foods in a freezer or an otherwise temperature-controlled storage unit, but what about when those products need to be transported to their final destination?
How does one keep the temperature controlled for every step of that product's lifespan?
Therein lies the importance of cold chain logistics. Cold chain monitoring refers to the process of maintaining a specific temperature for a product's environment as it moves through production, storage, and eventual distribution.
Many industries have to contend with cold chain logistics: healthcare, pharmacies, life sciences, and food safety.
There is no point in keeping something cold in a storage unit if it ends up spoiled by the end of the delivery.
Apart from keeping the desired temperature for the products, cold chain monitoring also involves general protection from bumps, jostling during travel, adversarial weather, rough handling, and other factors that may occur during transit.
To that end, cold chain temperature monitoring devices have been developed to address this issue. Beyond temperature monitoring storage units, shipping temperature indicators are used to ensure that the products remain at their appropriate temperatures for the entirety of the supply chain. Sonicu offers its own automated remote monitoring kits that allow workers to keep taps on their cargo and confirm that all environmental factors are as they should be.
Here are some of the types of products that rely on cold chain monitoring:
Vaccines

Temperature Sensitive Medicines

Pharmaceutical Products

Blood Supplies / Plasma

Biologics

Reagents

Perishable Foods
Food needs to be transported from suppliers to restaurants and groceries stores. Vaccines need to be delivered to hospitals all over the country.
Without cold chain logistics, these types of deliveries would not be possible. Even with the technology available, there can still be obstacles in logistics.
That is why there were so many instances during the COVID-19 pandemic of doctors desperately seeking people to vaccinate. A disruption in cold chain logistics jeopardized the effectiveness of these COVID-19 vaccines and they wanted to distribute them before they spoiled.
There were various news reports about COVID-19 vaccines having to be tossed or patients who had to have their dose re-administered due to potential temperature excursion.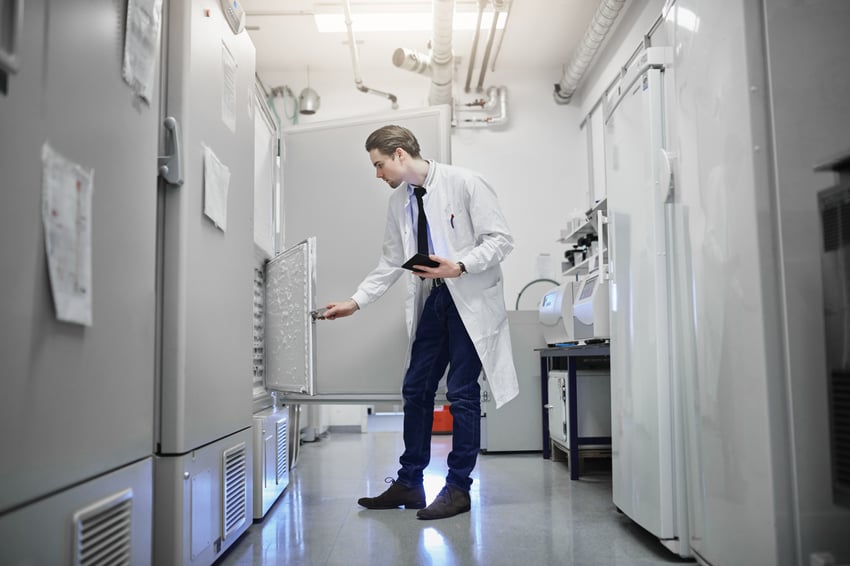 Cold Chain Monitoring IoT
What is the Internet of Things (IoT)?
According to the digital magazine Wired, the internet of things is defined as "encompass[ing] everything connected to the internet, but it is increasingly being used to define objects that 'talk' to each other."
In other words, anything that can connect to a wireless network can be classified within the scope of IoT.
The term IoT came about in 1999 by Kevin Ashton, but the concept behind it has been around since the late 1970s.
Back in those days, the terms floating around were "embedded internet" or "pervasive computing." By the time Kevin Ashton was trying to advance himself within his place of employment at Procter & Gamble, he titled his presentation "Internet of Things."
He chose this name because the Internet was the hot topic of the late 90s and early 2000s, but the term would not take off for about another decade.
These "objects" within IoT can range from smartphones and televisions to even devices for cold chain monitoring. IoT can be used in the context of cold chain logistics infrastructure to have temperature monitoring sensors "speak" to multiple devices connected to the cold supply chain to alert the appropriate personnel if there is a disruption in the temperature.
Cold Chain Monitoring Companies
There are a variety of cold chain monitoring companies out there to fill the demand for the various industries that deal with cold chain logistics.
Here is a list of the leading cold chain logistics companies:
Sonicu
Cold Chain Technologies
Pelican BioThermal LLC
Sonoco Thermosafe
Softbox Systems
Sealed Air Corporation
Sofrigam
Intelsius
Tempack
Cryopak
All of these companies offer some form of a commercial temperature monitoring system.
Many claim to have similar features, but here is a list of what specifically Sonicu offers for cold chain monitoring.
Fully compliant and meets virtually all state and federal regulatory requirements
Easily implemented, cost-effective, and fully scalable
Completely automated to eliminate manual monitoring, logging, and reporting
Secured by AWS Cloud Services and operates independently of existing IT infrastructure
Robust Warranty and supported by Sonicu's dedicated support team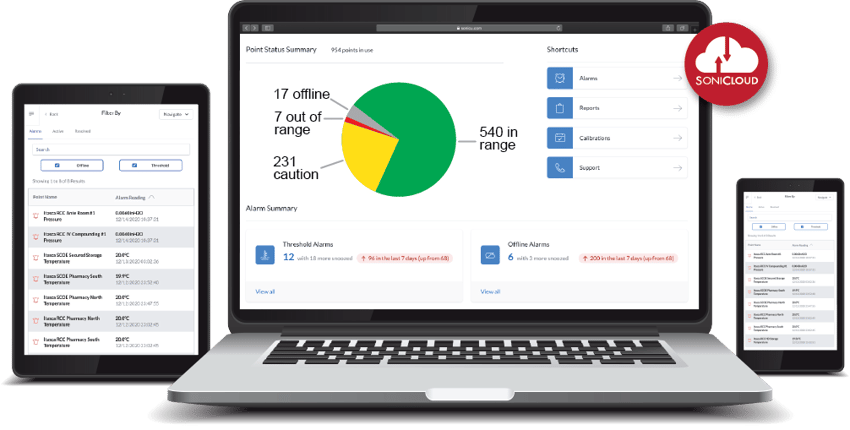 Cold Chain Monitoring Vaccine
Cold chain management of vaccines became a top priority when battling the coronavirus pandemic. When it comes to the cold chain for COVID vaccine, the vaccines need to be stored in frozen transports between the temperatures of -50°C to -15°C or -58°F to 5°F.
According to the CDC, the cold chain for vaccines should contain "a portable refrigerator or vaccine storage container qualified to maintain temperatures between 2°C and 8°C (36°F and 46°F)".
This cold chain temperature chart shows that there is a small window in which vaccines can be safely transported in compliance with CDC guidelines. Therefore, in regard to cold chain monitoring, vaccine protection is one of the most important types of transportation that appears in the cold chain supply.
Cold Chain Monitoring Market
The importance of the cold chain cannot be stressed enough.
There are two types of cold chain packaging in the cold chain monitoring market.
The first one is active. This is the type that this article has been discussing. Active cold chain packaging refers to transport carriers that have special electric temperature monitoring systems.
Passive cold chain packaging, on the other hand, uses polyurethane or polystyrene insulation panels that can maintain the specific temperature of the product for as long as 96 hours.
There are also other materials one can use for cold transport. Here is a list to name a few of them:
Dry ice
Gel packs
Eutectic plates
Liquid nitrogen
Quilts
Reefers

Cold Chain Monitoring Solutions
Cold chain monitoring solutions do not solely involve maintaining an optimal temperature for the product in question, be it vaccine, plasma, or perishable food.
Cold chain monitoring devices also need to project such cargo from the typical bumps that would occur on any car ride, in bad weather circumstances, or anything else that may impact the products.
The cold chain indicator must be able to alert the system when something has gone wrong.
In regards to a strong cold storage monitoring system, Sonicu has a robust set of features to help ensure equipment is effectively maintaining the proper temperatures, logging key data, and alerting when issues arise.
Cold Chain Monitoring Technologies
Cold chain monitoring technologies are critical because careful logging in of data at certain checkpoints in the cold chain to confirm whether or not a product has been compromised.
By using cold chain technologies, employees can quickly pull up a dashboard and review the product's transit history and see if there was a break in the cold chain.
Despite all of our advancements in technology, cold chain logistics challenges do arise. We are still only human as we monitor and control the cold storage temperature monitoring system, thus constant diligence is still very much a necessity.
The cold chain logistics industry is a growing business, and as the world witnessed from the COVID-19 pandemic, safe cold chains for vaccines are especially important and at the front of everyone's minds, especially as these vaccines are transported to communities around the world and to remote areas.
Cold chains can help to bridge that gap to ensure safe transport to vital resources.
American-based Customer Support: Robust & Reliable High Touch Service
Software and technology is only as good as the people who stand behind it.
At Sonicu, that means our team of American-based customer success managers who are never more than a phone call away to help field and fix any service issues.
Our probes and sensors are placed in demanding frozen environments and our software literally sends billions bits of data monthly, meaning there's alway the potential for a hiccup on either the hardware or software.
We are committed to fielding every customer service request promptly and addressing our customer's concerns promptly and professionally.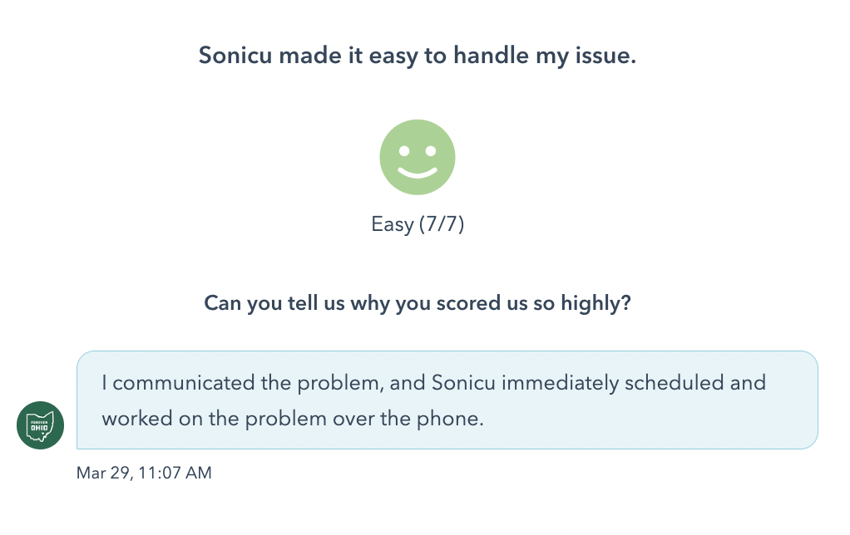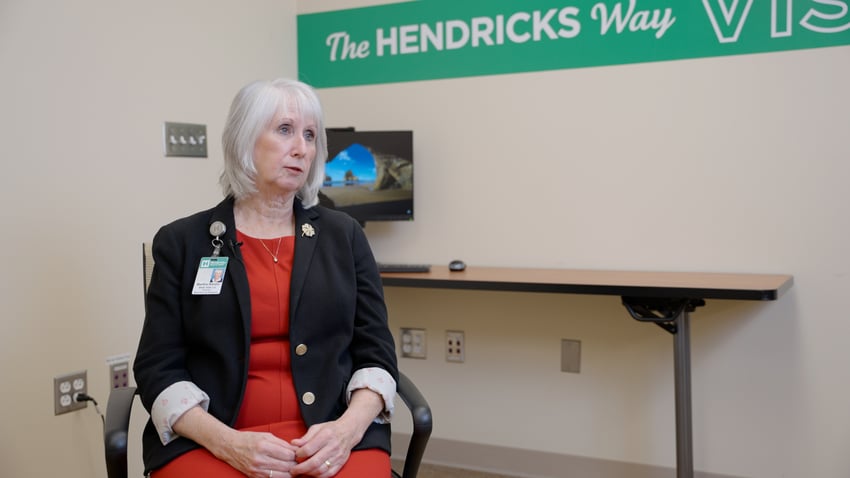 "I like to say that every refrigerator or freezer is like a car in that they all behave a bit differently,
and then every now and then you just get a bad boy who doesn't want to perform as we need it to,"
Martha Rardin, Director, Nutrition and Dietetics, Hendricks Regional Hospital.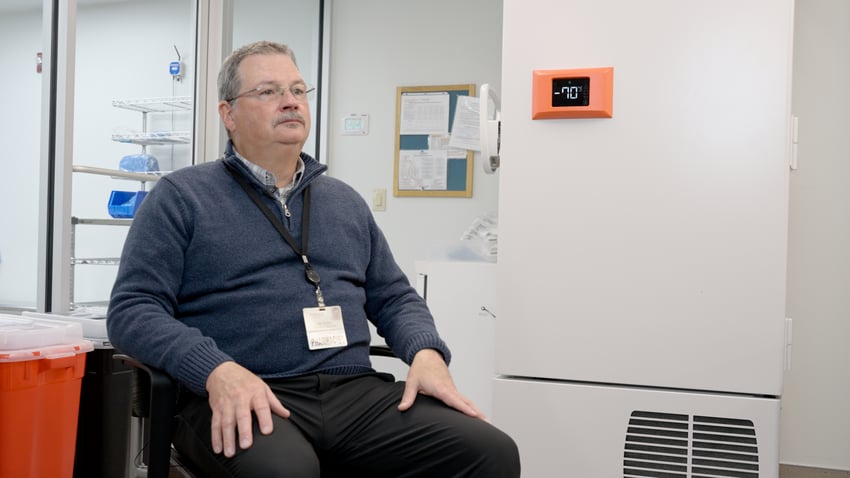 "Sonicu has been a powerful tool to identify which units are behaving out of spec and get our team
to fix them before we have a serious issue."
Tim Livesay, Director, Hancock Regional Hospital Pharmacy Director


Temperature Monitoring Resources