Healthcare Compliance Audits
Temperature, Humidity and Air Pressure Differential Monitoring. Reduce manual logging with cloud-based asset monitoring that protects assets, people and facilities while ensuring compliance.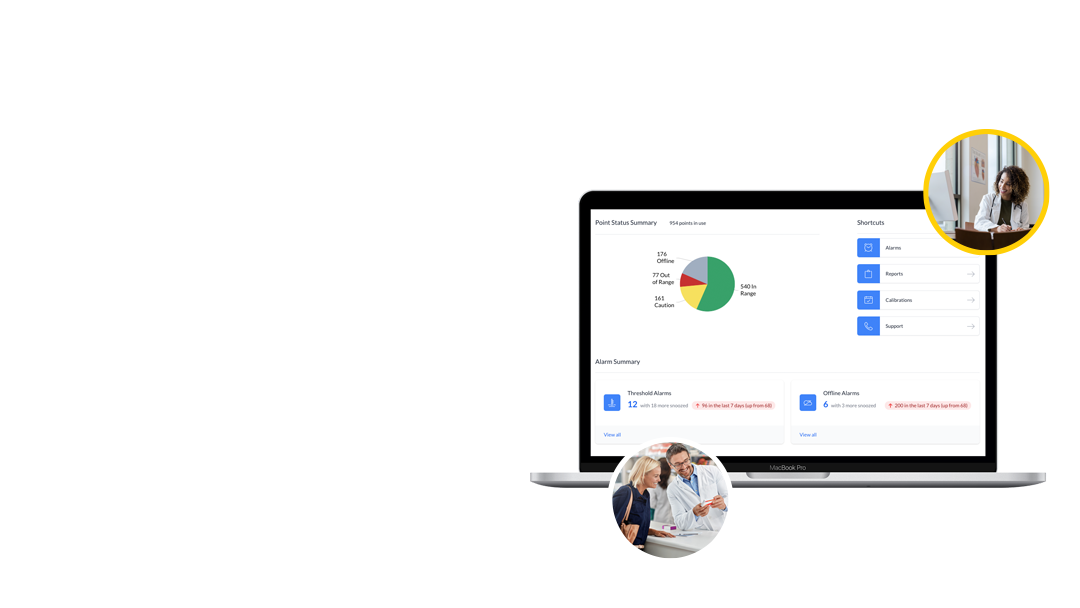 Your Peace of Mind: Delivered to Your Phone
Say Goodbye to Manual Logging, Tedious Compliance Reports and the Threat of Critical Asset Loss.
And say hello to cloud-based, 24/7 asset protection that unleashes your people, automates your critical reporting and delivers peace of mind that your critical environments are always protected.
Protect virtually any asset: anywhere and all the time.
Learn How Professionals Like You Improve With Sonicu
Our Customers Save Lives.
We save them time and money. Your Monitoring Questions. Answered Simply.
Monitoring technology is evolving constantly. We provide answers to the most common questions to help the industry understand how monitoring technology can protect your people, facilities and assets.
Any condition, any environment, any challenge.
The finest names in healthcare turn to Sonicu to improve safety, compliance readiness and staff efficiency.
Understanding Healthcare Compliance Audits
If you're interested in streamlining your cumbersome compliance process, and freeing up time to focus on your patients, clients and more essential operations, Sonicu is here to help.
More than 500 customers across every state, including respected healthcare and research brands like Indiana University Health, the University of Georgia, the University of Michigan and Stanford University, all rely on Sonicu to support their operations.
Satisfying healthcare compliance audits is among the top reasons why our clients turn to Sonicu and stay with us for years. Our intuitive software makes it simple to produce the verifications hospitals and researchers require to meet virtually any audit.
Yet our value extends well beyond healthcare compliance audits.
Clients also rely on us to deliver asset protection via alerts around temperature and humidity excursions as well as room condition monitoring and operational efficiency by helping staff spend less time on manually logging temperature, humidity and air pressure and other essential conditions.
So if you're interested in saving time and money while improving your peace of mind, we hope you will complete a form so we can share how we help professionals like you improve the way they work.

Our reports are simple to produce and make audit reporting a breeze.
Healthcare compliance audits are performed to ensure that healthcare facilities maintain the correct room temperature, pressure, and other required environmental conditions. Some vaccines, for example, need to be stored at a certain temperature, and so clinical audit tools can be used to check whether or not a facility is adhering to such guidelines.
Audit tools in healthcare are great for helping businesses stay compliant with the most up-to-date standards.
There are many types of healthcare audits.
Random audits, as the term suggests, are performed at random and intended to get a realistic picture of how an organization functions on a day-to-day basis. Nearly all food service organizations are subject to these sorts of audits at the county or city level.
A comprehensive audit involves a systematic review of past audits, and a hybrid audit sits at the intersection of random and comprehensive audits. Quality improvement audits are the other major type of healthcare audit. These are used to measure quality and identify ways to improve value without incurring greater costs. Each of these audit types can be used to assess healthcare compliance and offer suggestions on how to improve current practices, if applicable.
Nearly every audit or regulatory compliance inspection is designed to ensure public or private organizations take safety seriously.
Many Sonicu clients contact us after they've suffered some sort of audit shortcoming, and realize their people-driven systems and processes are prone to natural human error, forgetfulness or misplacing paperwork.
"We did get dinged on a county health inspection audit related to temperature tracking and that was one of the reasons we began to explore technology that would free our people up and ensure we're keeping our patients safe," said Martha Rardin, Director, Nutrition and Dietetics, Hendricks Health.
"Sonicu helps me sleep better at night, knowing our patients aren't at risk because one of my refrigerators went out of service for two hours overnight and that we're ready for any sort of inspection.
Environmental monitoring is a critical component of healthcare compliance. So much of what is done in this field is dependent on maintaining proper working conditions, and audit tools can help keep facilities compliant. Sonicu is the leading provider of monitoring tools for room temperature, sound, humidity, air pressure differential and more.
Sonicu's solutions for healthcare include temperature monitoring, hospital noise reduction, and enterprise-wide healthcare monitoring.
These can be useful for facilities looking to gain deeper insight into their environmental conditions and identify areas for improvement. Healthcare compliance audits are never fun, but they are necessary to maintain good working conditions, and auditing tools can help make the process easier.
Rather than having to do everything by hand, you can use auditing tools to speed up your process and get things done more efficiently.
In a world of rapidly rising healthcare labor costs, systems like Sonicu can also serve as an additional hedge against more costly staff since our customers find that our solution saves them an average of two full time employees annual salaries.
That was about $80,000 for every 100 hospital beds prior to the post-COVID inflation challenge, and is certainly trending much higher now.
Every manual temperature log can add up to real money, and introduces the
opportunity for human error to compromise a compliance audit.
Compliance Monitoring in Healthcare
So what is compliance monitoring?
Better yet, what does internal monitoring of compliance ensure?
Compliance monitoring refers to the process by which healthcare facilities are evaluated to see how well they're following industry standards. Internal monitoring is performed by the facility itself and can help staff get a better understanding of what they're doing right and what could be improved to get them up to industry standard. It's important to be aware of monitoring and auditing practices for effective compliance, as these provide detailed instruction on how to properly audit for the most useful insights.
Compliance monitoring in healthcare is essential to maintaining proper environmental conditions. In fact, healthcare compliance audits can shed light on previously undetected flaws in your facility or workflow.
And it can even prevent fatal flaws associated with significant legal risk.
Or prevent immeasurable harm to patients and an organization's reputation.
It can be easy to overlook a misplaced item or a room that's gotten a bit warmer than it should be, but an audit can help bring these issues to light, allowing you to address them systematically. If you've never performed an audit before, you might want to check out a sample healthcare audit plan to get a better idea of what's typically involved in an audit and how to carry one out.
There are many reasons for compliance monitoring. Besides illuminating areas for improvement, it can be used to assess quality and determine what needs your facility should fulfill going forward.
It can help you make the most cost-effective decisions in terms of what new equipment to purchase and what procedures, if any, could be modified or eliminated to promote a smoother workflow. Additionally, compliance monitoring can be helpful in assessing risk. If certain procedures are creating a hazardous environment, it's better you find out about it sooner rather than later.
Compliance audits bring these issues to the forefront and provide incentives for businesses to get things in alignment with company policy as quickly as possible.
Audits can be costly and time intensive, but they're essential to protecting patients.
Sonicu can make them easier to complete and ensure you have all the data required.
Compliance Audit For Hospitals
A compliance audit for hospitals might involve several different metrics, depending on what the facility in question is hoping to achieve and what sorts of things they're measuring.
Most compliance audits evaluate strengths and weaknesses in an organization. Once all is said and done, facilities are often provided with a comprehensive summary detailing which areas they scored well in and where they could make improvements to achieve better alignment with industry standards. If your facility has a compliance auditing and monitoring policy, it's important to ensure that you adhere to the outlined process.
When devising a compliance work plan, it can be helpful to make a checklist of your most important items.
What is it that you absolutely must cover?
Are there certain aspects of your compliance program that you think need more attention than others?
Drawing up a sample healthcare audit plan can help get you started thinking about what you'd like to include in your audit and how you plan to use the information obtained from the audit. Being able to take the next steps to act on audit insights is key to improving your business practices.
Your checklist might include items related to corporate compliance, staff education and training, and how equipment should be handled. There isn't necessarily a right way or a wrong way to perform a hospital compliance audit, as different facilities have different policies and procedures.
Outlining your desired outcomes is a great way to stay focused on the bigger picture and make sure that you target the most important areas of your business when auditing. Don't overlook the little things—they can significantly impact the performance of your organization as a whole.
Since nearly all hospitals will include an in-house pharmacy, Sonicu plays a vital role in helping hospital pharmacies like Hancock Regional Hospital meet the exacting audit compliance terms set by the Indiana Board of Pharmacy.
"It always starts with doing all we can everyday and investing in all the tools and technology we can to create the absolute safest environment for our patients, and Sonicu is absolutely part of that equation," said Tim Livesay, Director, Pharmacy, Hancock Regional Hospital.
"When you look at how Sonicu also helps us satisfy the Board of Pharmacy inspection, it's hard to calculate how important the system has become to our team."
Healthcare Compliance Audit Template
A healthcare compliance audit template can help you get started planning your audit. You might also consider making an audit checklist for hospitals, or a compliance audit checklist.
This can help you keep track of your most important items for audit and ensure that you don't skip over anything important. There are different types of healthcare compliance audits that measure different aspects of healthcare, and viewing a sample healthcare audit plan can give you an idea of the various types of audits in healthcare and what is required for each.
While a template can provide inspiration on how to conduct a compliance audit, you should customize it according to your unique business needs. Some templates, for example, account for a certain number of employees.
If you have significantly more or less than the template suggests, then you should factor in these differences to perform the most useful audit that yields the most accurate results. Templates can be a great starting point for designing your audit, but they should not be the end all be all for how you conduct your process.
Sonicu eliminates manual processes and automates regulatory audit reports to streamline compliance reporting so that, regardless of the type of audit you're performing, you can make the most of the tools and resources at your disposal. Your reports are auto-formatted so that you can easily download them without having to make a bunch of adjustments.
Automating your auditing process with Sonicu can save you time and help reduce manual errors. What's more, Sonicu users enjoy unlimited data storage and receive software and firmware updates. They also get access to customer support and customized training through the platform.
There are also external consultants who can help a healthcare organization prepare for a regulatory body's inspection.
Healthcare Auditor Certification
There are many examples of audits in healthcare to help you get a better understanding of how the process works, but earning healthcare auditor certification is one of the best ways to really dig into the auditing process and study the tools and resources that make a successful audit.
Compliance auditor jobs range from internal auditing services to clinical auditors that focus on specific aspects of treatment in healthcare. Becoming a certified auditor can improve your facility's auditing process and help you become more knowledgeable about the process overall.
When performing auditing in healthcare, it can be useful to use compliance tools for more accurate reporting. Sonicu provides auditing tools to help users protect vaccines and medicines, ensuring that environments are properly optimized.
The Sonicu temperature monitoring solution provides automated logging and reporting to help users stay on top of their compliance standards. Critical areas targeted with this solution include medication and vaccine storage, room temperature and air pressure, and blood banks.
In addition to temperature monitoring solutions, Sonicu offers hospital noise reduction tools, helping users identify the source of unwanted noises. If you're looking for enterprise-wide healthcare monitoring, Sonicu also offers a single solution that consolidates each of your wireless monitoring applications such as sound, temperature, and air pressure.
This can be ideal for healthcare systems that have several different locations, as well as those that work with multiple vendors and use different tech solutions for compliance.
"If we didn't have Sonicu applied across our organizations, I imagine there would be even more alerts and alarms from disparate systems that we have to spend time and money tracking and responding to," said Steve Long, Hancock Regional Hospital, CEO.
"With Sonicu we have one system that tracks everything from humidity in a compounding room to noise in the NICU. That's a powerful solution to many problems."
Sonicu's SMART reporting provides automatic logging and reporting features to help you stay compliant.
You can easily recalibrate with the platform's SNAP calibration program and secure your data in the event of a transmission interruption.
Most importantly, you can ensure consistency across your systems with a detailed analysis of operations.
Healthcare compliance auditing can be challenging, as there are so many different things to keep track of, but compliance tools and solutions can help you perform seamless, effective audits so that you can make meaningful changes to improve your business.
Service After the Install
Any piece of software is only as valuable as the people behind the scenes supporting it.
More than 95 percent of Sonicu customers stay with us year after year because our hardware and software bundle solves their problems and because they've come to rely on our support team when issues arise.
Our hardware is installed in frozen environments while our software is connected to tens of thousands of sensors and probes and sending billions of data streams every year.
We recognize that issues and challenges will arise and we're committed to having a robust team of American-based support professionals who are never more than a phone call away from solving your problem.
The example above is a real-time response from one of our clients who engaged with our support team and had their issue resolved quickly. You can expect the same diligence and prompt service when you work with us.
Other Room Pressure and Condition Monitoring Resources