Building Automation Remote Monitoring
Compatible with most BAS systems to stream data into your BAS via API or hardware device.
SoniCloud platform provides 100% visibility of all monitoring on one dashboard.

Schedule a convenient web demo today.
REQUEST QUOTE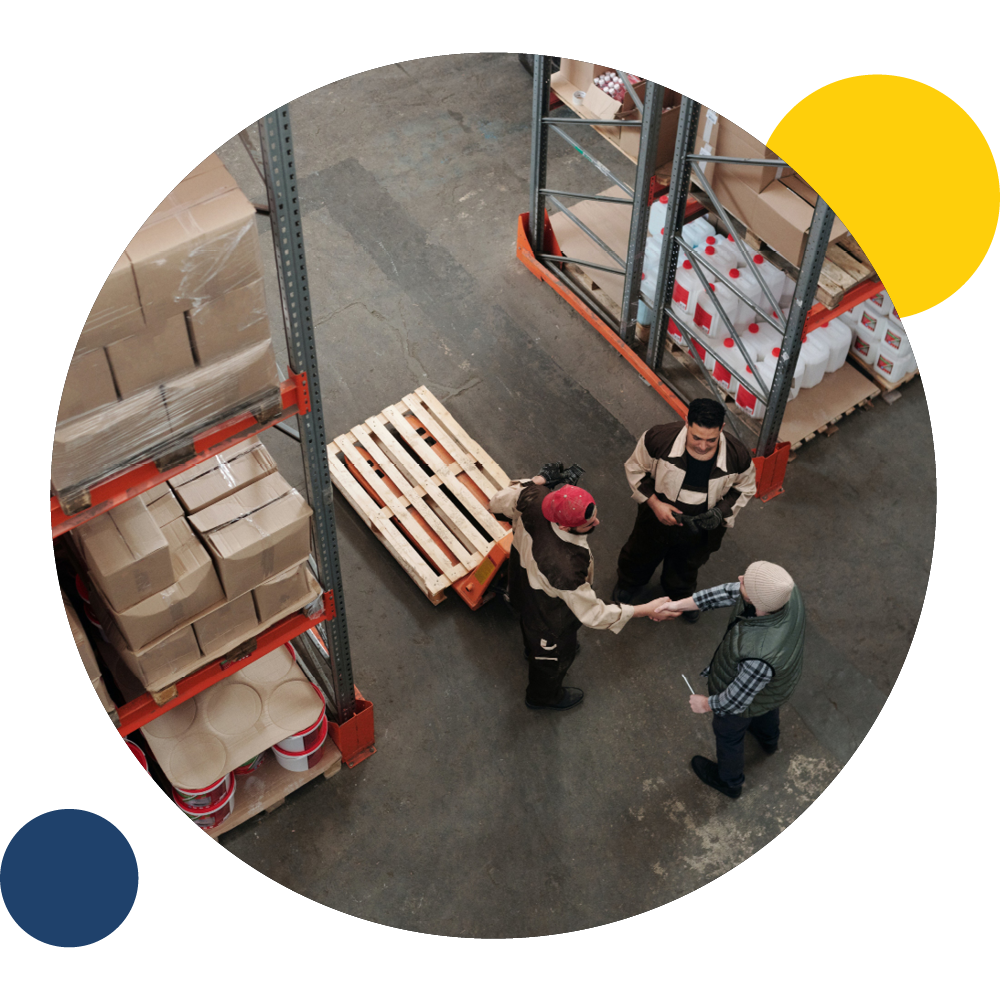 See What Customers Say About Sonicu
Asset Protection. Compliance Automation. And Reduced Manual Processes.

Sonicu serves thousands of professionals at hundreds of organizations across North America by improving how they monitor and manage their most sensitive assets and environments.


Professionals from healthcare, life science, laboratory and cold chain facility management turn to Sonicu to help them improve the way they do business.


Complement Your BAS
SoniCloud is the most cost-effective way to add upgraded capability and improved performance to your BAS system.
You remain in control; we alarm and report with 24/7 access.

Sonicu sensor technology pairs with and enhances existing building automation systems by fully integrating IoT and automation features into your platform.
Schneider
Automated Logic
Johnson Controls
Honeywell
Siemens,
Designed for:
cold-storage

laboratory/research

healthcare

pharmacy

food
Sonicu wireless temperature, humidity, sound, room conditions, and air pressure solutions install effortlessly without hardwired retrofitting.

Interface directly with your dashboards through Modbus and other common protocols.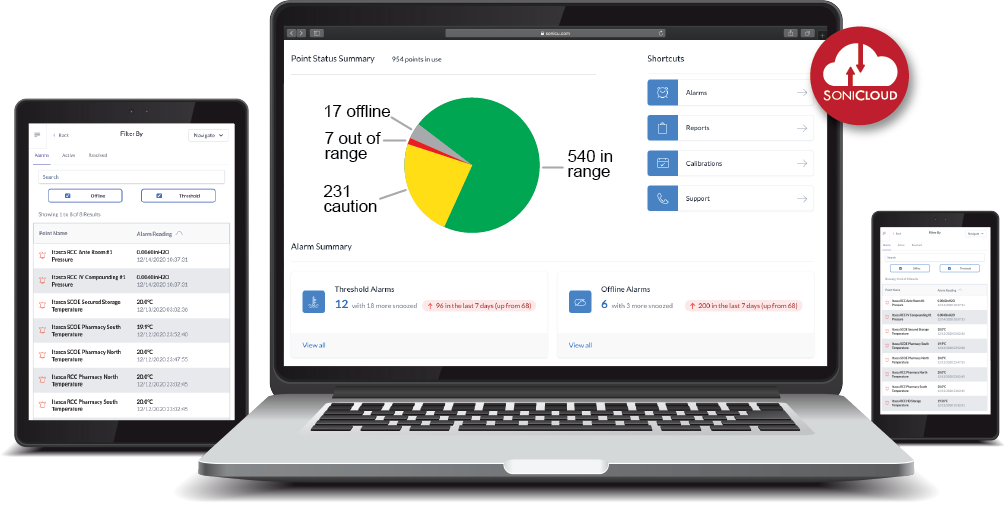 Controls Group North America Webinar On Visualizing Your Compliance Data

Example: Connect a warehouse to your BAS System
This example shows a sensor transmitting temperature and humidity data 24/7 in a warehouse to the Duo, which sends it to your system and the SoniCloud platform simultaneously.
Users receive alerts on their smart device if a temperature or humidity limits are exceeded in the warehouse.
For other examples visit our Integrated IoT solutions page.
Sonicu Enhances Existing Systems
Easy access to alarming & reporting through a cloud-based platform independent of server-based IT/BAS systems.
Add customer-rich features with existing software and dashboards.
Maintain high IT security

To meet virtually any monitoring application with our Universal IoT Meter, eliminating siloed, proprietary monitoring.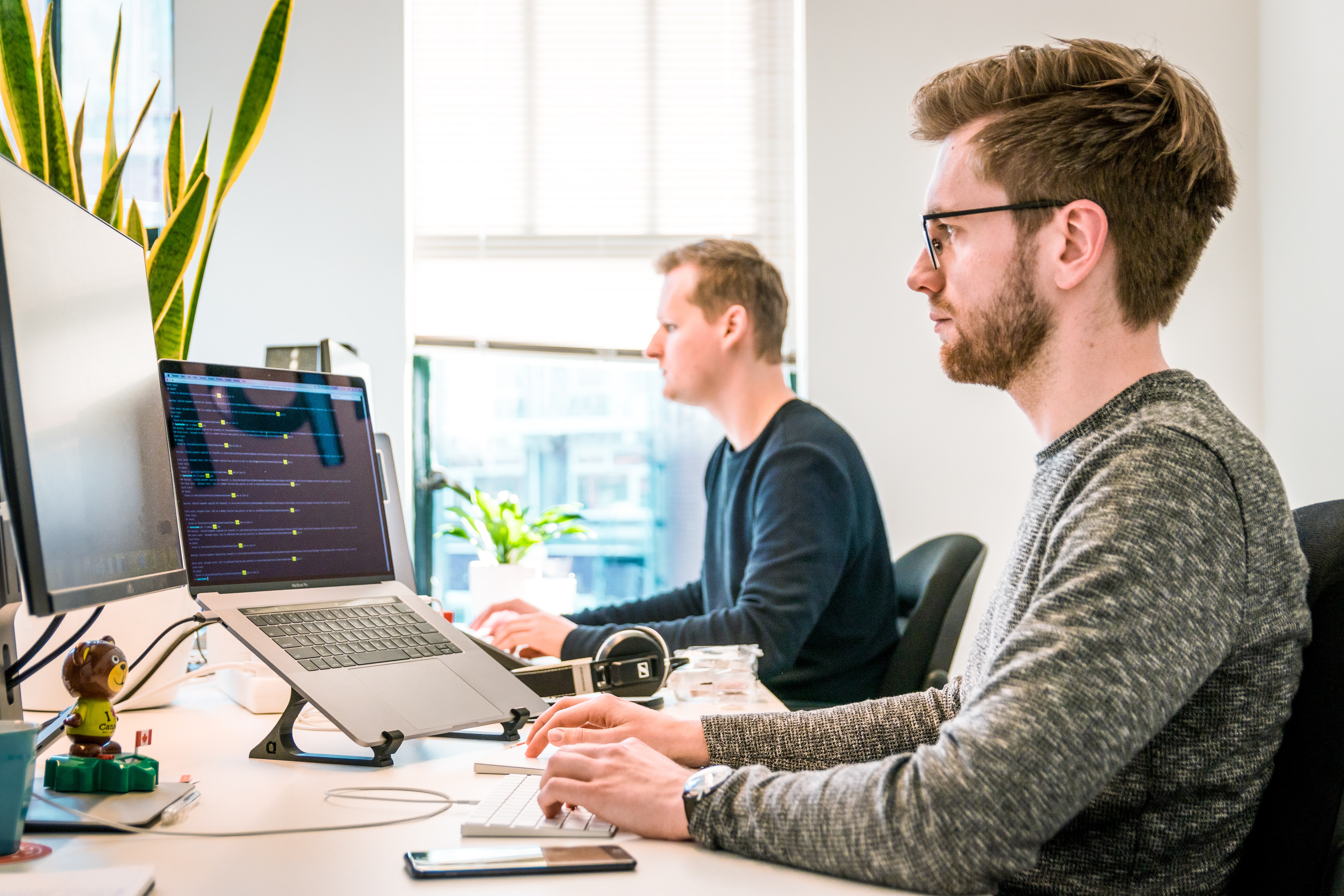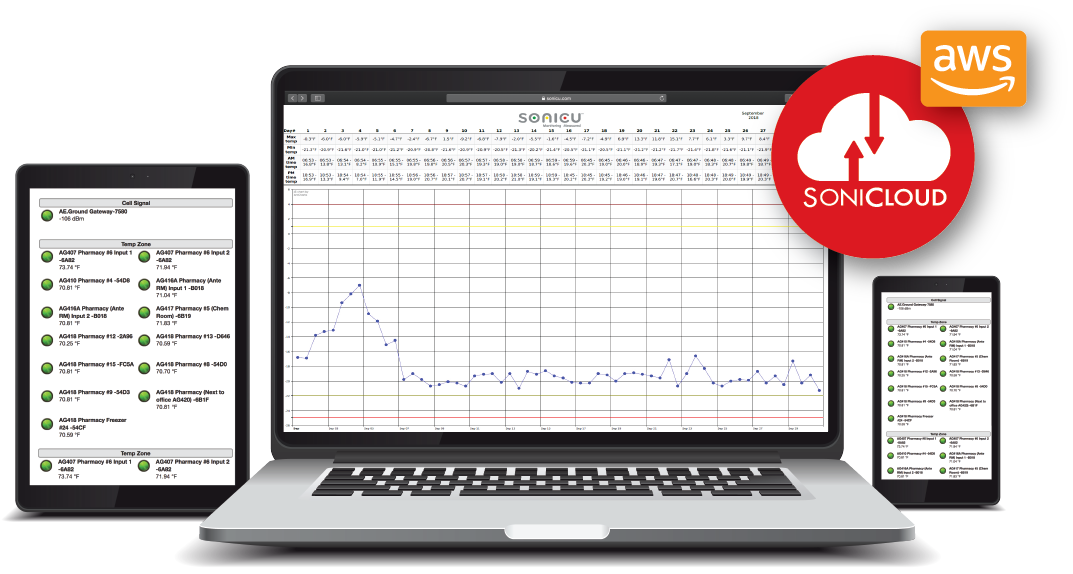 SoniCloud Monitoring Dashboard
Web-based access from phone, tablet, or PC - 24/7
All Sonicu monitoring solutions include the SoniCloud Monitoring Dashboard, a modern, scalable platform that makes it easy to view ALL your monitoring anytime.
Hosted on AWS for best-in-class security and reliability!
DataSync feature ensures data continuity and integrity
SMART Alarms with predictive algorithms spot trends, reduce alarm fatigue, and escalate if needed
Cellular VPN eliminates security breach concerns
Automated Logging & Reporting
Saves time and money by eliminating manual logging and reporting processes
SMART Reporting Tools analyze data, spot trends and streamline performance audit procedures
Automatically generates reports in regulatory compliant format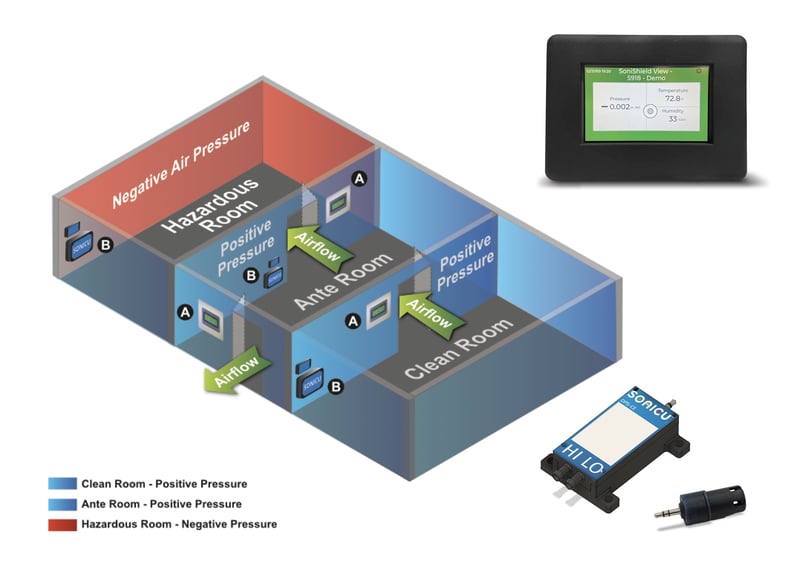 Learn more about remote wireless monitoring solutions.
Sonicu's resource library has the answers you're looking for to remedy your healthcare monitoring woes. Visit our resource center by clicking the button below:
OUR RESOURCES
Your Monitoring Questions. Answered Simply.
Monitoring technology is evolving constantly. We provide answers to the most common questions to help the industry understand how monitoring technology can protect your people, facilities and assets.
LEARN MORE
Building Automation Remote Monitoring
If you're looking for a building automation remote monitoring system that helps your team eliminate manual logging, improve compliance readiness and protect all your assets, you've arrived at the right place.
And if you need that temperature and environmental monitoring solution to feed real-time and historical data into your facility's building management (or automation) system, you're going to appreciate the affordability, scalability and simplicity of the Sonicu system.
We work with many of the finest names in healthcare, includingIndiana University Health, Xytex Sperm Bank and the Ohio University Innovation Center to easily share their department-specific monitoring data with their facilities management.
These respected brands turn to Sonicu for three primary reasons:
Operational Efficiency: Virtually eliminate the need for tedious and costly manual logging

Compliance Automation: Respond to virtually any regulatory audit or inspection in a few clicks with our reports section

Asset Protection: Detect and respond to any temperature excursion that can threaten virtually anything perishable: food, drugs, vaccines, research, etc.
When you combine these three significant feature benefits, our clients average about $80,000 of savings for every 100 hospital beds.
At research or university locations without beds, it's not hard to imagine the time savings alone by simply not having staff manually record temperatures several times per day.
And they also are able to quickly and simply share their wireless monitoring data with their Building Management solution via our Building Automation data share appoliance, the Data Concentrator, or via software interface with our custom API with Schneider Electric.
"The beauty of sharing information between Sonicu monitoring and a building automation solution is two-fold: simplicty and data accessabilty," said Bryan Mitchell, Vice President, Marketing and Business Development, Sonicu."


"In terms of simplicity, our wireless solutions can be installed in minutes and configured to match your organization's exact needs in about an hour with our Customer Success Manager collaborating to ensure it's done right the first time. And then it's simple to leverage the Data Concentrator to share the monitoring data with BACnet or Modbus communication protocols."


"And data sharing is all about getting the right data in the right hands at the right hand. Sometimes that means the laboratory director during and FDA inspection and the next month it may mean the facilities director during a Joint Commission inspection. Regardless of who needs the data, when and where, the Sonicu solution to share monitoring data across an organization makes it a snap."


Advanced Building Automation Monitoring
Remote monitoring solutions are essential to tracking your organization's environment no matter where you are located.
Remote monitoring systems that connect seamlessly into a building automation system like Sonicu are among the best solutions for automatic monitoring and data logging of your company's sound levels, temperature, ambient temperature, humidity, and differential air pressure between rooms.
Automating these processes will protect you and everyone in your business while providing benefits, including
Asset protection: Phone calls and emails for immediate remediation

ompliance automation: Two-click compliance reports built for healthcare and labs

Operational efficiency: Spending less time and money on manual logging
There are various benefits of remote temperature and environmental solutions like Sonicu.
For instance, below are some notable benefits of building automation monitoring solutions that can help your organization thrive.
Lower maintenance costs spent on monitoring solutions

Safer workplace environment for you and your employees

Energy-efficient solutions

More productive workflow

Improved security systems to protect sensitive work assets

Healthier indoor air quality

Accurate and actionable data collection
Building automation systems are essential to keeping your organization protected at all times and compliant with government regulations.
A high-quality monitoring solution is critical to helping you run your business with ease.
If you're unsure of the numerous applications of a building monitoring system, below are some relevant examples that you can improve with a comprehensive monitoring system.
Heating and air conditioning systems

Alarm systems

Electrical systems

Lighting systems

Cold storage systems

Security systems

Occupancy sensors

Plumbing and water systems

CCTV systems
These are only some of the multiple ways your organization can leverage the intersection of monitoring and automation systems.
Having advanced monitoring sensors and devices is crucial to ensuring that your company is safe and protected always.
These solutions are especially relevant for hospitals and pharmacies storing sensitive equipment, including medicines, vaccines, and laboratory devices.
Without comprehensive building automation monitoring solutions, you might expose your medical freezers and refrigerators to harmful environmental conditions that damage their integrity.
By preventing damage to your organization's most sensitive assets, you guarantee that your business is sustainable and able to deliver on its promises.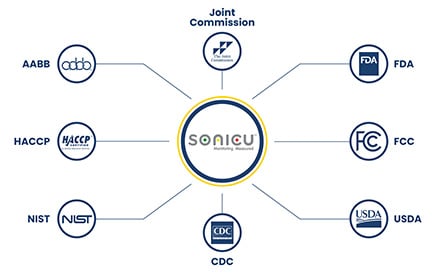 Building Automation Systems and Temperature Monitoring
Your organization can benefit from different types of building automation systems when implementing a monitoring solution like Sonicu's SoniCloud platform.
Building automation systems helps your organization operates smoothly and provide patients with high-quality care.
By implementing a comprehensive building automation and monitoring solution, you can guarantee that all automation systems in your organization are operating correctly, no matter your location.
If you are curious about the various unique types of building automation systems, below is a list of some of the most common systems used in modern business environments.
Auto-override systems

Automatic sensors

Smoke evacuation systems

Central heating and cooling systems

Energy management systems

Building management systems

Lighting control systems

Access control systems
Modern businesses will significantly benefit from advanced building automation tools to eliminate manual, time-consuming processes and help employees focus on a higher valued responsibilities.
Monitoring tools are crucial for guaranteeing that your building automation systems are protected at all times and detecting any errors before they snowball into larger issues.
Finding the right building automation systems companies will benefit your organization in ways you likely can't imagine.
These solutions are ideal for healthcare and pharmaceutical businesses but will also provide essential solutions for food and life science businesses.

Building Monitoring System
Your high-quality business automation solutions require an equally advanced building monitoring system.
Monitoring software guarantees that your organization's sensitive assets are protected and controlled.
Monitoring solutions track different automated processes in your organization to guarantee that everything is within healthy parameters and that your facility can operate safely.
Building management systems (BMS) cover an array of automation processes integral to your organization's success and well-being.
Advanced BMS system software offers a complete overview of your organization, and remote solutions guarantee that you always know what's happening in your facilities.
However, it's essential to remember that not all monitoring solutions are built the same.
Finding the best building management system solution will help you grow your business into a safer environment for you, your employees, and the patients you serve.
Building management and monitoring systems aren't only convenient but necessary to every aspect of your organization and impact your daily processes.
If you're curious about the primary benefits of BMS software, the following are relevant upsides to implementing advanced management and monitoring solutions in your company.
Manage reliability issues

Easily incorporate new equipment

Perform monitoring and reporting with ease

Accurate control of your company's comfort conditions

Control over your air temperature and coolant systems


Building Management System
A comprehensive building management system is essential to keeping your business at its best. Without BMS software, your organization will rely on manual, time-consuming processes and risk costly errors that you could avoid with a high-quality management solution.
A detailed building management system design is necessary to safeguard your organization and protect its sensitive assets, including medicines and vaccines.
A building management system design describes crafting a system for advanced automated solutions to benefit centralized management processes.
There are different options for building management software that could benefit your business and streamline specific tasks to give you extra time to focus on what matters in your company.
Among the types of building management system options relevant for many businesses include the following:
Building automation systems

Facility management software

Integrated workplace management system

Computerized maintenance management system

SMART buildings

Energy management systems

Building control systems
Wireless monitoring management system solutions like Sonicu provide high-quality support to streamline your workflow and automate time-consuming processes where you risk manual errors.
Sonicu provides businesses with powerful building management system software and tools so that you can access a constant data stream from a remote location.
Sonicu is an essential integration option to guarantee that you have complete visibility into all of your company's automated processes.

Building Management System Monitoring
A high-quality building management system can be made even more powerful and insightful by leveraging the data available in a monitoring solution.

While you might feel confident that your building management system serves its purpose, an advanced monitoring solution can increase the value that your BMS software delivers today.
Building management system monitoring is essential to keeping your current BMS software up-to-date and functional regardless of location.
Your building management system software can be one of the most effective assets of your business, primarily when you work with expert providers and implement monitoring systems.
While a list of the top 10 building management system companies will give you a comprehensive overview of why BMS software is crucial to maintaining your business, remember to select solutions based on your organization's requirements and values.
Once you've selected an advanced building management system, you can seek the best monitoring solutions to keep your BMS software operating correctly. Monitoring solutions give you access to total visibility over your organization, even when you are working remotely.
Your organization safeguards sensitive assets that could be damaged if exposed to unsuitable conditions.
To guarantee that your assets and equipment are always safe, high-quality BMS software and an equally advanced monitoring solution are crucial.
Solutions like SoniCloud from Sonicu provide quick access and monitoring for your company's environmental conditions to protect temperature-sensitive assets.


Building Management System & Remote Monitoring
Many business management systemsare available to help automate specific processes in your organization.
While these solutions are valuable and can save you valuable time spent on menial tasks, you can implement a remote monitoring solution to add significant vale to your automation solutions.
In any advanced building management system, remote monitoring capabilities are critical to your overall success in protecting your company's sensitive assets.
Without solutions to monitor your temperatures and environmental conditions from anywhere, your company assets could face damage without your knowledge.
Therefore, comprehensive remote monitoring solutions are vital to keeping your organization intact.
If you seek a comprehensive building management system project, ensure that you land on a solution that fits your company's and industry's exact needs.
For instance, healthcare organizations should implement an integrated building management system with monitoring capabilities to track crucial environmental conditions.
Businesses that don't have an advanced monitoring solution can face severe damage to their medicines, vaccines, and laboratory equipment, even if they use automated BMS software.
Remote monitoring not only protects your company's expensive equipment but safeguards the health and well-being of everyone in your organization.
A building management system with remote monitoring abilities is essential to protect yourself, your employees, and your patients.
BMS System in HVAC
Tim Livesay is a pharmacy director responsible for the safe operations of compounding pharmacies at his Indiana hospital, Hancock Regional Hospital.
He leveraged the wireless humidity monitoring solution to identify a specific compounding pharmacy that was suffering from chronic high humidity issues.
By sharing the objective, third-party data with his commercial HVAC contractor, he was able to direct them to fix an improperly sized air handler.
"Stories like those from Livesay reflect the power of a wireless humidity monitoring solution when combined tied to a building management system," Mitchell said. "He was able to pinpoint an exact problem, direct the team to find the solution and then monitor after the work was completed to demonstrate the fix actually worked."
"Humidity is more than an inconvenience in healthcare and laboratories, it's a life-threatening risk that needs to be address with the sort of technologies we make affordable and simple to implement."



A well-rounded BMS system offers significant energy efficiency solutions for monitoring your company's HVAC system.
When an HVAC system fails or runs into dangerous operational errors, your business can fall into unsafe working conditions.
A BMS system in HVAC should provide monitoring and alerting services to track your HVAC health remotely and address any issues before they cause significant damage.
Remote BMS monitoring solutions can analyze and predict the overall efficiency of your HVAC system, no matter your location.
A functional HVAC system is essential for every healthcare or pharmaceutical organization. Because many assets in these industries are life-saving and require consistent environmental conditions, solutions for HVAC monitoring are critical.
High-quality HVAC BMS software is vital to keeping your organization safe and monitoring your HVAC systems to identify and address any potential issues that could cause severe damage.
Solutions like Sonicu are critical to effective HVAC monitoring.
A comprehensive BMS system in HVAC functions will save your business time, resources, and stress while helping you guarantee that your operations are safe and effective.
When you implement advanced BMS software with additional monitoring solutions, you can protect your company and continue doing what you do best: serving patients and helping them stay healthy.
The Sonicu Difference
Advanced Alarming
Cloud-based software capabilities with predictive algorithms for tailored alarming to reduce alarm fatigue and spot trends.
SMART Digital Sensors
SMART sensors with proprietary DataSync capture. Preserve and secure data in the event of transmission interruptions.
SMART Reporting
Automated logging and reporting unrivaled in the industry for effortless regulatory compliance.
Battery Backup
Industry leading battery life on all sensors. In the event of a power outage Sonicu's wireless sensors continue to keep you notified.
The Safest Network
Virtual Private Network on Verizon cellular platform that eliminates security concerns when transmitting data to the cloud.
Flexible Transmission
Replace server-based systems and eliminate IT concerns with a variety of transmission signals including: Cellular, Radio Frequency, WiFi, and Ethernet.
Recalibration is Easy
All-digital temperature probes for easy calibration renewal with Sonicu's SNAP calibration program.
Ensuring Consistency
Service quality and connectivity reports provide detailed analysis of system operations.
Other Smart IOT Resources