Temperature And Humidity Monitoring
Temperature, Humidity and Air Pressure Differential Monitoring. Reduce manual logging with cloud-based asset monitoring that protects assets, people and facilities.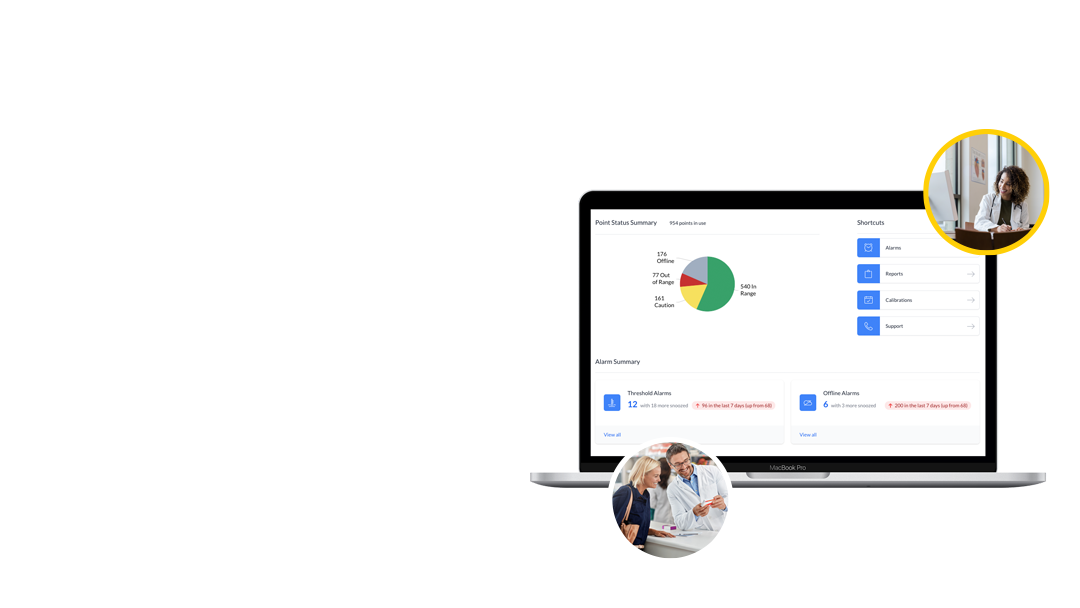 Your Peace of Mind: Delivered to Your Phone
Say Goodbye to Manual Logging, Tedious Compliance Reports and the Threat of Critical Asset Loss.
And say hello to cloud-based, 24/7 asset protection that unleashes your people, automates your critical reporting and delivers peace of mind that your critical environments are always protected.
Protect virtually any asset: anywhere and all the time.
Learn How Professionals Like You Improve With Sonicu
Our Customers Save Lives.
We save them time and money. Your Monitoring Questions. Answered Simply.
Monitoring technology is evolving constantly. We provide answers to the most common questions to help the industry understand how monitoring technology can protect your people, facilities and assets.
Any condition, any environment, any challenge.
The finest names in healthcare turn to Sonicu to improve safety, compliance readiness and staff efficiency.
Temperature And Humidity Monitoring
If you're looking for an affordable, trusted and simple remote wireless temperature and humidity monitoring system that improves compliance readiness, operational efficiency and your safety, you've arrived at the right place.
We're trusted by more than 500 customers in every state to deliver real-time continuous temperature and humidity monitoring that achieves three Sonicu commitments:
Increased Safety
Operational Efficiency
Compliance Automation
From Indiana University Health to Cryopoint storage in the Midwest to Ivy League facilities in New England and some of the finest names in healthcare on the Pacific Coast, Sonicu is trusted across the United States thanks to our reliable hardware, intuitive software and American based customer service.
Hancock Regional Hospital CEO Steve Long leverages Sonicu's temperature and humidity monitoring application to drive down costs, increase safety and improve his staff's efficiency. His staff also rely on Sonicu for air pressure differential monitoring as well as noise monitoring in its consolidated dashboard. "I can't imagine life without the alarms Sonicu provides to keep our assets safe and our people focused on our patients and not on tracking temperatures," he said.
When it comes to the healthcare and pharmaceutical industries, selecting the proper temperature and humidity monitoring systems is an important step in ensuring one has the best possible environment to conduct business. This type of temperature and humidity monitoring is vastly different from the types that are used for home use. Home temperature monitoring systems are simply applied to make one's residence pleasant, to render the home cool enough or warm enough for human comfort.
Healthcare and pharmaceutical facilities must not only think of comfort, but they must also consider the vaccines, medicines, and biological samples they work with, much of which need to be stored at the appropriate temperature to avoid any risk of being spoiled. These temperatures are often substantially cooler than what humans would describe as comfortable.
There were plenty of stories throughout the pandemic of medical professionals finding themselves in undesirable situations where their COVID-19 vaccines were going to expire due to a lack of appropriate storage units and desperately trying to distribute the vaccines to not have them go to waste. If these types of vaccines or medicines are not stored properly, they will be rendered useless, if not possibly hazardous, to both medical professionals and patients.
In that context, equipment such as a Wifi temperature sensor, a temperature monitor device for COVID-19, and a professional hygrometer might be a worthy investment. Other industries rely heavily on temperature and humidity monitoring as well, such as food safety and life science. For example, butchers require large freezers to house all of their meats, lest the meat be left out at room temperature to rot.
These types of organizations need to ensure that every single element of an area that is housing delicate inventory is being constantly monitored and controlled for temperature, humidity, sound, room pressure, and other environmental factors. If not, then everything can fall apart. So temperature and humidity monitoring systems become an integral part of healthcare workplace maintenance.
Temperature And Humidity Monitoring For Hospitals
Hospitals work under a myriad of legal standards that require legal compliance from the likes of The Joint Commission, AABB, GMP, Vaccines for Children (VFC), FDA, and many others.
Much of these regulations referred to certain types of storage units and other elements of the environment in which medical professionals work. Therefore, temperature and humidity monitoring for hospitals become critical. If this data is left to manual data entry, it both increases the chance for error and gives medical professionals less time to focus on patient care.
So it makes sense why a temperature and humidity sensor with a display would become a priority. With the simple touch of a button, medical personnel can ensure the protection of their assets such as blood samples, plasma, research samples, and reagents.
Temperature and humidity control is not only about preserving supplies and samples. Stopping the spread of disease is as much of a factor. Air-born diseases tend to fare better and spread more quickly at warmer temperatures, so the hospital must not under any circumstances reach a certain threshold of temperature and humidity.
With the best Wi-Fi temperature sensor, the temperature of any given area can be monitored and that information can be forwarded to the Internet via a wireless connection. From there software connected to that Wi-Fi can keep the area stabilized or adjust the temperature as needed.
Imagine the hassle involved in medical professionals having to think about these details on top of their normal workload as medical providers.
This makes a temperature and humidity monitoring system like Sonicu most beneficial. By combining monitoring sensors/devices and software designed to assist with monitoring, alerting, logging, and reporting, much of this environmental maintenance is automated so doctors, nurses, and everyone else can focus on what is most important, the patients in their care.
Temperature Monitoring Systems For Pharmacies
There are three reasons why pharmacy professionals require wireless remote access monitoring
Need to be ready for any compliance inspection
Need to protect and monitor assets
Need to spend less time on manual data entry
Many medications need to be stored at room temperature, which is defined from 68° and 77°F. Medicines needing to be stored at room temperature can be outside this range for short periods, such as with travel, but those temperatures should not fall lower than 59°F and should not exceed 86°F.
Medications that are exposed to excessive heat run the risk of being chemically altered. Heat causes many medications to become diluted, so they lose their potency and thus cease to be effective in their usual manner. This less-than-ideal type of medication can have severe health consequences for the individuals using them, such as a woman's birth control pills no longer working, and thus an unintended pregnancy can occur. For a diabetic, if their insulin becomes obsolete, that could be downright life-threatening.
To avoid these scenarios, temperature monitoring systems for pharmacies are just as important as they are for hospitals. To that end, there are plenty of automated remote monitoring options. Having a Wi-Fithermometer with an app allows for easy access and control of the monitored areas.
For a pharmacist, the last thing they should be worrying about is whether or not the medications they are dispensing are stored at the appropriate temperature. Some medications are safe at room temperature, but there are plenty of medications that pharmacists deal with that have more complex environmental factors to consider. A pharmacist should be able to rest easy knowing that with a temperature and humidity monitoring system, they can easily store each medication exactly where it needs to be to remain at its optimal temperature.
Temperature And Humidity Meter
So how does a temperature and humidity meter actually work? A digital temperature and humidity meter can take these environmental measurements by ascertaining the amount of water vapor around its sensors.
The level of moisture in the air can be affected by a variety of gasses, including but not limited to nitrogen and argon. Since humidity can have such a strong impact on varying biological and chemical processes, keeping tabs on humidity is a must for the types of industries that we've been discussing.
There are two ways in which humidity is measured.
One type measures relative humidity (RH) and the other type measures Absolute Humidity (AH). For a professional setting, Absolute Humidity must be used to pinpoint the most accurate reading of a room's environment. There is little room for educated estimates. Exact measurements must be used.
A high-quality, industrial-level temperature and humidity meter will be able to measure humidity with far more accuracy. The technology is available and professionals have to use it to remain compliant with industry standards.
What is amazing about temperature and humidity sensors is that the hard drive is part of the overall system.
Everything can be controlled via a dashboard. Via the dashboard medical professionals can monitor every single element of their work spaces that use a temperature and humidity sensor. Wi-Fihas made it possible to connect all of these separate pieces into one database that professionals can view easily with a remote monitoring platform.


Best Temperature And Humidity Sensor
Given the high stakes involved in these types of industries, it is imperative that they invest in the best temperature and humidity sensors.
Can you imagine a medical facility in this day and age that wasn't in possession of a temperature and humidity monitor?
Wi-Fi connections to these monitors allow for this information to be connected to the wider system, and in doing so, saves employees of these facilities a lot of mental labor is tracking these tiny yet essential details.
The last thing anyone needs is to worry about spoiled samples or medications rendered ineffective. That not only impedes business but could lead to a lawsuit. Nobody wants that.
Therefore, choosing the best indoor thermometer and humidity gauge is the easiest solution to both staying in compliance with regulations and outsourcing the labor of this type of temperature maintenance to automation.
The best Wi-Fi temperature and humidity sensor will have the following features:
Advanced alarming that uses cloud-based software to reduce alarm fatigue and spot trends
SMART Reporting that automates logging and reporting to keep areas in compliance
SMART Digital sensors with proprietary DataSync capture
Battery Back-Up that preserves your assets in the event of a power outage
Flexible transmission that decreases IT issues, using 4G cellular, radio frequency, Wi-Fi, and ethernet
Easy recalibration with all digital temperature probes
A safe network with a VPN on a cellular network that is secure while transferring data to the cloud
These features allow medical professionals to ensure everything is running smoothly and that nothing is left to chance with their medications or research samples. Since so much of this data and processing can be automated, why would anyone want to go back to manually monitoring these storage and other environmental factors?
Medical professionals spend years studying for their field and thus should not be burdened with this environmental maintenance when the technology exists to do it for them.
Temperature And Humidity Monitoring
Users enjoy features like viewing their temperature and other environmental monitoring solutions via a room layout that helps quickly identify and share what areas or units need to be addressed.