Wireless Temperature Data Logger
Temperature, Humidity and Air Pressure Differential Monitoring. Reduce manual logging with cloud-based asset monitoring that protects assets, people and facilities.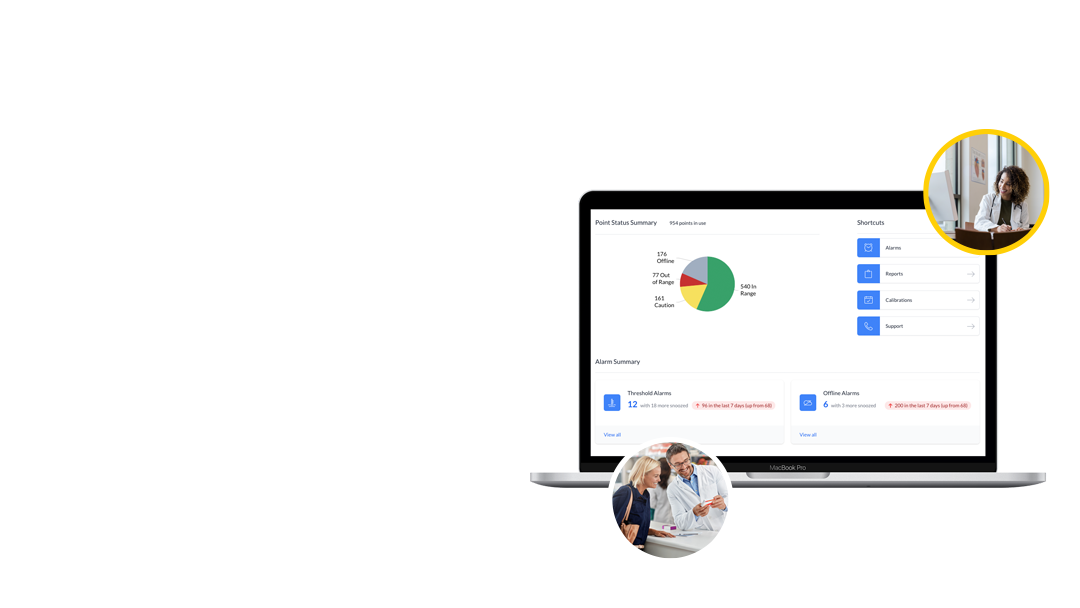 Your Peace of Mind: Delivered to Your Phone
Say Goodbye to Manual Logging, Tedious Compliance Reports and the Threat of Critical Asset Loss.
And say hello to cloud-based, 24/7 asset protection that unleashes your people, automates your critical reporting and delivers peace of mind that your critical environments are always protected.
Protect virtually any asset: anywhere and all the time.
Learn How Professionals Like You Improve With Sonicu
Our Customers Save Lives.
We save them time and money. Your Monitoring Questions. Answered Simply.
Monitoring technology is evolving constantly. We provide answers to the most common questions to help the industry understand how monitoring technology can protect your people, facilities and assets.
Any condition, any environment, any challenge.
The finest names in healthcare turn to Sonicu to improve safety, compliance readiness and staff efficiency.
Wireless Temperature Data Logger
If you're looking for a way to spend less time and money on staff walking around your facility to capture refrigerator and freezer temperatures for your compliance reports, and know there's a better way leveraging cloud technology to replace your outdated temperature data logger, you've arrived at the right place.
We support more than 500 customers in every state with our flexible and affordable wireless temperature monitoring solution that protects vital assets, automates compliance and reduces tedious manual logging.
That means you can save time and money while improving your facility's safety and accountability.
And it means you're ready to learn how clients like the nation's largest medical school (Indiana University School of Medicine) and respected suburban hospitals (Hancock and Hendricks Hospitals) and a host of research and cold chain storage facilities.
Our hardware is rugged, reliable and meets the exacting standards of even the most demanding frozen environment and our software is simple to use and easy to scale across your organization. But even more importantly, we've invested in a team of customer success managers who will never be more than a phone call away to help your team focus on your clients and patients, and NOT tedious temperature logging and compliance reporting.
A wireless temperature data logger can be a very useful tool in the healthcare, pharmaceutical, food, and science industries. When your organization handles temperature-sensitive assets, it's important to have a reliable method of keeping them in a stable environment. Wireless data loggers can make it much easier to monitor and record temperature changes in controlled environments like storage freezers. A temperature recorder device can be especially helpful in the medical industry, where valuable assets like vaccines need to be protected from exposure to temperatures that would ruin them.
It's possible to log temperature data manually, but this method can often be slow and inconsistent. Anytime you complete any sort of monitoring or data-logging task manually, the results are susceptible to human error. When the consequences of mismanaged temperature controls include the loss of essential assets like vaccines or medications, the risk of manual error may not be worth it. By using a smart wireless temperature data logger, you greatly reduce the chances of manual logging errors.
You can also save a lot of time and improve efficiency in your organization. A wireless data logger can automatically monitor temperature data and record changes, eliminating the need for recurring manual temperature checks that would take an employee away from another task.
Many of our clients also find that our sensors help alert them to when a refrigerator or freezer is on the fritz and likely to fail, allowing them to conduct preventive maintenance or even replace a unit completely before a failure occurs. Our reports show when units are skewing well outside of regular operating conditions, which normally signals the need for corrective maintenance or replacement.
"We like to say that every refrigerator has a personality like people do," said Martha Rardin, MS, RD, CD, FAND, Hendricks Regional Health, Director of Nutrition and Dietetics and the Diabetes Coordinator. "Sonicu helps us better identify the units with troubled personalities and take action before they cause us a real headache.
"It's been a powerful way to reduce the opportunity for adverse outcomes with unit failures," Rardin said.
Sonicu can provide several different kinds of devices for monitoring a variety of environmental parameters, including temperature, air pressure differential and humidityThese devices use special software to monitor temperature, provide alerts, and document temperature measurements automatically.
If your facility stores temperature sensitive assets such as vaccines, costly oncology drugs, priceless research or other medical assets, you may be able to benefit from implementing a wireless temperature data logger to improve accuracy and efficiency.
A remote temperature recorder device can be used with just about any kind of cold storage, including fridges, freezers, or walk-in coolers.
Data Logger Temperature And Humidity
When your organization needs a way to store important assets within strict temperature ranges, a temperature and humidity data logger can become a very valuable tool to have at your disposal. Here are some of the features and benefits that most of the best remote temperature monitoring devices include:
An

alarm system that employs cloud based software

and predictive algorithms to help you find patterns and trends in your temperature logging data.
A fully secure network that ensures temperature logs are totally protected when they're transferred to and stored in the cloud.
Automated

temperature logging and reporting

that can help keep your storage facility compliant.
Easy

calibration controls that make calibration

renewal as simple as possible.
Provisions for data protection and recovery in the event of a power outage or other unexpected interruptions in transmission, including sensors and backup battery power.
Options for a variety of different types of transmission signals.
Connectivity reports that help ensure consistency in the system by providing in-depth system operations analyses.
Incorporating wireless data logger temperature and humidity controls can make it easier for medical facilities, pharmaceutical facilities, or other facilities that store temperature-sensitive assets to keep an accurate record of their storage temperatures. If an issue arises, a portable temperature and humidity data logger can provide fast, automatic feedback. There's also less chance of data being lost to power outages or other kinds of connectivity interruptions.
Humidity sensors and loggers can even help protect your team against substandard construction or installation. That's what happened when a suburban Indianapolis hospital built a new oncology wing and found the compounding rooms where regularly outside of critical humidity standards.
The HVAC installer had used improperly sized units that could not meet the exacting humidity specifications, prompting the HVAC contractor to tear out the units and replace them with properly sized air handlers.
"Without the Sonicu system, we would not have had the data to hold our HVAC contractor accountable and demonstrate the problem sufficiently," said Tim Livesay, Pharmacy Director, Hancock Regional Hospital. "The humidity level compliance of our compounding rooms is non negotiable and Sonicu is essential in maintaining those levels."
Overall, any organization that is struggling to maintain accurate and efficient temperature logs could likely benefit from a data logger temperature and humidity monitoring tool. All kinds of different cold storage facilities can use a temperature data logger to protect important assets. For example, a hospital could use automatic temperature logging to safely store blood supplies or plasma, a medical laboratory or research department at a university could use it to protect valuable research samples, and a pharmacy could use it to preserve vaccine doses or life-saving cancer drugs.
One of our clients at Indiana University Health Pharmacy is using Sonicu to meet demanding FDA standards as they deploy investigative drugs that are rapidly moving from the laboratory to the hospital and saving lives.
Types Of Data Loggers
There are a few different types of data loggers. Two examples are the high temperature data logger and the multi channel temperature data logger. Using the right kind of room temperature data logger is important. By identifying the right kind of temperature monitoring and logging device for your facility, you can decrease the chances of problems with storage facility temperatures going unnoticed and unreported until it's too late.
Here are some examples of the ways that the right type of data logger could benefit a medical or pharmaceutical facility:
Using an automated temperature monitoring system like a Bluetooth data monitor can help you protect important assets that need to be kept under strictly controlled temperature conditions.
You can even use an air pressure differential and temperature data logger to monitor and log both temperature and air pressure data together. When the temperature in your storage location dips outside the acceptable range, an automatic monitoring system can alert you promptly, enabling a faster response than would likely be possible when you rely on manual temperature checks.
Far too many Sonicu clients came to us after suffering a tragic yet preventable loss of critical assets due to a cold storage unit failure. We're working hard to educate the healthcare community about how affordable and simple it can be to connect and protect your assets well before a disaster strikes.
Some of the best types of data loggers have protections in place from preventing interruptions in the logging and monitoring system. If there's a power outage, Soniuc temperature loggers revert to battery power to make sure temperature data continues to be monitored and logged. If there's a network failure, local backup storage is be used to hold temperature data safely until it can be transmitted to the cloud.
These protections can provide peace of mind that unforeseeable issues like power outages and network interruptions are unlikely to cause any data loss.
In short, we've innovated over the last decade to build powerful redundancies into our platfrom to keep you, your team and your assets safe at all times.
Most wireless temperature logging systems like Sonicu are also relatively easy to set up. This can further contribute to the efficiency that temperature logging software can provide. Automatic temperature data monitoring can free up the time an employee would normally need to spend manually monitoring storage temperatures — and with most systems, there is no long, arduous installation process to offset this benefit.
Our mobile app based installation wizard makes implementation a snap and our team of customer success managers will be ready after installation to build a dashboard tailored to your facility's needs.
Best Temperature And Humidity Data Logger
As we mentioned before, there is more than one type of temperature monitoring tool to choose from. Because of this, it's common for people to wonder which kind is the best temperature data logger. While it's difficult to definitively say which kind of temperature logging system is the best, there are some features and advantages that are typically common to the highest-quality systems available.
For example, the best temperature and humidity data logger is likely to include tools for gathering important metrics. A temperature logging system dashboard can make it possible to track relevant metrics to derive data-driven insights that could help your organization make improvements to compliance and operations
See the preventive maintenance and unit replacement mentioned previously.
Live feedback from temperature monitoring tools can enable you to react quickly to incoming data and easily locate important trends and identify the most pressing problem areas. Any temperature monitoring devices connected to the system can be monitored remotely in real time using the software dashboard and a simple mobile app like ours.
One of the most impactful uses for a wireless temperature data logger is vaccine protection. Providers of vaccines that store vaccine doses on-site need to follow strict compliance guidelines to ensure the vaccines are being stored safely. It's important for these kinds of facilities to use the best temperature data logger to ensure compliance with these necessary regulations.
Without proper temperature control, large quantities of vaccine doses could be lost. An automatic temperature monitoring tool can greatly reduce the likelihood of this unfortunate outcome. Not only will ruining vaccine doses negatively impact public health, but it can also increase costs and worsen public perception of your organization.
The CDC made temperature monitoring a prerequisite for healthcare facilities that were involved in the distribution of the COVID-19 vaccine because it knew every dose could be life-saving.
Real Time Temperature Data Logger
The Center for Disease Control's (CDC's) program, Vaccines for Children (VFC), has compliance requirements in place regarding vaccine dose storage. Vaccine providers must adhere to these regulations to be allowed to carry and administer vaccines. Using a real-time temperature data logger can help maintain compliance with some of these regulations.
You can also help your organization meet the standards outlined by the CDC's VFC program in the following ways:
Store vaccine doses in a pharmaceutical grade freezer or refrigerator that was built for the purpose of vaccine cold-storage.

Use a device for monitoring storage temperature, preferably one equipped with a buffered temperature probe.

Ensure your temperature monitoring sensors are properly calibrated at all times.

Keep records of the storage temperatures logged by your temperature monitoring system for at least three years.

Be prepared with a backup plan in case there is a power outage or network interruption.
Implementing a high-quality automatic temperature monitoring device can help accomplish these tasks with features like:
Automatic temperature monitoring and logging round-the-clock.

Prompt alerts via text or email if vaccine storage temperature varies beyond the acceptable range or if power loss occurs.

Continuous remote access to live temperature data

Automatically created compliance reports that can be used for audits

Secure cloud storage

Easy-to-install wireless hardware that you can get up and running relatively quickly and simply.
Features like these can make it easier to keep your organization compliant with CDC guidelines. A real-time temperature data logger is one of the best kinds of tools you can use to improve security, convenience, and compliance in the area of cold-temperature storage. An automatic temperature monitoring and logging system can help remove guesswork from this sensitive type of regulation.
Unwavering Customer Support and Unlimited Training
We know that your team will change over time and your needs will likely evolve, too.
That's we provide free, unlimited training and customer support for every Sonicu client. We believe that high tech platforms are only as powerful as the people who stand behind them when issues arise.
We realize that no technology is perfect, and that you deserve prompt and professional support that ensures our solution delivers on its key promises: asset protection, compliance automation and operational efficiency.
If you're interested in saving time and money while improving your culture of safety and accountability, we hope you'll provide us a brief opportunity to share how we're helping healthcare professionals like you improve the way they serve their patients.
Temperature Monitoring Resources