Environmental Monitoring for Infection Control. Simplified.
Temperature, Humidity and Air Pressure Differential Monitoring: Trusted & Affordable.
Reduce manual logging with cloud-based asset monitoring designed to protect patients.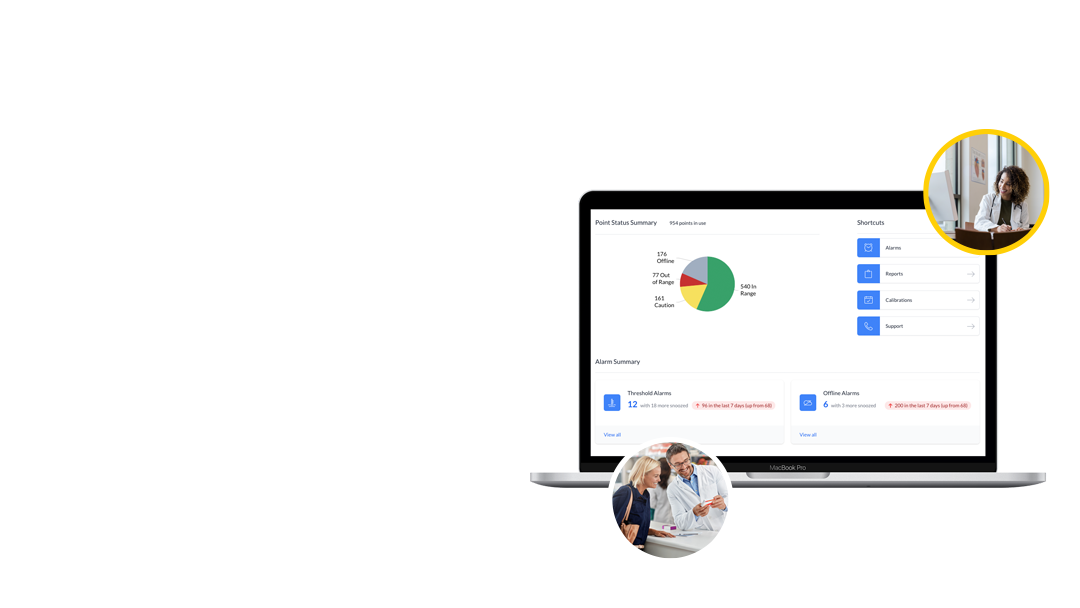 Protect Patients, Staff & Your Peace of Mind:
Delivered to You: Anytime & Anywhere
Say goodbye to manual logging, tedious compliance reports and the threat of infections spreading due to a failure of environmental monitoring.
And say hello to cloud-based, redundancy-rich 24/7 environmental monitoring that protects patients, automates your critical reporting and delivers peace of mind that your critical environments are always protected.
Affordable, Easy Installation and Implementation and American-based Support: The Sonicu Commitment
Learn How Professionals Like You Improve With Sonicu
Our Customers Save Lives.
We save them time and money. Your Monitoring Questions. Answered Simply.
Monitoring technology is evolving constantly. We provide answers to the most common questions to help the industry understand how monitoring technology can protect your people, facilities and assets.
Any condition, any environment, any challenge.
The finest names in healthcare turn to Sonicu to improve safety, automate compliance and improve staff efficiency.
How we help Infection Control Professionals Improve Safety and Control Costs
Remote, wireless environmental monitoring that's tailored to your specific facility and requirements
Air Pressure Differential Monitoring is essential to creating and maintaining the safest healthcare environment, especially in critical areas like compounding pharmacies, operating rooms and clean rooms.
Unfortunately, many infectious disease control professionals aren't taking advantage of the latest innovations in cloud computing and wireless technology to drive down costs and increase patient safety.
Do you believe you explored all the options around more affordable air pressure differential monitoring?
Are you doing all you can to protect your patients?
In our regular conversations with infectious disease control professionals, here are the items we're hearing are important as they search for environmental monitoring solution.
Affordability: Measured three times
How long has it been since you compared pricing between environmental monitoring providers?
Have you looked into how much a quality system will cost in terms of new equipment, software subscriptions and ongoing NIST calibrations?
These prices are changing both with inflation and sometimes falling as scaling helps drive down costs for manufacturers.
Sonciu has a proven record of being among the best-priced and high-quality monitoring systems available, especially in terms of the ongoing software subscription.
And then there's the threat of losing money......
Failure to operate to quality standards in critical rooms can cost you money, as well as bring down fines and citations from regulatory agencies.
Critical v noncritical rooms: Not all monitoring needs are created (or served) equally
Do you appreciate the different technologies being used to monitor air pressure differential between revenue-generating areas like operating rooms and less valuable areas like janitor's closets or storage areas?
The Joint Commission tracks them all for their inspections, but that doesn't mean you need identical technologies for similar spaces.
In hospital systems, it's necessary to understand and know the air pressure for many rooms throughout the facility.
This difference can help patients who move from room to room, or those who require an ambient environment to ensure their recovery.
BMS integration: Making every room a shared responsibility for safety
Sonicu offers hardware and software APIs that allow air pressure and ambient humidity conditions to be shared across the enterprise so everyone from a nurse or physician or even a remotely located facilities manager to take action to keep rooms safer.
Protection during construction: Know your pressure status in real-time and historically
Do you know the dangers construction can bring to a healthcare facility?
Do you have any preventive measures to counteract the danger of dust and other airborne contaminants?
Whenever there is construction in hospitals, it can cause issues for those who are currently trying to keep potentially dangerous contaminants at bay.
Construction in hospitals is almost a daily occurrence if facilities need to be updated, or new facilities are being added to a hospital wing.
In hospitals, protecting the patient and ensuring their comfort is the top priority of the staff.
Construction can disrupt normal operations, changing air pressure, adding unnecessary sound, and adding more chances for bacteria to enter the air.
Sonicu allows hospitals to monitor the air pressure and sound whenever construction is underway.
Monitoring ambient humidity, differences in air pressure, and potentially disruptive noise.
CONSIDER ALL YOUR MONITORING VARIABLES: From cost to access
Temperature and environmental monitoring is serious business when it comes to driving down costs and increasing safety for infectious disease control.
Sonicu works with more than 550 clients across North America to help them improve safety, reduce costs and automate compliance.
Temperature Monitoring Resources